Some of the most beautiful work of this craftsman, and many others, are in this book "Liège Gunmakers through their Work. 1800 - 1950".
For more detail see: LIEGE GUNMAKERS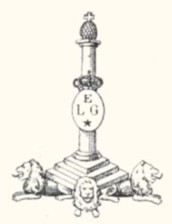 Nicolas Pieper
Biography
Born in Liege on October 31, 1870. Second son of Henri Pieper and Catherine Elisabeth Leroy. As of the thirteen years age it starts its training near his father. Little before the death of the aforementioned it takes the direction of the factory of the street of Bayards while that of Nessonvaux falls to his brother Edouard Herman (Armand). In a few years, the excessive diversification of the activities of the company carries out the aforementioned at the edge of the bankruptcy and involves its liquidation as well as the ousting of the two Pieper brothers in August 1905. (see Ets Pieper). Nicolas sees himself constrained to assemble his own business, which will become the Factory of automatic weapons Nicolas Pieper. For that it will profit from the support from his brother-in-law, Auguste Lambrecht, manufacturer of forging drops, which will put buildings, of modest size, at its disposal to the 42 then with the 5-7 street Bonne Nouvelle in Liege.
Nicolas will buy several patents covering with the automatic pistols to an arms manufacturer of Liège, Jean Warnant. It there will make improvements and will produce several baptized models "Démontant" and "Basculant". This last, also called model 1909 will be manufactured under licence by Waffenfabrik Steyr in Austria, until the Thirties.
In parallel, Nicolas Pieper will continue the manufacture of shotguns of various types, inspired of the patents of his father.
The First World War will slow down considerably its activities which will be reduced to the creation of arm-toys of excellent quality.
After 1918 it will settle to the 292 of the street Vivegnis. It will acquire of the patent of an arms manufacturer named Hippolyte Thonon concerning a semi-automatic pistol of pocket. The aforementioned, a copy of the FN Browning 1906, will be manufactured under the name of Légia gun, perhaps in a workshop open in Paris by Nicolas Pieper in 1922.
After 1923 one does not find any more trace of his arms activities. It will die in Liege ten years later in 1933 in the family house of the street of Bayards.
Arms production.
Shotgun double in hammers external and Hammerless with unrifled bores; Automatic pistols of type "Démontant" and "Basculant" (models A, B, C, A.D. and D); automatic pistol Légia; rifle type 500 and 501 semi-automatic; rifles type 504 and 505 with bolt; rifle of shooting to sliding front.
Arm-toys of various types: imitation Mauser 1889 with starters, shotguns in miniature.
Alarm at door with detonation.
Patents deposited in Belgium.
45 on the whole of 1899 to 1923 concerning the automatic guns, the rifles of small gauge, the shotguns, the arm-toys, combination of sabre and gun, etc.
Belgian trademarks.
N and P interlaced (April 21, 1906).
Automatic pistol Pieper; Pieper' S Automatic Pistol: Pieper Gun; Pieper' S Pistol (July 1906).
A plate of pistol with N and P interlaced (January 7, 1907).
Illustration Gun Nicolas PIEPER (December 11, 1907).
N.PIEPER' S OBVIOUS (February 29, 1908).
Pieper Rifle; Automatic rifle Pieper' S Patent; Pieper' S Automatic rifle ; Rifle Pieper' S Patent; Automatic rifle Pieper; Pieper' S Rifle (February 15, 1909)
Nicolas Pieper Centaure (with centaur) (February 4, 1913)
Légia Pistol (June 22, 1915)
Count with the proofhouse of Liege: 1906 - 1927.
Mod 1919 cal.7,65 mm "Parisien"
Mod "1920" and "Arico" Steyr