Some of the most beautiful work of this craftsman, and many others, are in this book "Liège Gunmakers through their Work. 1800 - 1950".
For more detail see: LIEGE GUNMAKERS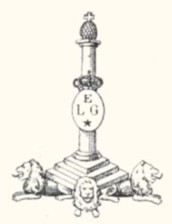 Pieper 1919
Cal 7,65mm
It is indeed about an automatic pistol model 1919 of Nicolas Pieper.
This weapon would be ultra rare and does not even appear in the splendid book on the PIEPER of Michel DRUART.
After 1918, Nicolas Pieper opened a workshop in Paris where it manufactured small automatics 6,35.
It is a cousin into 7,65 of the N.Pieper model 1920 and both go down from the model 1909!
I could not find the patent of this weapon among the 45 patents deposited by by him??
The weapon carries several punches of the bench of tests of LIEGE, namely:
ELG* in a crowned oval: final acceptance post 1893.
Peron: inspection, of use of 1853 to our days.
AD*: countermark of the controller, of use of 1877 to 1968.
PV surmounted of a stylized lion: test with the powder without smoke, of use of 1898 to 1968.
The weapon also carries the following marks:
AUTOMATIC GUN MODEL 1919: mark which identifies the weapon perfectly.
N. PIEPER PATENT: mark deposited of the manufacturer Nicolas PIPER.
38675 DEPOSE: serial number of this weapon.
The history of this manufacturer of weapons is consultable on our site!!
GG
As an illustration here is a production with the label of the workshop of Paris !!!