Some of the most beautiful work of this craftsman, and many others, are in this book "Liège Gunmakers through their Work. 1800 - 1950".
For more detail see: LIEGE GUNMAKERS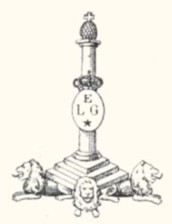 Nicolas Pieper
This gun is well known but the magazine is special. It has an extended grip/magazine.
It is a Nicolas Pieper 1909 with a charger extension whose only illustration known so far was a text accompanied by a drawing. It is, of course, a patent of Nicolas Pieper.
The weapon bears the standard Belgian proof markings on the barrel, slide and frame, all matching serial numbers, and checkerboard handles monogrammed in hard rubber "NP". which is that of Nicolas Pieper.