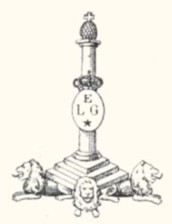 Dumoulin-Lambinon
Registered with the Belgian profhouse of 1860 to 1879, manufacturer of weapons, boulevard of Sauvenière 16 in Liege.
Holder of two patents, deposited in 1865 and 1871.
- A key-lever with toothed rack, suitable to replace the vertical drawer of Lefaucheux rifles.
- A closing of Lefaucheux rocker of which "T" is a lever toothed rack with spring.
Many thanks to Nikolaos for the nice pictures.