Some of the most beautiful work of this craftsman, and many others, are in this book "Liège Gunmakers through their Work. 1800 - 1950".
For more detail see: LIEGE GUNMAKERS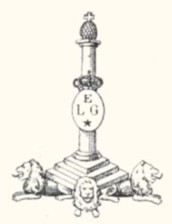 BRITTE S.A.
The company Britte Freres was created on February 2, 1896, and became Britte Company Ltd on September 17, 1923.
Gun Manufacturers- 252 rue Cheratte, in VIVEGNIS, then 27 rue Cheratte, in Vivegnis.
Liege Proof House (1950/.....)
This company registered from 1931 to 1939, three Belgian patents for a shotgun with superposed barrels and a manufacturing process of stoppers of army rifles.
Antoine Jocelin & GG