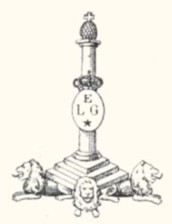 Hunting rifle FN
Square shotgun to lock hammerless, with key top lever. Safety behind the key.
Juxtaposed and smooth barrels gauges 12 of them.
The stick out of wooden of drowning oiled is cut way "pistol" type.
The weapon carries a light engraving.
Punches
The weapon carries the lawful punches of the proofhouse of Liege, namely:
ELG on star in an oval under crown: final acceptance post 1893.
Peron: inspection post 1853.
AV joined under star: countermarks of the controllers post 1877.
PV under a stylized lion: test with the powder without smoke, of use of 1898 to 1968.
1 kg 424: weight of the barrel which can draw from the powders without smoke (weapons smooth) except for the gram. In use of 1924 to our days.
12-70 in an omega lying; gauge nominal and length of casing. In use of 1924 to our days.
Letter D: yearly letter of 1925 (year of manufacture).
Markings
MANUFACTURE NATIONAL/ARMS WITH WAR/HERSTAL BELGIUM: Marking of the FN.
Alain