Some of the most beautiful work of this craftsman, and many others, are in this book "Liège Gunmakers through their Work. 1800 - 1950".
For more detail see: LIEGE GUNMAKERS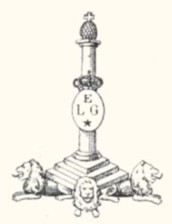 Nicolas Lajot & Cie
The weapon
It is about a rifle of small hunting of the hammerless type to safety with slide of the Galand type with key "top lever".
The lock is square and is decorated like the shells with an engraving in sheets with vine branches.
The juxtaposed barrels are smooth and of gauge 28/70.
The forearm is with push rod.
The system of trigger under trigger guard is double.
The stick out of wooden of walnut is worked "English".
According to catalogue N.LAJOT, this weapon approaches the model n° 1 (see appendix). There is no model 11 in the catalogue which I have. The gauge imports little, since the purchaser could choose his gauge preferred among the range of rifles!
Punches
The weapon carries the lawful punches of the proofhouse of Liege, namely:
ELG on star in a crowned oval: final acceptance post 1893.
P spangled: countermark of the controller post 1877.
Peron: inspection post 1853.
PV surmounted of a drawn up and stylized lion: test with the powder without smoke, of use of 1898 to 1968.
Small letter "g": yearly letter of 1928 (year of manufacture).
28-70 in an omega lying: gauge nominal and length of casing, of use of 1924 to our days.
The manufacturer:
The knurled band connecting the barrels is marked N.LAJOT & Cie à LIEGE, which is the mark of LAJOT Nicolas street to the Horses, 33 in Liege, company registered with the proofhouse since 1925. He was patentee Belgian for a multiple barrel for shotgun.
13090: serial number.
SPECIAL POUR POUDRES PYROXILEES NITRO STEEL: indicative and optional mention indicating that the weapon is designed to use this type of sharp powder.
GG