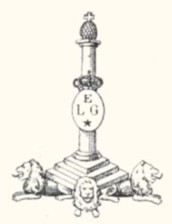 Joris J.
Shotgun to juxtaposed and smooth barrels.
The locks called "in backs" are with hammers external and the key of opening "top lever".
The barrels are fixed at mounting by keys.
The stock of drowning is of type "to English".
Crowned JJ: J. manufacturer of barrels of rifles with Nessonvaux could be JORIS J.which in 1850 deposits a patent for the manufacture of the damas barrels.
GG