Some of the most beautiful work of this craftsman, and many others, are in this book "Liège Gunmakers through their Work. 1800 - 1950".
For more detail see: LIEGE GUNMAKERS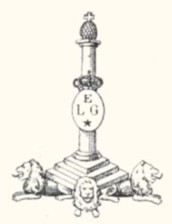 Michel Jamar
Revolver of the type CONSTABULARY directly inspired by Royal Irish Constabulary.
The weapon is in a perfect state of presentation and probably underwent a relooking.
The cylinder is with ellipses and contains six rooms (cal. 380? not specified).
The rifled bore is with 8 sides with front sight in half-moon.
The carcass on the left-hand side is equipped with a safety of the Mauser type.
The hammer and the rod are marbled.
The metal stick ends in a metal cap on which a ring of cap with screw-pivot is fixed.
The stick is supplemented by two plates out of wooden (walnut?) finely squared.
They are maintained by a screw and two rivet washers.
The loading is practiced by a side door dropping thanks to the action of an internal spring.
The unloading of the casings is ensured by the rod sliding in a guide and which one introduces very with turn into the rooms.
Punches
The weapon carries the punches of the bench of tests of Liege, namely:
ELG on star in a summoned oval of a crown: acceptance post 1893.
P spangled: countermark of the controller post 1877.
R crowned: rifled bore, of use of 1894 to 1968.
Marks
99: struck in several places of the weapon should be a job number.
C crowned: struck the barrel. Mark unknown which could be that of the malleable pig iron foundry.
The initial M.J struck in front of the carcass, left side, are most probably that of the manufacturer of which we think that it could be a question of:
JAMAR, Michel, arms manufacturer in Liege, boulevard of Avroy, 16 then street Jean Saint, 26. From 1888 to 1892, it deposits 7 patents for arms inventions and in particular for revolvers and a safety applicable to several species of firearm such as revolvers with hammers, revolvers hammerless and with various kinds of rifles.
GG
Many thanks to "ARMSBLUE" for the nice pictures !!