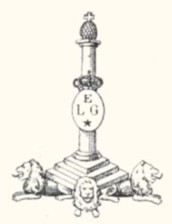 Herman Jean-Jacques
"Canardière pistol with percussion"
Belgian manufacture about 1855
Signed by J. Hermann, Liege, Belgium
Overall length 8.5 inches
Gauge .48
"The two barrels of this gun draw at the same time if the two chimneys are equipped with capsules. By using only one capsule, the weapon can be used like gun with one shot. The button behind the trigger guard is a lever of safety which maintains the hammer with the notch of armed."
I like the deduction of the guy in connection with the use as arms with one shot. That makes think of the type which discovered that by putting only one cartridge in a Thompson machine-gun, it was possible to draw 1 shot in gust.
Marcel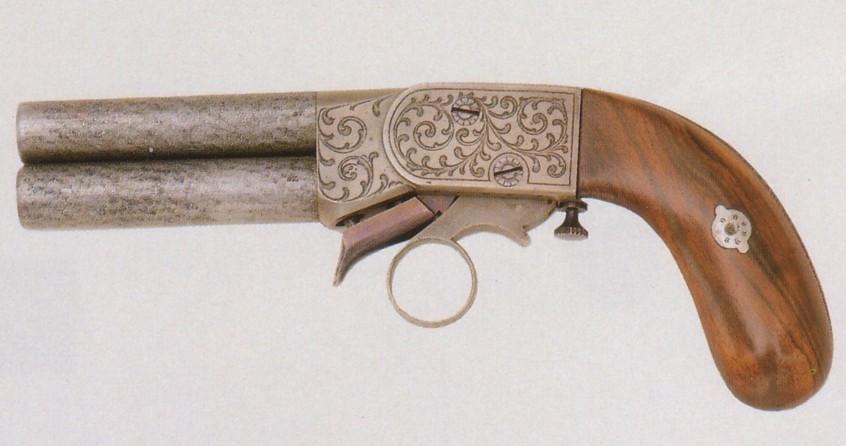 Another in caliber .52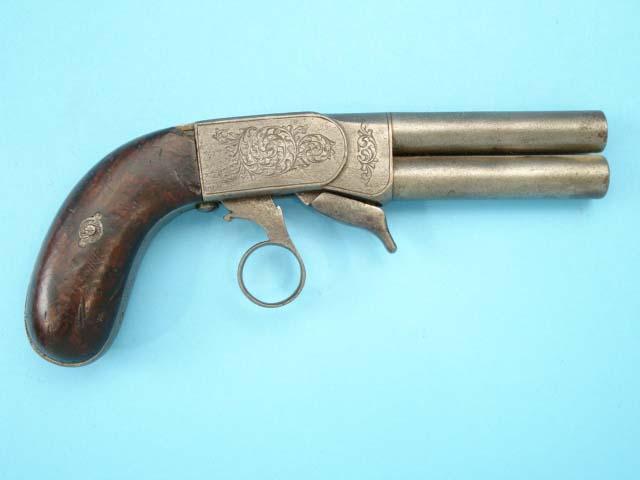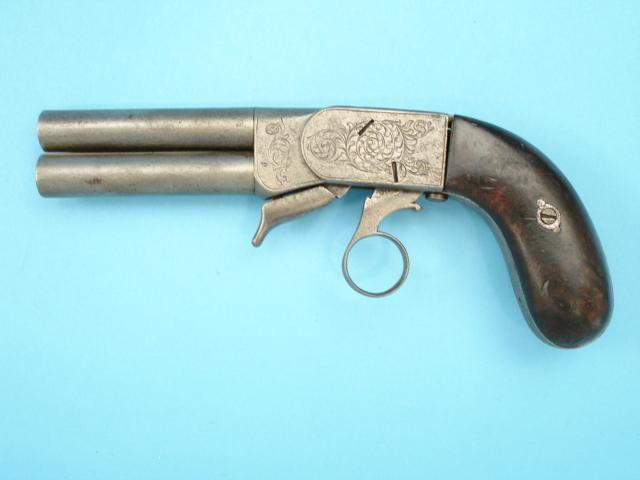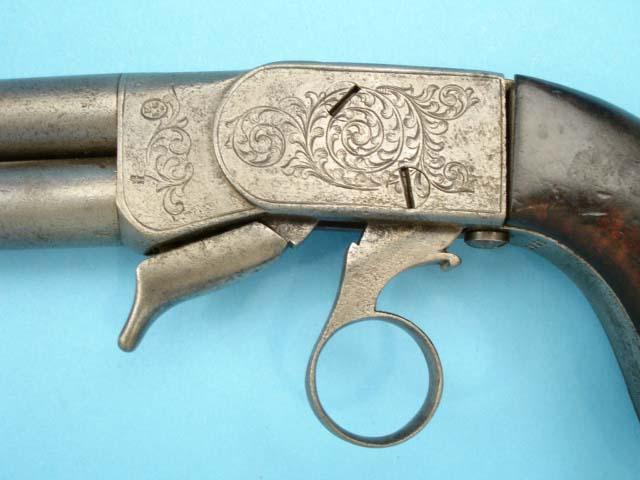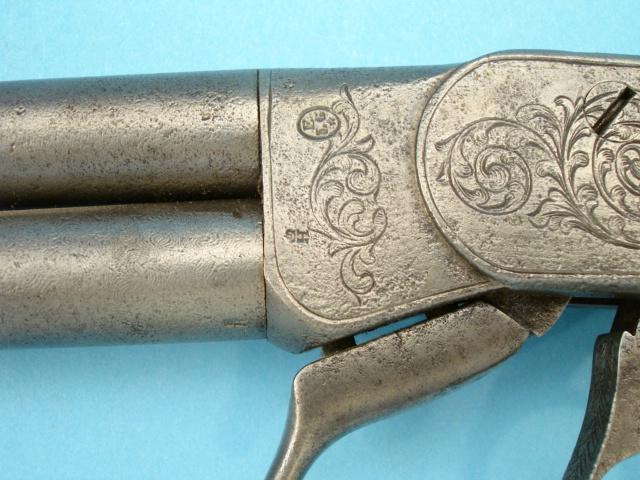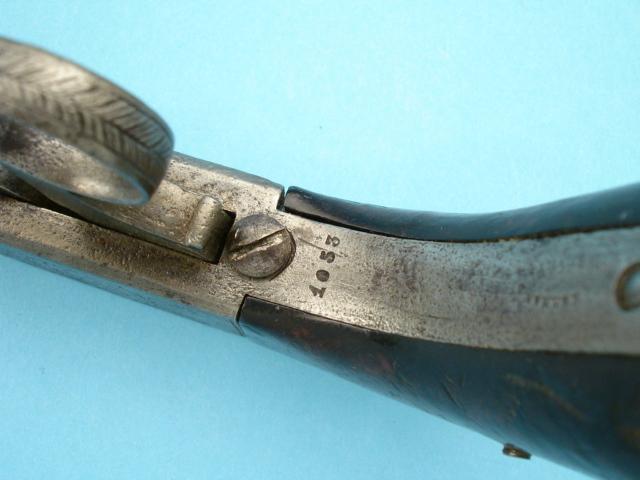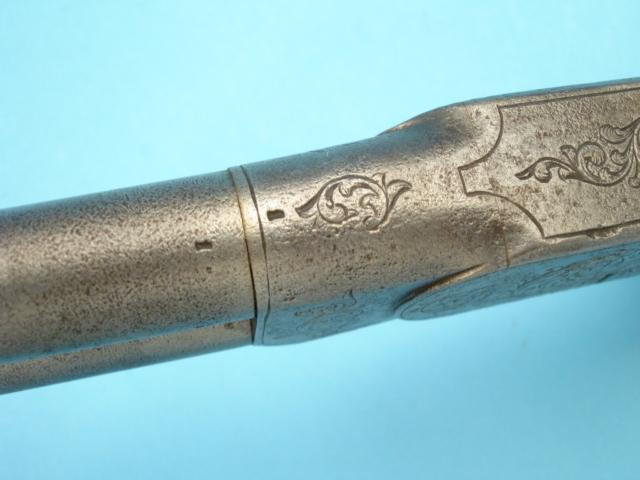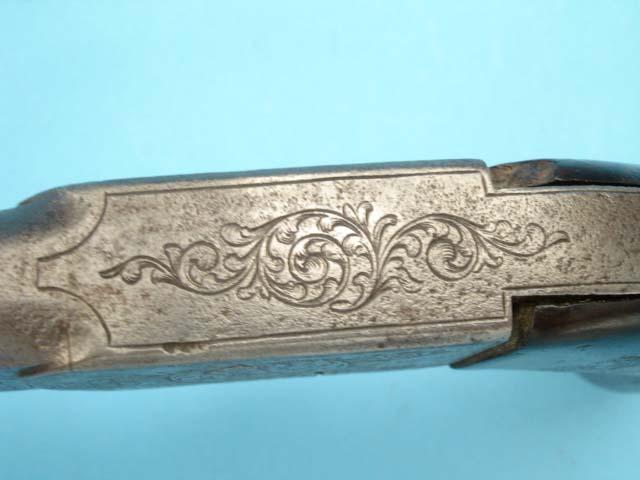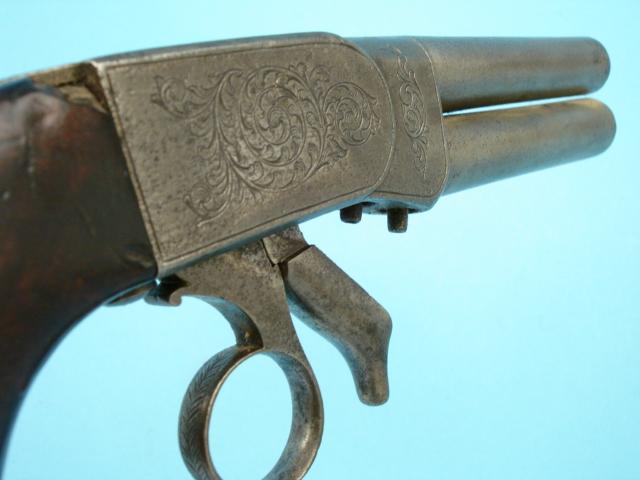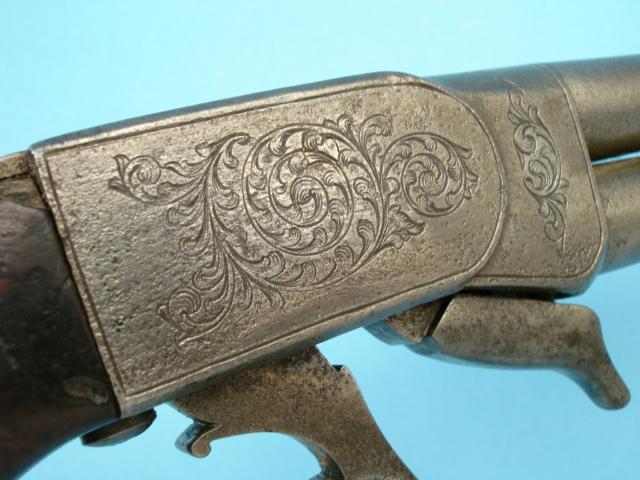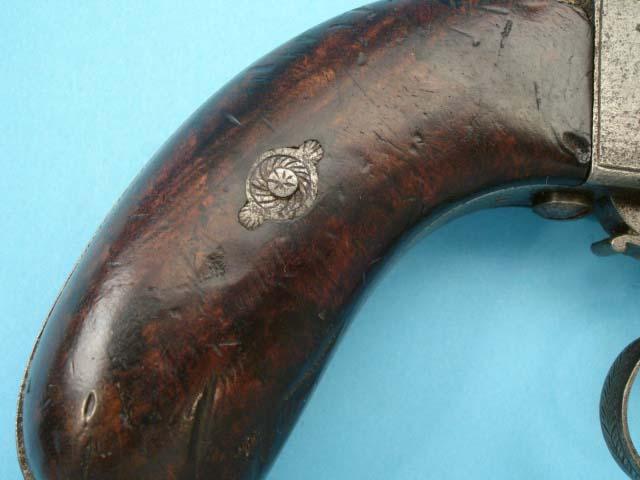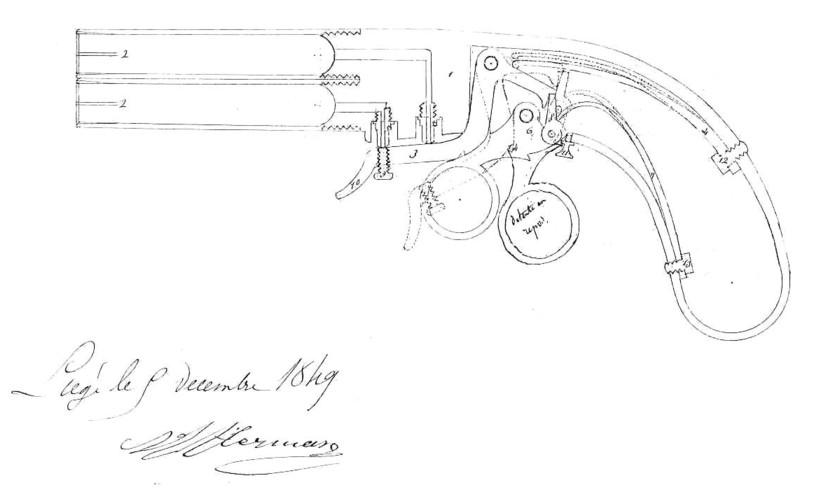 Herman Jean-Jacques
It acts in my opinion of a pepperbox of transition with barrel to eight sides and cylinder to 6 blows.
The rooms are marked from 1 to 6 and the trigger is out of ring.
The engraving of scenes of hunting is anachronistic on this weapon whose hunting is certainly not the destination.
Marking
The mark MG crowned is unknown for me, of Liège where comes it besides??
Inventor
They are more than probably of a revolver of Liège designed by Jean Jacques HERMANN (Belgian patents n°1342 the 20.07.1839 which he improves by a patent n° 5027 of the 24.01.1850. Finally its patent n° 7221 of the 7.07.1853 will give rise to a genuine revolver)
This weapon would have been produced in very small series, less than 500 units.
The rammer, a simple rod at the beginning, constantly evolved. This one indicates that it is about one of the first models.
Some weapons were with unrifled bore, others carried six stripes. They were in gauge 11 mm, the trigger out of ring like the pepperbox. The models produced by HERMANN were marked JJ HERMANN D Breveté or HERMANN Breveté.
It is not the case on this one seems it, it would act perhaps then of a copy authorized or not on behalf of another arms manufacturer of Liège.
GG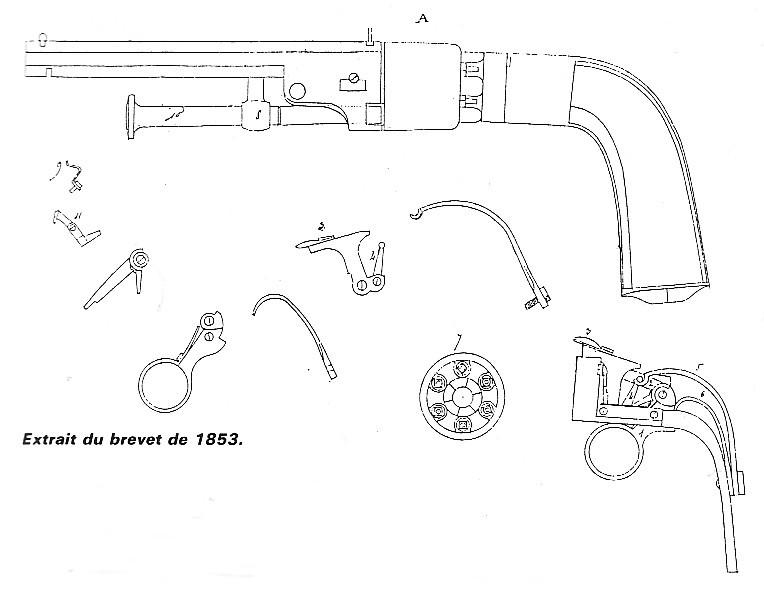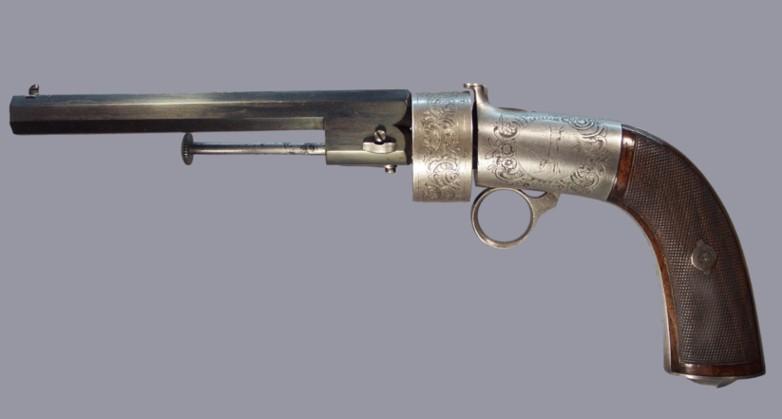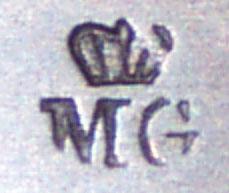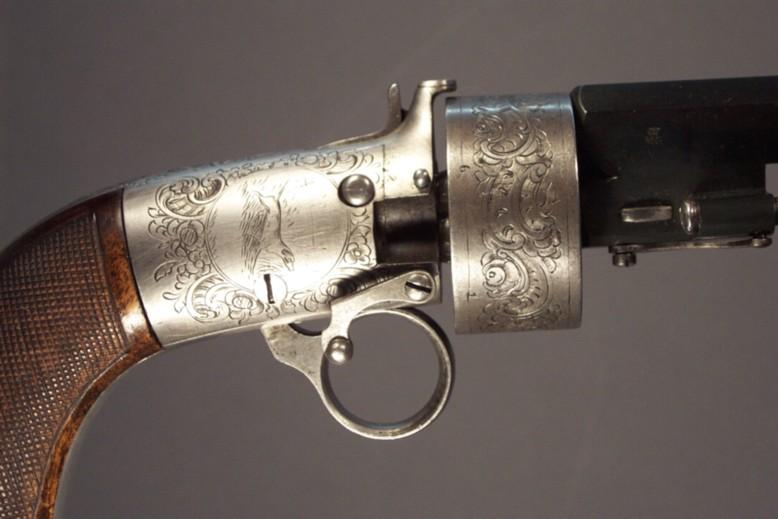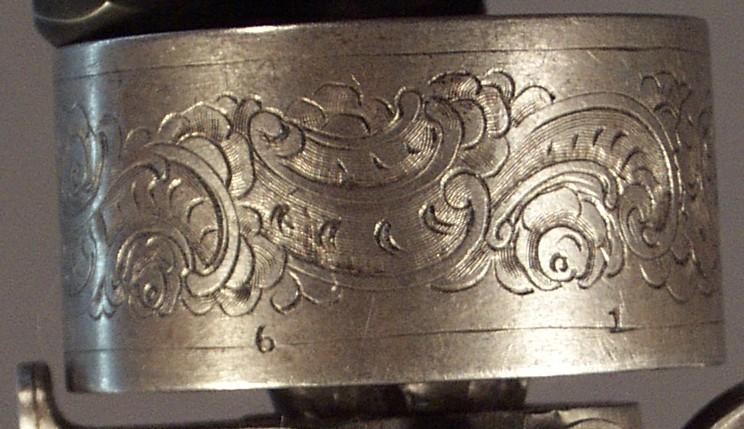 Herman
Herman Jean-Jacques, arms manufacturer in Cheratte of 1829 to 1855.
HPH
J. J. HERMAN, Liège, well made six-shot pepperbox in cal. .35 percussion, the Damascus barrels are about 1 7/8" long and can screw out of the socket for loading. The frame is nicely scroll engraved, and the ebony grips are deeply channeled. The steel is left in the white typical for the 1850's period. ELG proof stamps were required by Belgian law. The pistol is dainty or petit = smaller than the more common Mariette models. The barrel cluster turns clock-wise and the hammer falls from the top.
Photographs friendly authorized by "Horst Held"