Some of the most beautiful work of this craftsman, and many others, are in this book "Liège Gunmakers through their Work. 1800 - 1950".
For more detail see: LIEGE GUNMAKERS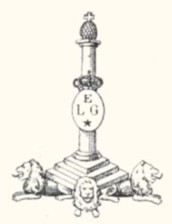 Max FLIEGENSCHMIDT
It acts of a revolver bulldog kind for Germany or Austria because of its safety on the carcass on the left-hand side.
The weapon is with central percussion calibre .32 to six blows of them.
It was manufactured by the arms manufacturer inhabitant of Liège FLIEGENSCHMIDT Max (bench of test 1888/1908) Rue du vivier, 30 in Liege.
The interested party deposited a patent for improvements brought to the revolvers.
He also deposited three trademarks the 19.11.1891 is:
- crowned MF
- a crossed apple of an arrow and mention S.MARKE
- IT TERRIBILE
In 1908, its activity was taken again by FRANKEN & LUNNENSCHLOOS.
GG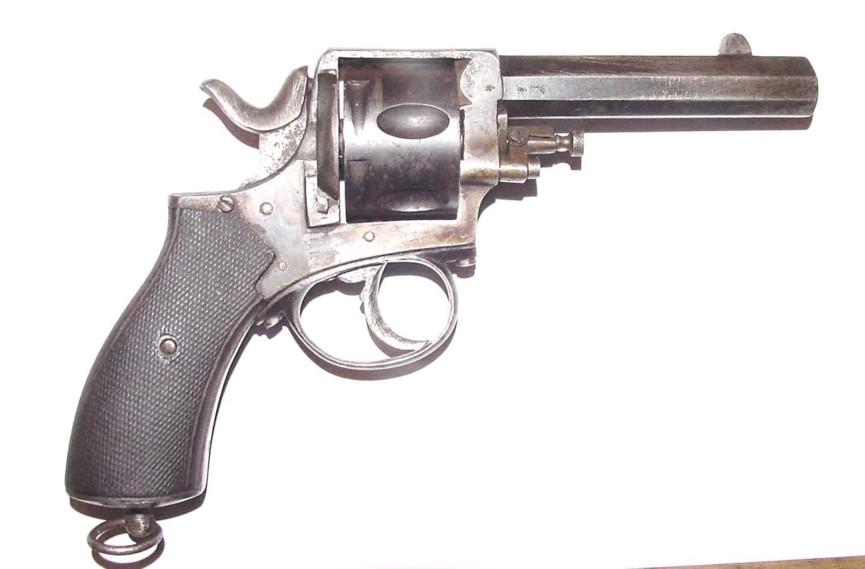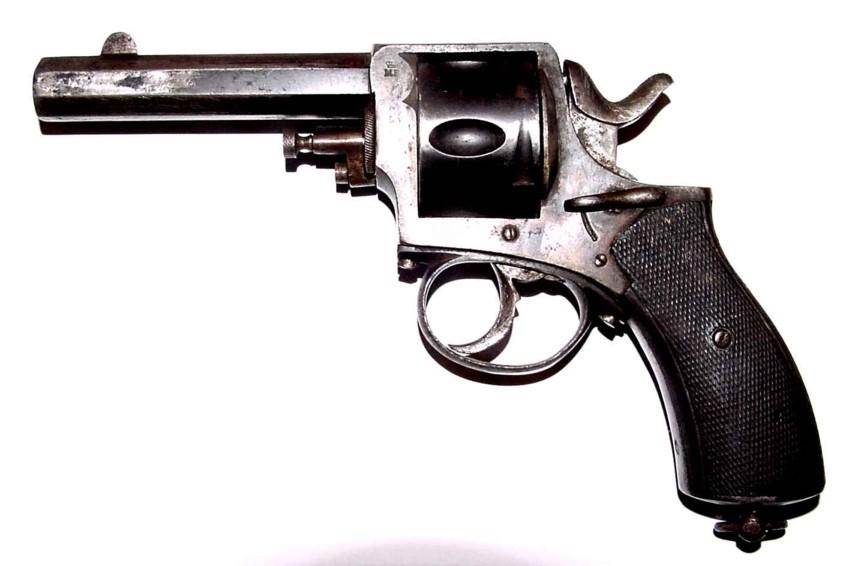 Another revolver signed by Max Fliegenschmidt
Calibre 7mm pinfire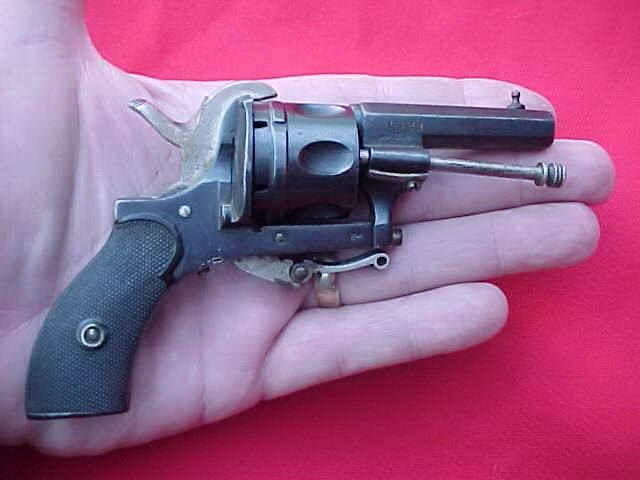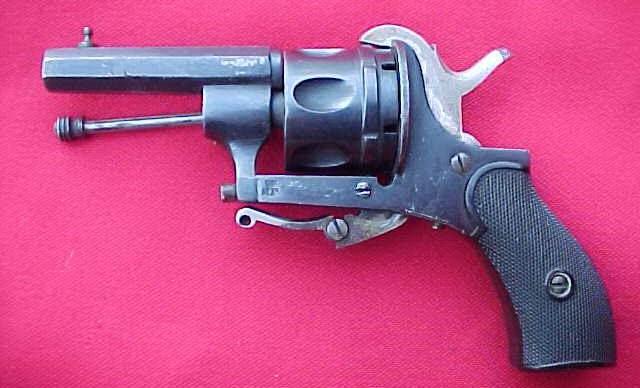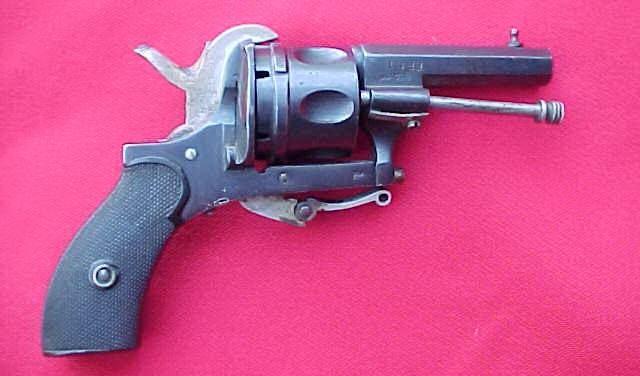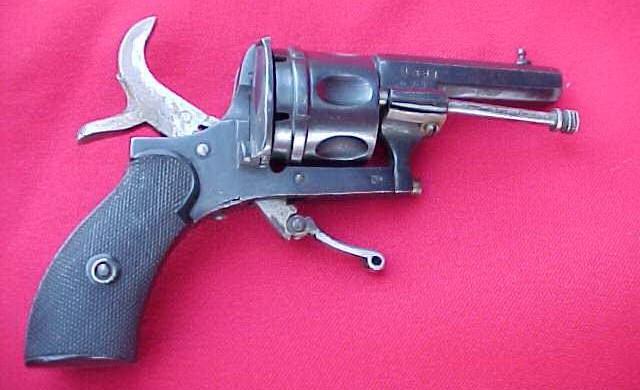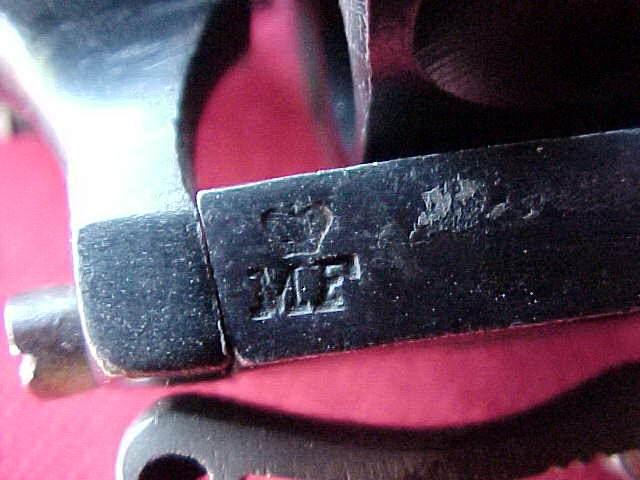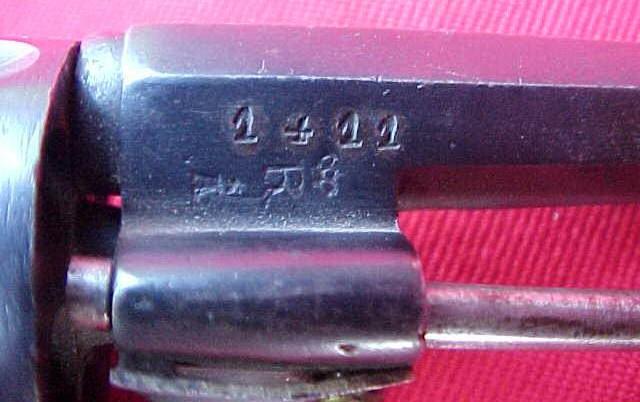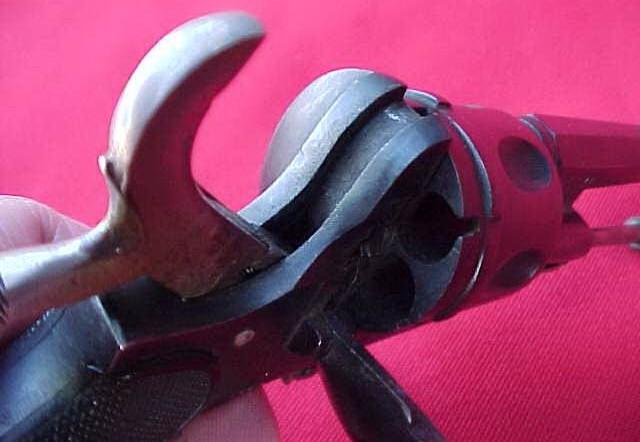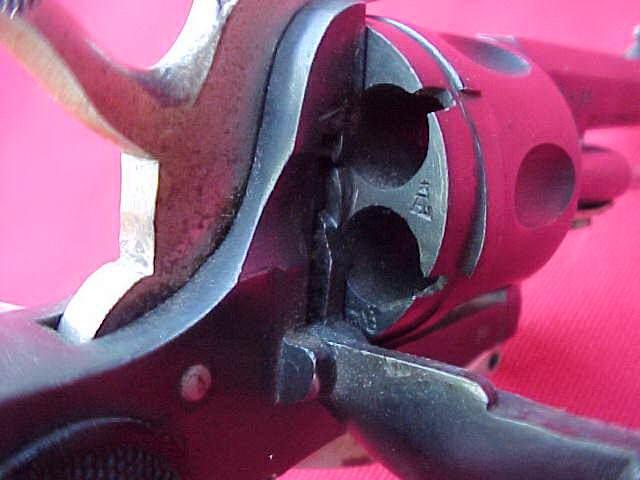 Max FLIEGENSCHMIDT
Thank to "TBERT" for the photos.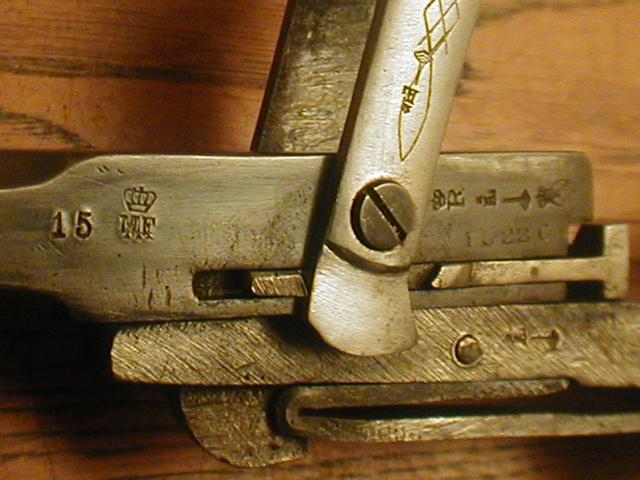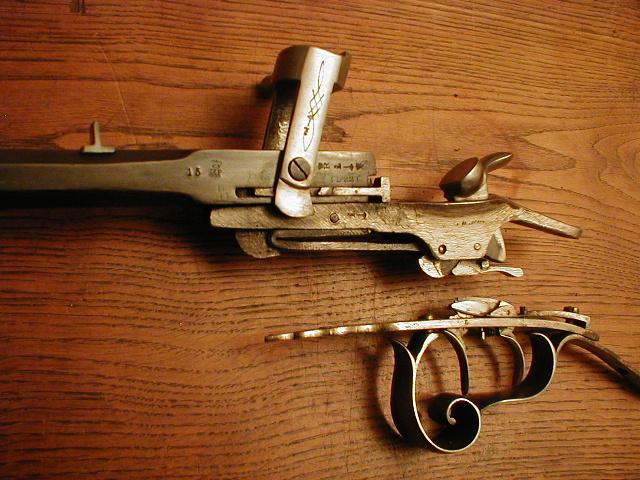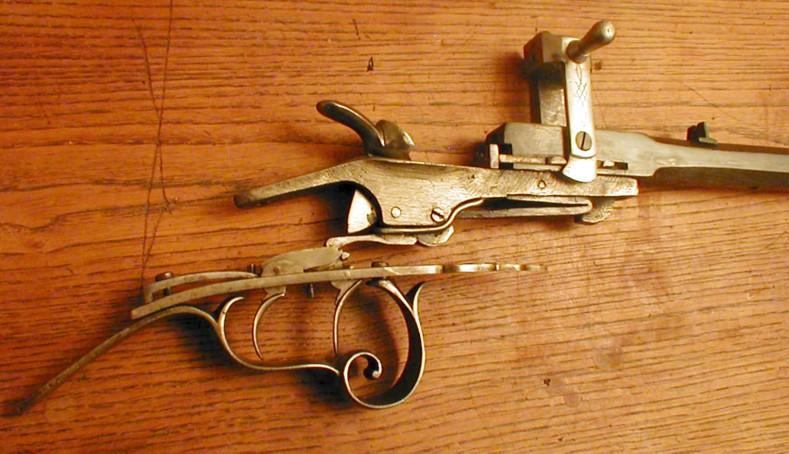 Max FLIEGENSCHMIDT
Photos Littlegun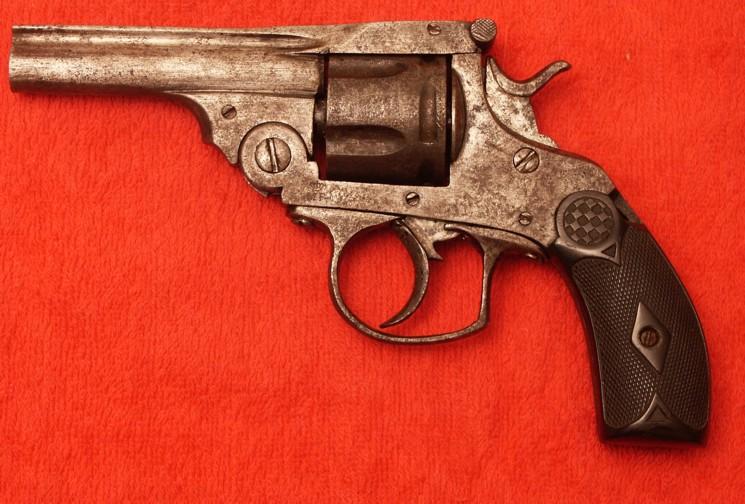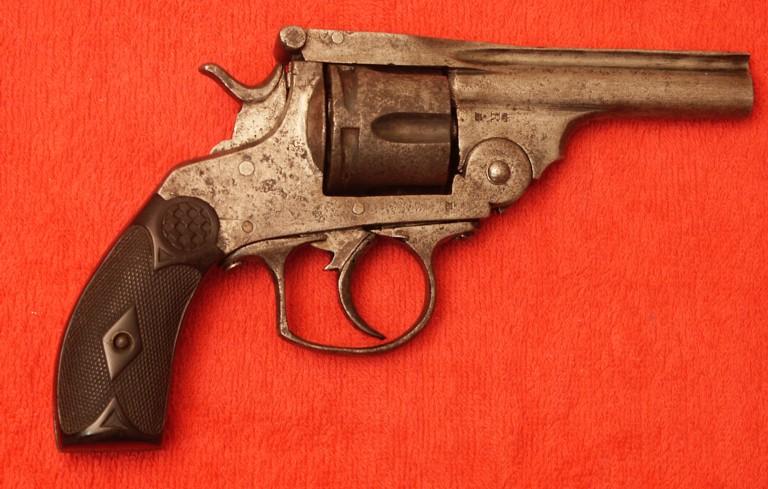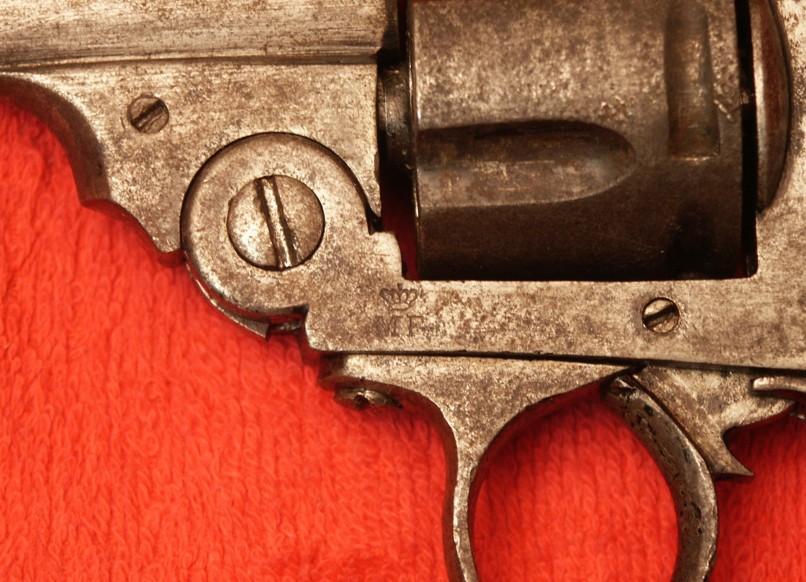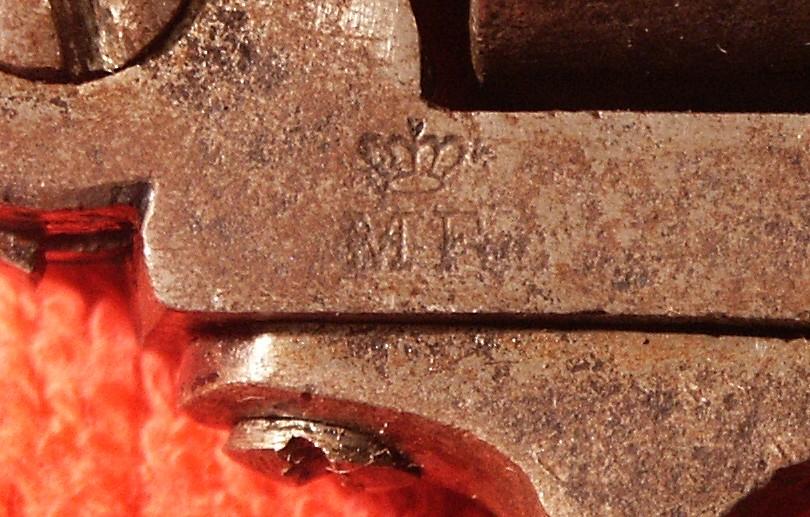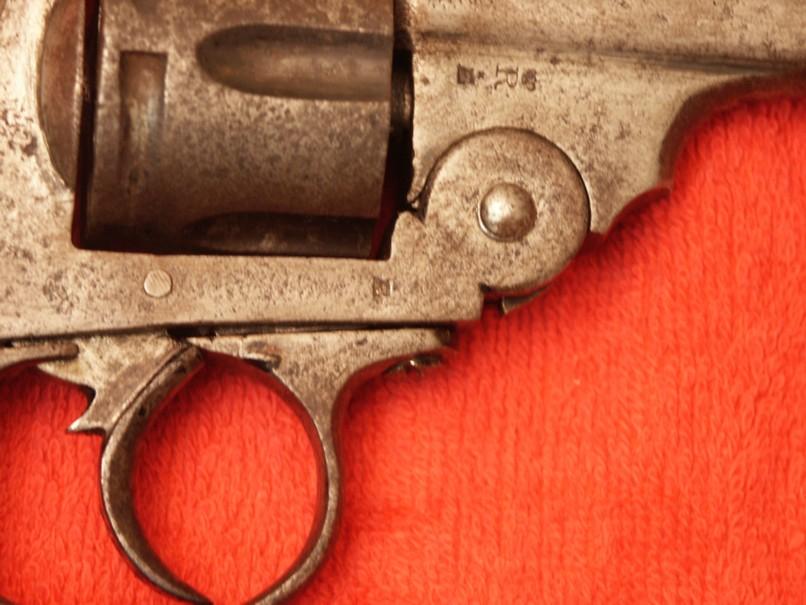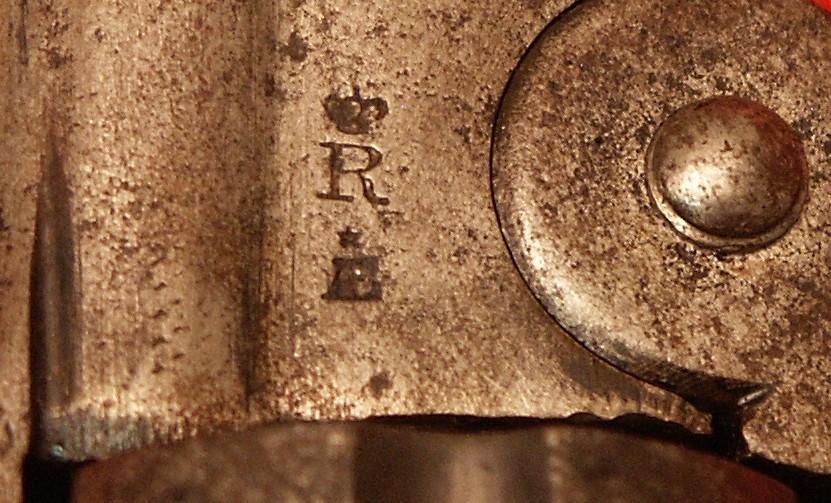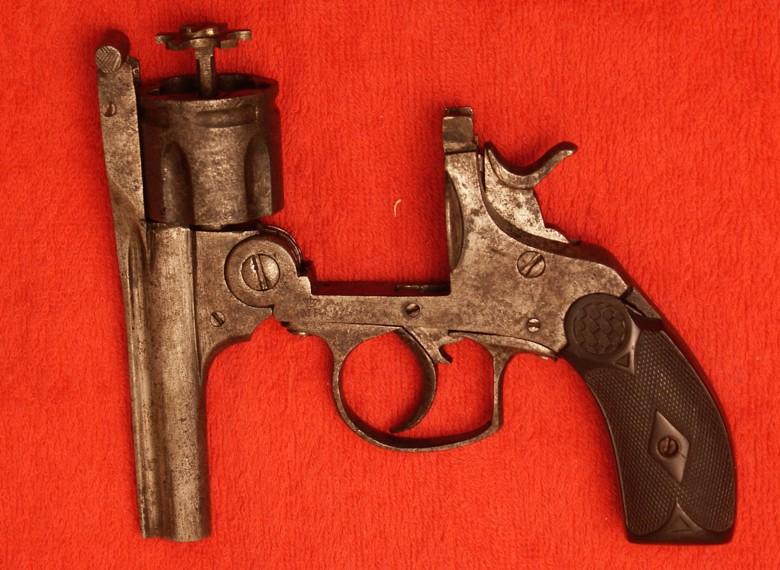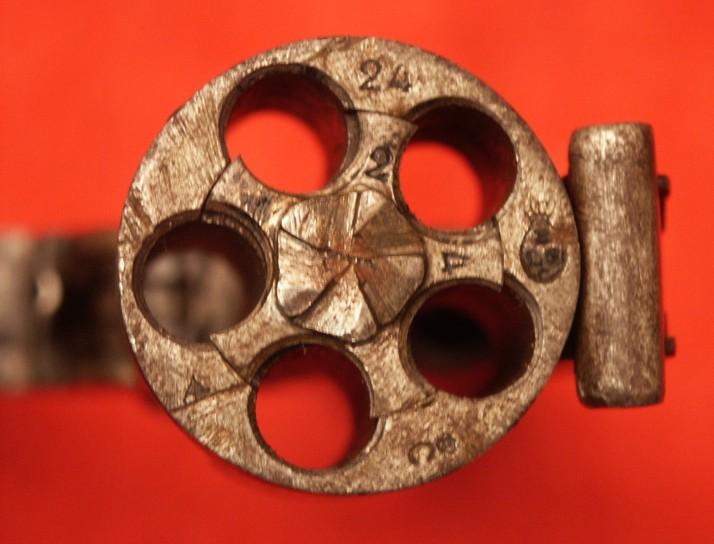 Montenegrin revolver of Max Fliegenschmidt
Photos Littlegun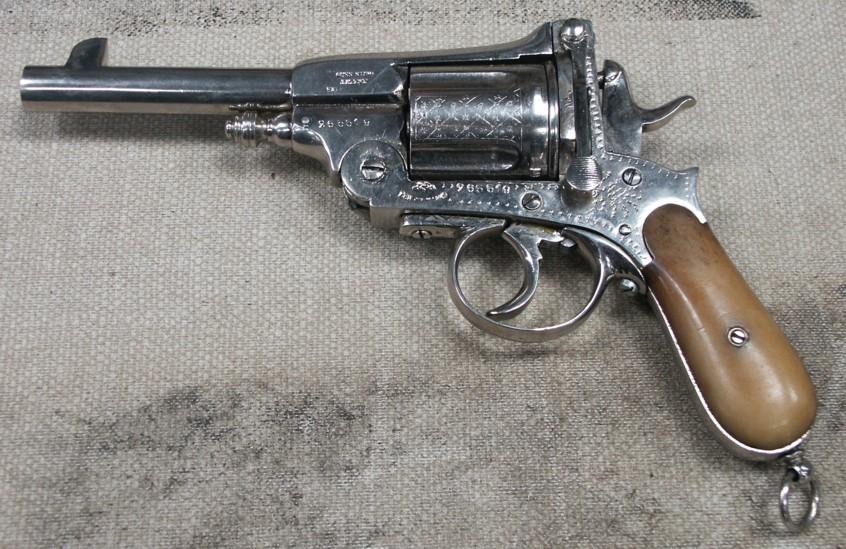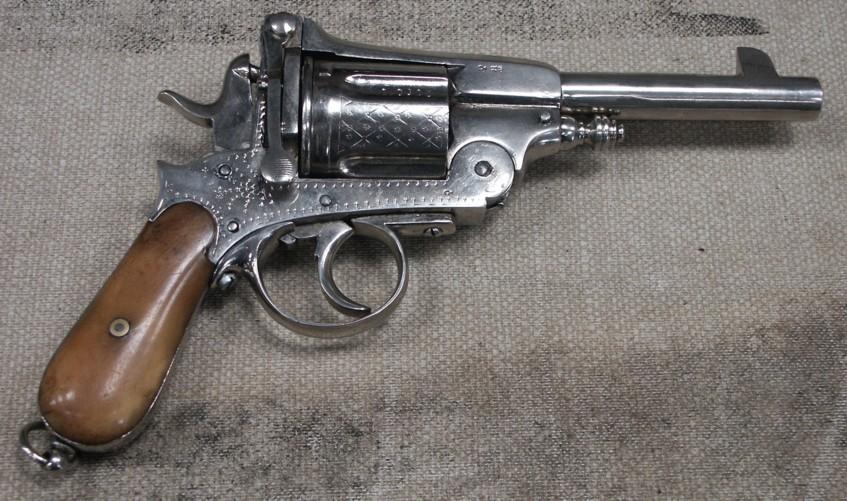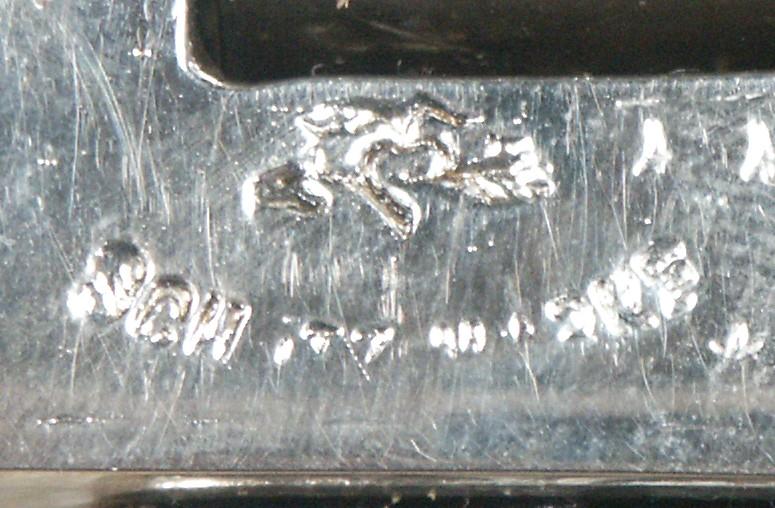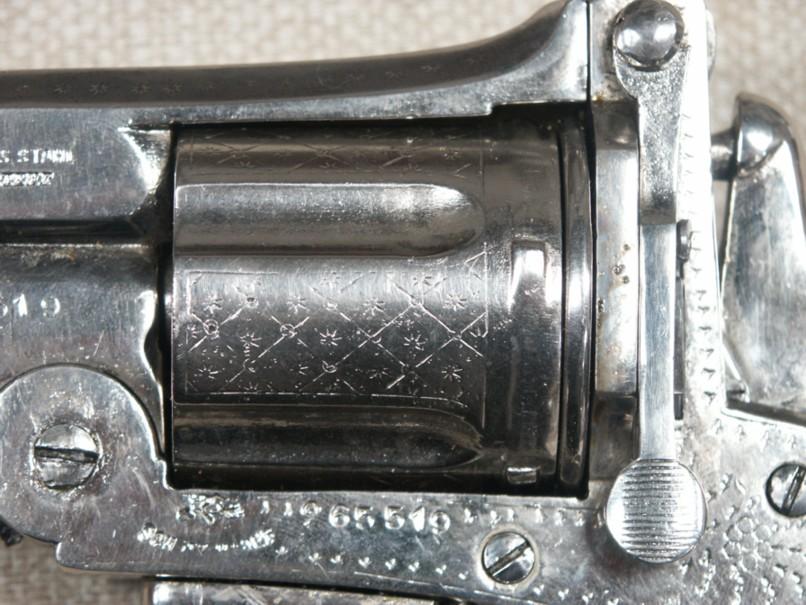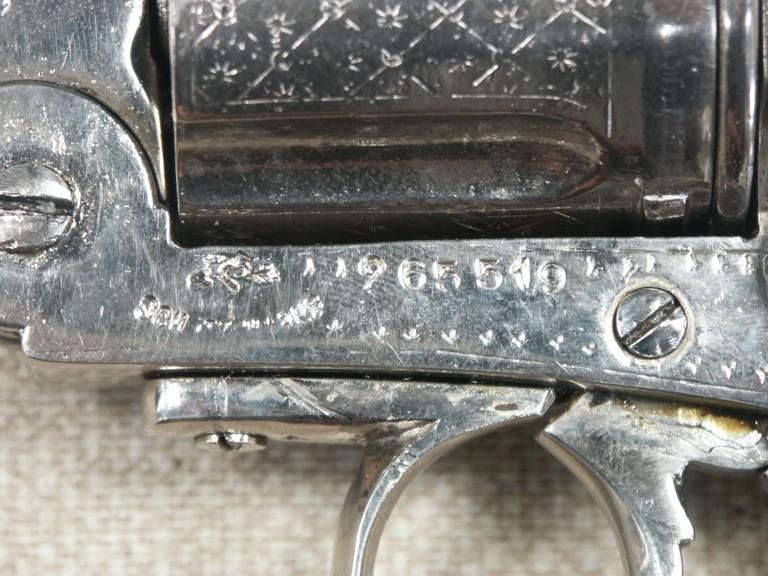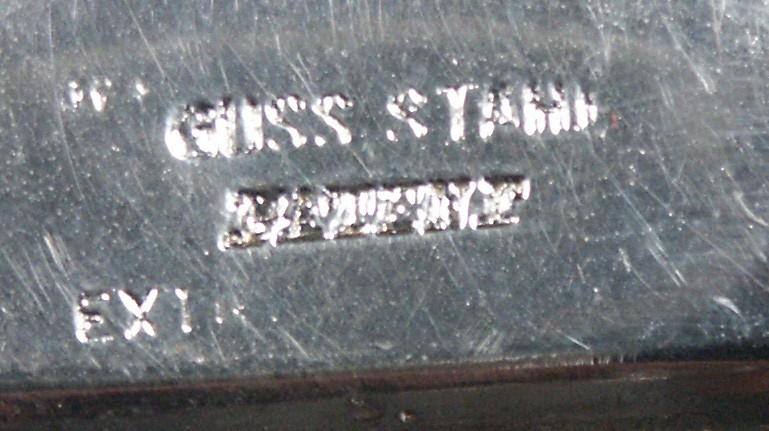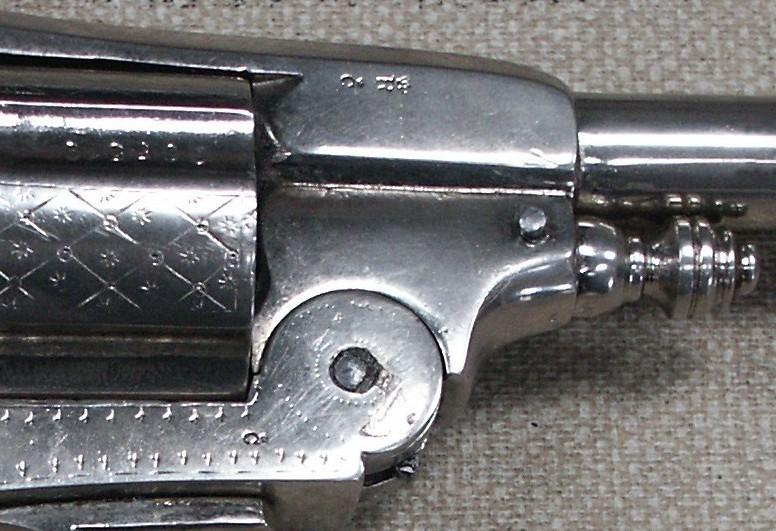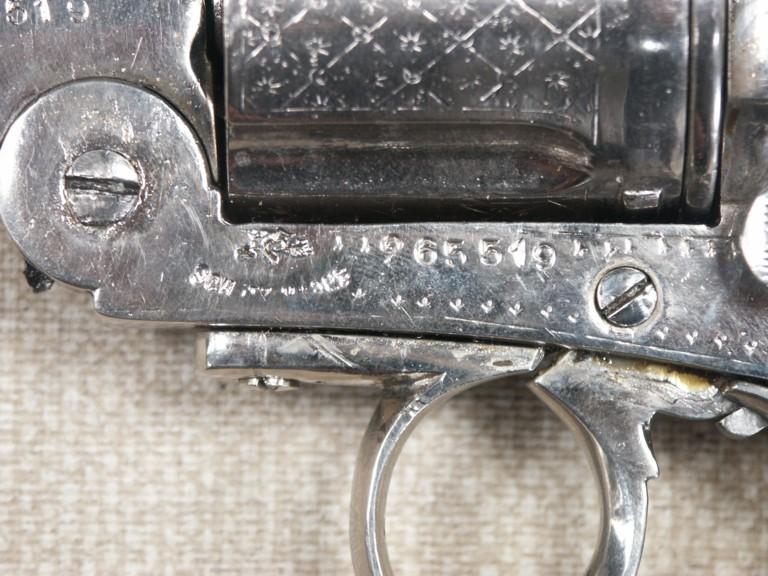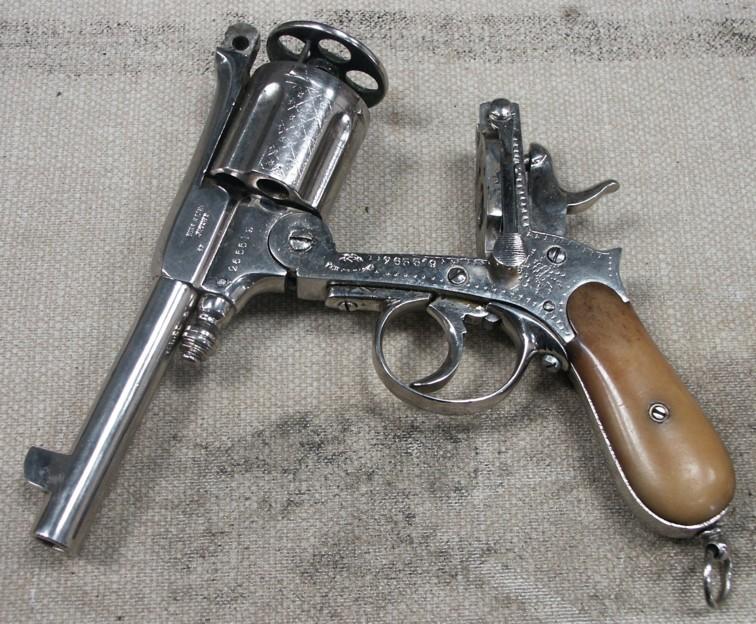 Mark SCW!!
"SCW", the mystery does not exist any more. "SCHUTZMARKE" (= Trade mark), it is a part of the marking of the proper revolvers of the Austrian firm Gasser. On the Belgian copies the first three letters are not given like "SCH" but like "SCW". In this connection, the apple bored by an arrow (of Gasser origin) by a heart with an arrow, isn't this was replaced?
Please find annexed the marking of a truth Gasser ("L G." = Léopold Gasser) have bored apple and word "SCHUTZMARKE" (= trade mark).
DZ (Germany)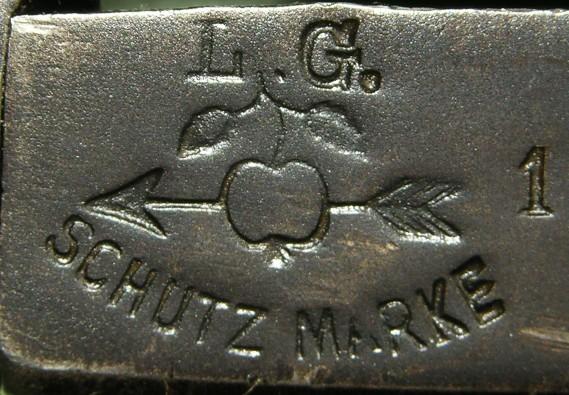 An apple crossed by an arrow with the top of "S. MARKE" in half-circle: mark deposited by Max Fliegenschmidt, street of the Fish pond, 30, Liege the 19/11/1891
Phil (Belgium)
After having thrown a glance with the explanations of DZ concerning revolver SCW, here what I can say moreover:
For marking "SCHUTZ MARKE" I agree.
For that on the top it is marked "GUSS STAHL PATENT"
Montenegrin Gasser-style revolvers, however, were made by numerous small Belgian and Austrian firms, as well as by Leopold Gasser. Later models offered hinged-frame construction, with Galand cylinder locks and a self-extracting mechanism. Most are marked 'Guss Stahl', 'Kaiser's Patent' and similar phrases. Genuine Gasser products are marked 'L. GASSER PATENT WIEN' or 'L. GASSER OTTAKRING PATENT', and often carry the Gasser trademark of a heart pierced by an arrow. Gasser also produced revolvers for the commercial market.
German makers were fond of indicating the type of steel in their barrels, a practice that continued up until about WW2. In the 1840s, most barrels were still made from iron, not steel. "Guss Stahl" undoubtedly indicates that the barrel is made from a specific type of steel, but I do not know what type. Metallurgy was in its infancy then, and designations for various types of steel were not at all uniform, nor were the chemical or physical properties of any of the various types.
Herewith does a photograph of a revolver "Vero Montenegrin Guss Stahl Patent Double Action Service Revolver, 44 centerfire caliber" where one can read markings correctly, the drawing (arrow + heart-apple??) with the top of "SCHUTZ MARKE" seems also identical.
Friendly,
Roger (France)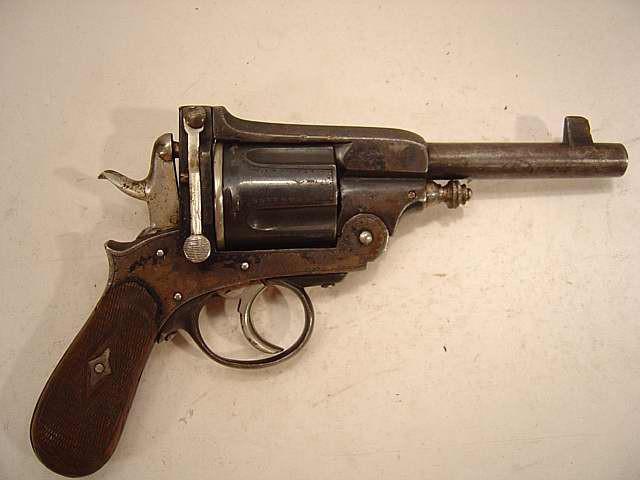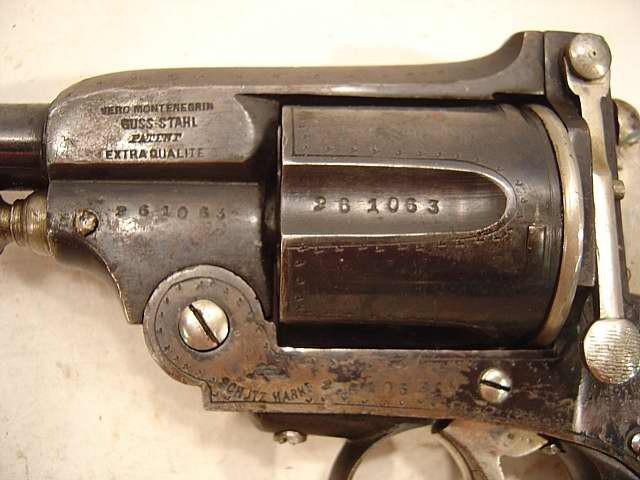 A small word on the "Revolvers Montenegrins"
The hinged-frame action was design of Belgian firearms manufacturer Jean Warnant and his assistant Fransquet, but the twin-latch opening was designed by Philippe Counet of Belgian Auguste Francotte's plant. Design of Warnant & Fransquet had just one opening lever on the right or left side of frame.
11 mm Montenegrin Gasser revolvers were heavy and big, usually with twin-latch hinged frame. (Opening levers on both sides of the frame; Counet's design).
Montenegrin King Nikita (or Nicolas; reign 1910 - 18) was a notable shareholder of a firm Leopold Gasser and an efficient salesman of old-fashioned revolvers, already before his royal reign. King Nikita declared a famous Royal Act: "Every male citizen of Montenegro is a member of the Militia, and therefore not only justified but also obliged to possess at least one Gasser Pattern revolver."
Montenegrins models were designed in 1880, both solid-frame and hinged-frame versions, caliber usually 11 mm, but after declaration of Royal Act the 9 mm G-K models became also popular, since the teen-ager or still younger boys got the right (and obligation) to acquire, possess and carry a revolver.
Population of Montenegro was considerably less than half million citizens in 1910, but some patriotic (= wealthy) Montenegrins acquired as many as a dozen Gasser wheel guns.
Huge orders of obsolete Montenegrin revolvers kept the firm Leopold Gasser alive until the end of First World War, although Austro-Hungarian armed forces did no more order 8 mm Rast-Gasser revolvers after adoptment of self-loading 9 mm Steyr-Hahn pistols since 1912.
Less wealthy citizens of Montenegrins Kingdom acquired cheap Belgian look-alikes of Montenegrin Gasser revolvers, including Warnant's Montenegrin models, because the Royal Act mentioned Gasser as a pattern of revolver but not as an actual manufacturer of it."
Original Gasser Montenegrins revolver Model 1880 with hinged frame and Gounot's twin-latch. Caliber 11,3 mm Gasser. Optional barrel lengths were either 133 mm or 235 mm. Co-designer or this model, Archduke Nikita (later King) of Montenegro, preferred "Buntline Special" barrel with a length 235 mm.