Some of the most beautiful work of this craftsman, and many others, are in this book "Liège Gunmakers through their Work. 1800 - 1950".
For more detail see: LIEGE GUNMAKERS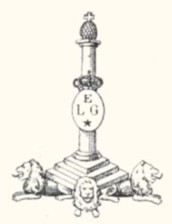 DUPONT Alexandre
This a double rifle for big game hunting. Break open rifled barrels , in calibre 9,3 X 74R.
The front locks of hammerless type with "Top lever" locking key and "Galand" type sliding safety.
The gun is equipped with a AMPOINT 5000 scope attached to a rectangular base plate. A rear sight folded into the base plate can be opened out when the gun is used without the scope.
Ball ended checkered forearm.
English type Walnut stock with finely checkered forearm.
The metal parts of the gun are covered with engraved hunting scenes with gold inlays. This engraving is signed J. BAERTEN, a Liege engraver working for the FN in the 1970s.
STAMPS
This gun bears the Liege proof house stamps i.e:
STAR/ ELG in a crowned oval: acceptance post 1893.
PV surrounding the Perron in a crowned oval: acceptance for smokeless powders, of use since February 26, 1968.
Perron: inspection post 1853.
STAR/D : counter mark of the controller post 1877.
PV surmounted of a stylized lion: test with smokeless powder, used from 1898 to 1968.
CROWNED R : rifled bores, used from 1894 to 1968.
e: yearly letter for 1966 (year of manufacture).
1Kg695: weight of the barrel for smokeless powders (smooth bores guns) used 1924 until today .
9,3 X 74R - 3000 BAR: calibre and pressure of the rifled bore.
Marks
This gun bears a mark AD in a circle which is assigned to DUPONT Alexandre, 19 rue de la Province, in Liege and who was active from 1923 to 1970.
56 should be the serial number of the gun.
Where it becomes more complicated.......... the mention "Manufacture liégeoise SA" hand engraved thus posterior and which, in no way, must be confused with "Manufacture liégeoise d'armes à feu" 54 rue de Vertbois, in Liege, company bought in 1929 by the ARMAF company.(1929/1972)
The name "Manufacture liégeoise SA" does not appear in "Who's Who" in Liege arms manufacturing ?
The question thus remains open for this company.
GG