Some of the most beautiful work of this craftsman, and many others, are in this book "Liège Gunmakers through their Work. 1800 - 1950".
For more detail see: LIEGE GUNMAKERS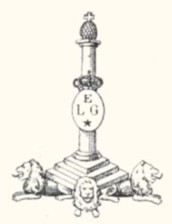 DEFOURNY & MONNARD
Alphonse DEFOURNY and MONNARD Jules were a manufacturer of weapons street of Tombeux, 4 with VIVEGNIS (Liege).
They were registered with the punch house of Liege of 1910 to 1932.
From 1906 to 1927, they deposited five Belgian patents relating to various
improvements with the shotguns.
Their diversified production was made up for a great part of shotguns of the type ANSON & DEELEY and PURDEY Hammerless.
These rifles underwent all the 4e test (for pyroxiline powder) of the tests house of Liège.
The small company also produced rifles of living room of the type FLOBERT - WARNANT - REMINGTON and LECLERCQ as well as revolvers of the type LEFAUCHEUX - BULLDOG - KOBOLT-CONSTABULARY-VELO-DOG and
PUPPY.
Attached some extracts of their catalogue.
GG