Some of the most beautiful work of this craftsman, and many others, are in this book "Liège Gunmakers through their Work. 1800 - 1950".
For more detail see: LIEGE GUNMAKERS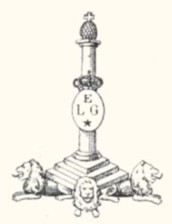 de BRUS Louis
Shotgun, double juxtaposed.
The guns are smooth, out of steel and of gauge 12.
Platinums of the hammerless type are engraved sheets of vine branches in hollow bottom and a pretty face of lion to the feature! No the visible signature of the engraver!
The manufacturer is de BRUS Louis, street Out-Castle, 128 in Liege then street of the Brewers, 23 in 1912.
He was registered with the proofhouse of Liège of 1898 to 1937.
In 1898 it took again the arms activity of HAAKEN Charles son.
From 1903 to 1905, it deposited six Belgian patents in particular for a lock system for rifle hammerless and a system of rifle hammerless to ejectors and dismountable locks.
The weapon also carries the lawful punches of the proofhouse of Liege, namely:
ELG on star in an oval under crown: acceptance post 1893.
Peron: inspection post 1853.
S and AB under star: countermarks of the controllers post 1877.
12 C in a rhombus: gauge, of use of 1898 to 1924.
EL in English letters: provisional test, of use of 1852 to our days.
CHOKE 17.4/18.2 17.4/16.2: chokes barresl: gauge in mm to 22 cm of the breech and the mouth. In use of 1910 to 1924.
PV surmounted of a stylized lion: test with the powder without smoke, of use of 1898 to 1968.
D = 65 mm/20.6: length of the chamber in mm and diameter in mm after optional test with the powder without smoke. In use of 1892 to 1924.
P 1K????? (Illegible) weight of the barrel which can draw from the powders without smoke (weapons smooth). In use of 1892 to 1924.
The other marks are:
4838: serial number of the weapon struck by the manufacturer.
11630: another serial number of unknown origin.
5799 CG PARIS: major marking by the French retailer.
DC interlaced and crowned: mark unknown, probably belonging to a subcontractor.
AF with cross palms: This mark on the barrels is rather fuzzy, it resembles to mistake there with a marking of Auguste FRANCOTTE manufacturer of weapons in Liege. Perhaps the barrels come from this company.
Period of manufacture: this weapon was manufactured between 1910 and 1924 according to the punches of tests.
GG