Some of the most beautiful work of this craftsman, and many others, are in this book "Liège Gunmakers through their Work. 1800 - 1950".
For more detail see: LIEGE GUNMAKERS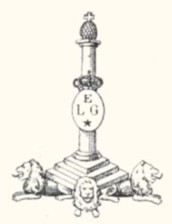 Clément (without any certainty)
An antique Colt's patent / Brevete "Brooklyn Bridge" 5 shot 31 caliber single shot percussion revolver with 6 inch barrel.
Signed I. Nixitis Erben Constantinople.
Length 30,5 cm.
SN 20551. Cylinder with Brooklyn Bridge scene.
Frame marked 31 caliber, several inspector markings.
Barrel signed on 3 sides: I. Nixitis Erben Constantinople / Marque de Fabrique / Quality Pistol Manufacture.
With my grateful thanks to Bolkantiques for these very nice pictures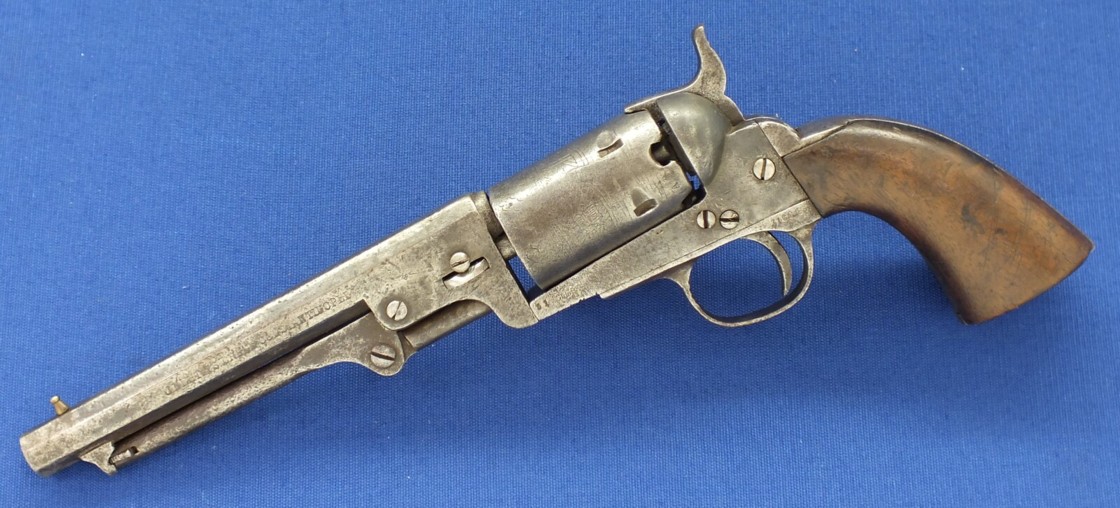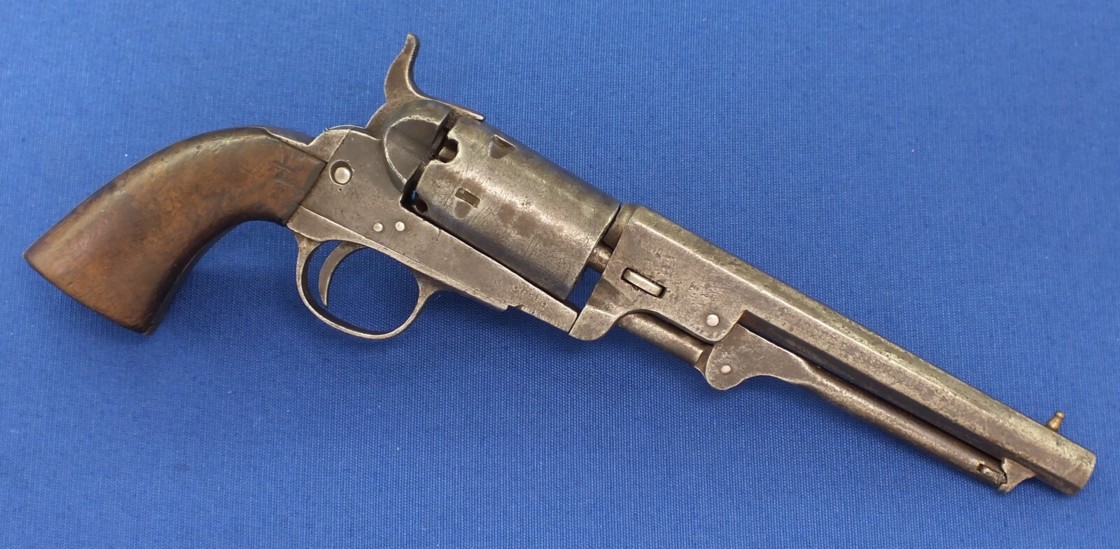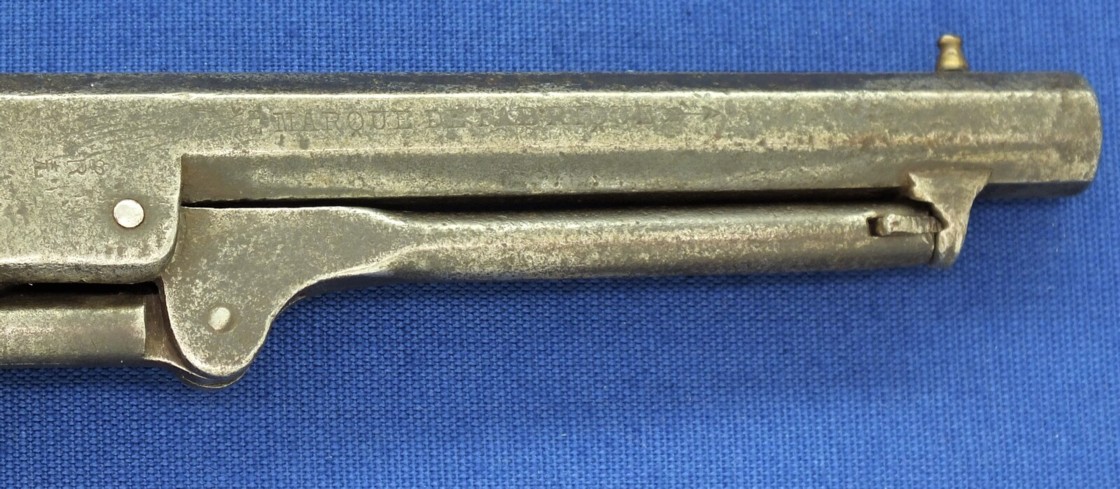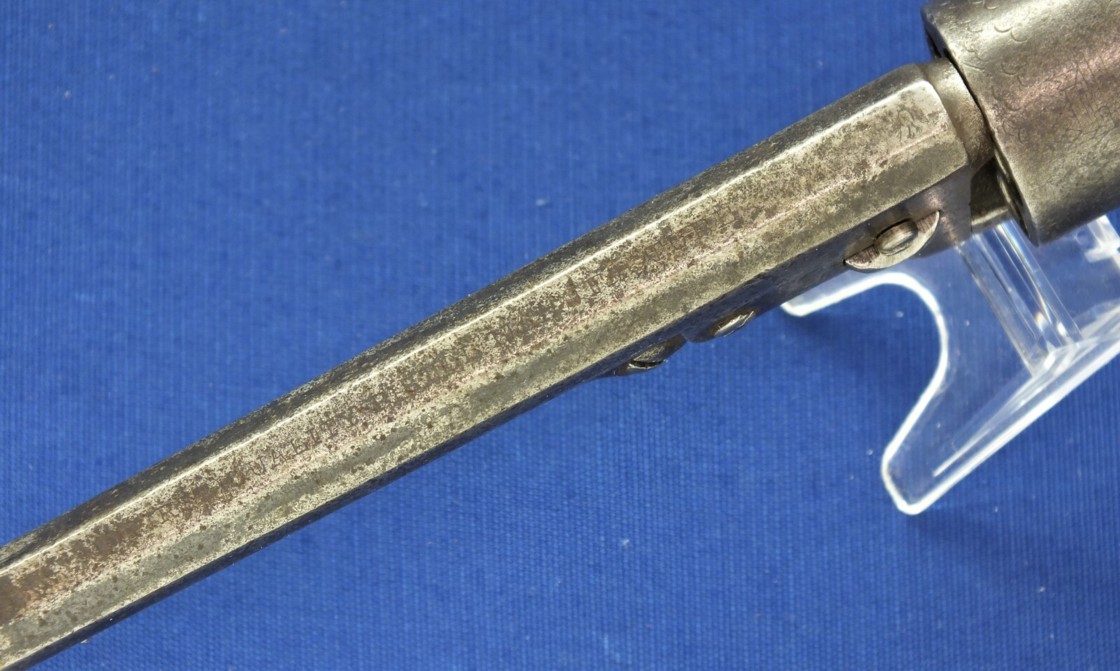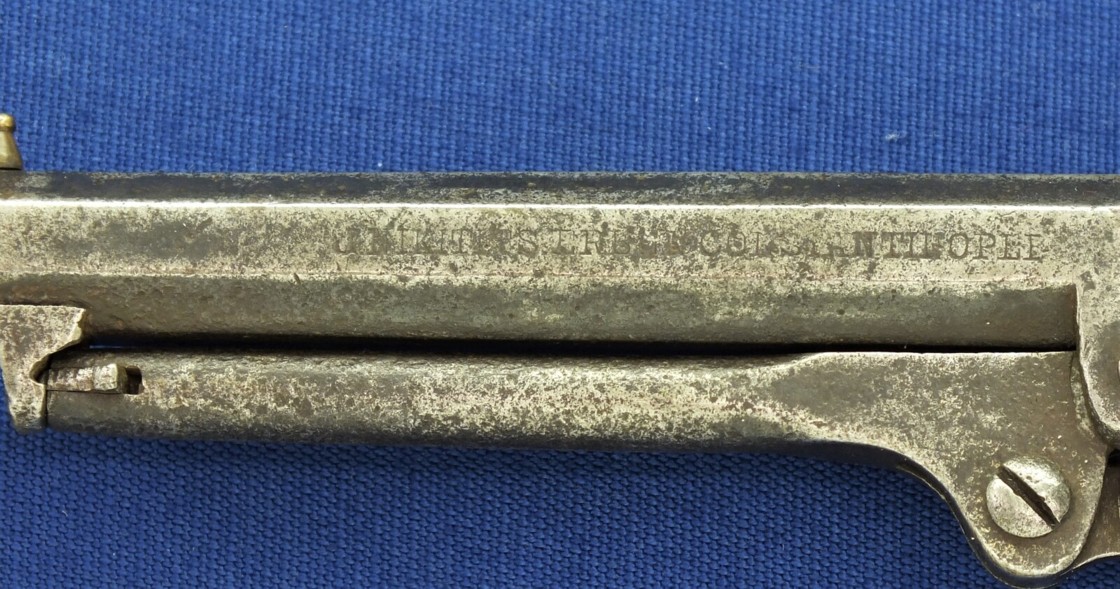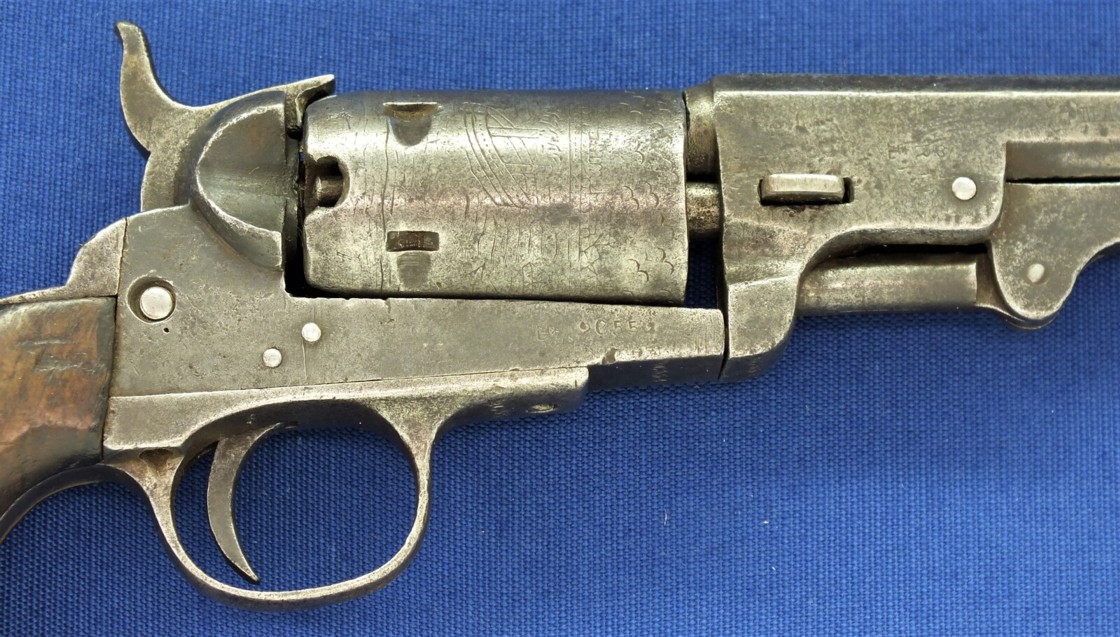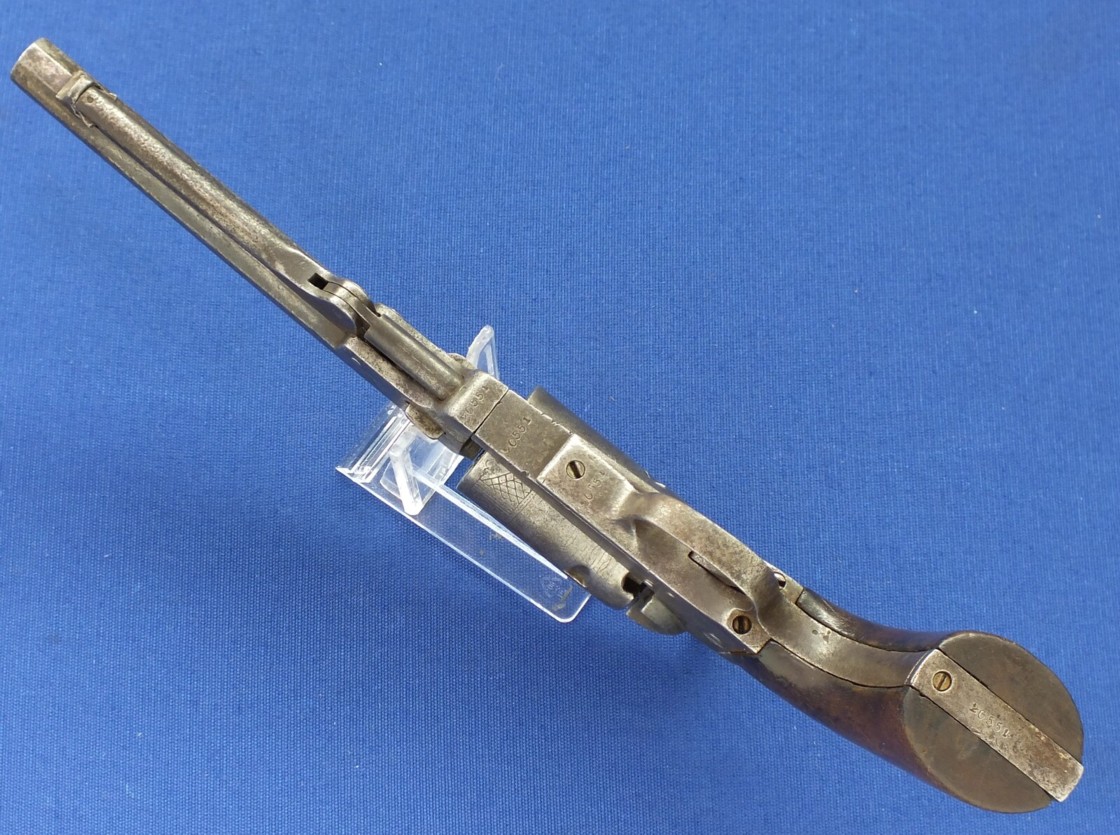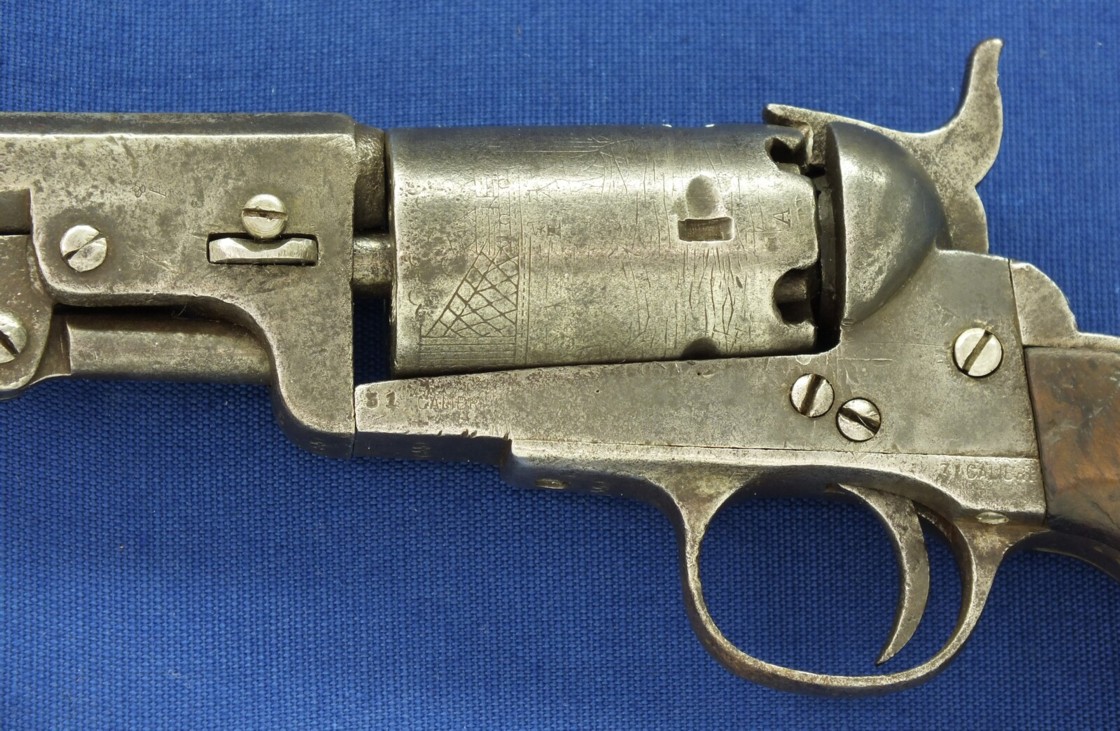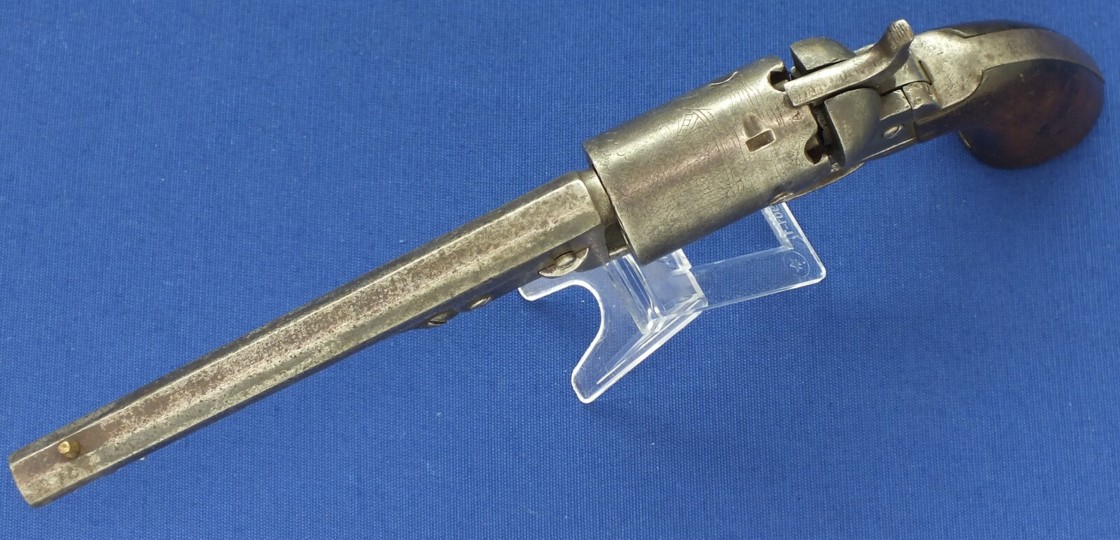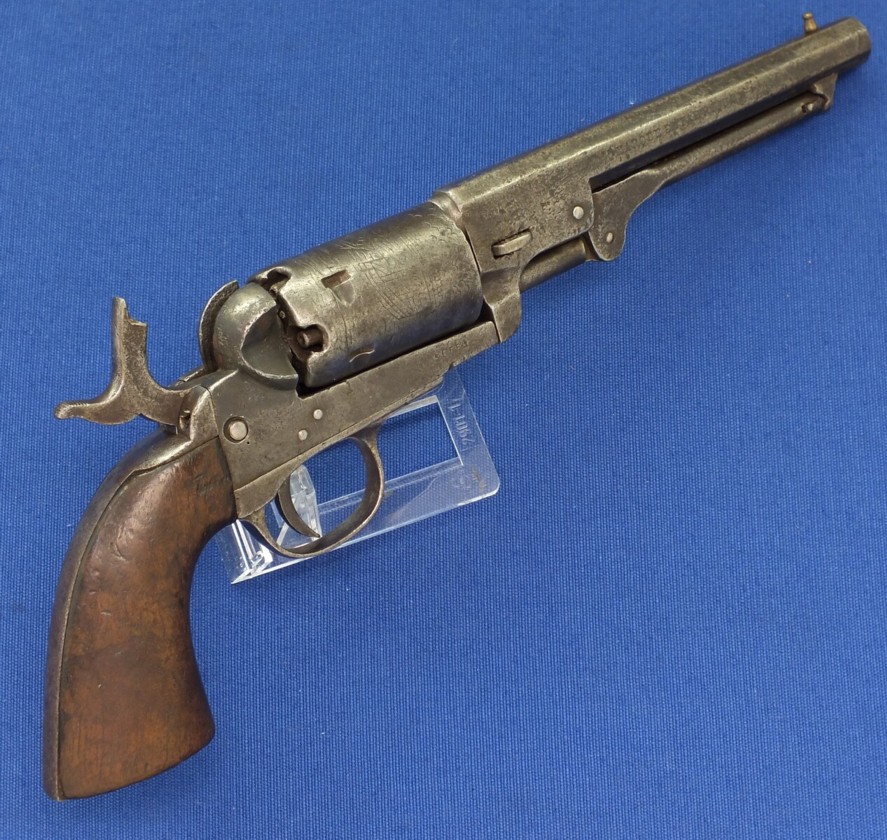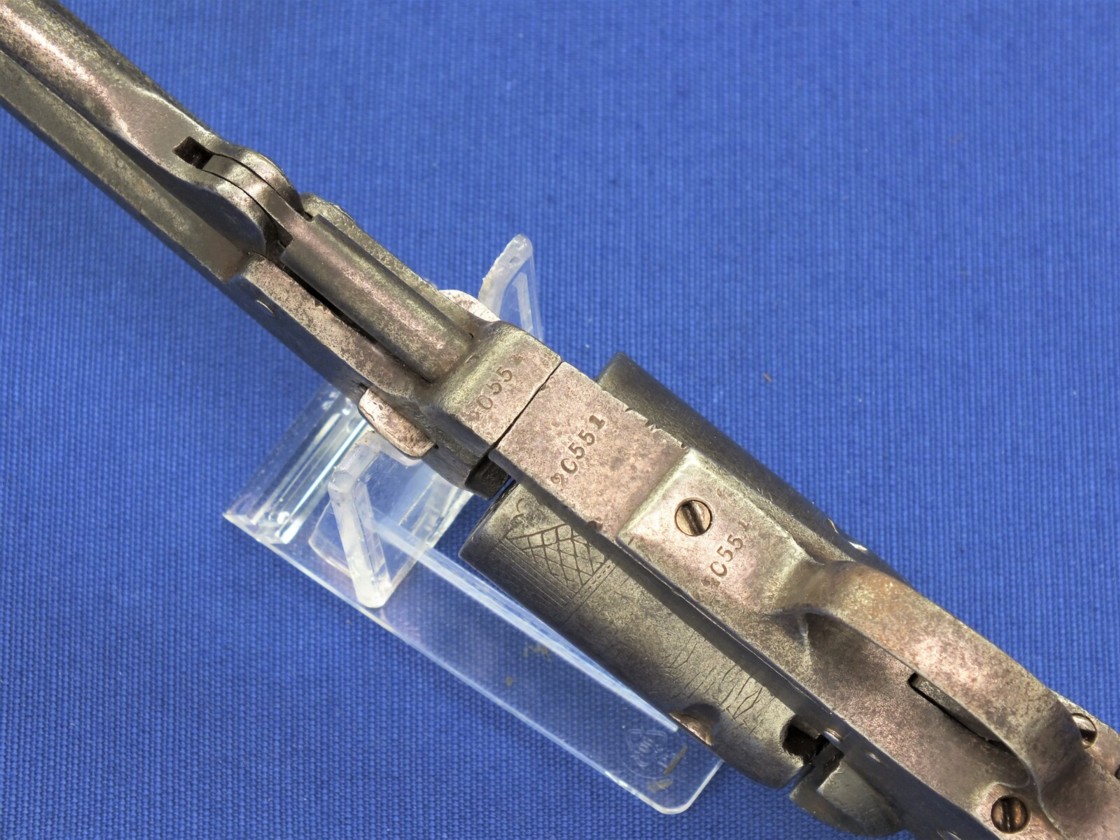 Clément Charles Philibert
Revolver Guardian identifiable by the band "The Guardian model of 1878" engraved on the cylinder and which is a trade mark registered in Liege the 27. 12. 1880 by Clément CPJ in Liege Neumann Frères successors.
Let us simply add that the barrel is eight-sided while others are round.
Alain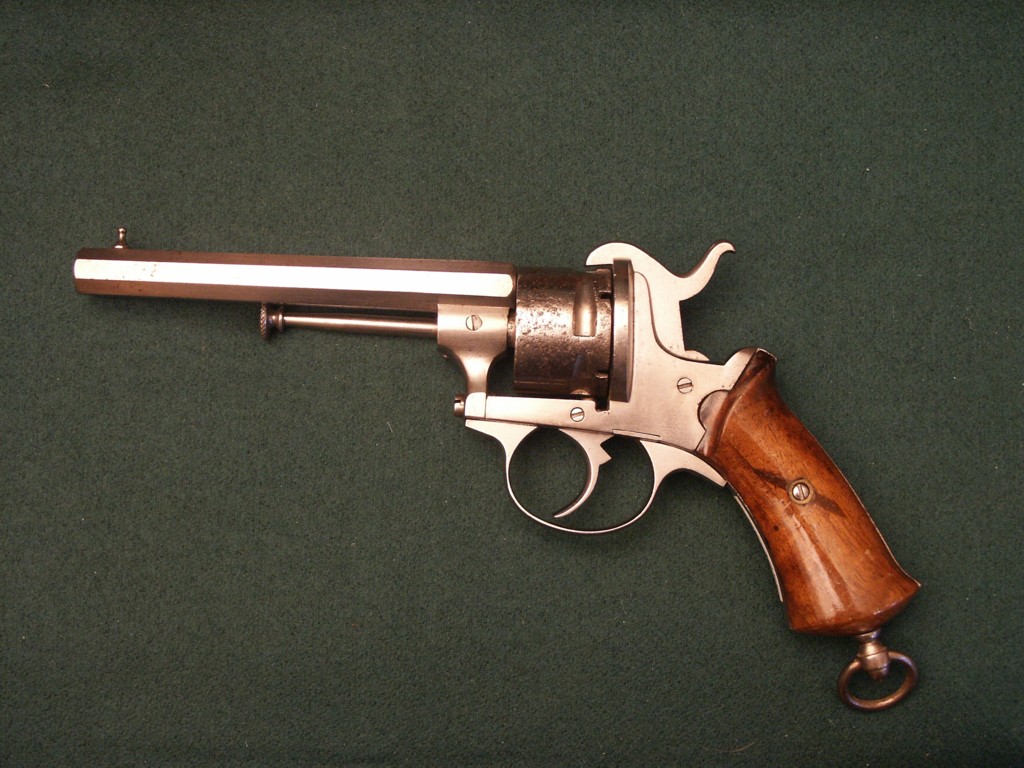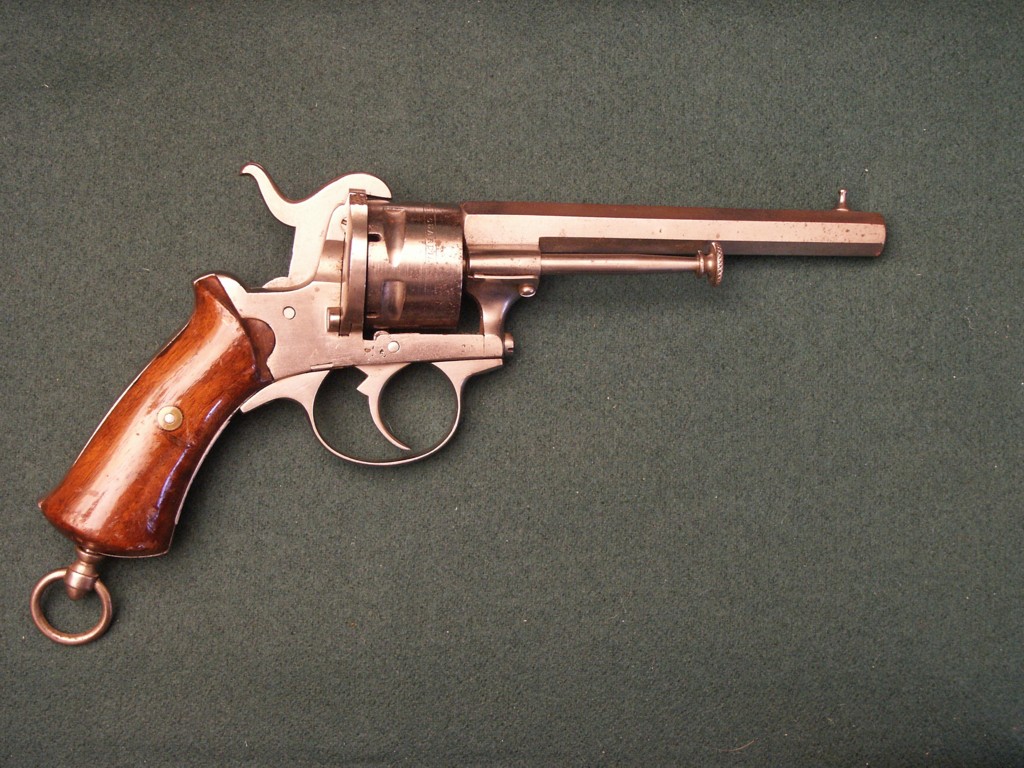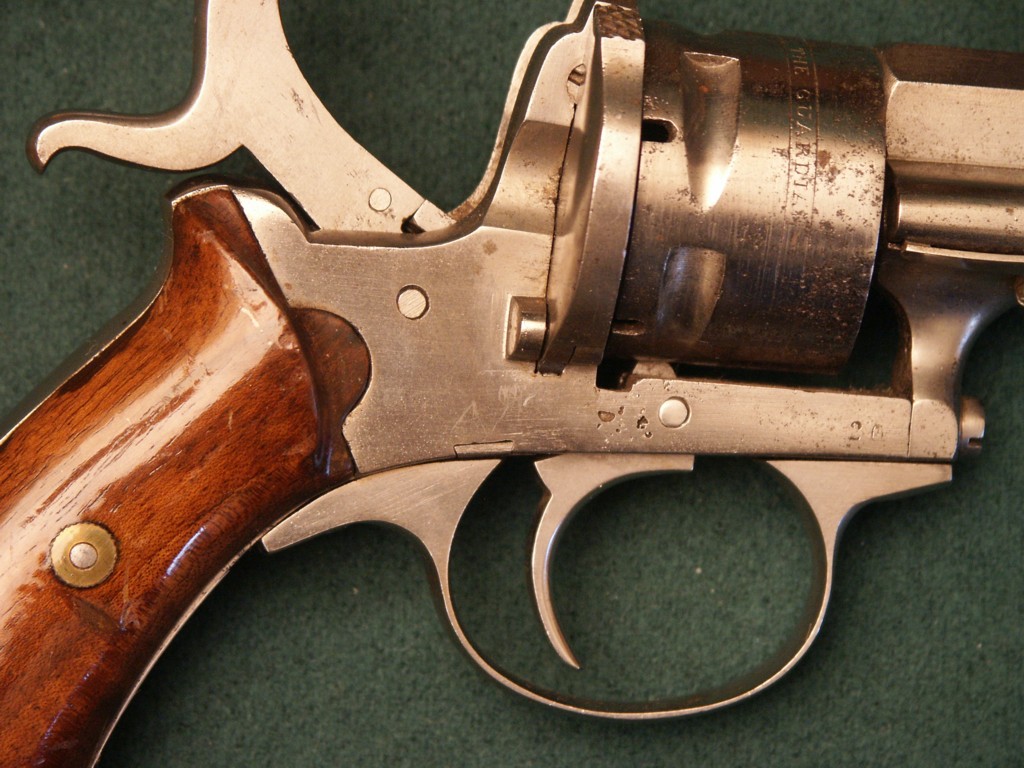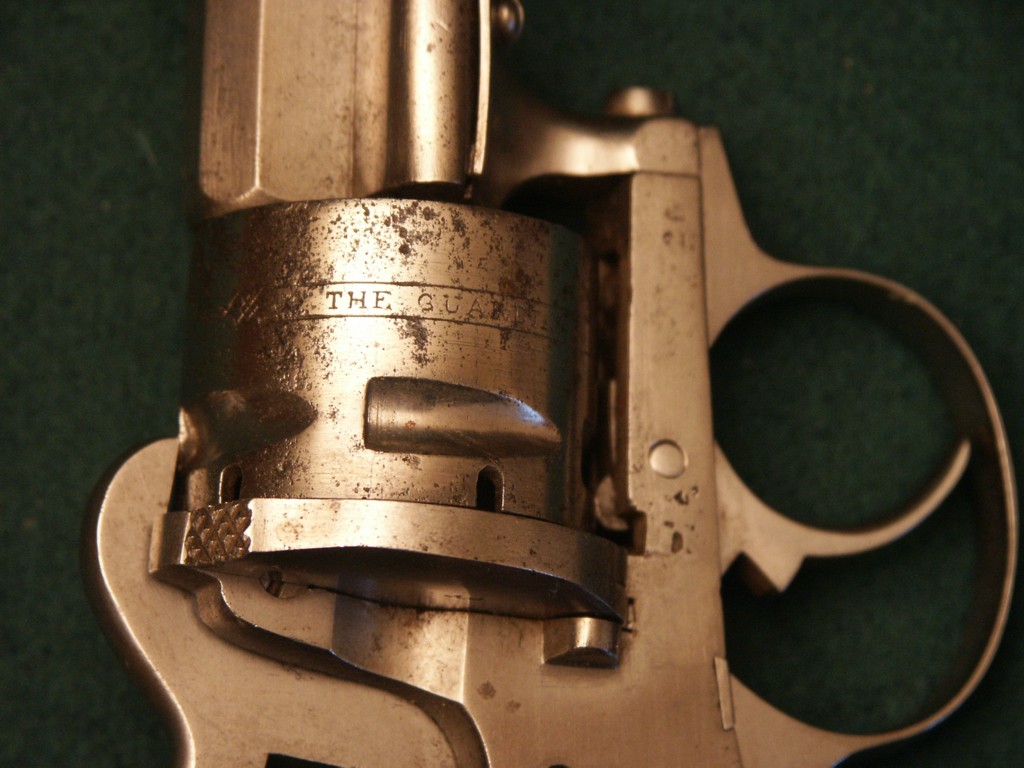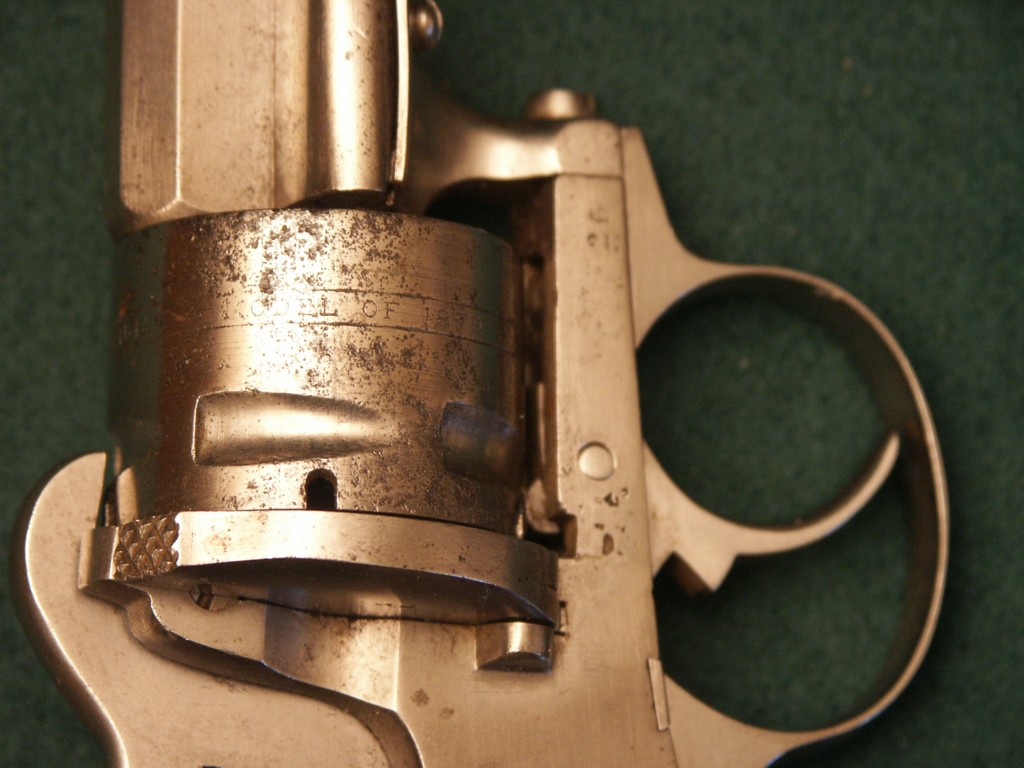 Clément Charles Philibert
It is about a rifle of living room or garden with central or annular percussion (nonvisible on the request?). The lock is of type Warnant. The barrel is with 8 sides. The English stick seem me to be out of fruit-bearing wood.
The weapon carries punches of the proofhouse of Liege, that is to say:
ELG* in a crowned oval: (read so well?) final Acceptance of use of 1893 to 1968.
Peron: inspection, of use of 1853 to our days.
C*: countermark of the controller, of use of 1877 to 1968.
The weapon also carries the following marks:
C. Clément Liège: mark from the manufacturer Charles Clément, street Chéri, 37 in Liège. Activity of 1883 to 1912. Author of 35 improvement and patents. He will also deposit 14 trademarks.
LLA Or H? : In any assumption marks of the manufacturer of barrels of rifles Laurent Lochet Habran of Jupille.
ML: Does assumption mark of the dealer Manufacture liégeoise d'armes à feu??
GG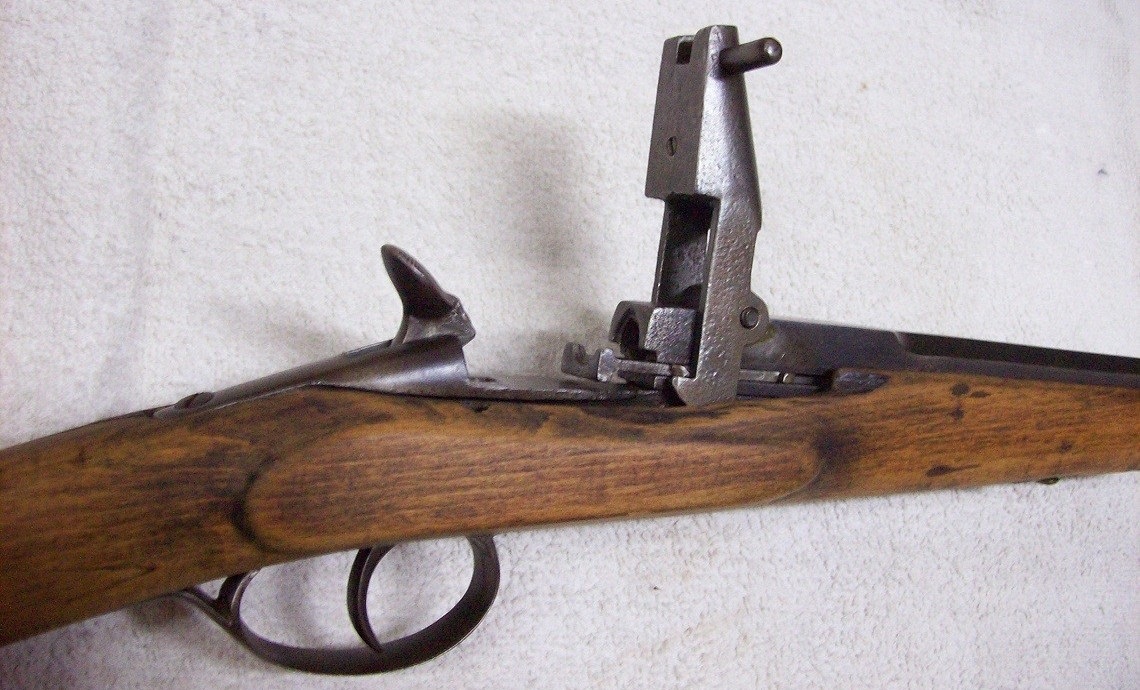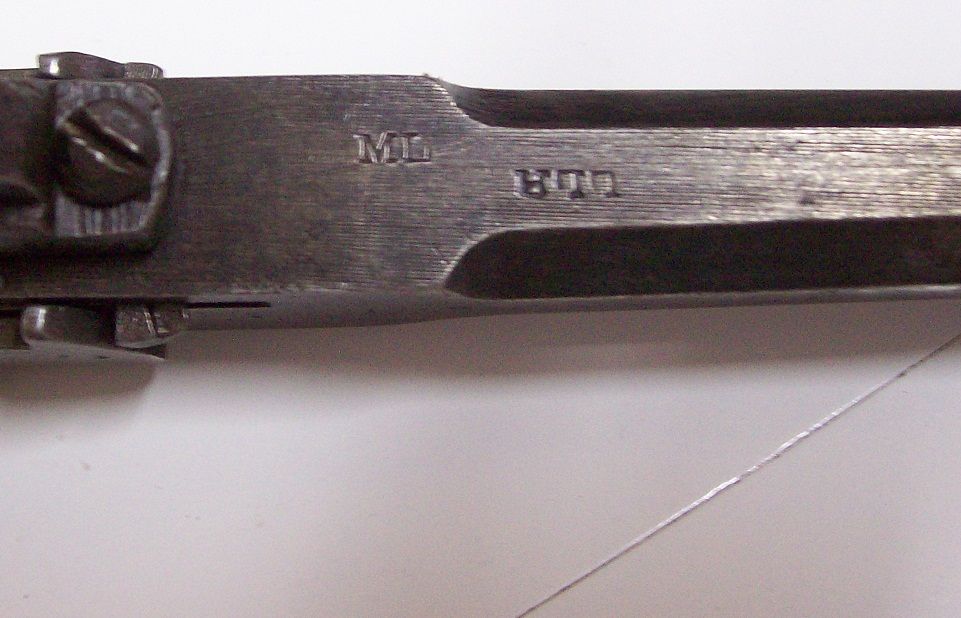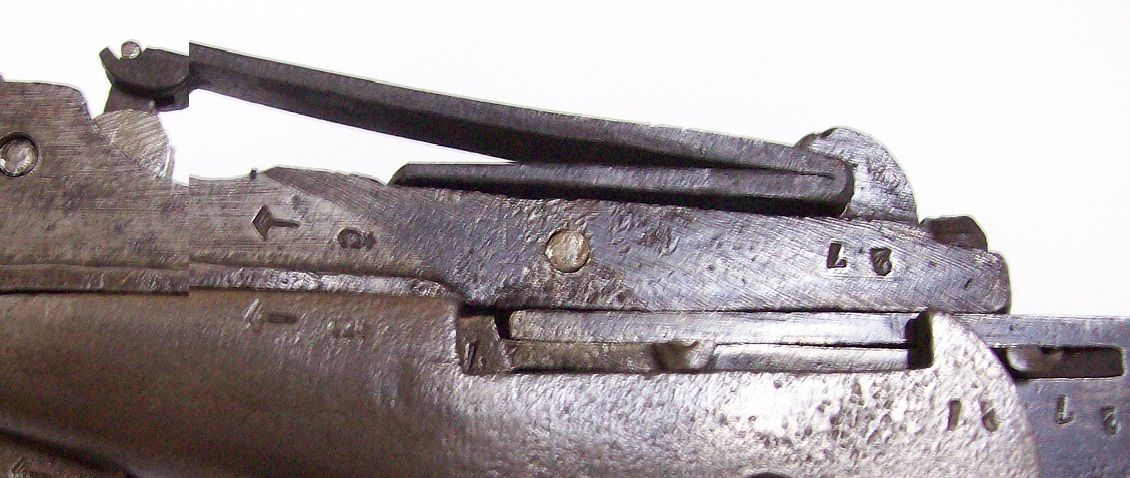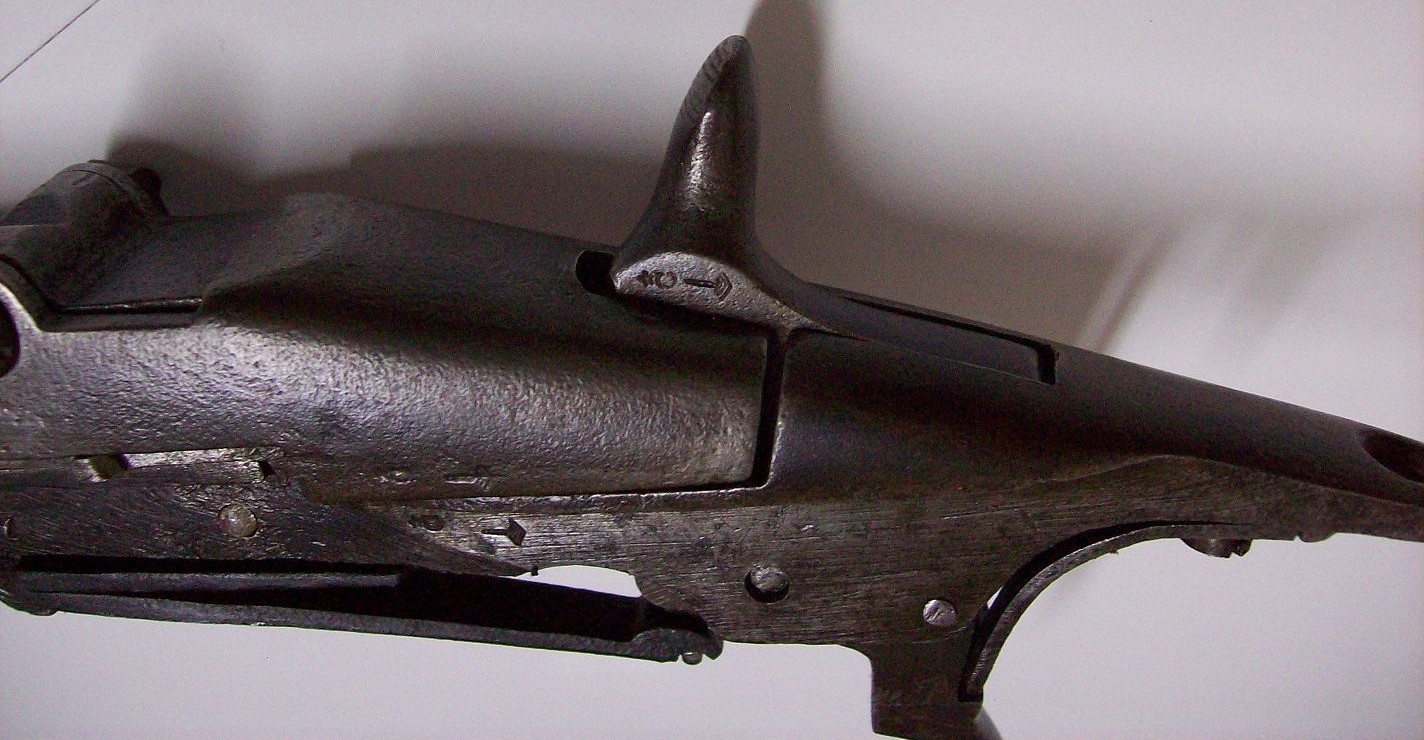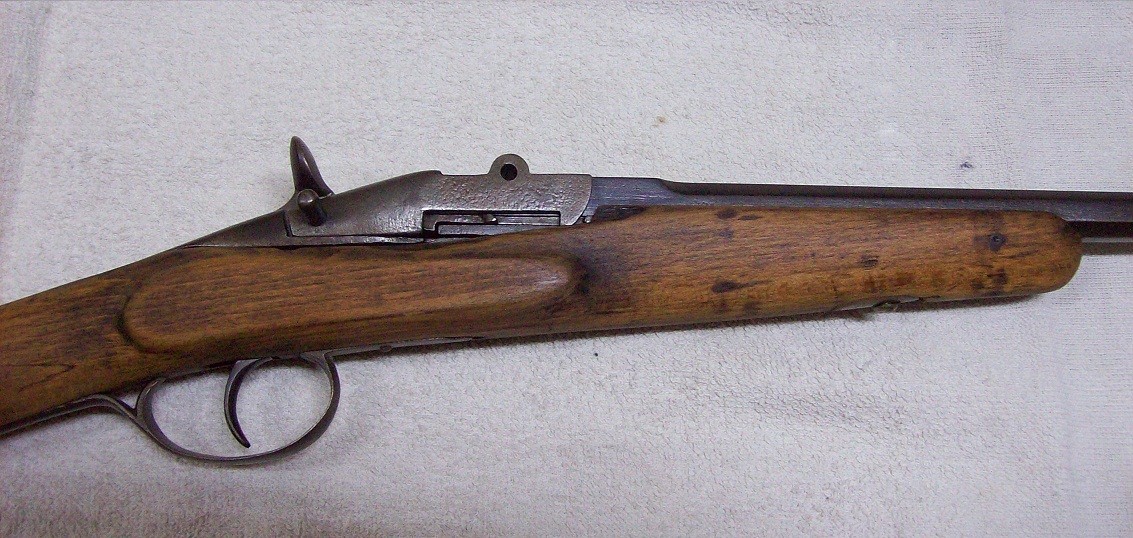 Clément Charles Philibert
Here a revolver of average quality to five shots of gauge not communicated, copy of models Colt, rigged out of registered trademarks by Charles Clément in 1893.
Markings
ELG on star in oval under crown: acceptance enters on July 11th, 1893 and on February 26th, 1968
F under star: countermark of the controller between 1877 and 1968
The White House: registered trademark by Charles Clément on June 21st, 1893
The Washington 38: registered trademark by Charles Clément on June 21st, 1893
Provided being given the quality of the photograph: C Clemen(T)S Arms Manufacturers
They are by way of a copy Colt revolvers, either the Colt New Line manufactured between 1873 and 1884, or the Colt New Police COP & Thug (also called House Pistol and New Line Police) manufactured between 1882 and 1886.
Charles Clément was registered with the proofhouse of Liege of 1906 to 1914. He deposited of 1883 until his death not less than 35 patents for revolvers, guns and rifles, and 14 trademarks between 1893 and 1912.
The CT on the plate of grips always asks question: CT for ClemenT ?
GP with the assistance of PHL, MD and RD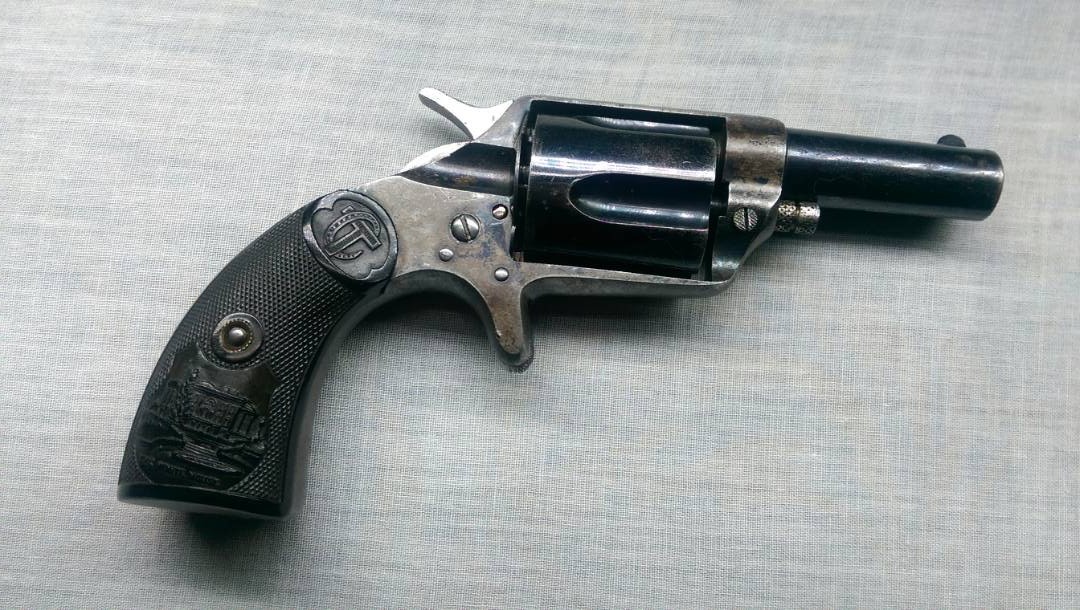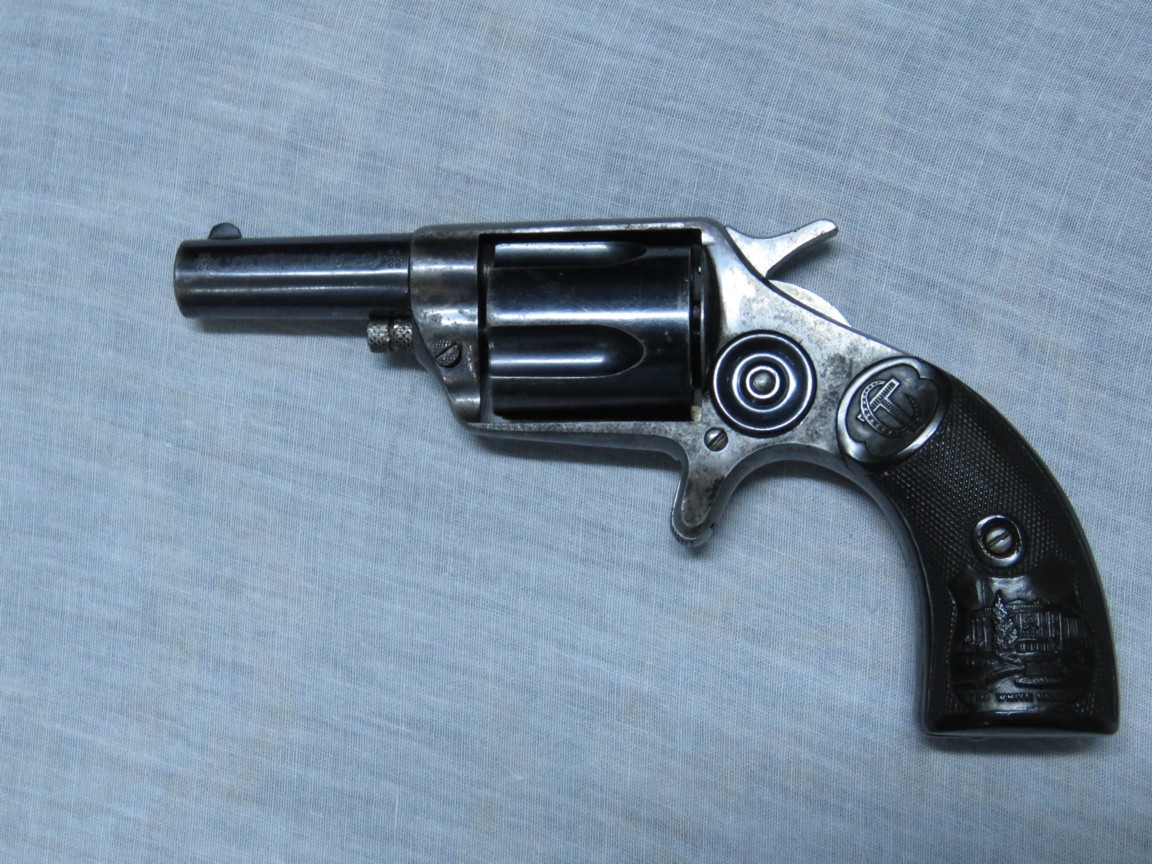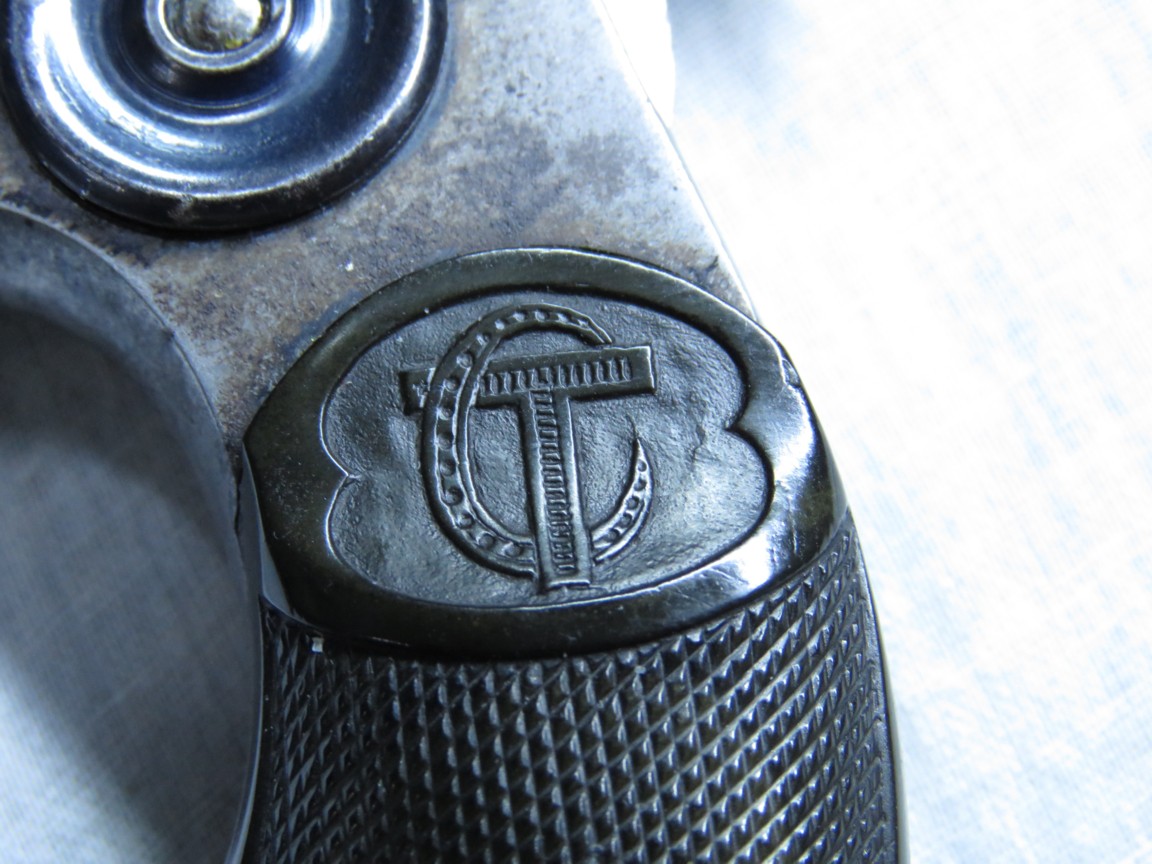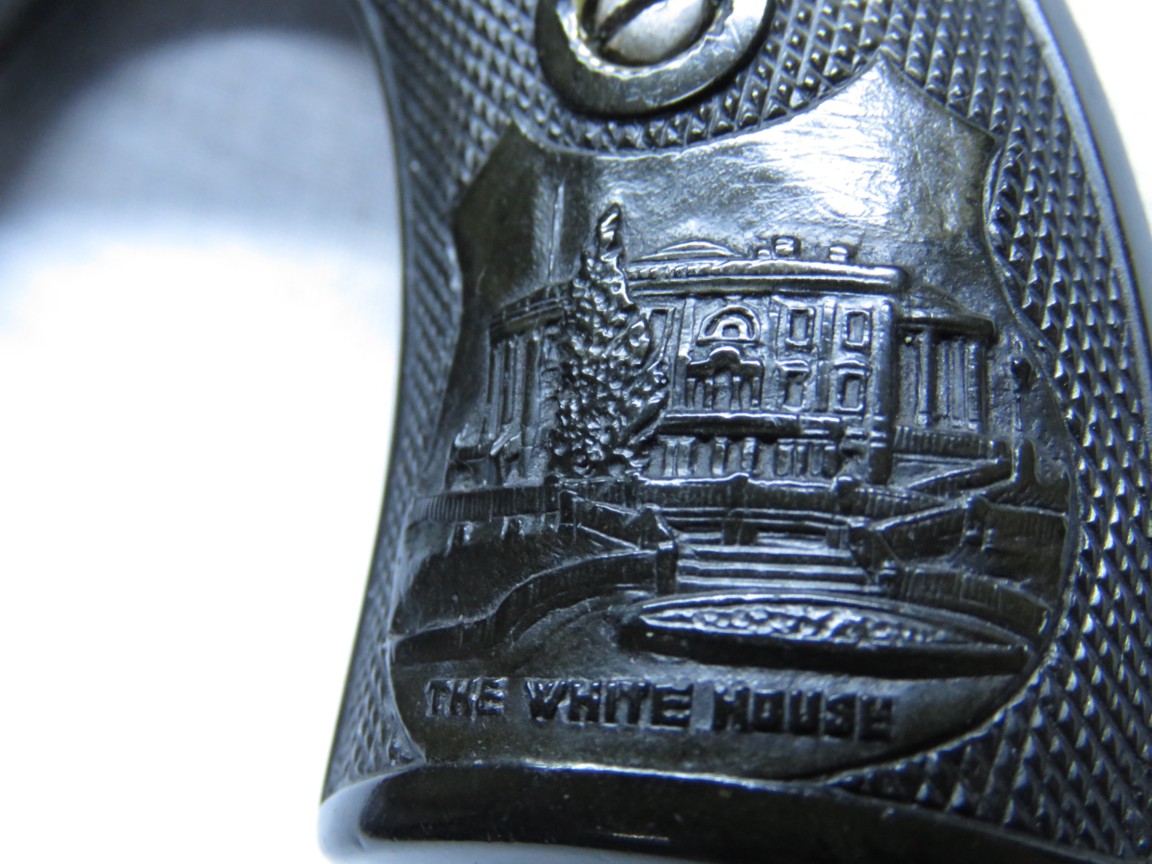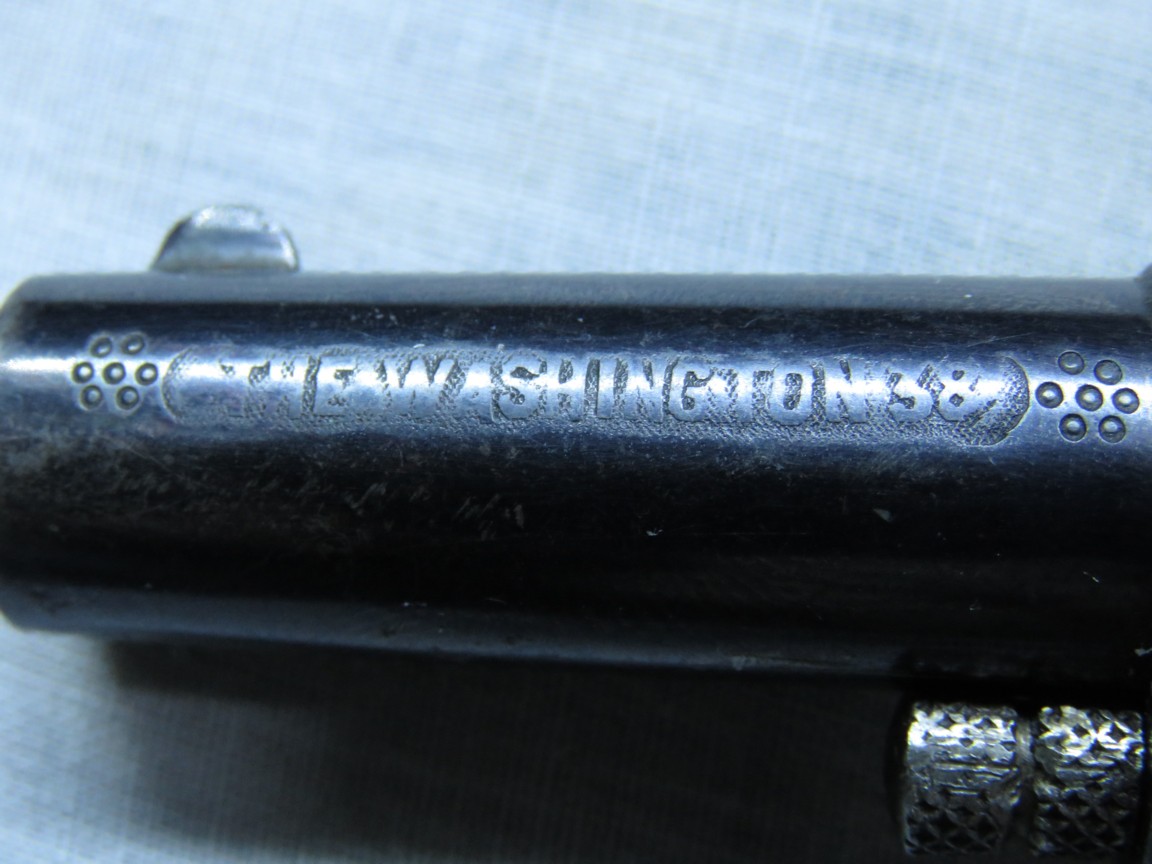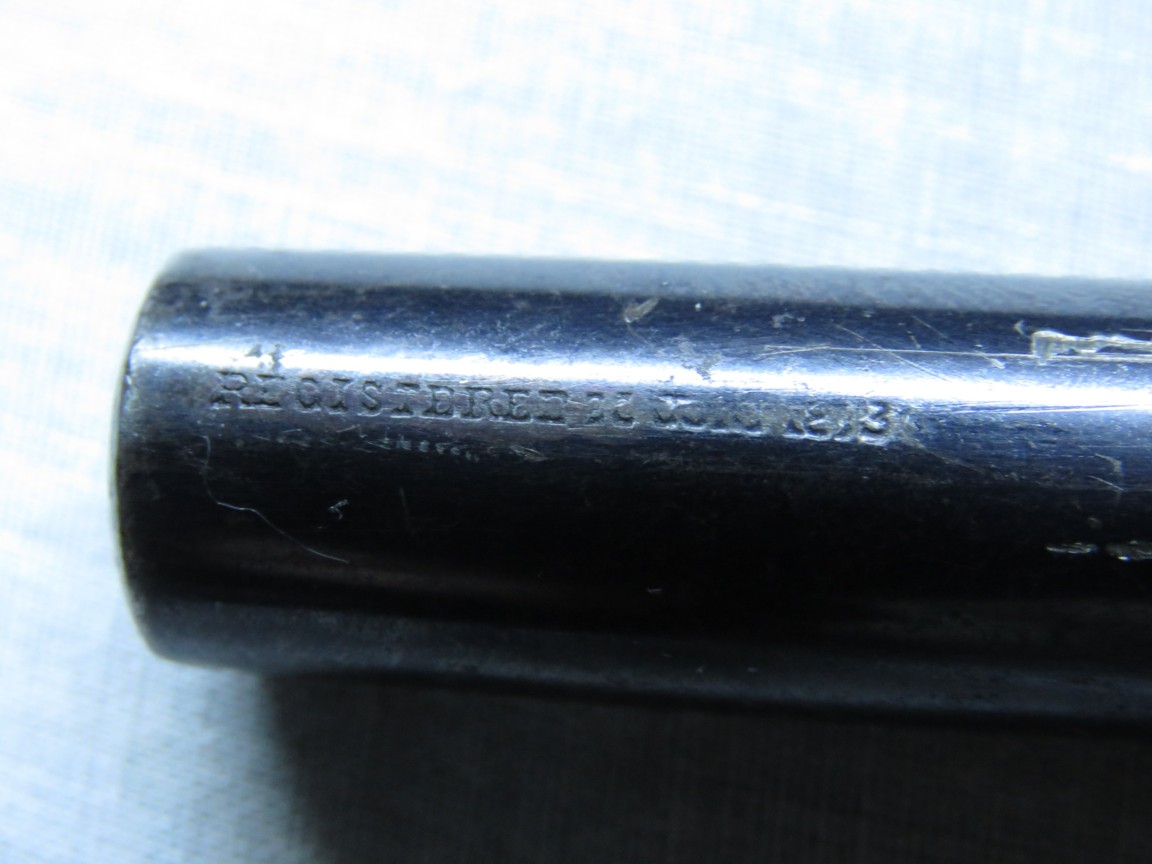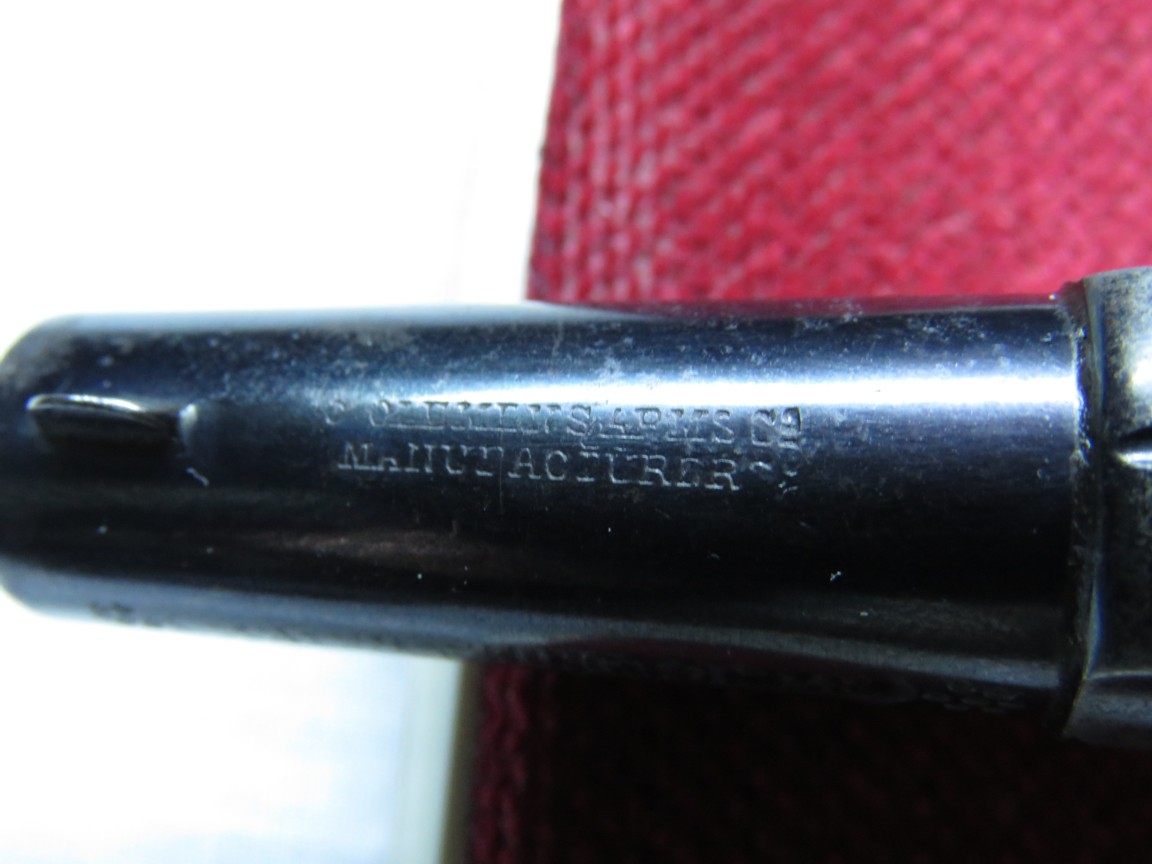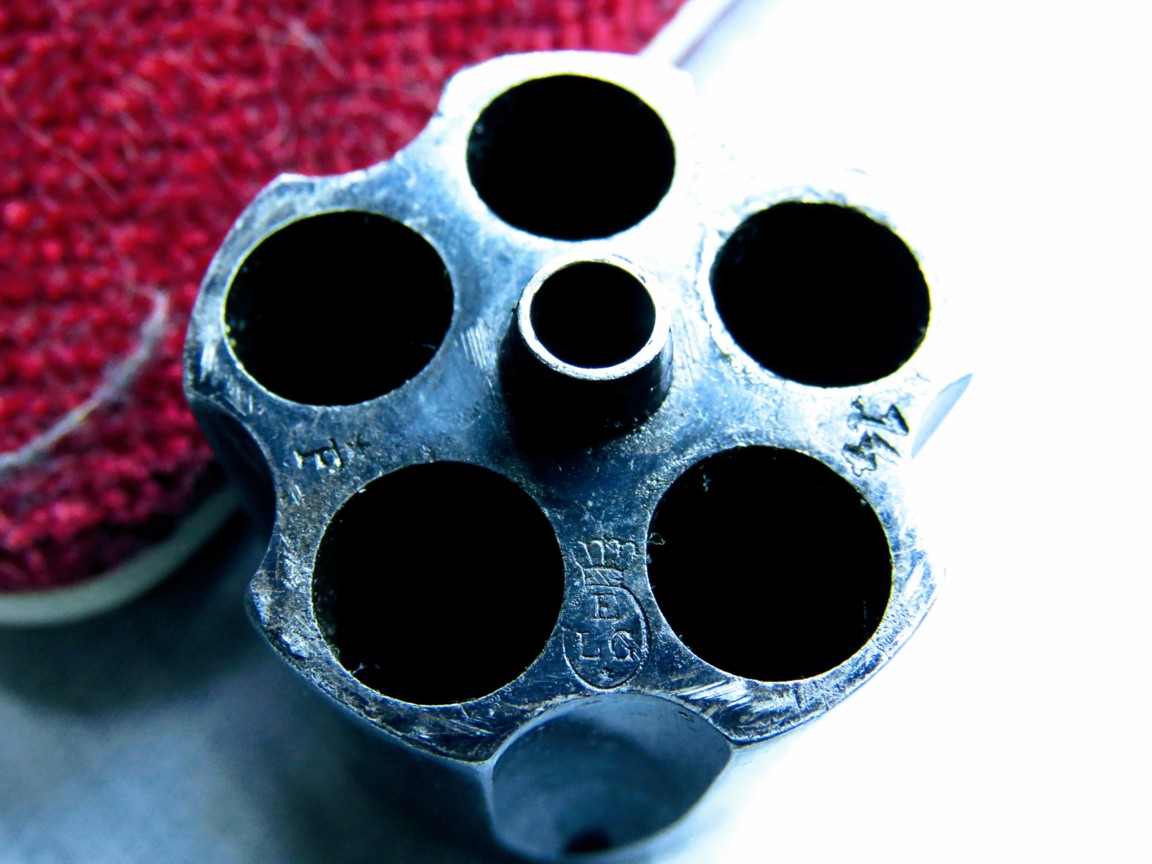 Clément Charles Philibert
It is a Liège pocket revolver, with central percussion, type Bull-Dog. The weapon is entirely chrome plated. The barrel is round and short, the front sight is in a semicircle. The barrel is splined and has (it seems) 6 strokes (not visible in the photos) just like the caliber. The rod rotates on an axis and can thus be introduced into each chamber for unloading. The filling is supplied by the side door. The trigger is curved under an oversized oval bridge! The grips are made of Bakelite (it seems to me?). They are held by a central screw and two round rosettes.
The punches
Two marks of the Liège proofhouse are visible, namely :
Crowned R: striped gun, in use from 1894 to 1968.
Letter Q (inverted P) starred: Controller's countermark, in use from 1877 to 1968.
The ELG* mark is missing from a crowned oval, which is the definitive acceptance mark, in use from 1893 to 1968.
Trademarks
Inverted CC mark: trademark of Clément Charles, rue Chéri in Liège.
Mark crossed barrels crossed by an arrow and initial M F: mark of the Manufacture d'armes et Cycles de St Etienne (France) which was obviously a customer (wholesale) of Clément !
She probably sold the gun and put her mark on it! It was common practice at the time to have unmarked weapons delivered in order to affix one's own.
GG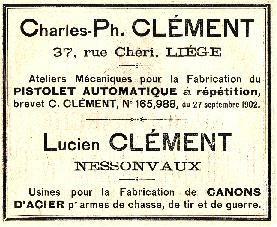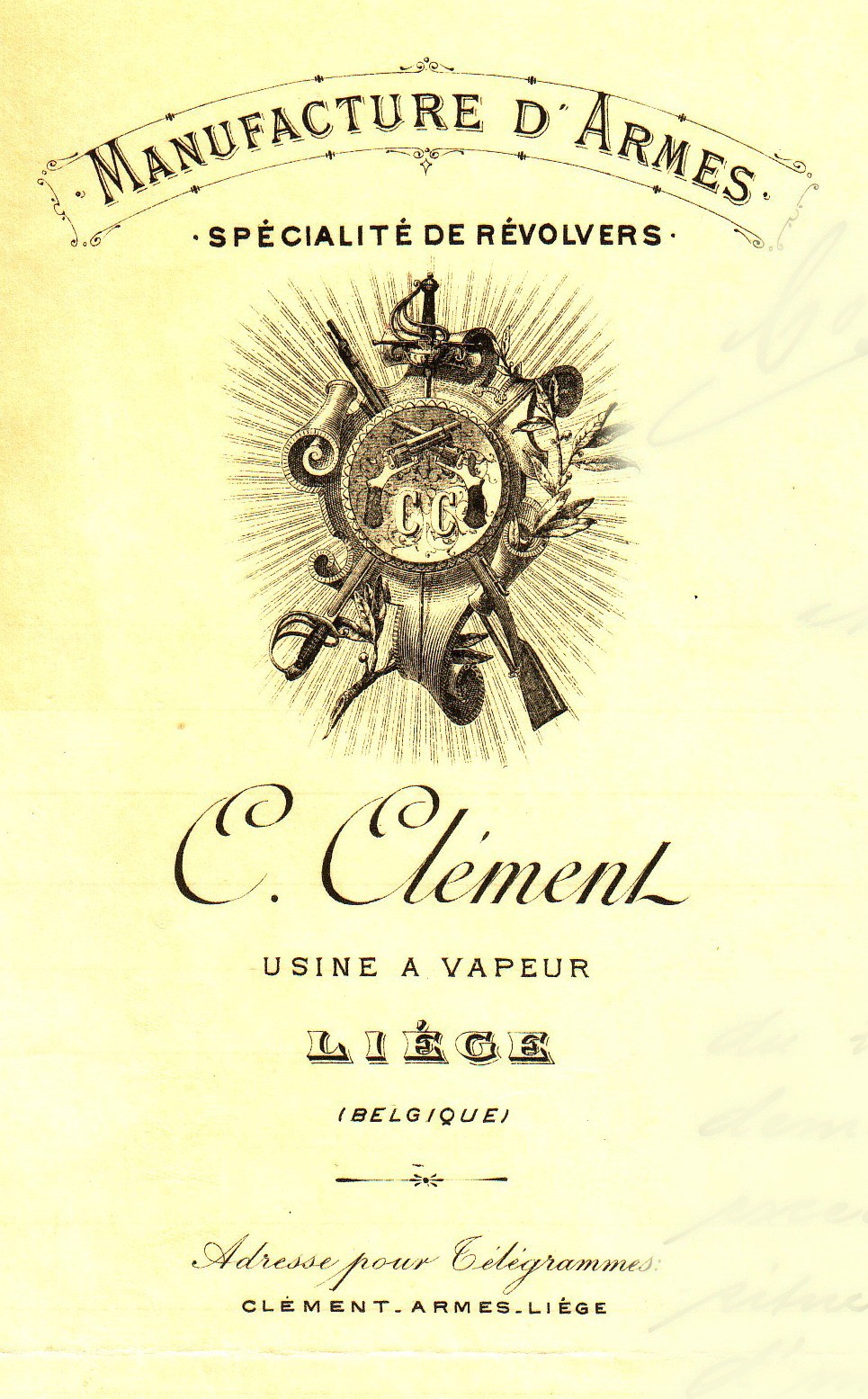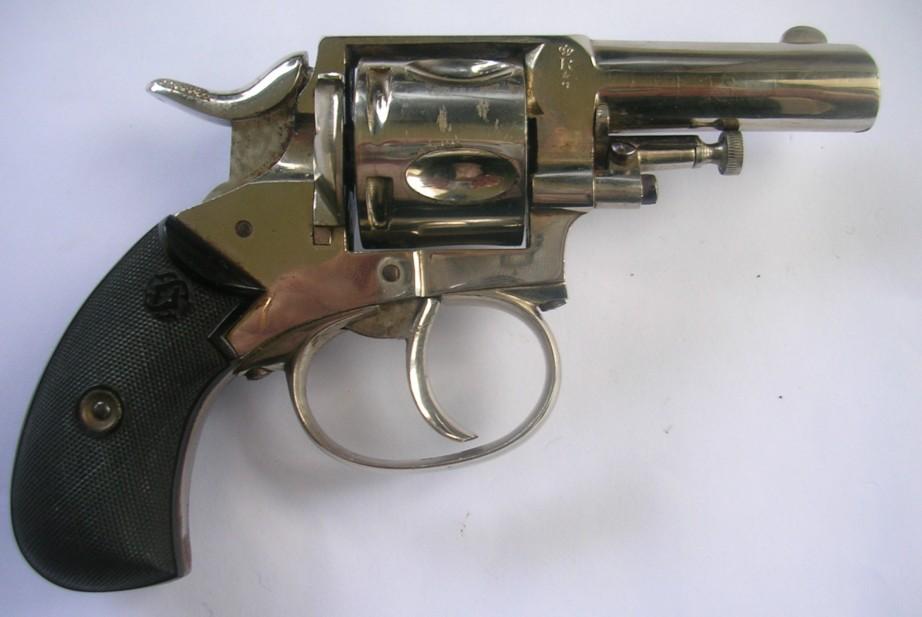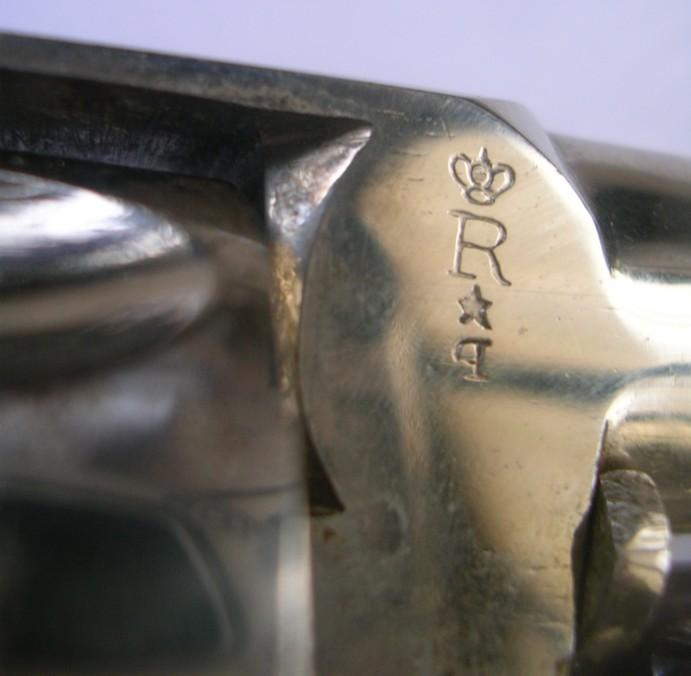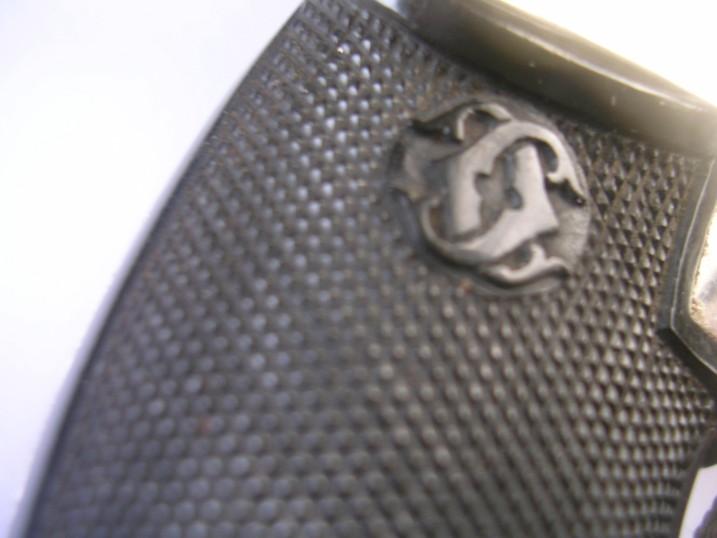 Clément Charles Philibert
This revolver is a cheap, unauthorized copy made in Belgium by Charles Clement, and nicknamed "Brooklyn Bridge" among collectors.
This weapon has NOTHING to do with the American Civil War, and I doubt a Confederate soldier who escaped the end of the war could have got such a revolver in his possession - except if he lived long enough - for these cheap copies did not appear before the beginning of the 1890's, when collectors started to show interest in Civil War memorabilia. They were manufactured by various Belgian gunmakers. Not one of these guns, however, saw service in any army in the world: they were made for amateur shooters and collectors only, not even for export. So the few examples you would find in the US or other countries, were almost cetrainly brought there by collectors who had visited Belgium, or by Belgian immigrants.
These guns were made in various calibers (.28, .36 or 35, .44) and with various cylinder lengths. Grips are made out of wood, or more often of copal resin from Congo (copal is actually young amber). The quality of manufacture and engraving is rather poor.
Despite their poor quality, these guns booked some success since they were sold for more than 25 years.
According to some authors, production ceased at the beginning of WW I and was never resumed; other sources claim that some were made until the 1930's for the German market, for re-export to African countries. We'll probably never know for sure.
Athough manufactured by various gunmakers (C. Clement, Clement & Rongé, JJ Rongé, Dumoulin, Schwarzenberg and many other unidentified makers ), they all show a nearly identical cylinder scene depicting a bridge over a river, a train on the bridge and a few boats on the river. Since the depicted bridge evokes the Brooklyn bridge, collectors started to nickname these revolvers "Brooklyn Bridge". There is however no evidence at all to support this nickname.
Most of the markings are totally bogus: the "crown over A", crossed keys and other mentions such as "cap system...etc" are fantasy and totally unofficial.
As a matter of fact, most of these guns were never proofed and were more lethal for their users than for their targets.
They are still relatively easy to find today on Belgian and French gunshows; mostly in poor condition and at very low rates.
HOWEVER...
These cheap copies should not be confused by what we call the genuine "COLT BREVETE", which were licensed copies of top quality manufactured in the 1850's. However Colt had covered some of his patents in Belgium, he failed to protect his master patent of 1835, so that many Belgian gunmakers started copying his revolvers. Therefore, with a view to giving buyers a good quality, he came to Liège and granted 11 Liège gunmakers a license to make copies oh his arms.
All the licensed copies bear the official marking "Colt Breveté" in 2 lines on the barrel.
I would advise you to read the excellent book "Colt Breveté Revolvers" by Roy Marcot & Ron Paxton (Northwood Heritage Press, Tucson, AZ) on Colt Brevetés and Confederate Revolvers.
Contact Roy Marcot : 12655 E. Horsehead Road, Tucson AZ 85749, phone (520)906-0716, email roymarcot @msn.com.
Marcel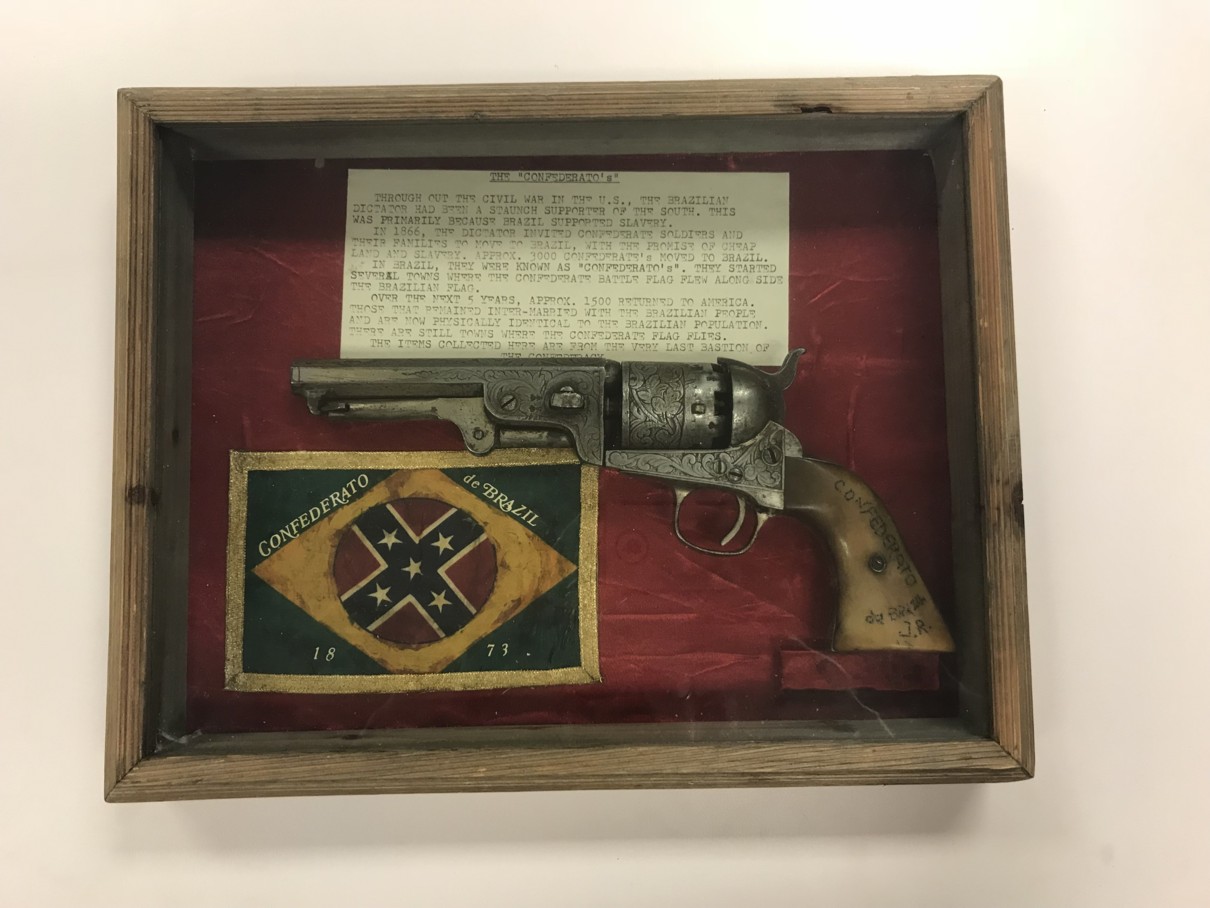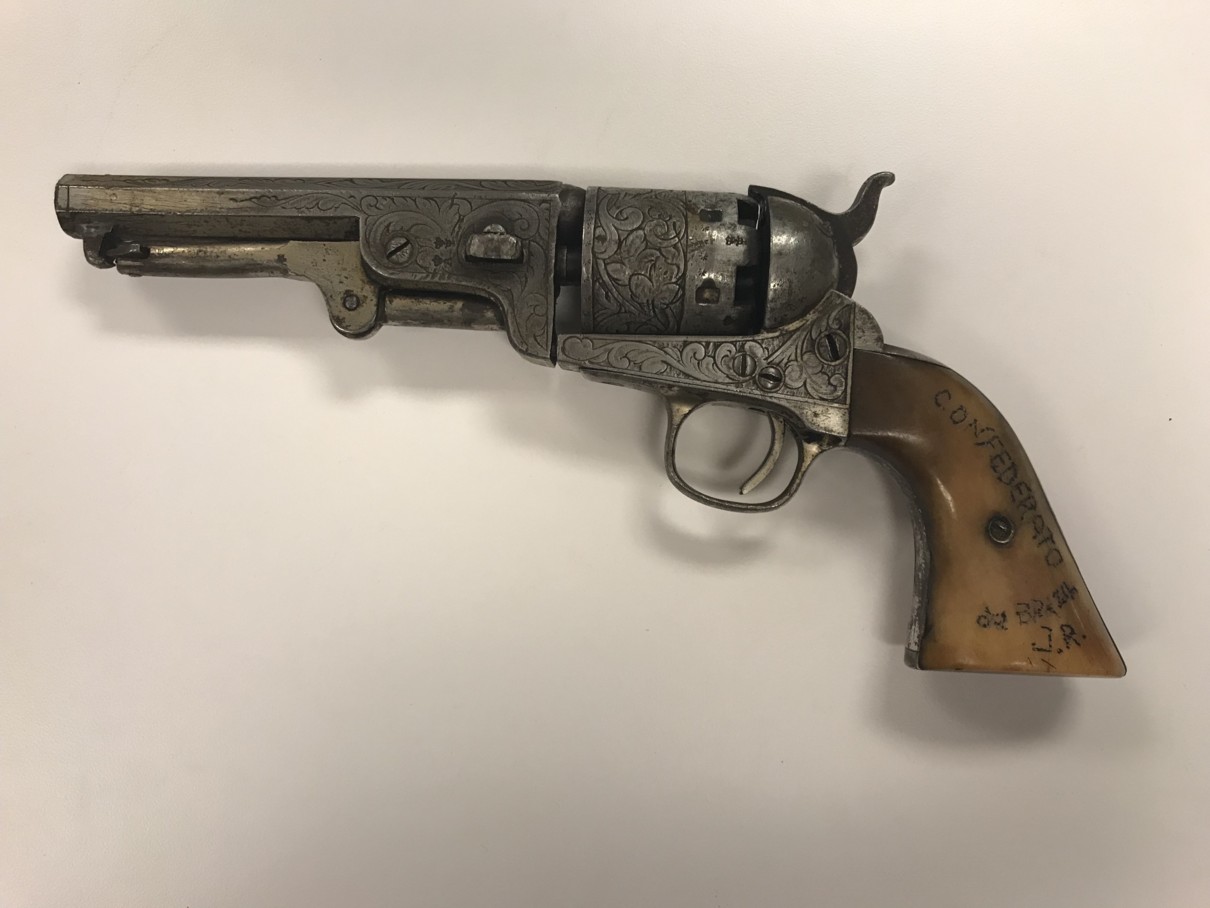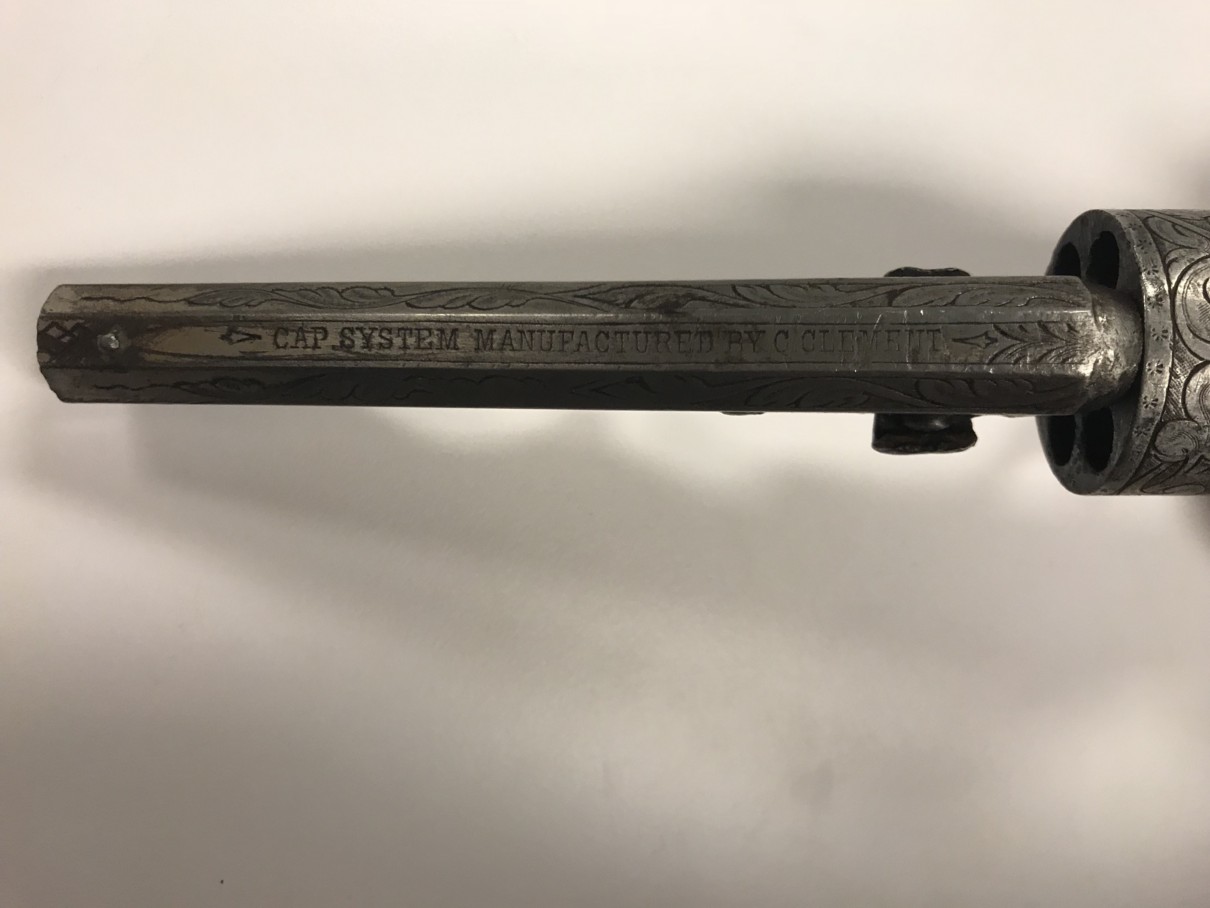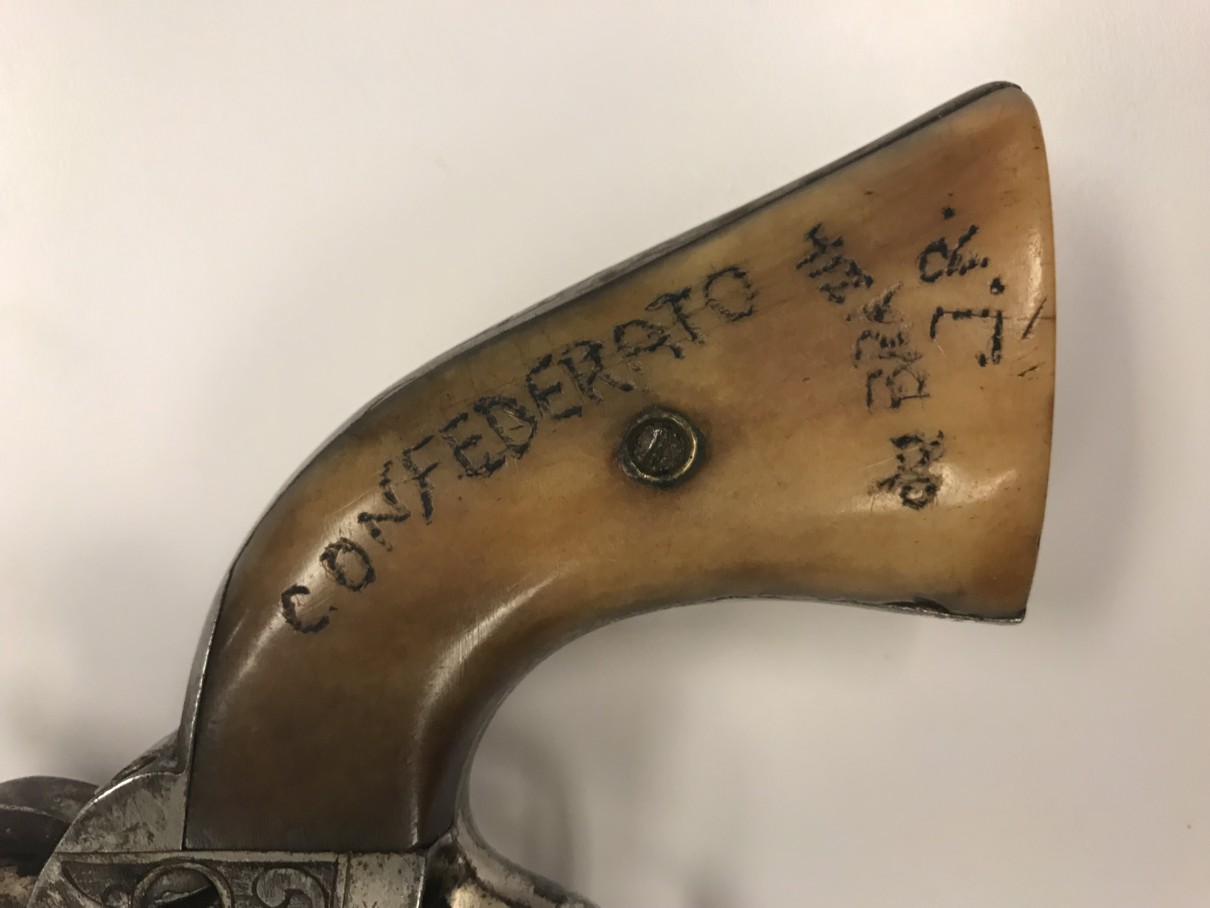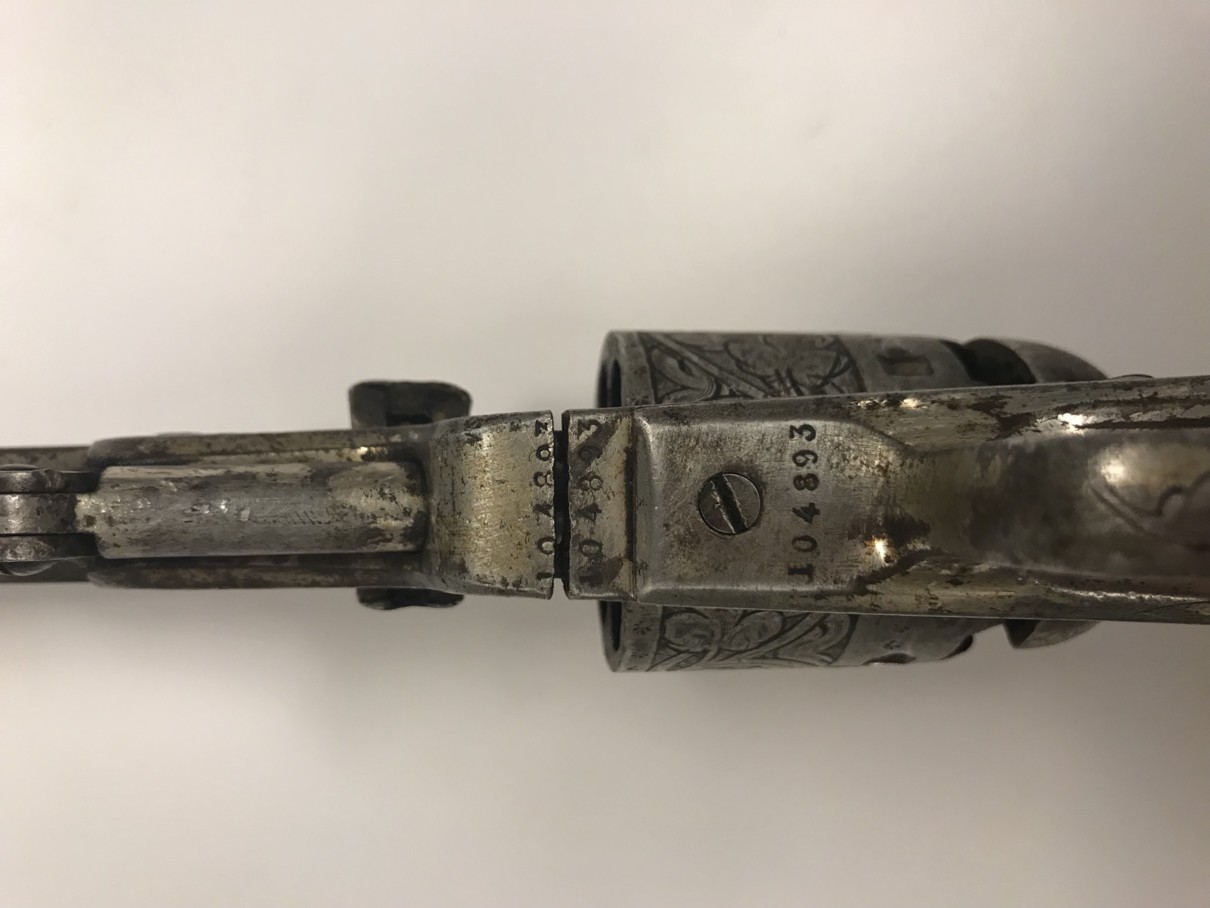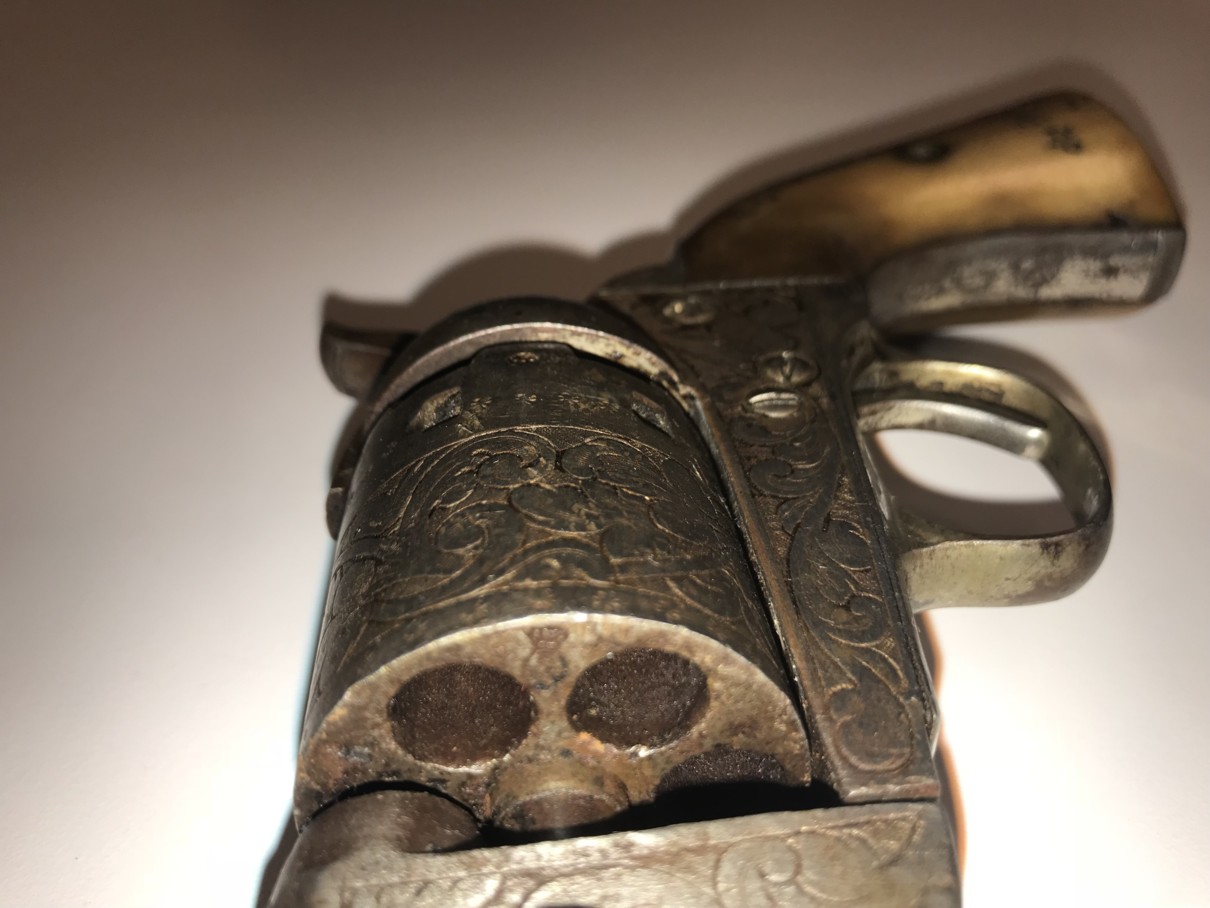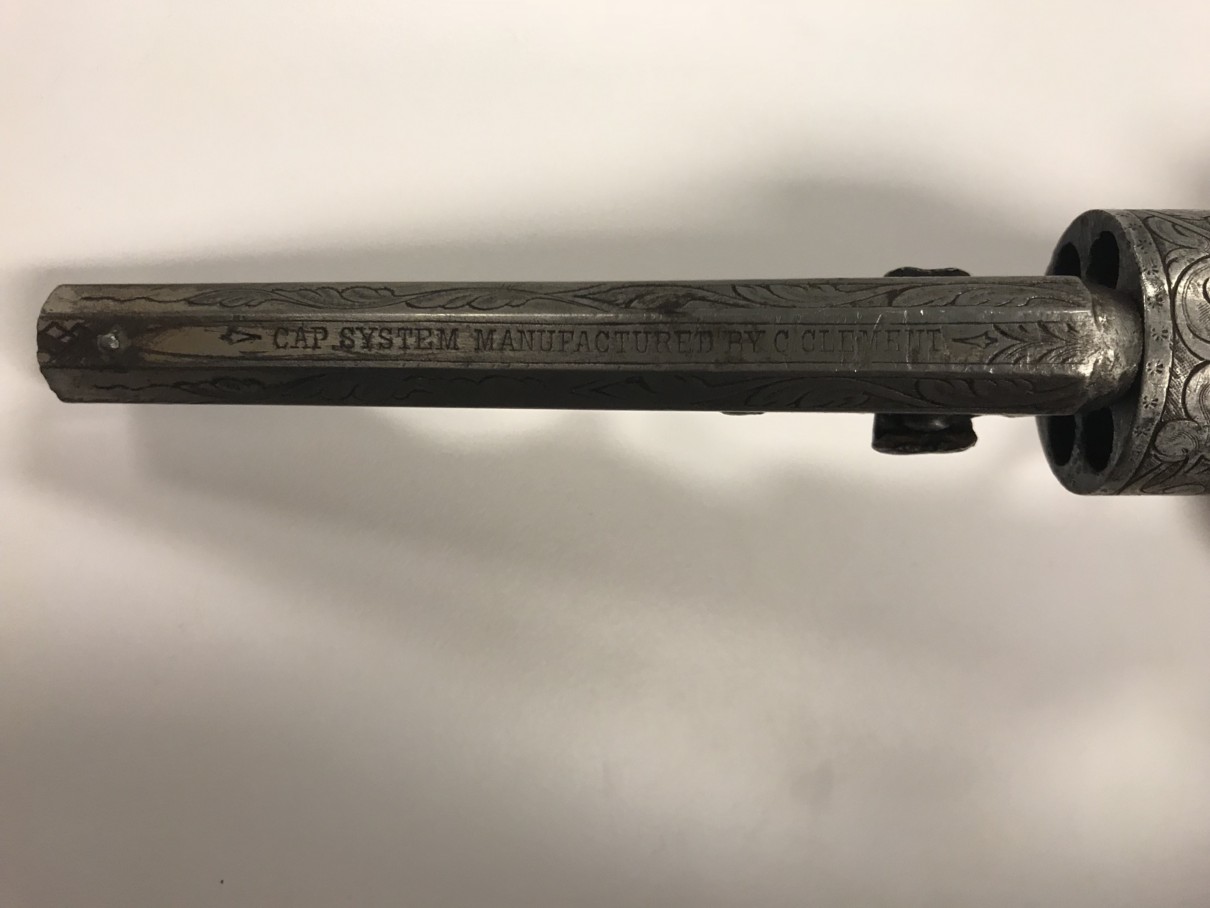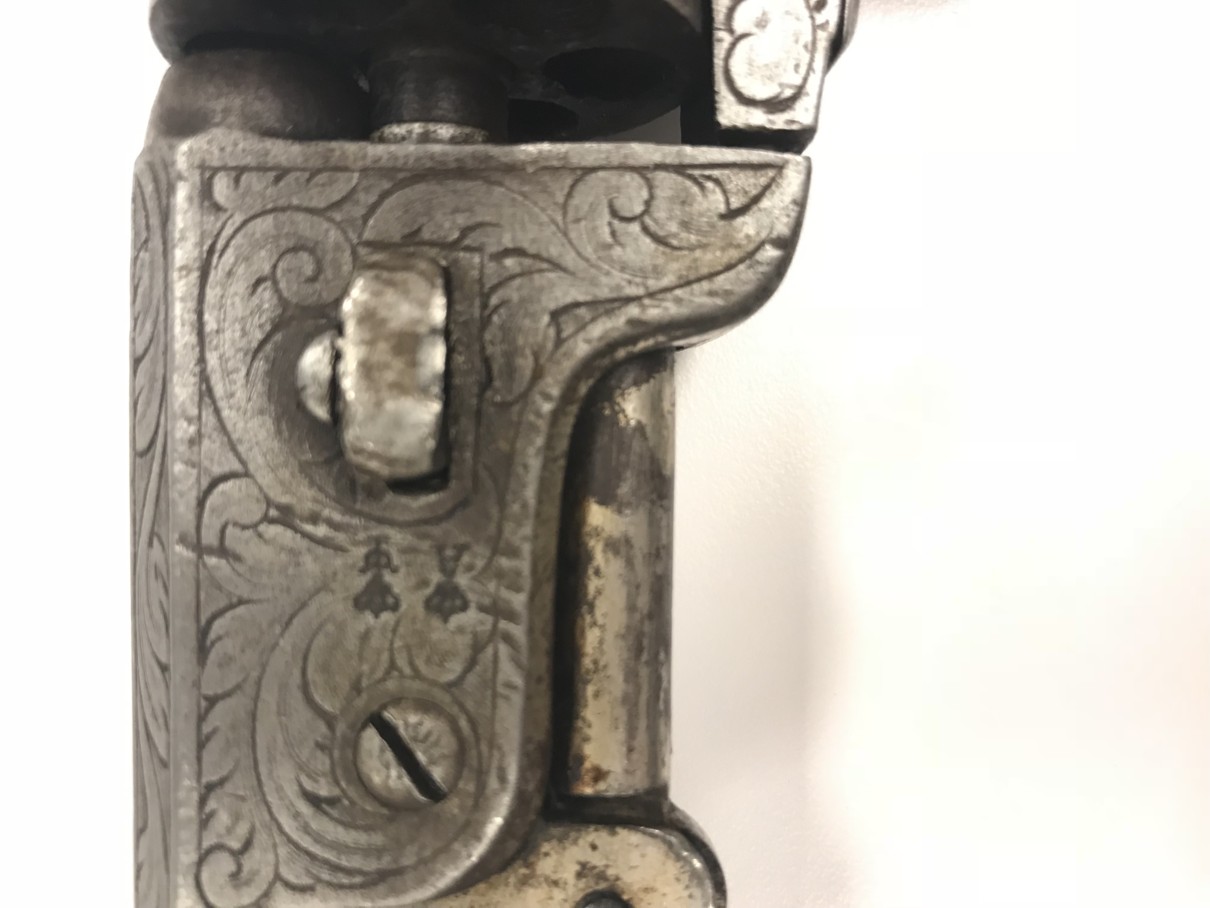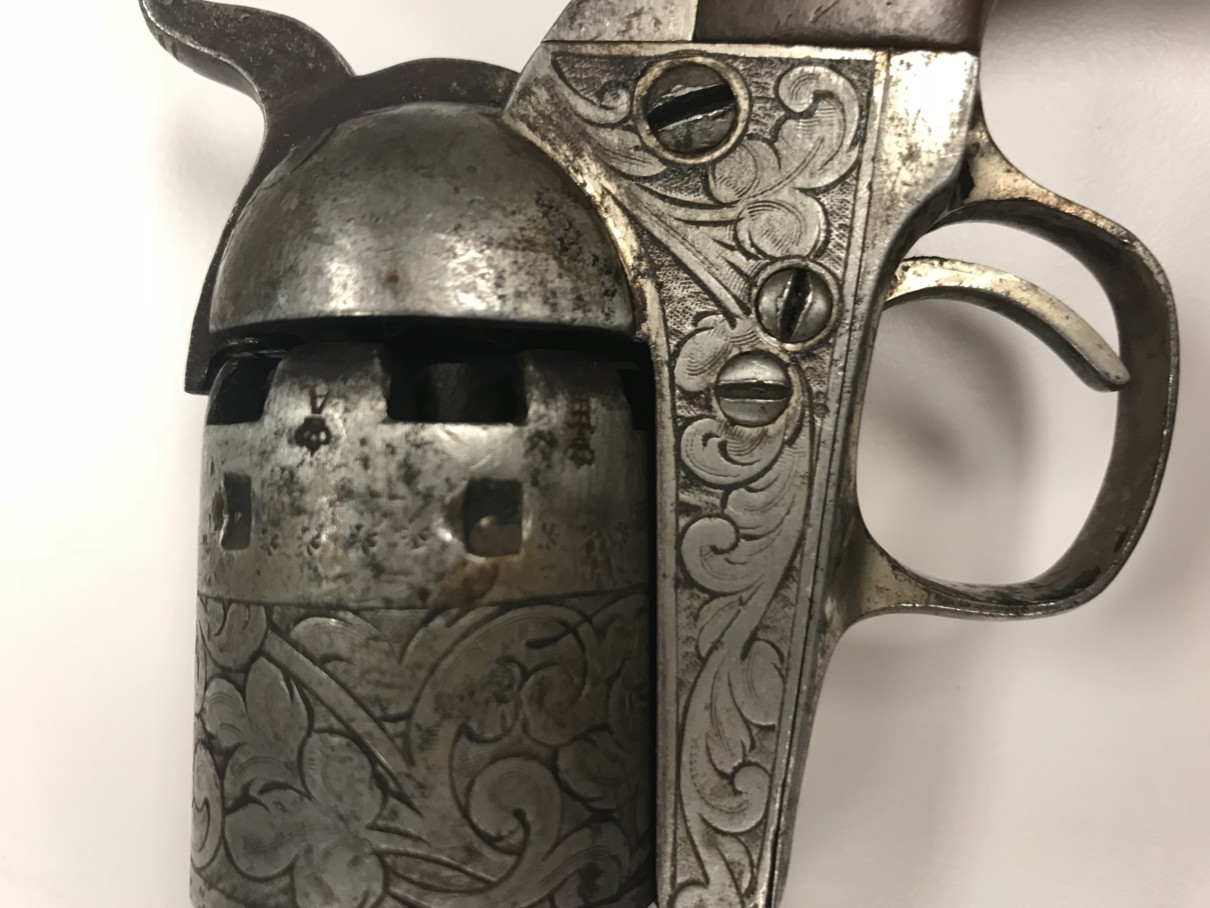 Clément Charles Philibert
Obviously is it about a copy (Cap & Ball) of the revolver COLT 1853 manufactured by the firm of Liège "Cléments Arms C°".
The plates of grips don't seem to me origin? The cylinder with 6 blows is smooth and with central percussion.
The punches are difficult to decipher. I think without certainty of having located the letters AH crowned which would belong to the controller of the proofhouse valid of Liège of 1877 to 1968?
The weapon thus carries a marking far from readable (Clément Armes C°), which would belong to the manufacturer well-known at the time is Charles Clement street Chéri, 37 in Liege.
It was active of 1883 to 1912 (year of its death) It was the author of 35 patents and 14 trademarks.
The weapon also carries the marks:
A crowned: ignored significance?
3707: classification of the weapon.
GG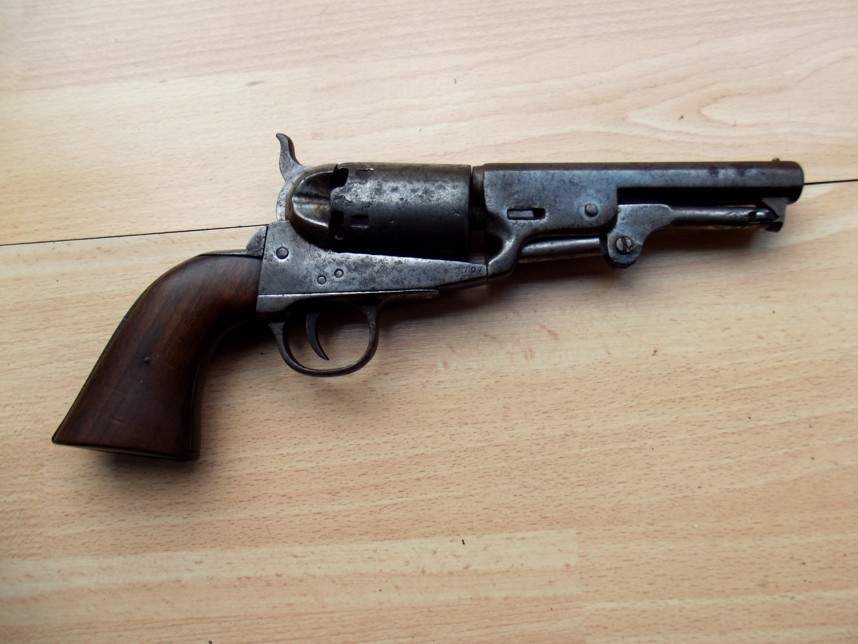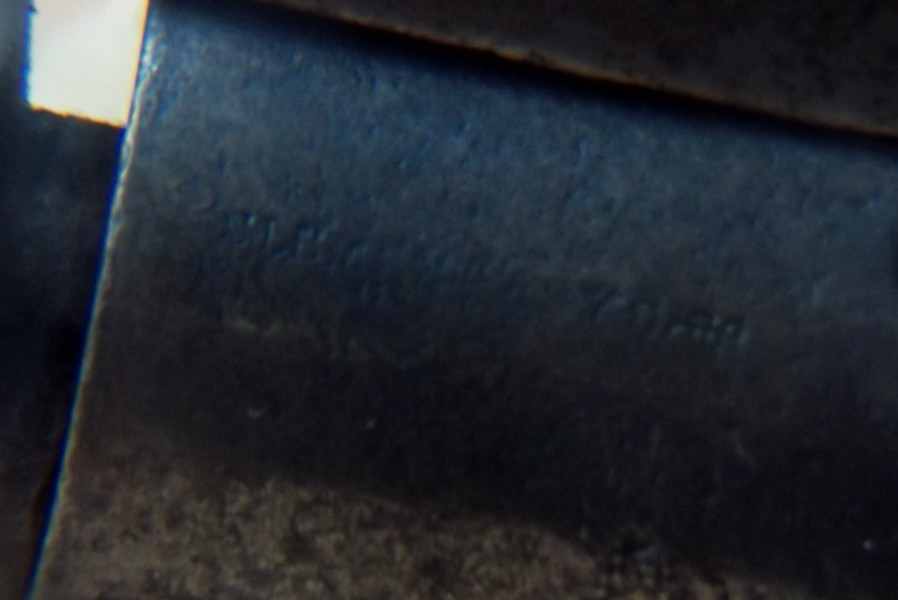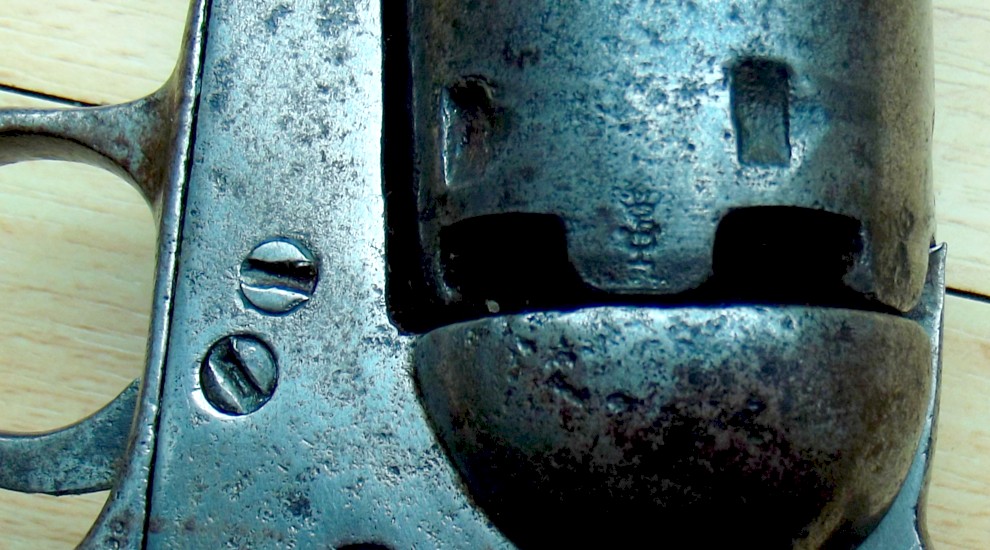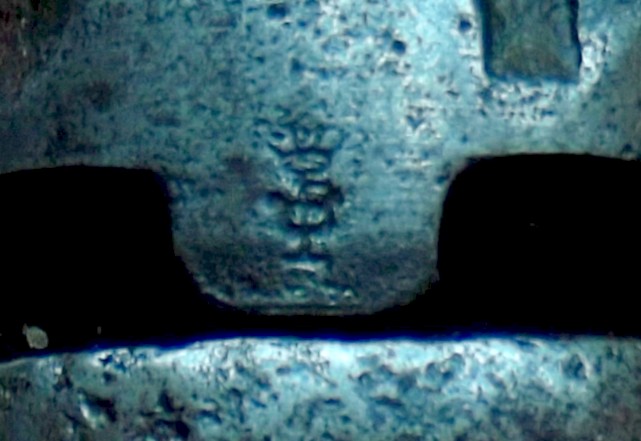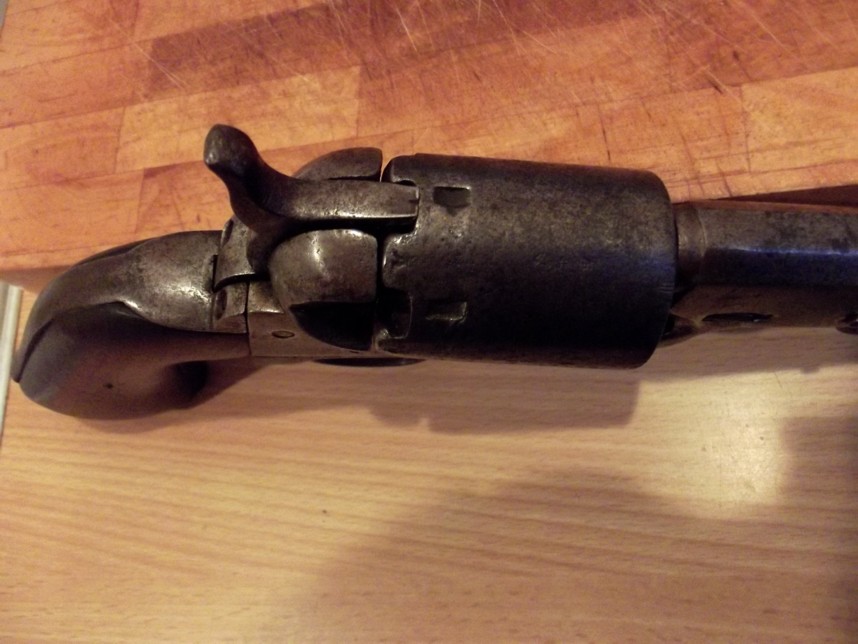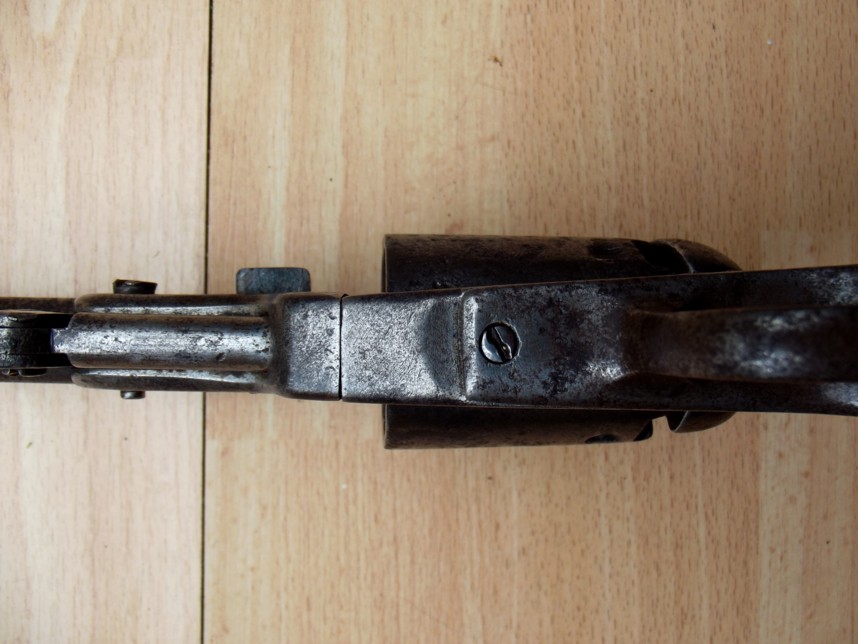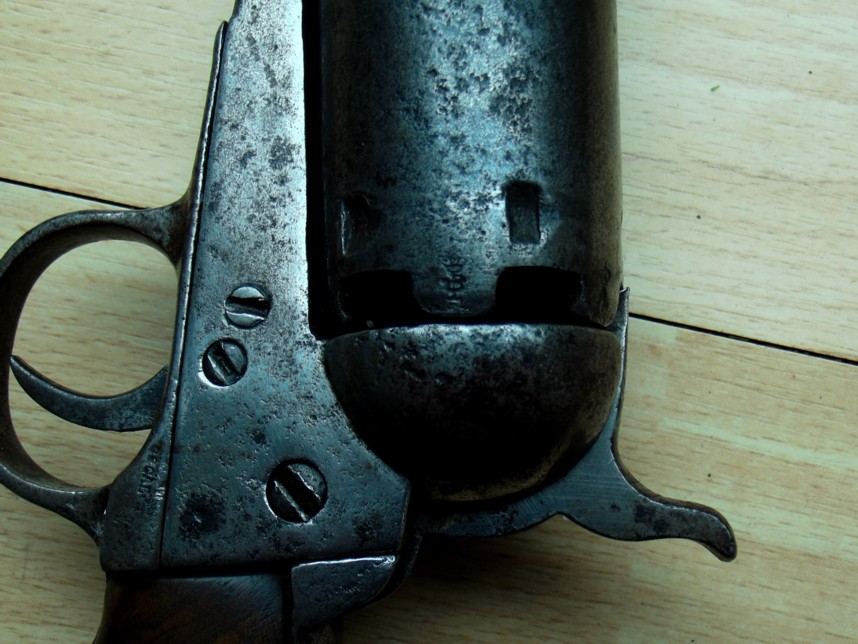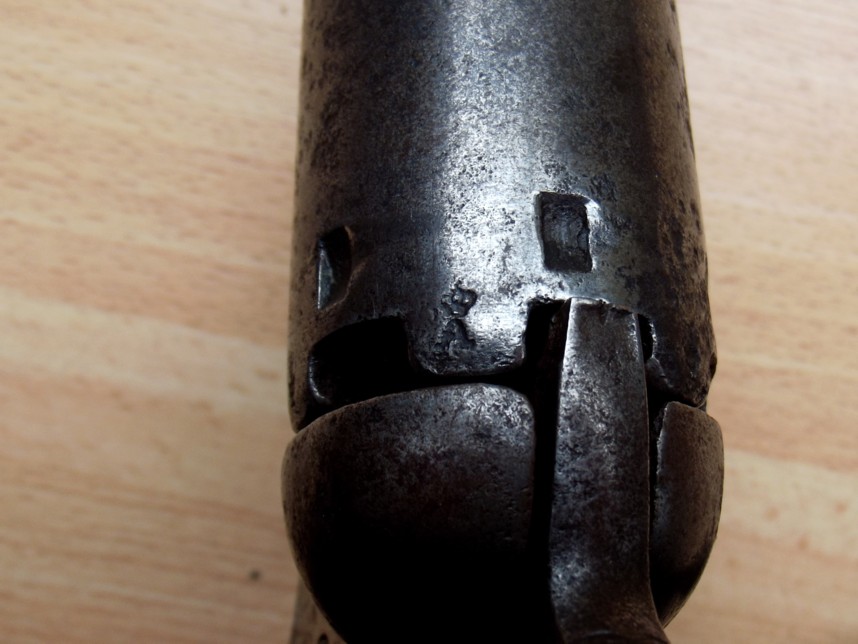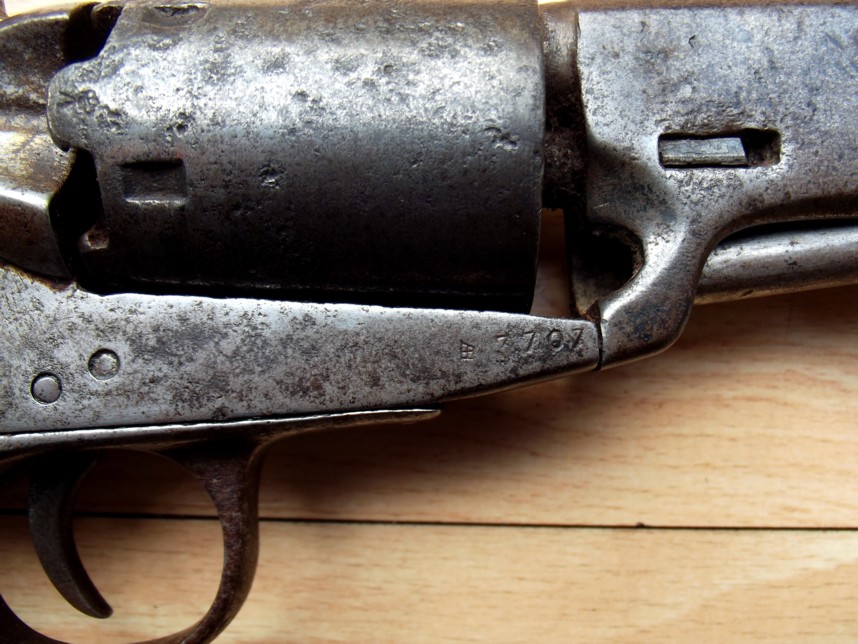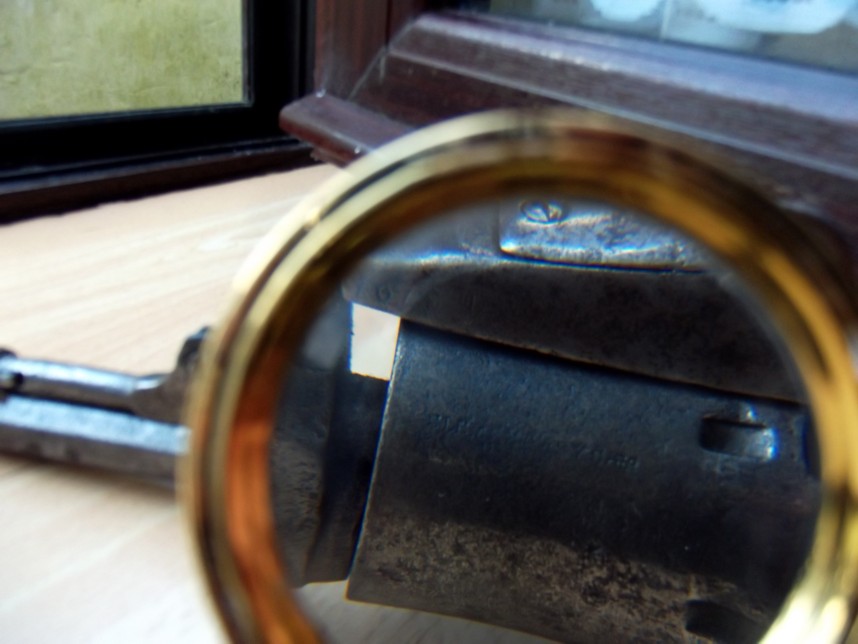 Clément Charles Philibert
Here a revolver of quality, calibre .320 to five shots, round barrel, foldable trigger, bearing on the plates letters CC interlaced of Charles Clément.
Markings
R crowned: rifled bore, of 1894 to 1968
ELG on star in crowned oval: acceptance between 1893 and 1968
W under star: countermark of controller of 1877 to 1968
C under crown: not identified, perhaps the mark of the founder?
17345: undoubtedly the number of manufacturing
Charles Philibert Joseph Clement, gunmaker, street Chéri 37 in Liege was registered with the proofhouse of Liege of 1906 to 1914. From 1883 to 1912, year of its death, it deposited not less than 35 patents, but a priori, none seems to relate to the weapon presented here. He also deposited 14 trademarks between 1893 and 1912.
GP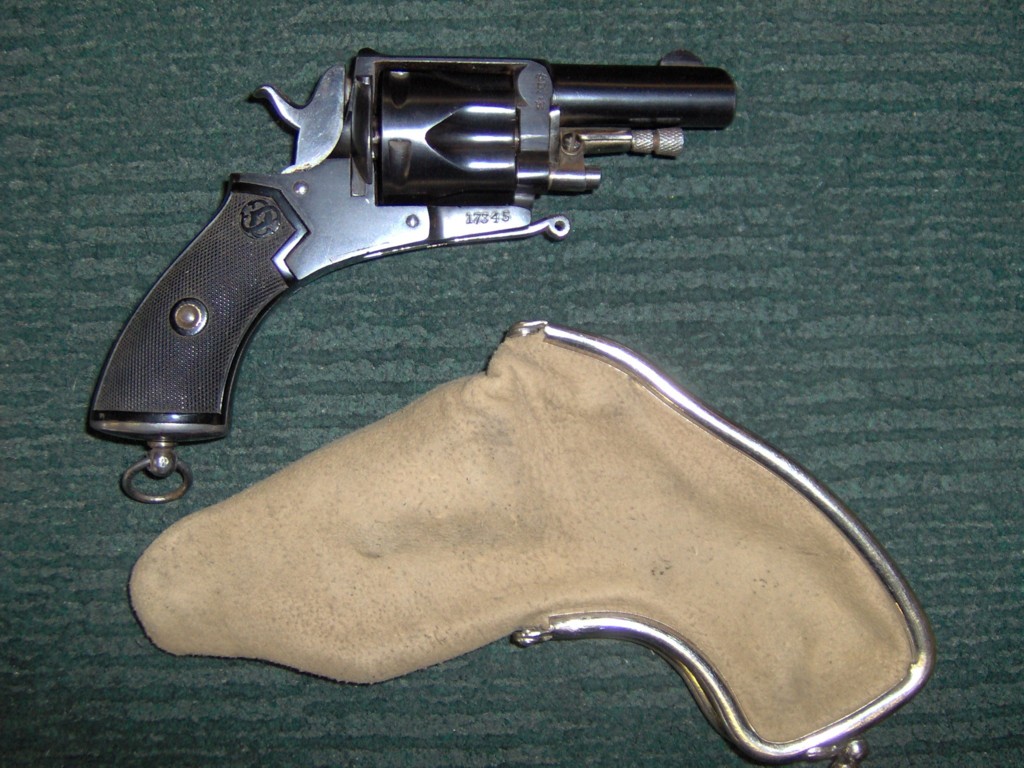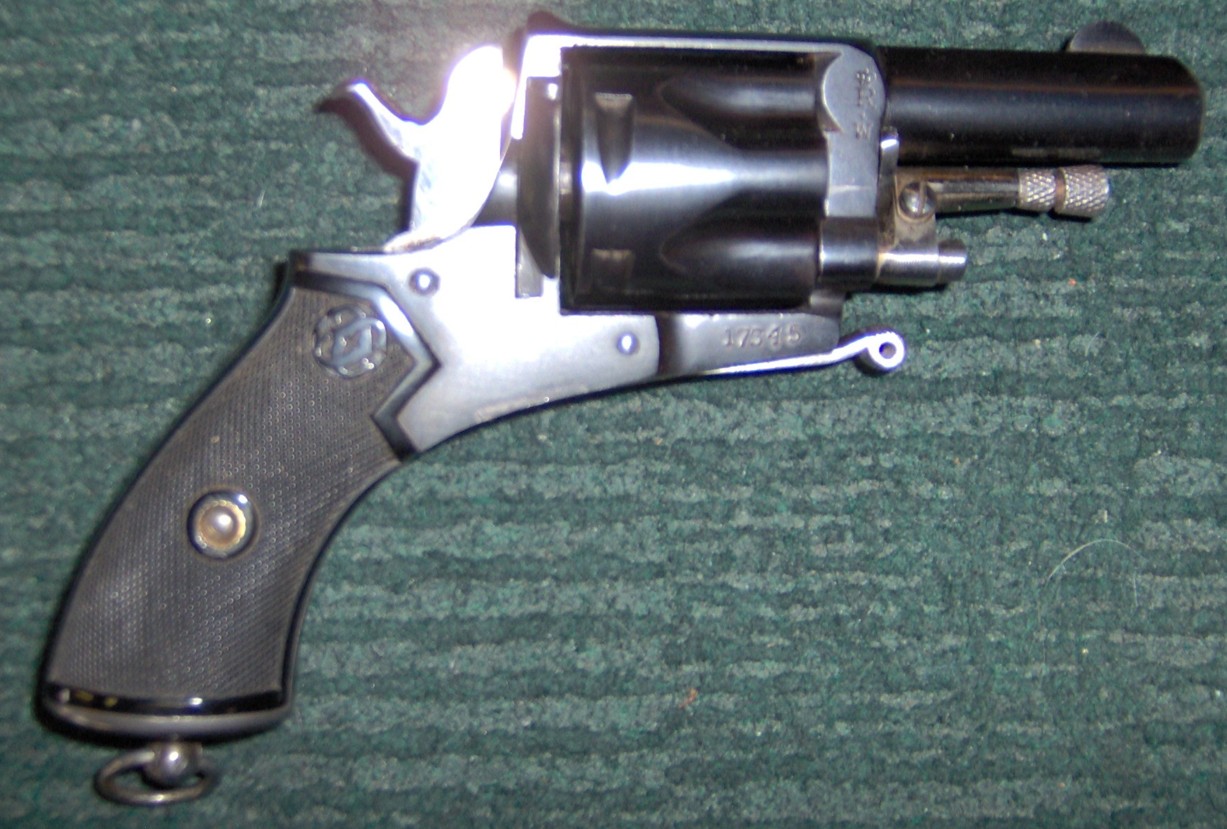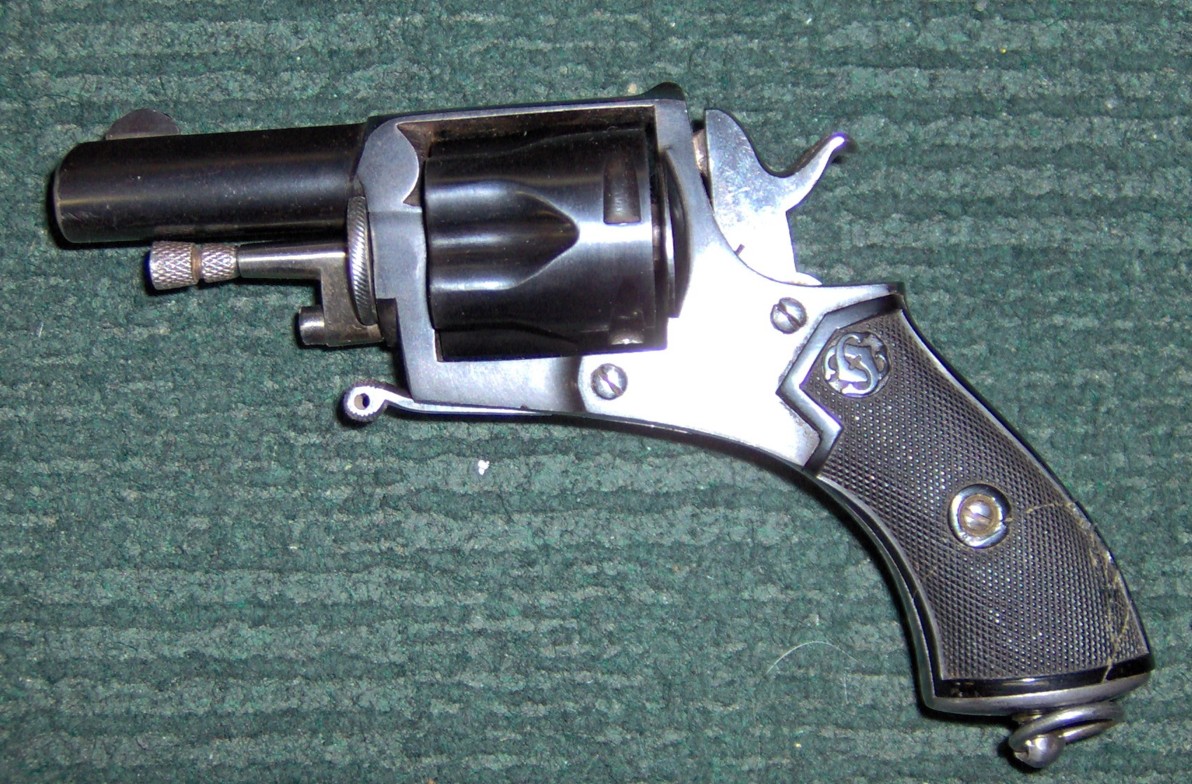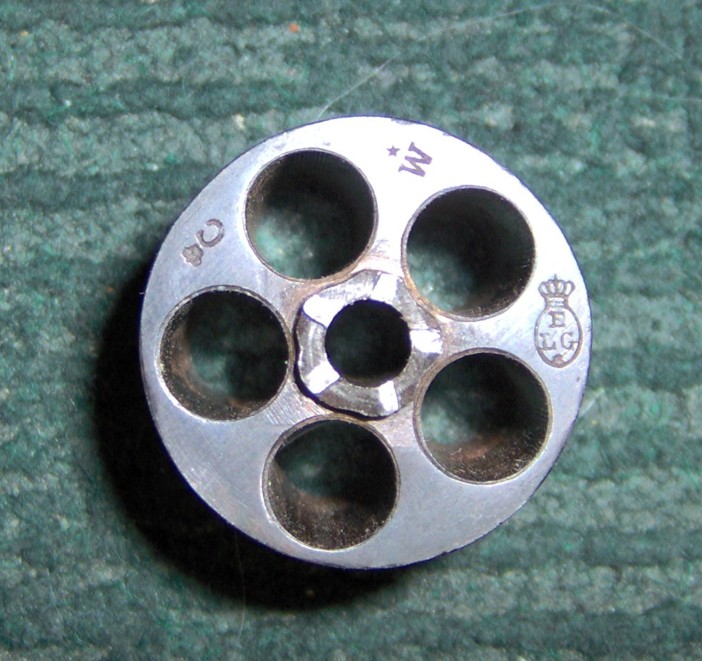 Charles CLEMENT (Maybe !)
Revolver with central percussion and box frame of type VELO-DOG. The barel is with eight sides with back sight in half-moon. The long cylinder is grooved. It comprises 5 rooms of calibre 6mm velo-dog. The hammer with ball does not comprise a peak. The rod swivels on an axis and is used for unloading of the cylinder.
The loading is practiced by a door placed on the right side and dropping thanks to the action of an internal spring.
The trigger is right, without trigger guard, it is folded up under the carcass.
The plates consist of what seems to be hardened and squared rubber. They are joined together by a screw and two rivet washers out of brass.
Punches
They are the punches of the proofhouse of Liege, namely:
ELG on star in a crowned oval: final acceptance post 1893.
PV surmounted of a stylized lion: test with the powder without smoke, of use of 1898 to 1968.
Al spangled: countermark of the controller post 1877.
R crowned: rifled bore, of use of 1894 to 1968.
Marks
L crowned: this mark does not belong to the proofhouse and resists the identification, for a long time. It is perhaps about a mark of foundry??
Two interlaced circles: I am certain to know this mark but not average of me to recall some exactly. It resembles a mark of Charles CLEMENT.
GG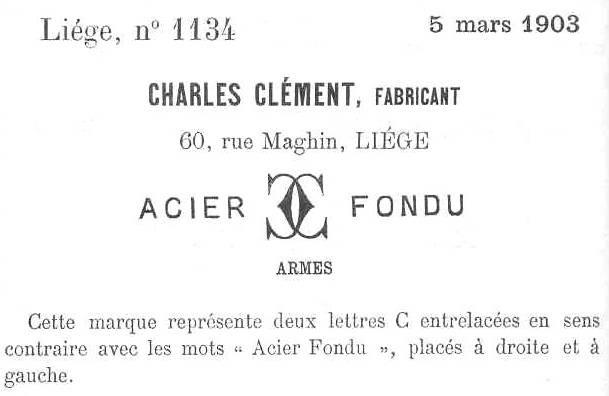 This mark resembles moreover the mark of French Goupillat and Gévelot that here: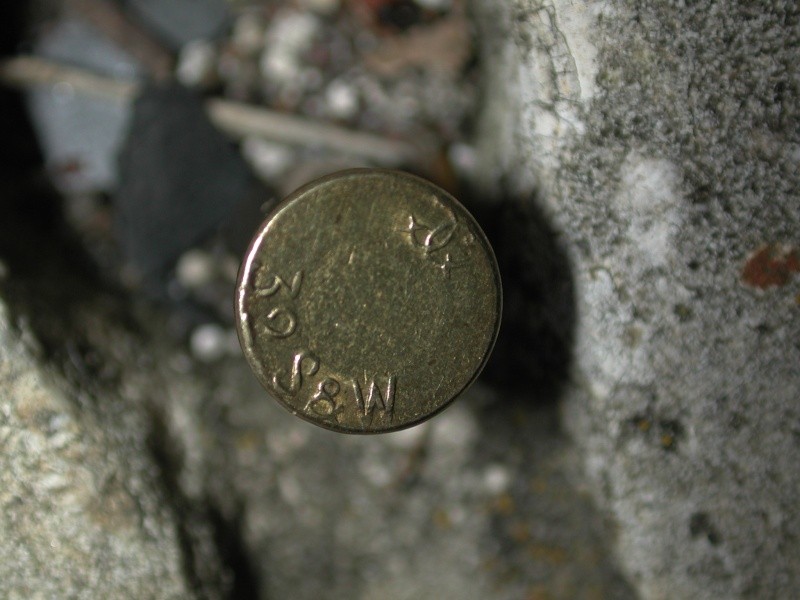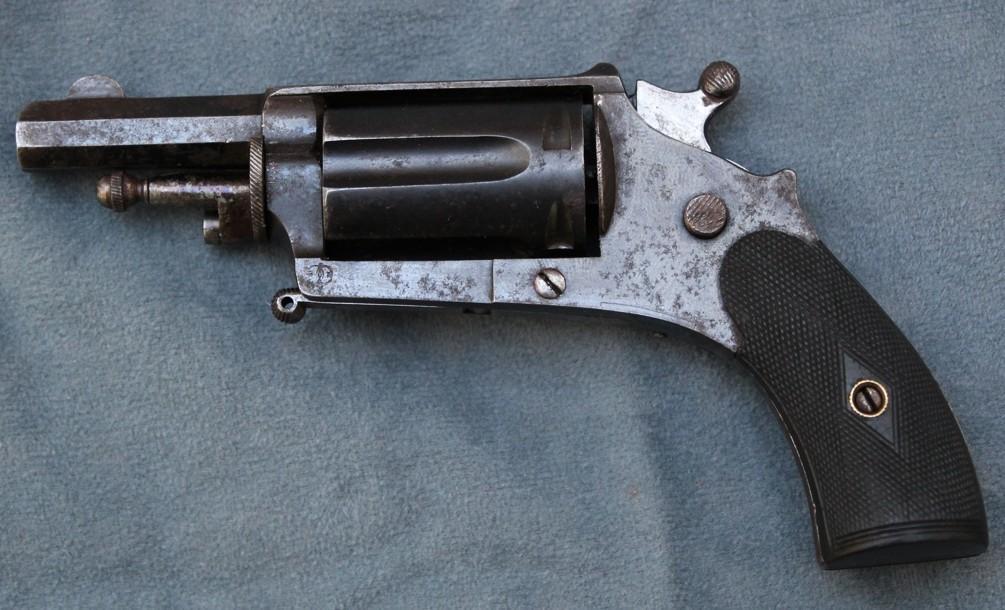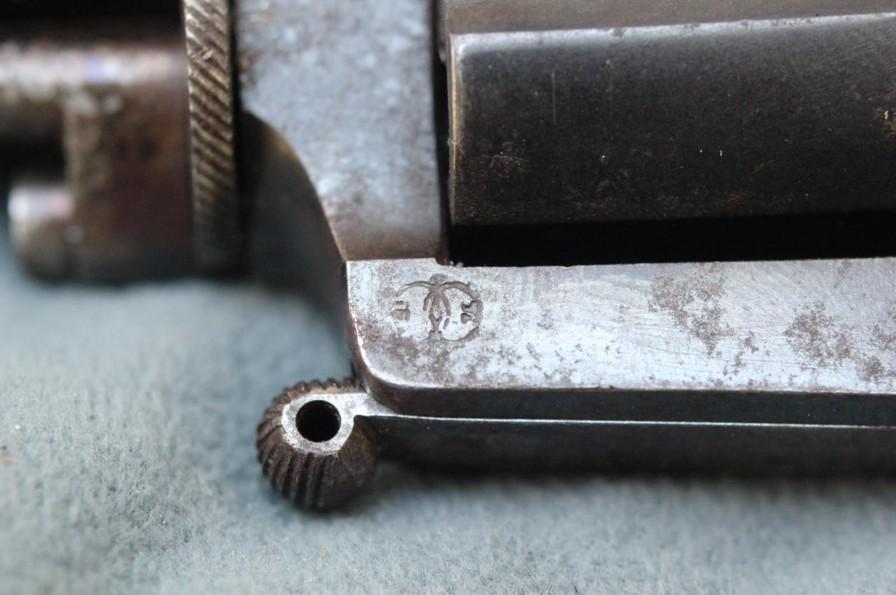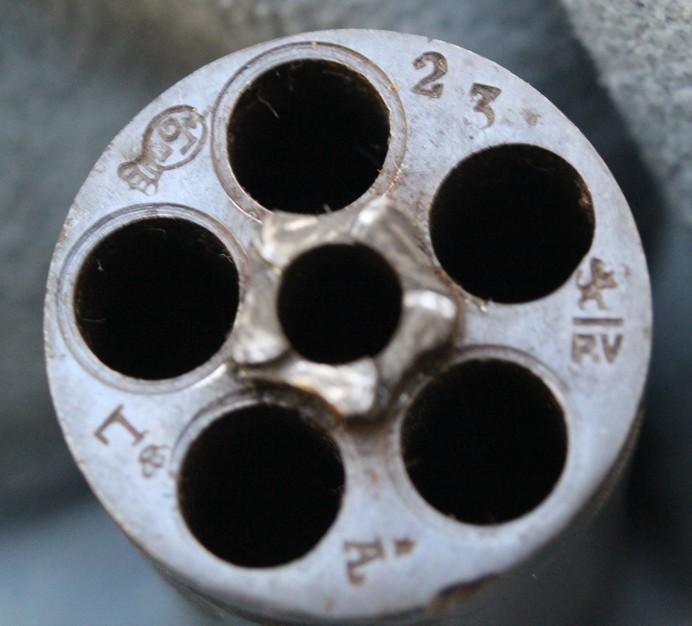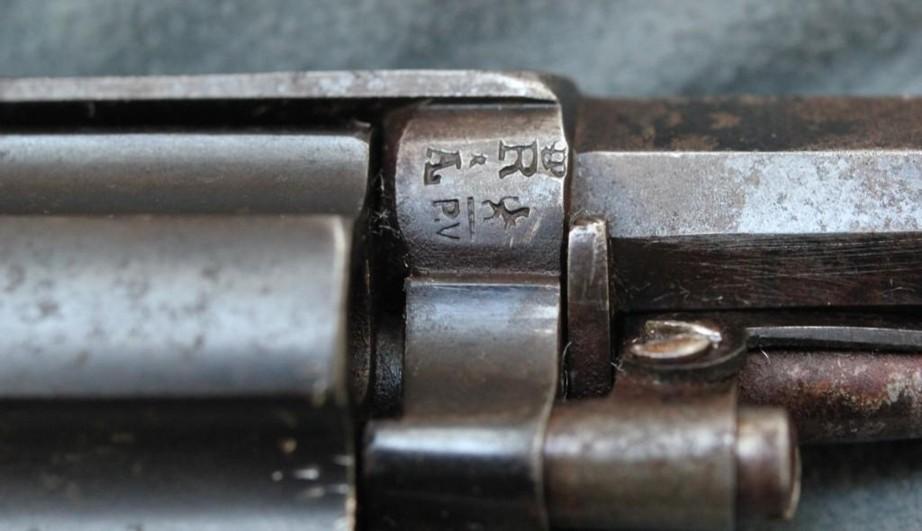 Charles CLEMENT
Revolver Cap & ball of Liege imitating celebrate it COLT NAVY 1851, although there is no photograph of the complete weapon.
The engraving of the cylinder represents an evolution of ships in front of a bridge which gave to this weapon the rather whimsical denomination of "BROOKLYN BRIDGE" in the world of the collectors.
Punches
The weapon carries markings of the proofhouse of tests of Liege, namely:
A spangled: countermark of the controller post 1877.
R crowned: rifled bore, of use of 1894 to 1968.
A crowned and Y crowned: the presence of these two punches (countermark of the controller of use of 1846 to 1877) is rather anachronistic. Did this weapon perhaps recover an old barrel and passed by again with the profhouse but it is only assumption?
Misses with the call punch ELG on star in an oval crowned or not.
Marks
38 CAL: indicate the calibre of the weapon.
18: is probably a serial number.
The marks CLEMENT ARMS C° and CAP SYSTEM MANUFACTURES BY C. CLEMENT: indicate that this weapon left the workshops of Charles CLEMENT manufacturer of weapons street Chéri to LIEGE.
GG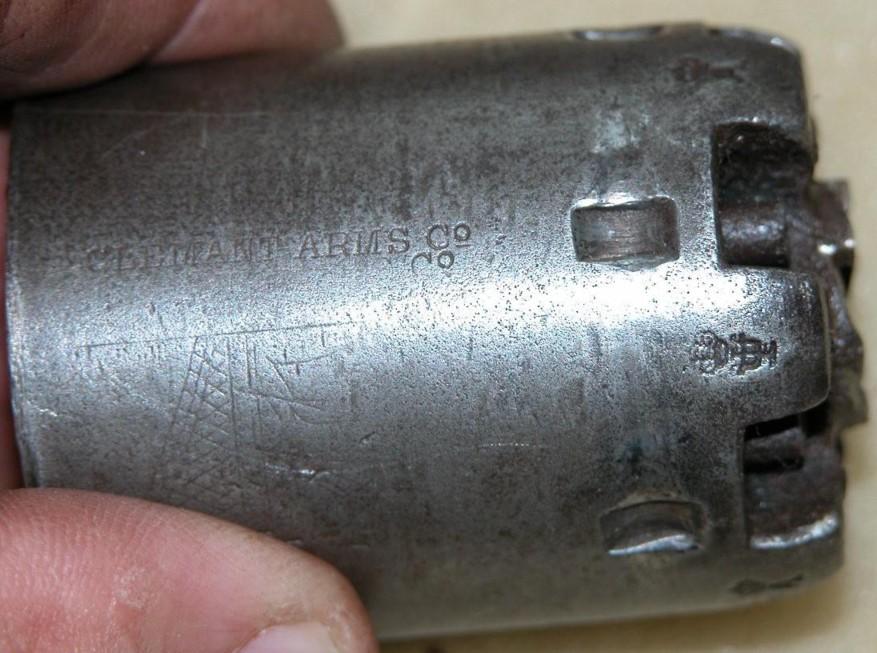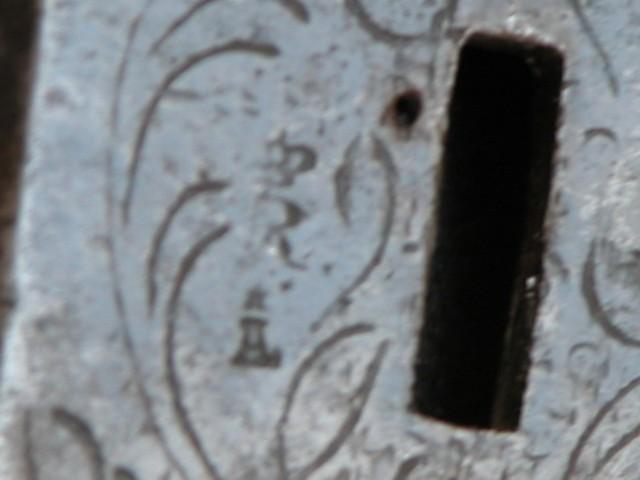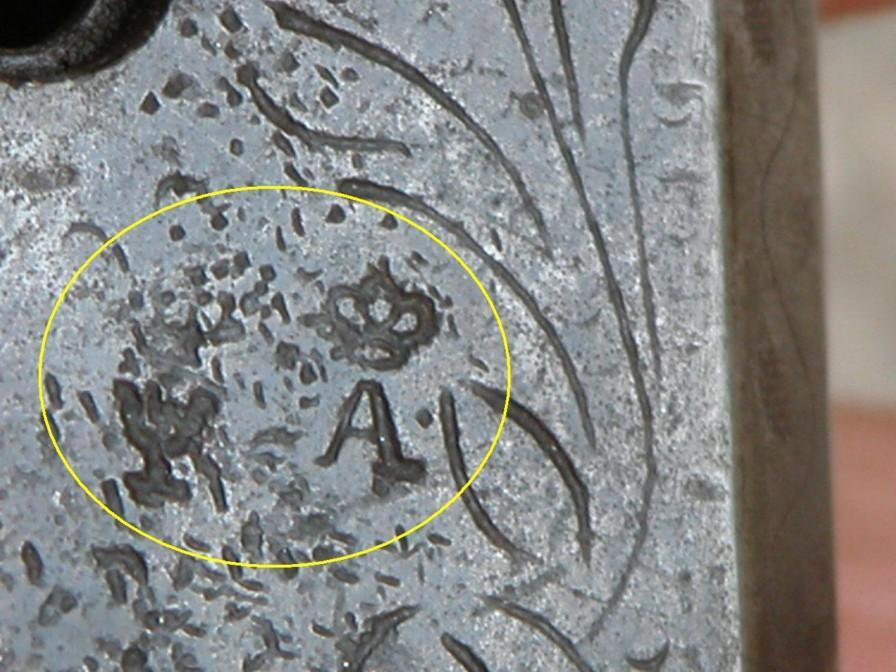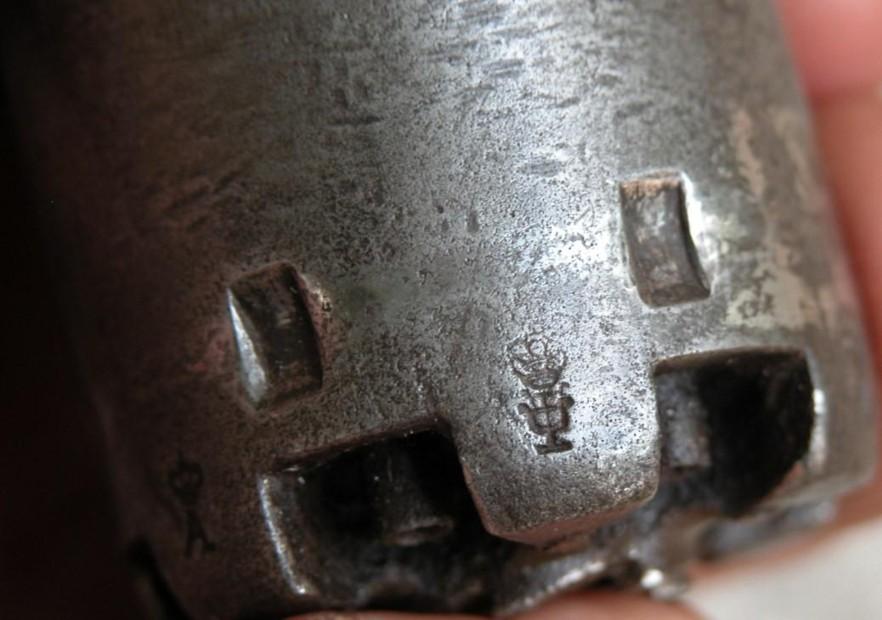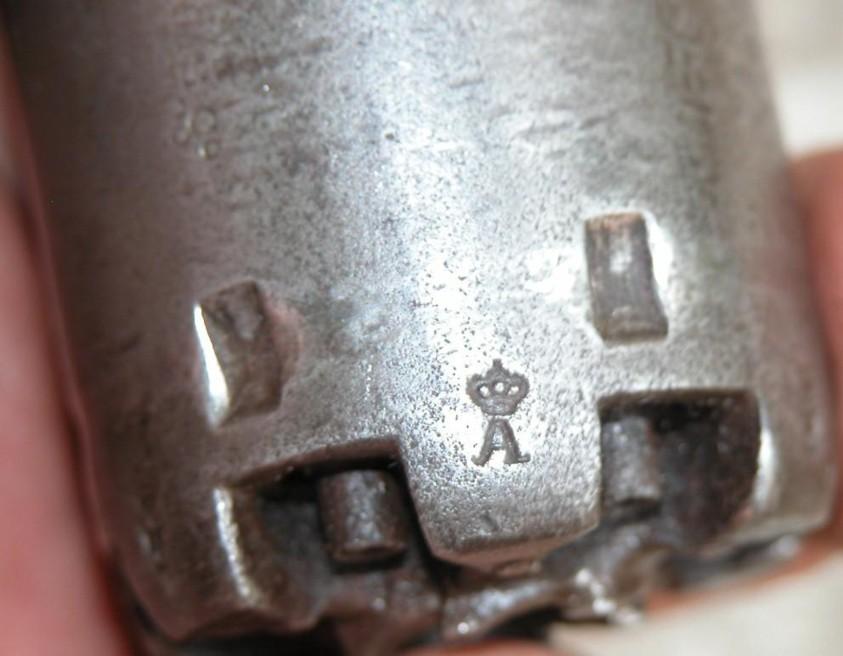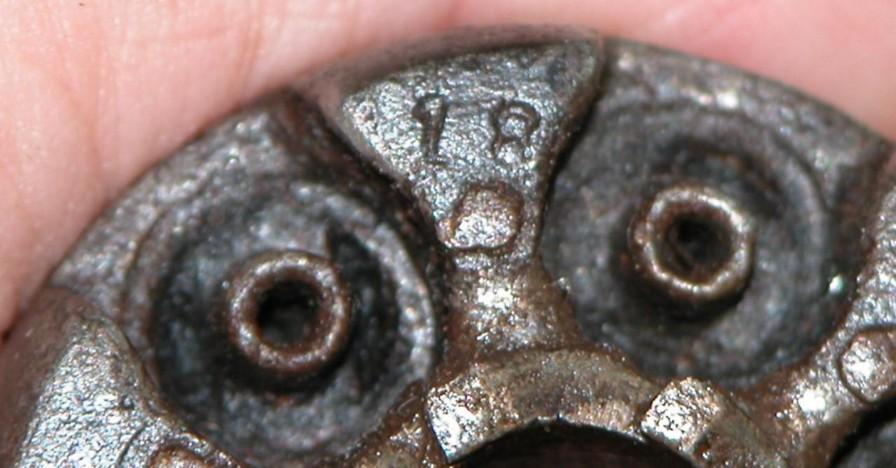 Clement Charles Ph.
Rue Chéri, 20b – Liège
1903-1954
Registered with the Proof House -1905 to 1954.
CLEMENT, Charles comes from FAGNUS and CLEMENT - in 1899 buys NOSSENT L & S.
Bought in 1954 by NEUMANN Frères.
On November 19, 1908, he registers at the clerk's office of the Liege Provincial Government , a Belgian patent application for an automatic weapon (n°212.172) the operation of which is based on the principle of locking by inertia. A little less than 2 years later, September 26, 1910, the main patent of 1908 is supplemented by a patent improvement for this same gun (n°229.440). One finds this weapon in the 1911 Alfa catalogue under the name semi-automatic rifle Clement-Neumann, caliber 401 W.S.L.
Guns manufactured: Clement 1903/1907/1908/1910/1912/Clement revolver, Clement Fulgor
The FULGOR brand was registered on 27.11.1912 by Charles Philibert CLEMENT who passed away the same year.
GG and MD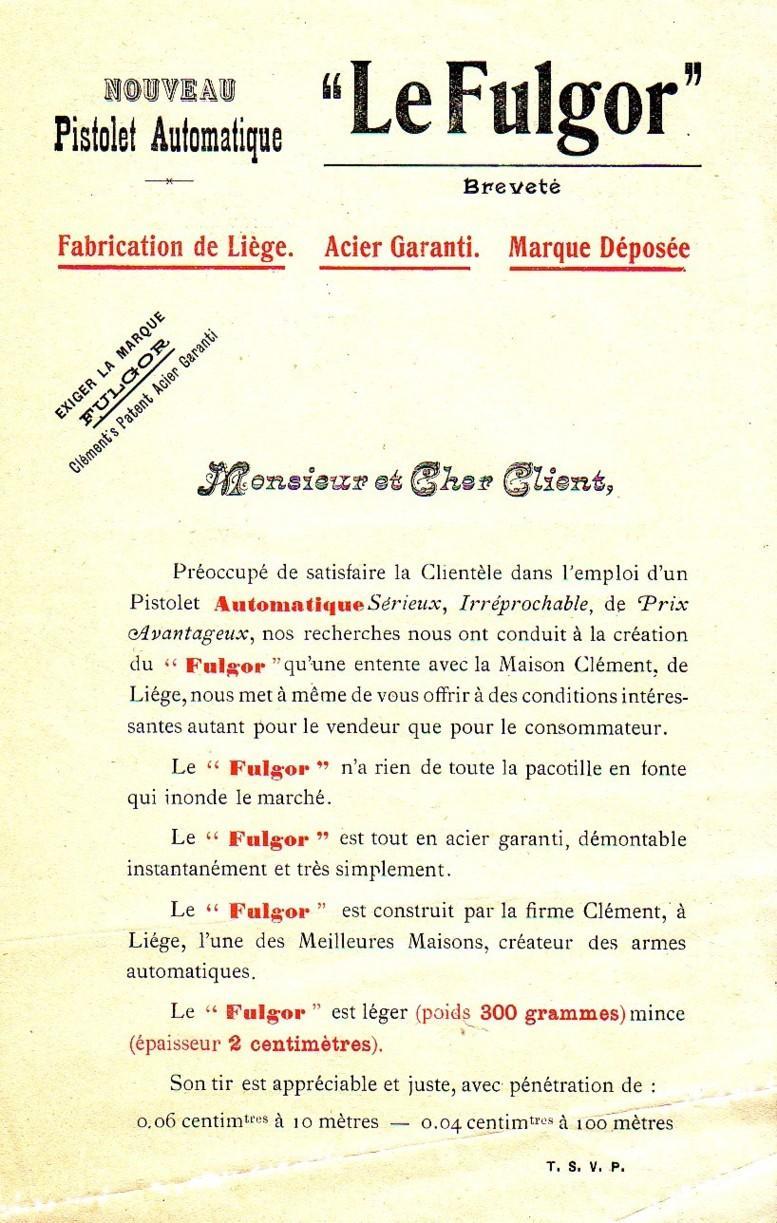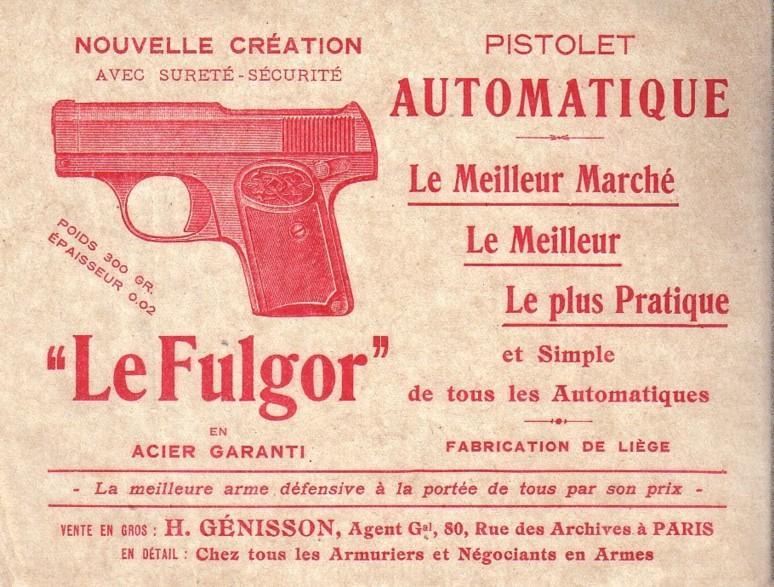 Charles Clément
It is indeed about a pistol automatic FULGOR, any steel, simply dismountable and quickly. It weighs 300 grams.
This weapon is the last weapon invented by Charles CLEMENT manufacturer of weapons in LIEGE, before its death.
The weapon which seems to have known better days, carries the lawful punches of the proofhouse of LIEGE, namely:
Spangled ELG in a crowned oval: acceptance post 1893.
AL coupled and spangled: countermark of the controller post 1877.
Peron: inspection post 1853.
R crowned: rifled bore, of use of 1894 to 1968.
PV surmounted of a stylized lion: test with the powder without smoke, of use of 1898 to 1968.
GG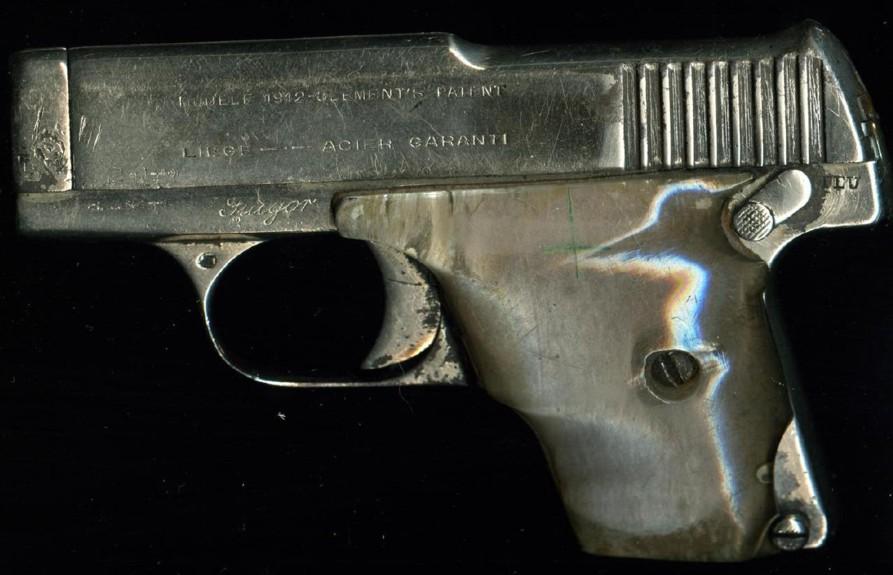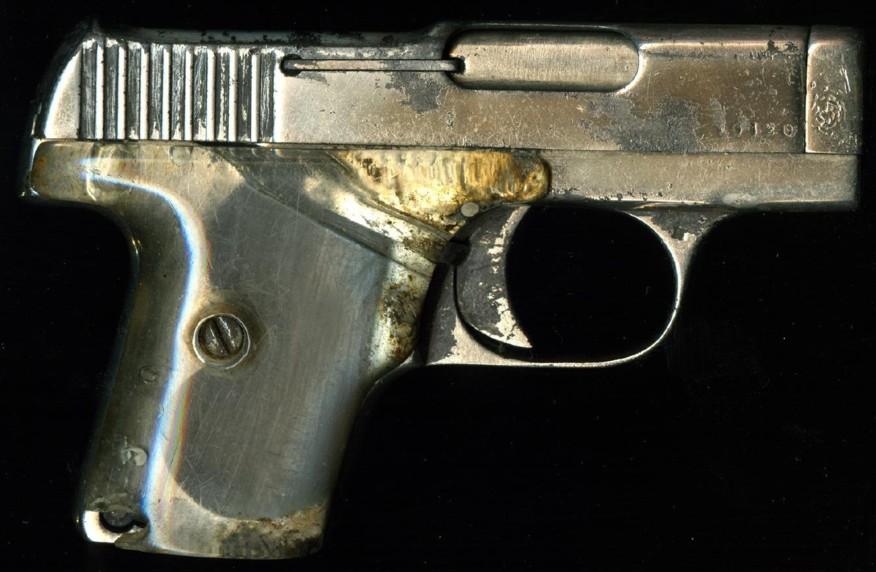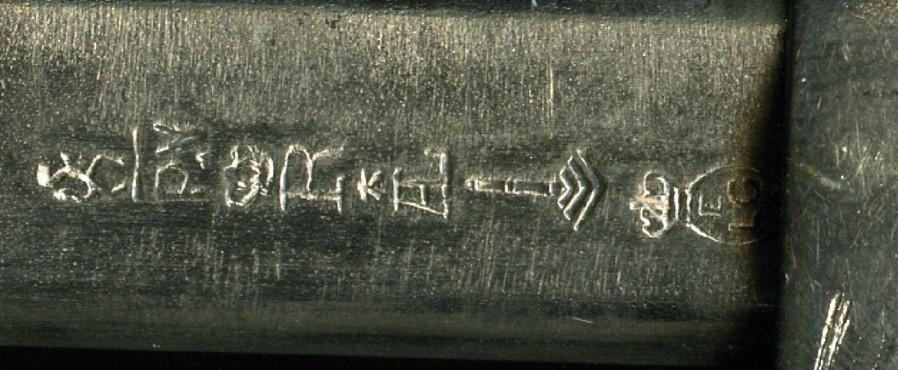 CLEMENT by Hogg
Charles Ph Clement, Liege, Belgium.
(In the trade, also like C Clément, Neumann Brothers).
Clement. Charles Clément, arms manufacturer of Liege, patented in 1903 (brev. Eng. 5180/1903) a clever automatic pistol with a moving breech block, and standing barrel. The barrel and the recoil spring were hidden in a cavity attached to the frame by means of two screws which engaged in a plate formed by the left posterior angle of the frame.
The breech block was slightly excentric, in order to leave space for this plate and was behind the cavity that we mentioned above. This gun usually named "Model 1903" was predisposed to receive the 5 mm cartridge born with the Charola-Anitua pistol. This ammunition was manufactured in Belgium and Clément adopted it ; since his gun lived longer than the Charola, the cartridge was finally known under the name 5 mm Clément.
In 1907, Clément modified the project and transformed it making the plate more robust placing it in the center of the frame. The breech block now built with many side grooves to make the grip easier was split in the center, in order to pass around the plate. The front part of the breech block formed an extention which entered the recoil spring housing. The gun was produced in calibers 6,35 mm and 7,65 mm and was called "Model 1907".
In 1908, a new version of 6,35 mm was put on the market. The principal variants were related to the shape of the grip now with parallel edges and no longer conical, and the magazine safety . On the previous models, this safety had the shape of a push-button located on the internal edge of the grip; it was now on the side of the grip.
In 1910, Clément patented a new project (Brev. Eng. 14996/1909) making the model more rational. The barrel housing and the barrel were now forming a single element, attached to the same central plate, but blocked by a hook-shaped stop actuated by the trigger guard. By moving the trigger guard away from the frame and by pulling it downward, the element formed by the barrel was released and tiped up vertically around the pin, which gave access to the breech bolt to clean it.
The last Clement product was the "Model 1912"; after that it gave up his patents and manufactured a regular 6.35 mm pistol with moving breech block , similar to the Browning 1906, except that there was no grip safety . This gun was produced in small quantities and the prototypes we have examined present a series of minor variants. One of these prototypes features a barrel blocked by a collar fixed at the mouth and screwed to the frame; another has a regular slide of the ''enveloping ''type , with the higher part located in the frame, while a third model presents a slide with a completely smooth upper part . Some are marked "Clement's Patent"; others bear the mark "Model 1912 Patent 243839". It is thought that at the time this gun was ready for production, Clément had already retired or was deceased, and that the Neumann Brothers had taken the company, including the starting of the business and the patents. But the company did not survive to the German occupation of Liege and no Clément gun was produced after 1914. The "Clement" brand was also applied to a revolver produced in small quantities by the Neumann Brothers between 1912 and 1914. It was practically a copy of the COLT Positive Police, 38 Spécial Caliber , recognizable by the monogram of Clement ("CC" interlaced) cast on the handles.
Clement-Fulgor. We knows very few things about this gun which appeared only on some of the Neumann Brothers ads; it was a 7.65 mm with moving breech block , based on the Browning 1903 and did not feature any Clément characteristic. One could regard it as a 7,65 mm equivalent to the Clement"Model 1912" . The production started apparently in 1913, and given the events of the following year, the production never reached large quantities.
Clement Charles
This is a GUARDIAN Pinfire revolver identifiable by the name engraved on the cylinder "THE GUARDIAN MODEL OF 1878" and which is a trade mark registered in Liege on 27.12.1880 by CLEMENT CPJ in Liege / NEUMANN Frères successors. (See site).
The gun itself is rather common and was often identified on the site. Let us only add that the barrel is octagonal whereas others are round and that the extraction rod is missing.
Stamps
Hardly a few visible stamps on the pics; I see a STAR/T which is the countermark of the controler of the Liege Proof house and which was used from 1877 to 1968.
Missing is the stamp of acceptance STAR/ ELG in an oval.
GG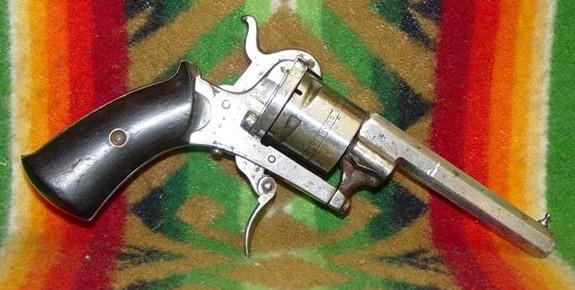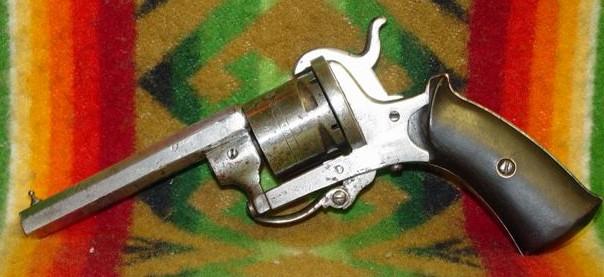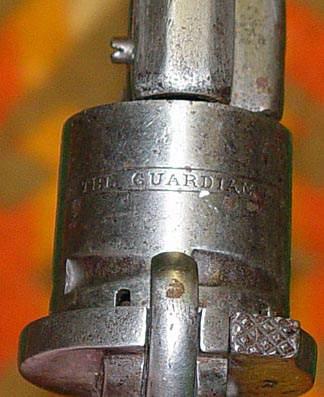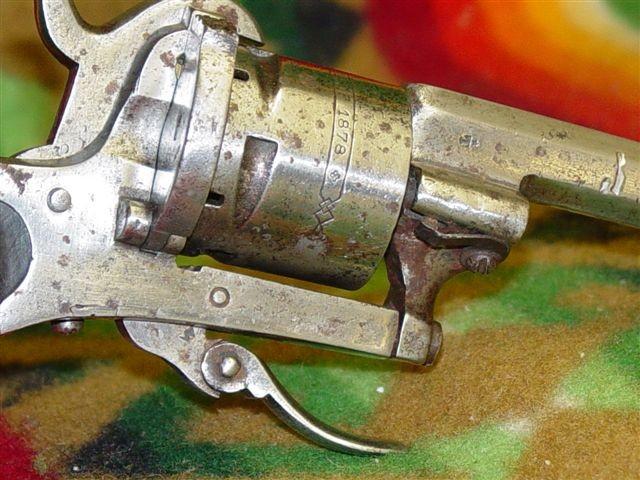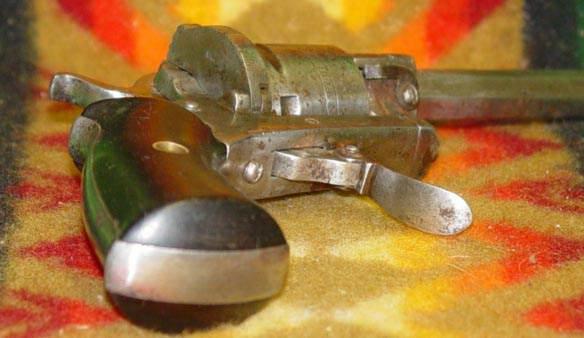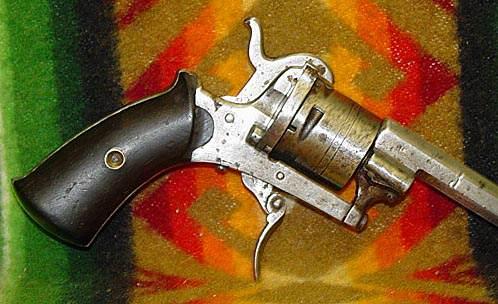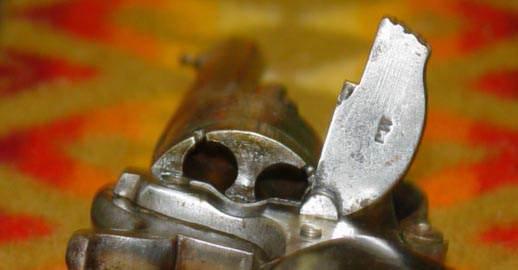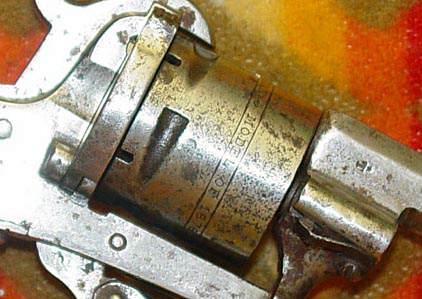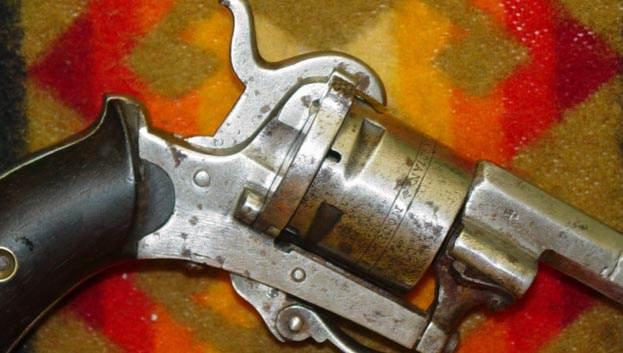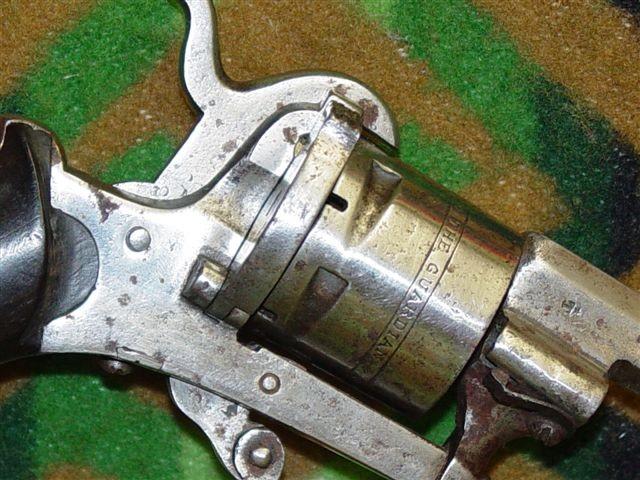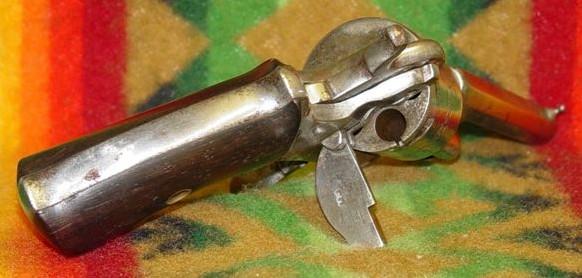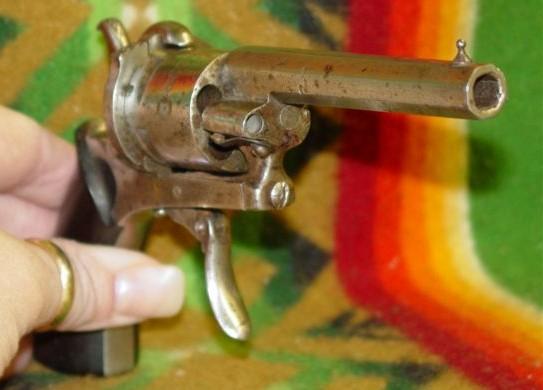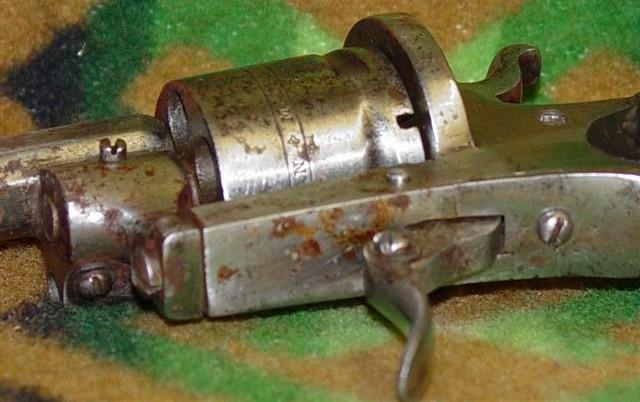 Clement Charles
This gun is a revolver of the "Puppy" type (mini bulldog) with folding trigger.
This type of weapon was manufactured by the hundreds of thousands by Liege arms manufacturers.
STAMPS
ELG\star in an oval, the stamp of acceptance of the Liege Proof House which was used from 1846 to 1893.
The STAR/ E is the counter mark of the controller used from 1877 to 1968.
The other marks (figures) are workshop marks and job number.
The manufacturer
CLEMENT Charles was a gun manufacturer, 37 rue Chéri in Liege, it was active 1893 to 1912 . He registered 35 Belgian patents and 14 trademarks.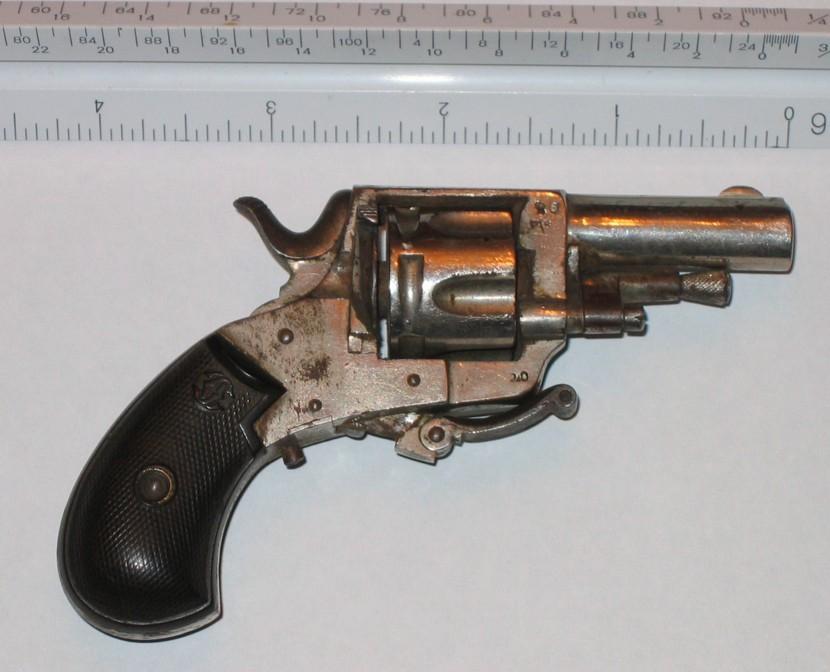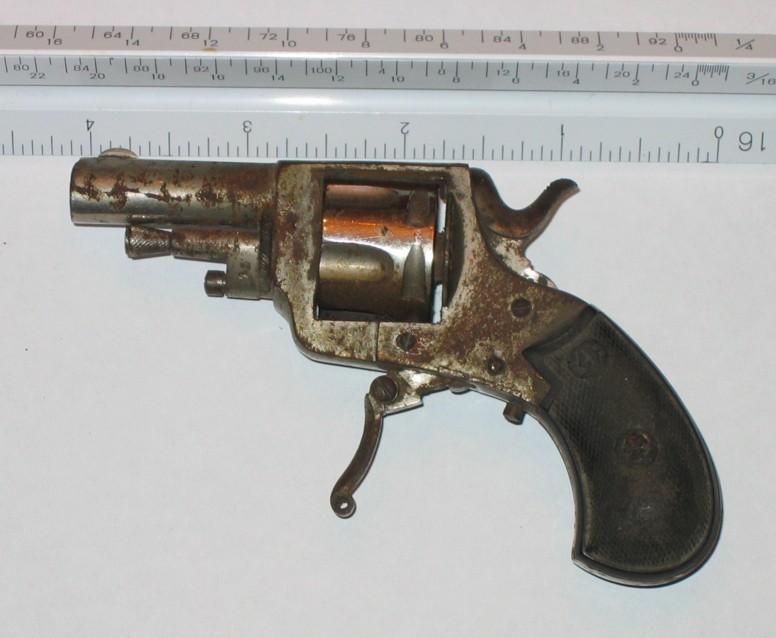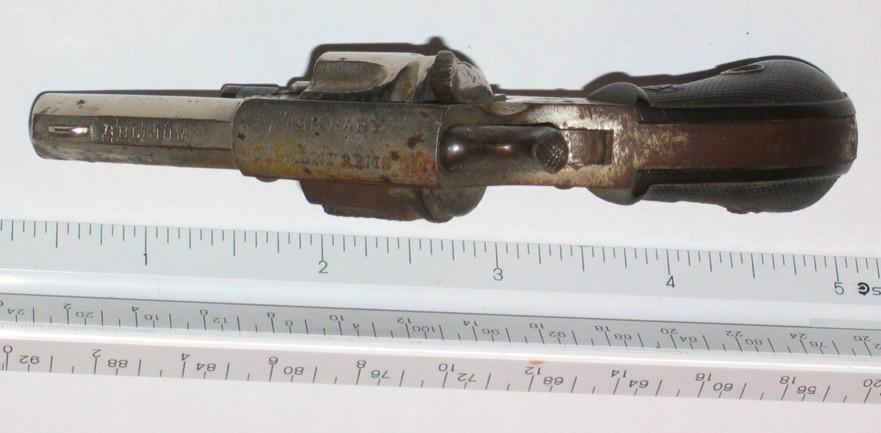 Clément Charles
Model "Guardian"
Revolver "THE GUARDIAN AMERICAN MODEL OF 1878", trade mark by Fagnus A. & Clement C. on December 27, 1880, chambered for 12mm Pinfire cartridges/ 6 shots, simple and double action.
According to the Proof House stamp : ELG in a crowned oval and STAR/B , production AFTER 1893 (Clement Charles).
Excellent mechanics, but its external condition is poor , the wood grips have been redone. The marking "The Guardian American model of 1878" can still be seen on the cylinder.
HPH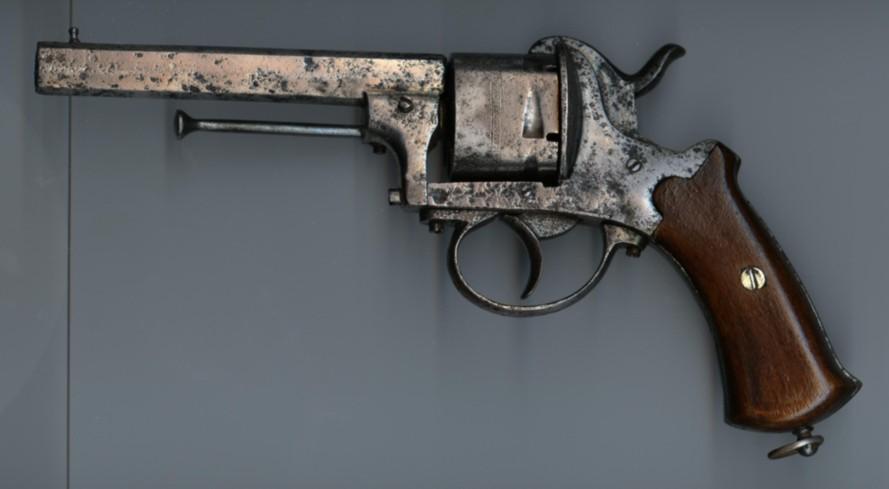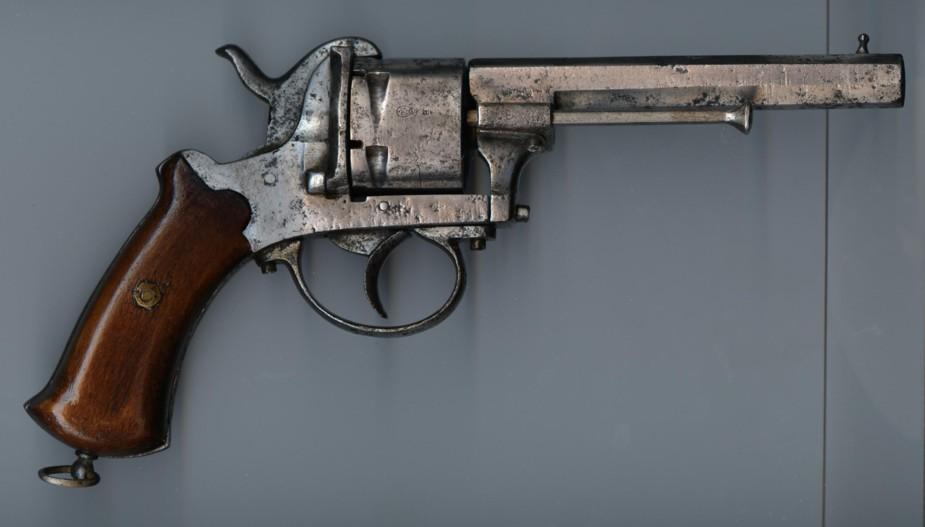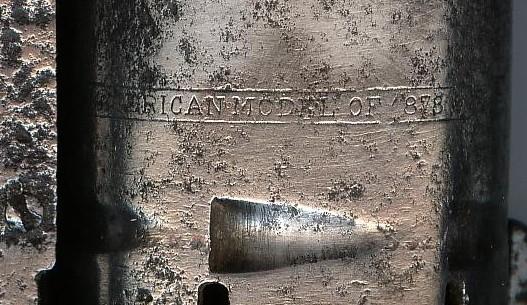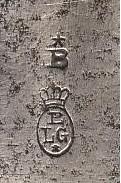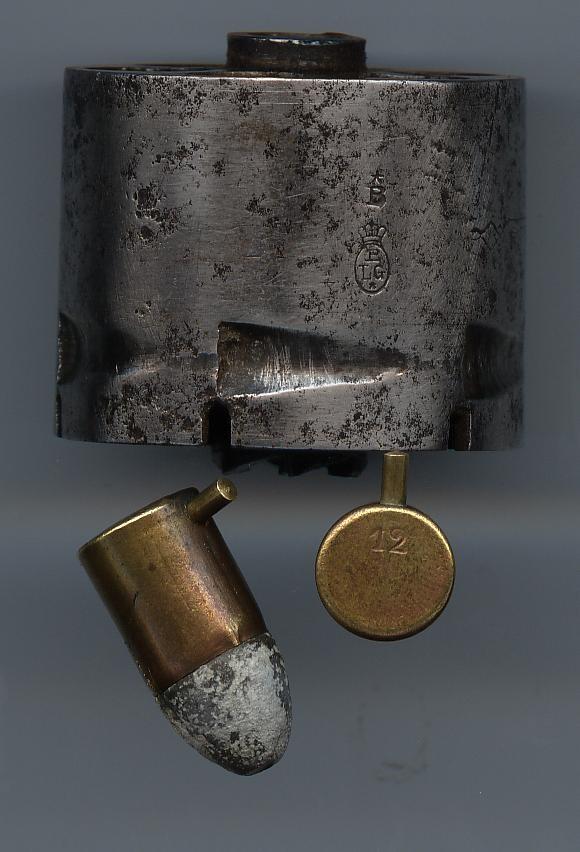 Clément 1903-1907 "transition"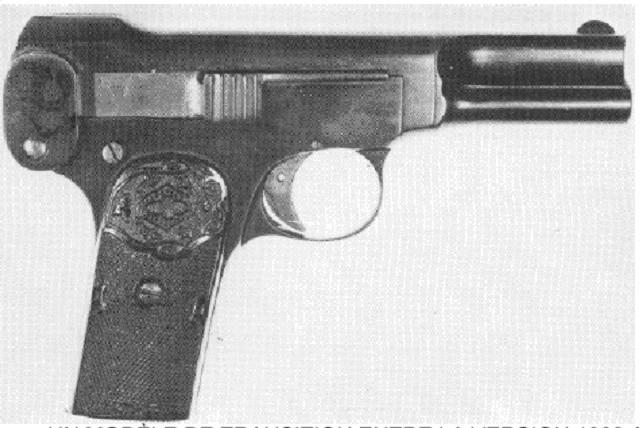 Clément 1907
Cal. .25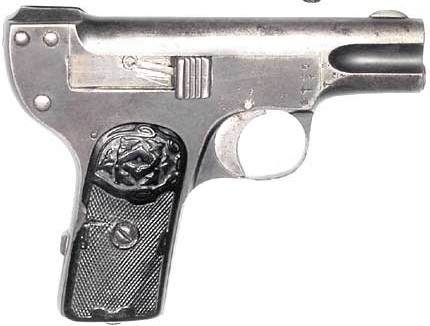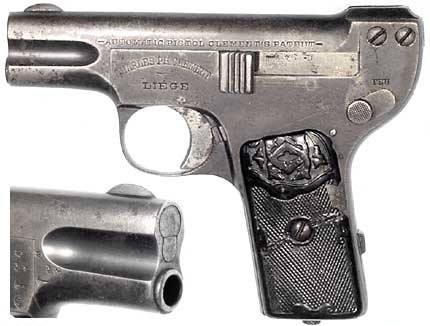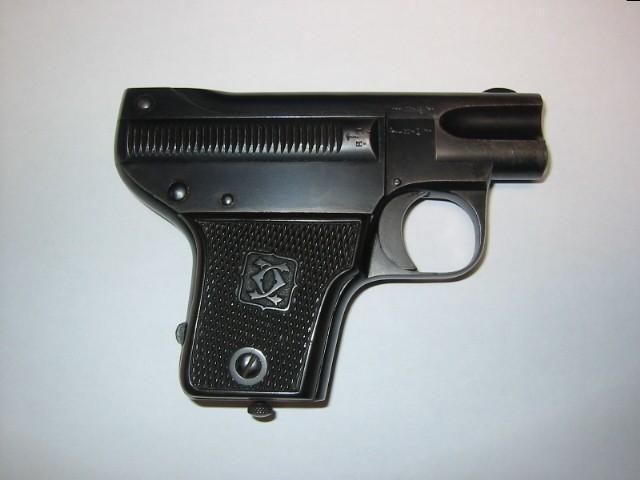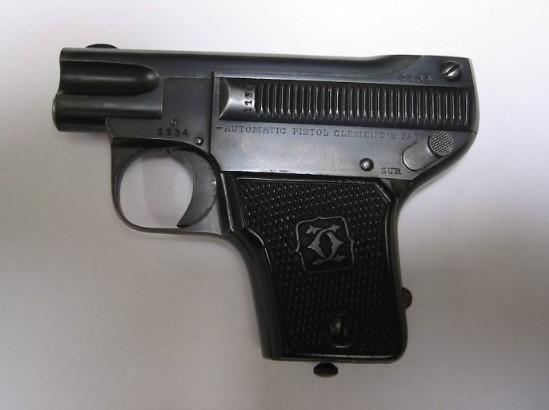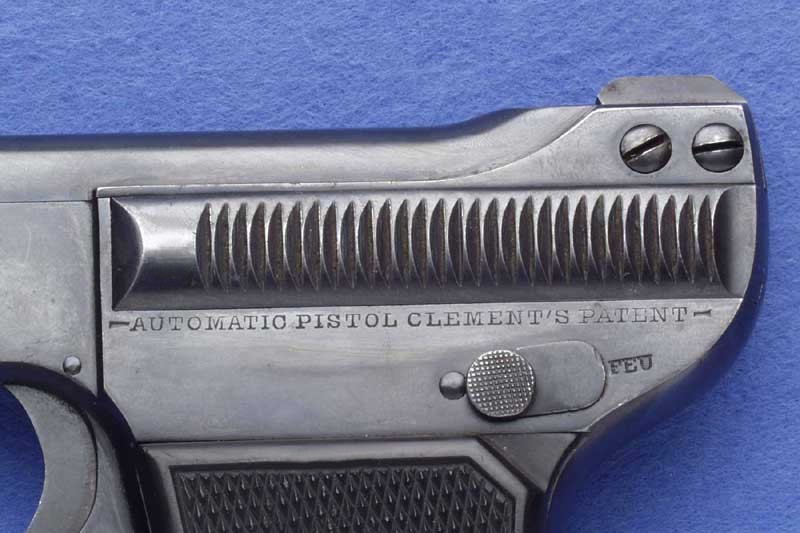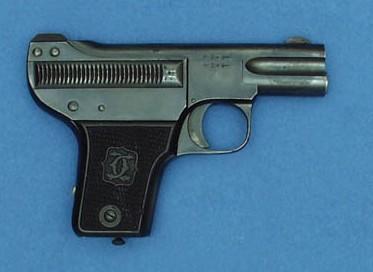 Clément 1909
Cal .25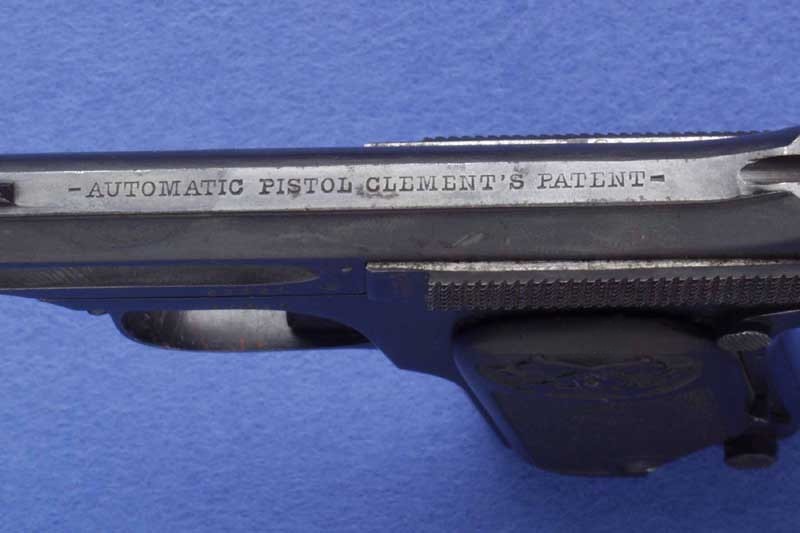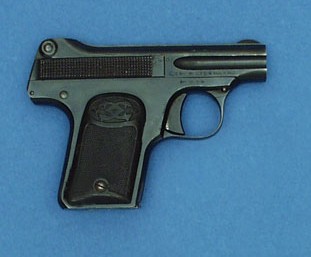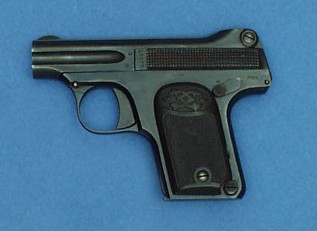 Clément 1912
Cal .25