Some of the most beautiful work of this craftsman, and many others, are in this book "Liège Gunmakers through their Work. 1800 - 1950".
For more detail see: LIEGE GUNMAKERS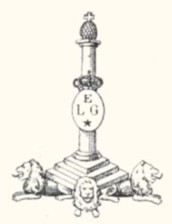 J.Chaineux
Belgian pinfire revolver caliber 9 mm, length 30 cm, by J.Chaineux Brevete
Many thanks to "BOLKANTIQUES" for the pictures.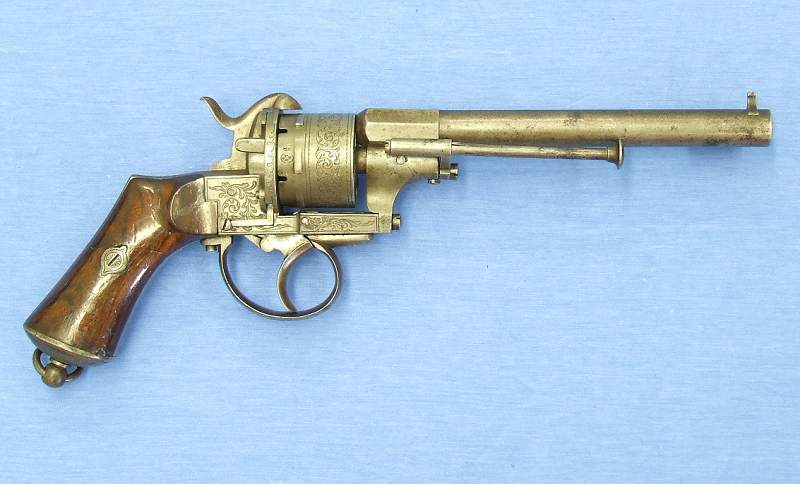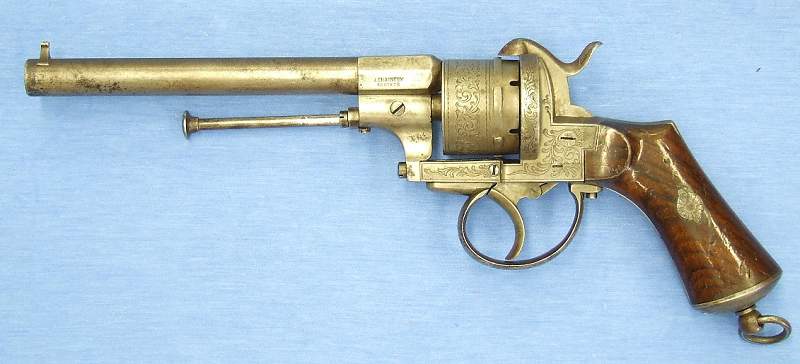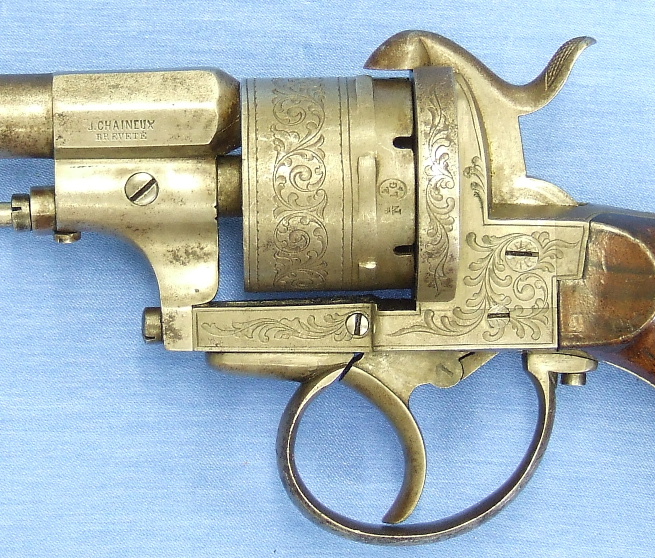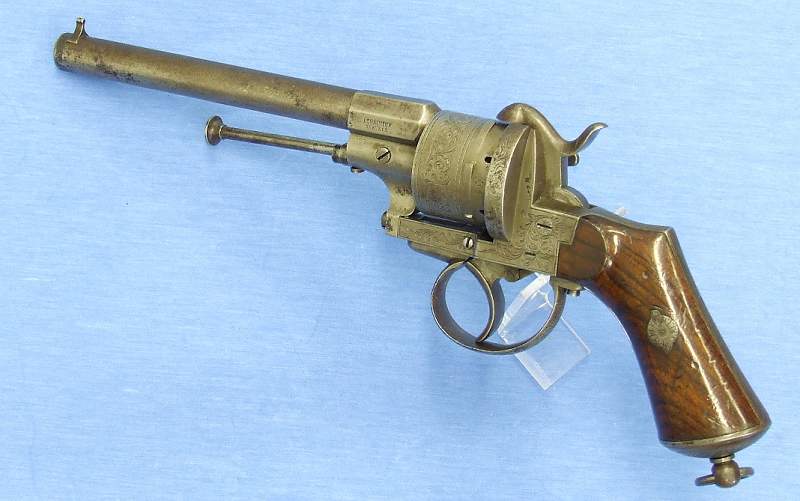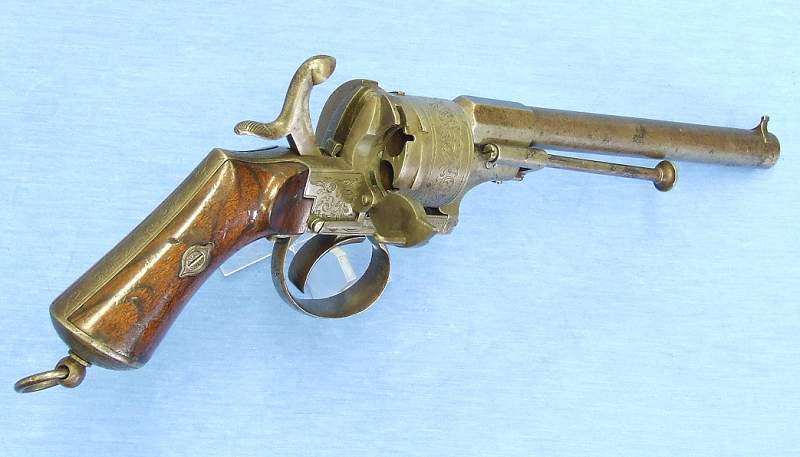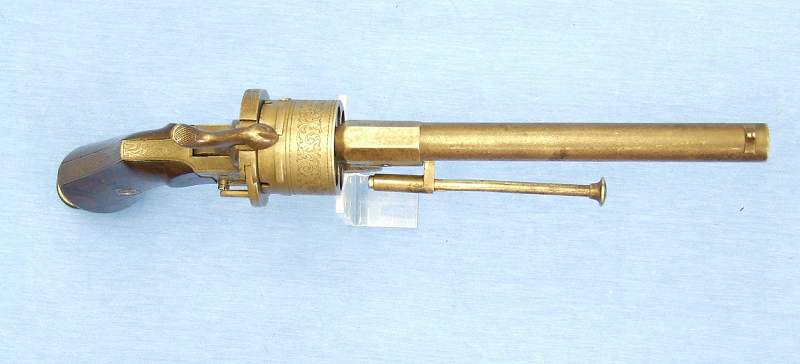 Chaineux
Six shot Pinfire Peperbox
Loading through a side gate and unloading using the rod placed in the handle.
Folding trigger and fluted barrel .
The mark J.C is not specifically known to me; the Who's Who informs us:
CHAINEUX Joseph Lambert, registered as gun manufacturer with the proof house Liege from 1864 to 1884 and living¨26 Place des Carmes, in Liege. In 1863/64, he registered two patents for a system of pistol-revolver.
CHAINEUX Joseph de Wandre, regsiters from 1858 to 1864, five patents for improvements for the breech loading pistol-revolver and a system of pistol-revolver and its improvements.
Not having seen the patents, it is of course impossible for me to be 100%. affirmative
Other JC are mentioned in the Who's Who, but no detail comes to support our investigations.
GG
Photos Littlegun
A French firm manufactures the necessary to reload this type of ammunition.
Look at here: H & C Collection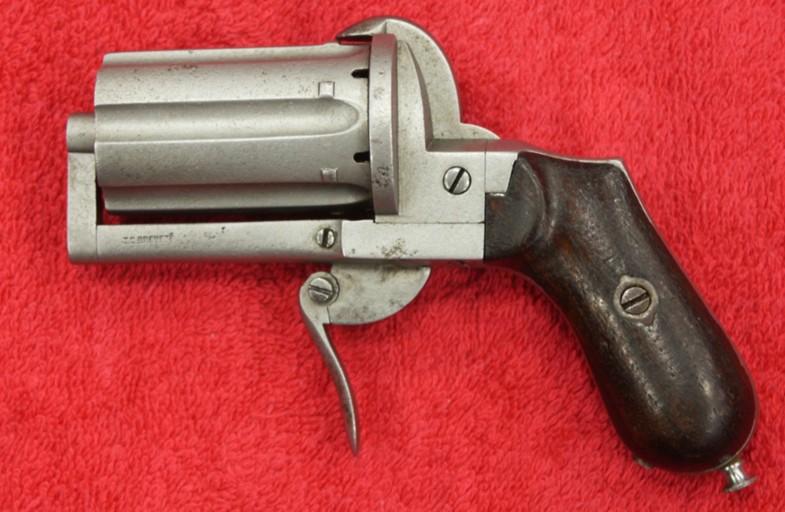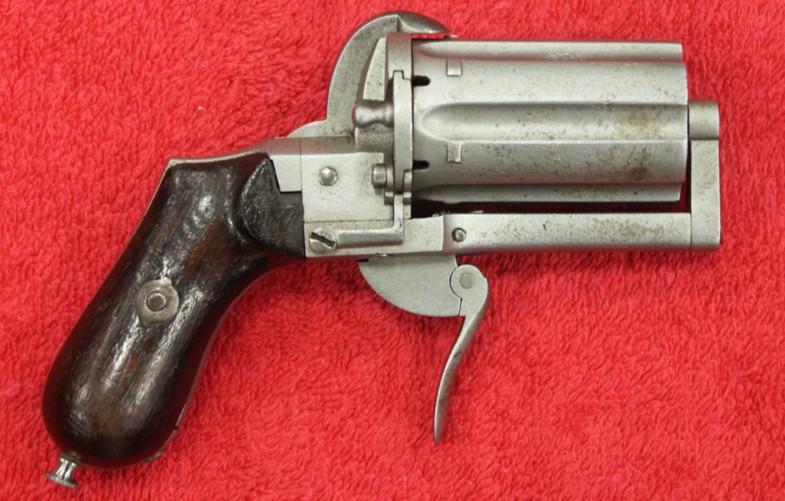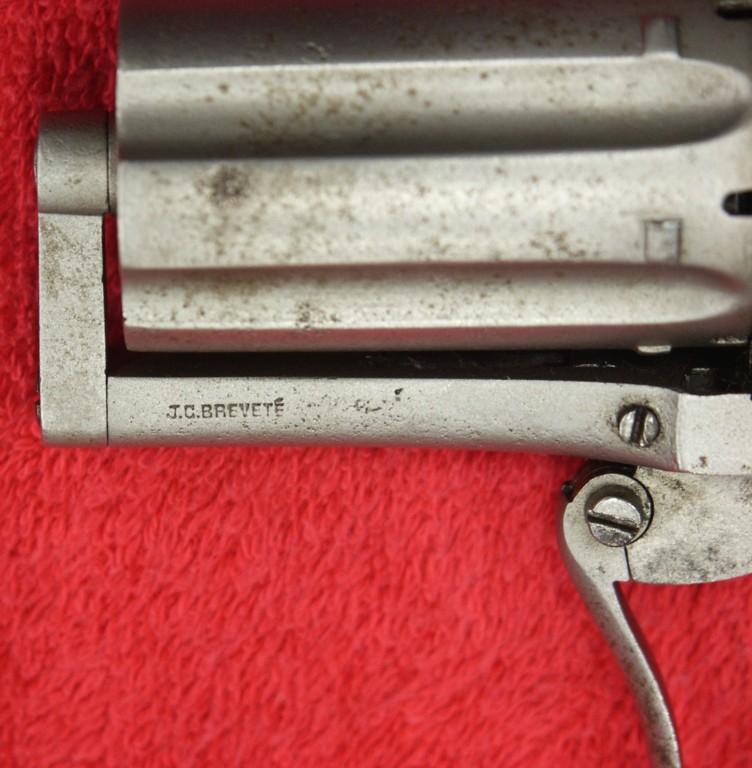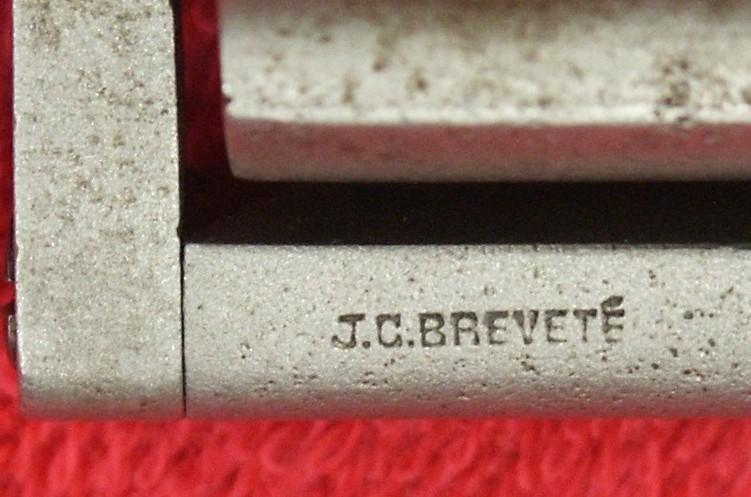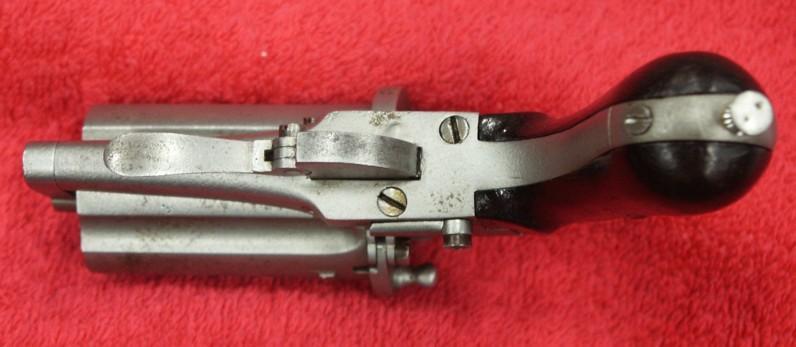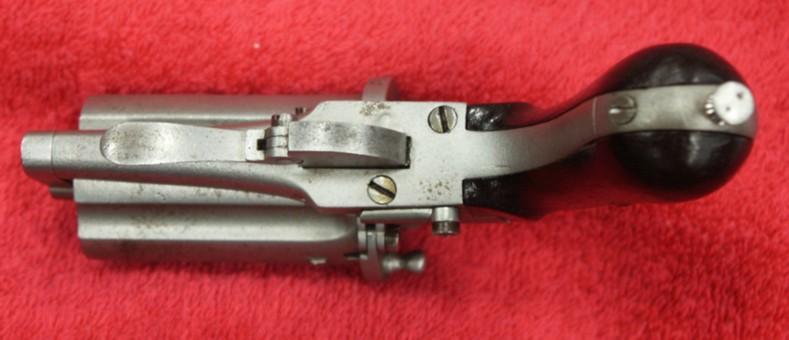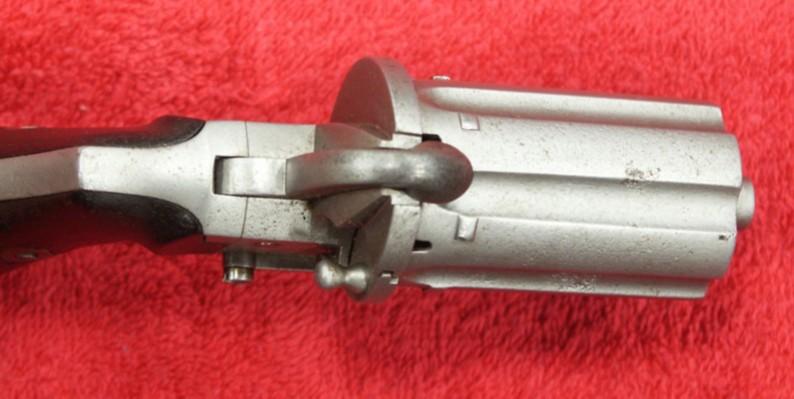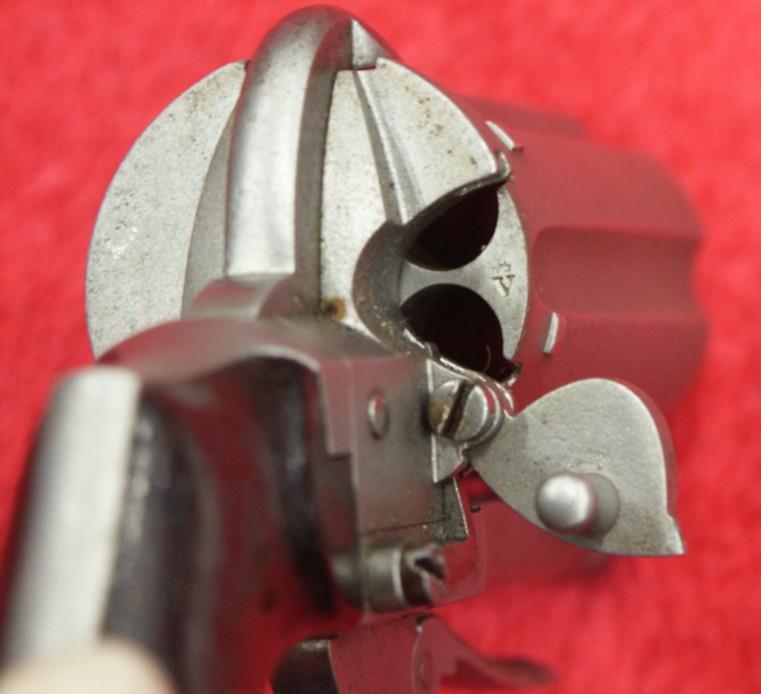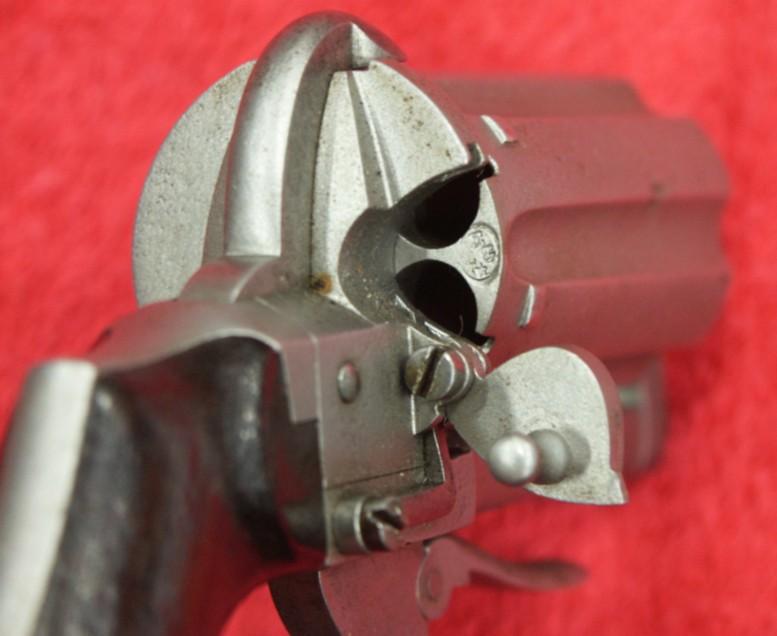 Chaineux
The characteristic of the 1st patent (and following in 1858, 1859, 1863 and 1864 with Jontgen) of Chaineux, Jean-Jules, arquebusier from Wandre, for a pinfire revolver the cylinder of which (10 to 12 chambers, but specimens with 30 rooms also exist ) was an hollowed out (by an annular space) cylinder center with only a tube left for the cylinder pin.
It seems to be the case here.
Marking "SM" not yet identified.
We can speak of a "system Chaineux"
Chaineux is also the inventor of the double barrelled revolver with a cylinder with double row of staggered chambers on two concentric crowns of different diameter.
Photographs friendly authorized by BARSALOW AUCTIONS FAIR HAVEN VT USA