Some of the most beautiful work of this craftsman, and many others, are in this book "Liège Gunmakers through their Work. 1800 - 1950".
For more detail see: LIEGE GUNMAKERS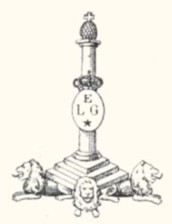 BRAEKERS Charles & Cie
The "Manufacture d'armes de chasse à pièces interchangeables" BRAEKERS Charles & Cie was located at HERSTAL, 21-39 rue du Crucifix , from 1920 to 1935.
This firm registered 12 Belgian patents.
The illustrated gun is a hammerless side by side smooth bore shotgun, with top lever opening key and English stock. Presss stud on forearm .
Baering the Liege Proof House stamps , namely:
STAR/ ELG in a crowned oval: acceptance post 1893.
PV surmounted by a stylized lion: smokeless powder test -used from 1898 to 1968.
Peron: inspection post 1853.
STAR/H (If correctly read)) countermark of the controller post 1877.
1KG447: weight of the barrel for smokeless powders (smooth bore guns) to the gram. From 1924 until nowadays.
Choke 18.3: choked barrels: gauge taken 22 cm from the chamber, in use 1924 to 1968.
12-70 in large C: nominal gauge and length of the shotshell, post 1924.
Small letter d: yearly letter for 1925. (Year of manufacture of the weapon)
The marks on the barrels are (if correctly read :
HH in an lying oval. I don't know the meaning of this stamp (manufacturer of the barrels?)
JW :Unknown meaning (mark of workshop - or "equipor"
GG