Some of the most beautiful work of this craftsman, and many others, are in this book "Liège Gunmakers through their Work. 1800 - 1950".
For more detail see: LIEGE GUNMAKERS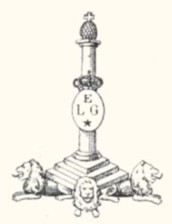 Bettonville - Fontaine (Maybe)
Liege Revolver of the BULLDOG type -5 shots-caliber .320 or .380.
Loaded through a side gate and unloading using a removable rod. The grips seem to be made of bone. The cylinder is smooth, not fluted.
The octagonal barrel carries a half-moon sight, unusually located right in the center of the barrel.
For the length of the barrel, see:
http://www.littlegun.be/arme%20belge/artisans%20non%20identifies/a%20artisans%20inconnus%20curiosite%20allemande%20gb.htm
This revolver is stamped with the marks of the Liege Proof House , namely
STAR/ ELG in a crowned oval
: acceptance post 1893.
STAR/F : countermark of the controller post 1877.
This revolver also bears some other marks more difficult to identify, since the quantity of arms manufacturers' registered or unregistered marks is quite large.
HV and JT are probably the marks of a workshop or a subcontractor, while in my opinion Crown/ B&F is the mark of the manufacturer. Unfortunately, to our knowledge, no manufacturer of this period corresponds to these initials. Possibly BETTONVILLE and FONTAINE active in Liege at the end of the 19th century and of which we have VERY little information.
GG