Some of the most beautiful work of this craftsman, and many others, are in this book "Liège Gunmakers through their Work. 1800 - 1950".
For more detail see: LIEGE GUNMAKERS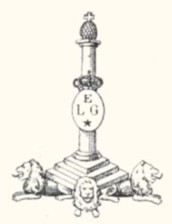 BERTRAND Antoine & Fils
This is indeed a revolver of Belgian origin (Liege)) manufactured by BERTAND Antoine & Fils,25 rue Fabry, in Liege.
The company was registered with the Liege Proof House from 1886 to 1900.
This company specialized in revolvers with evocative names like: THE TERRIFIC - THE DESTROYER - THE ZULU - THE HUNTER - THE BUSHMAN - THE MURDERER - THE PROTECTOR - THE DEFENDER - THE BOLD - THE REVENGER - THE WAKEFUL - THE WESTERN SERVANT BOY - THE STRONG..... etc.
The activities of this company were acquired by the LES FABRIQUES D'ARMES REUNIES S.A. , in 1900.
This gun is a center fire revolver with a "bulldog type"solid frame. Rebounding hammer type lockwork, 6 shots cylinder (Caliber ? .380 ), loading through a side gate and unloading using the rod, swivelling on an axis.
The barrel is octagonal with a dovetailed front sight (missing).
The frame is equipped with a MAUSER type safety.
The grips (walnut ??) are checkered and finely joined together by a through screw and two washers. Ring at buttcap.
This weapon found on the 14/18 battlefield, in YPRES, Belgium or AMIENS in France is not a regulation weapon, possibly an auxiliary weapon carried by one of the belligerents?
Stamped with the marks of the Liege Proof House, namely:
STAR/ ELG in a crowned oval: acceptance post 1893.
STAR/C: countermark of the controller post 1877.
CROWN/R: rifled bore, in use from 1894 to 1968.
CROWN//L on the barrel is probably the mark of the foundry having produced this part as the mark ACIER FONDU (CRUCIBLE CAST STEEL) attests!
9308J: is a job number.
Although in poor condition, this gun is a splendid family memento of the Great War!
GG