Some of the most beautiful work of this craftsman, and many others, are in this book "Liège Gunmakers through their Work. 1800 - 1950".
For more detail see: LIEGE GUNMAKERS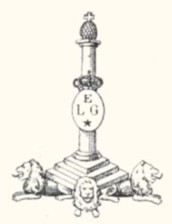 BERNARD Emile & Cie
The Emile BERNARD Manufacturing Co Ltd , 54 rue Mont St Martin, was registered with the Liege Proof House from 1900 to 1919.
It succeeded to Ferdinand DRISSEN (company founded in 1845) that won many prizes including one Grand Prize and Diploma of Honour in MILAN, in 1905, a Grand Prize in BORDEAUX in 1907, as well as a Grand Prize in the BRUSSELS International exhibition in 1910.
In 1919, the company changed its corporate name and became "BERNARD Emile, Gumaker", probably because Mr. BERNARD had left or lost his associates, the First World War just ended, and perhaps this explains that.
He will remain registered with the Proof House until 1935 and always at the same address.
In 1949, the company is established at No 56, and then, in 1959, at No 58 rue Mont St Martin. We don't know if the street numbering changed or if the company moved to neighbouring buildings.
BERNARD Emile (usual first name) his first name was actually Nicolas - Gustave for the civil status. He was born in Liege the 20.06.1867 and probably died in 1935. He was gunsmith, gun manufacturer and one-eyed of the left eye.
In 1935, probably following the death of her husband, Mrs. BERNARD (born DEBOR Marie) born in Liege the 15.07.1868, takes over the reins of the company which then becomes Manufacture d'Armes Veuve E.BERNARD ( E.BERNARD widow GunManufactory ) and remains registered with the Proof Pouse until 1942.
| | |
| --- | --- |
| Figure n°1 : BERNARD Emile | Figure n°2 : DEBOR Marie |
This company deposited four Belgian patents for:
Ø A safety applicable to all the systems of revolvers
Ø A closing applicable to rifles of all kinds
Ø A double trigger for firearm
Ø A hammerless take down rifle with BITTINER Carl.
Production of the company
It is clear that the production was turned towards the weapons of hunting of luxury and precision, manufactured in best steels ÉCLAIR and ANTINIT.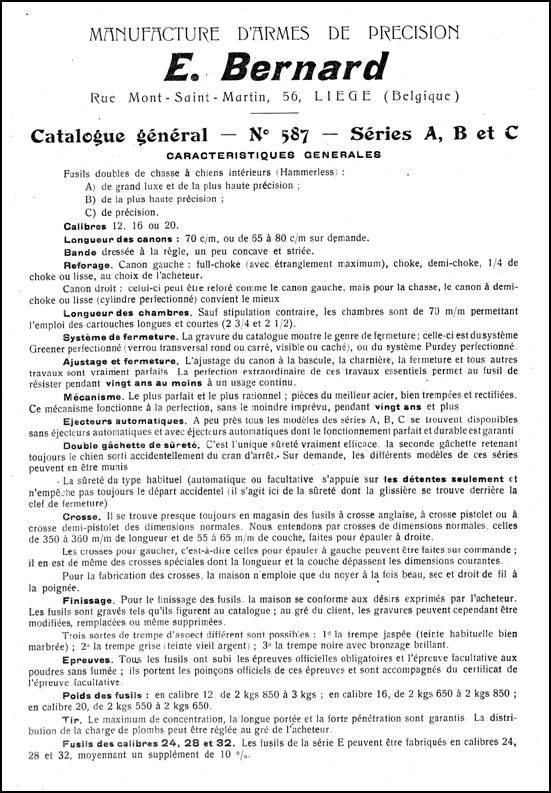 3 and 4 : catalogue of the Company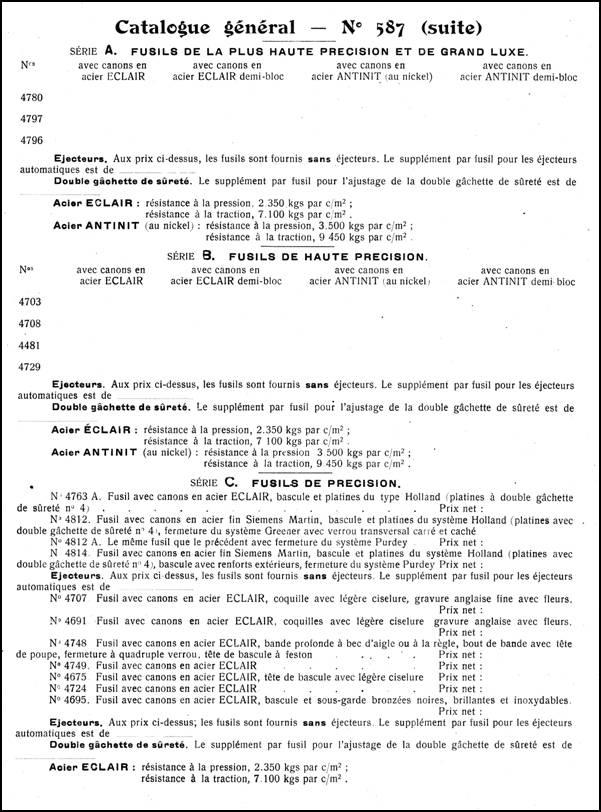 3 and 4 : catalogue Company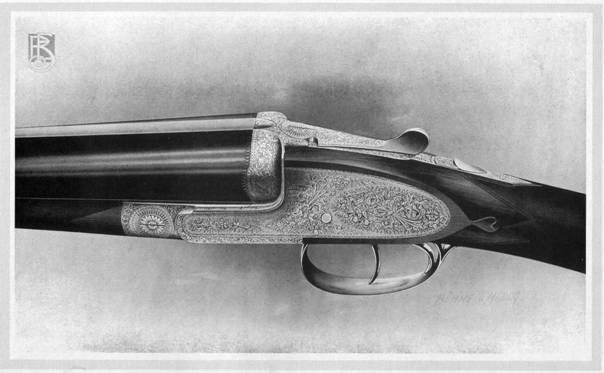 5 : rifle 4782.
6 : rifle 4808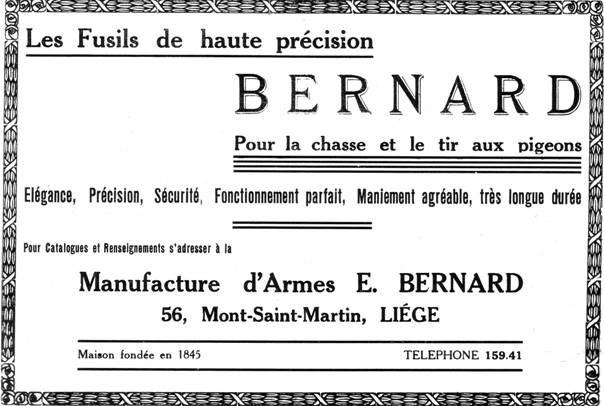 N° 7: advertising insert of the company.
Bibliography
Qui est Qui de l'Armurerie Liégeoise (Who's Who Arms manufacture of Liège), DRUART M & GADISSEUR G. Editions Atlantica -2005.
Catalogue E.BERNARD about 1924.
GG
Emile BERNARD
Shotgun to central percussion and top break. The opening is practiced using the swivelling key placed on the trigger guard. The system is in theory the same one as on Lefaucheux but the key instead of being placed on the front of the rocker is under the trigger guard. This closing while being as solid as preceding A the advantage of being more convenient to operate. The juxtaposed barrels Damas are smooth. The stick out of wooden of walnut is worked "with English".
The weapon carries the lawful punches of the proofhouse of LIEGE, namely:
ELG in a crowned oval: final acceptance post 1893.
Peron: inspection of use of 1853 to our days.
EL in English letters: provisional test, of use of 1852 to our days.
18.0 - 17.4: chokés guns. Gauged in mm to 22 cm of the breech and the mouth. In use of the 04.10.1898 to the 25.02.1910.
NON POUR BALLE (NOT FOR BALL): chokes unrifled bores. In use of the 18.04.1878 to the 30.01.1897. I know that there is discordance of date with preceding marking but it is thus. Perhaps weren't they too looking at?
The weapon also carries the following marks:
On the tape of the barrels: E. BERNARD damascened with the fine gold. It is about the mark of the manufacturer of Liège Emile BERNARD (Manufactory) 56 Holy Mount Martin in LIEGE.
E.B crowned in a vertical oval: mark of this manufacturer.
J.BECK Arquebusier in GENEVA around the hammers: it is about the mark of the Swiss retailer. It was common for the retailers foreign arms manufacturers to buy the weapons in LIEGE (less expensive) to mark them with their name for then reselling them in their country.
CANONNIER (GUNNER) (read so well?) in overprinting on the punches of Liège: obviously this mark is posterior in the passing of the weapon to the proofhouse of Liège. Maybe is it of Swiss origin?
GG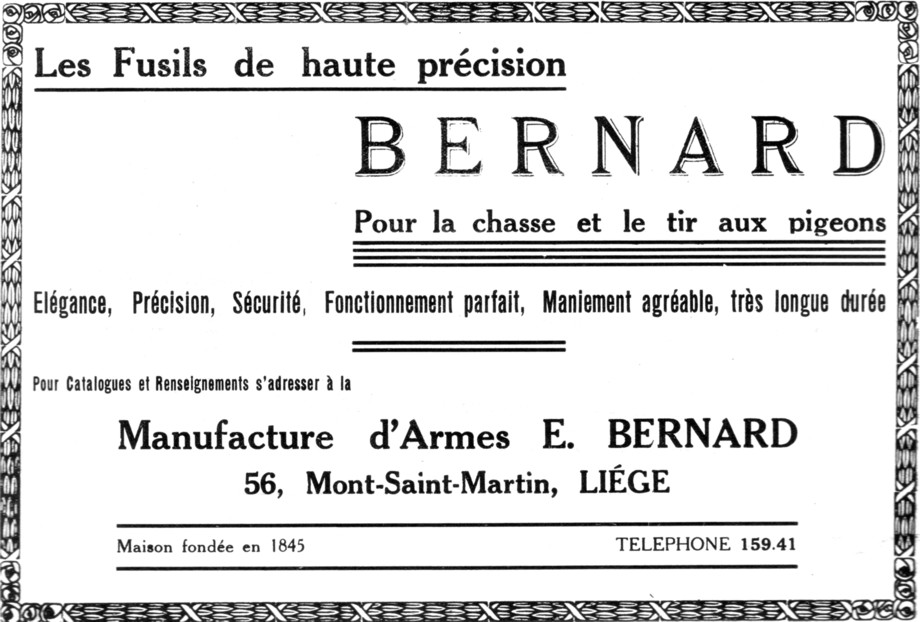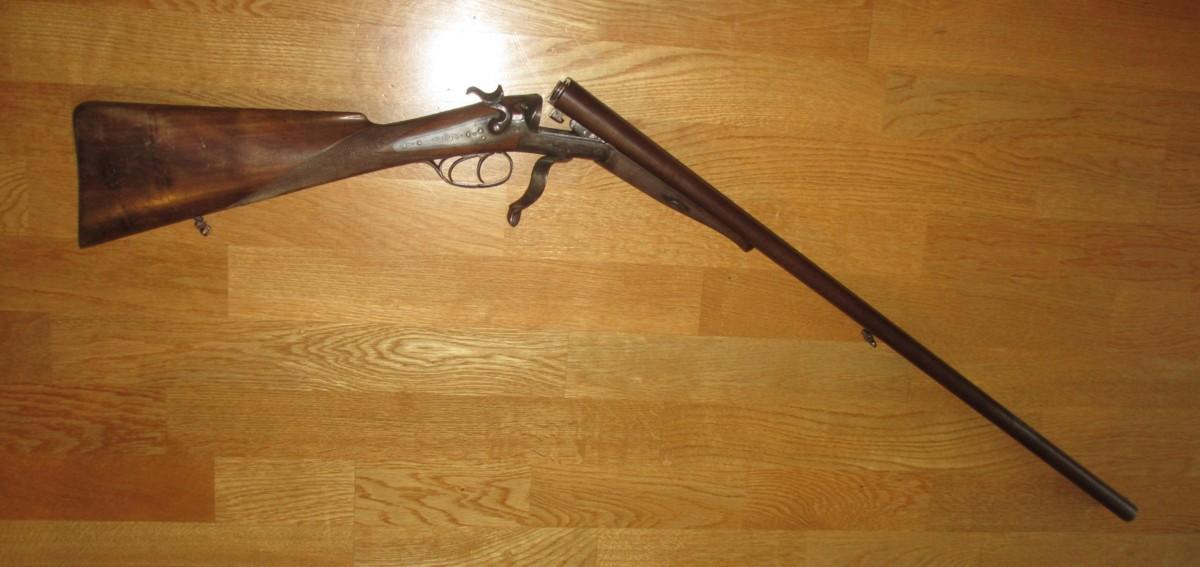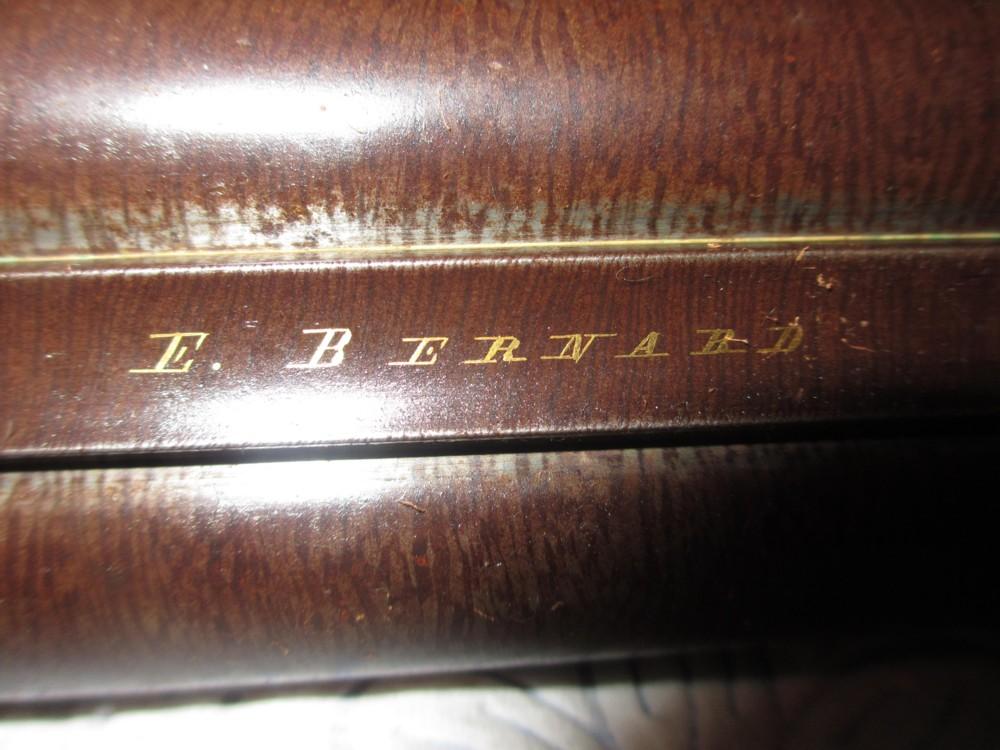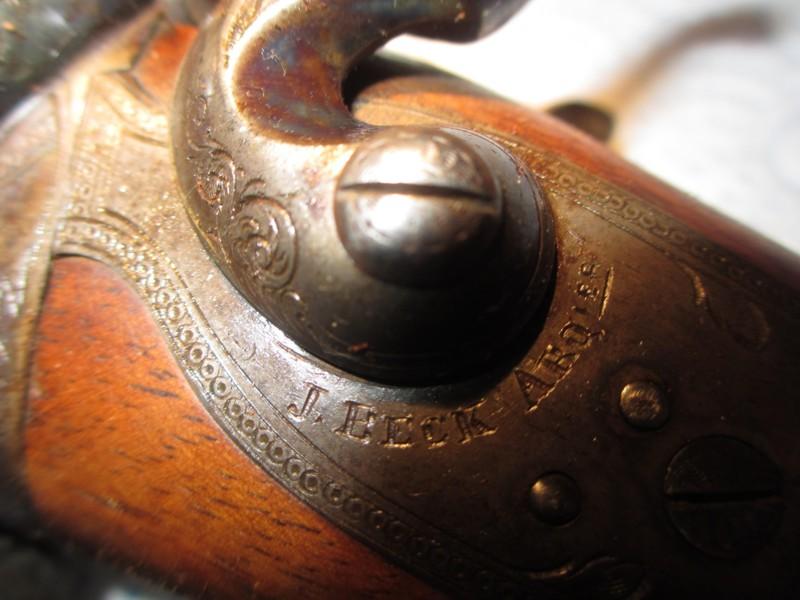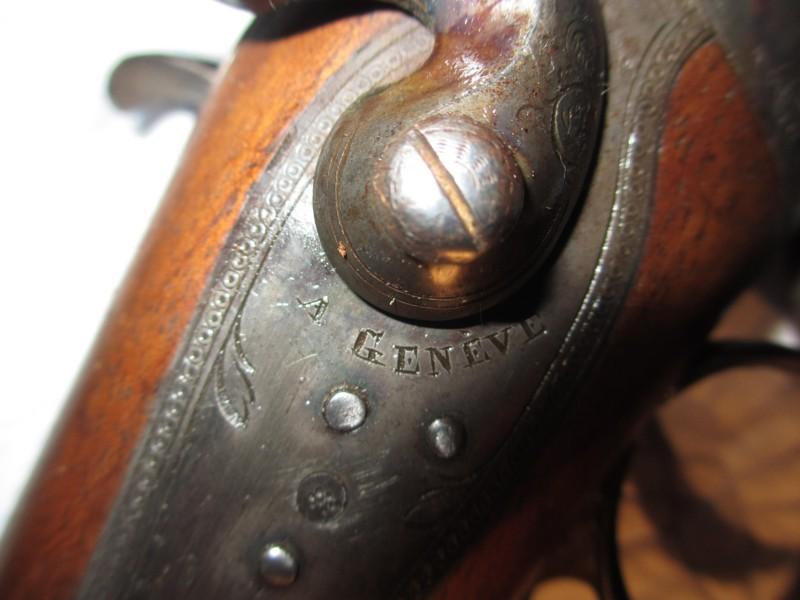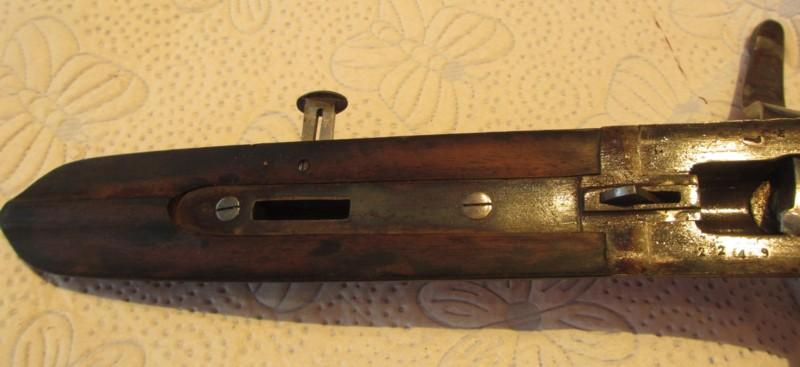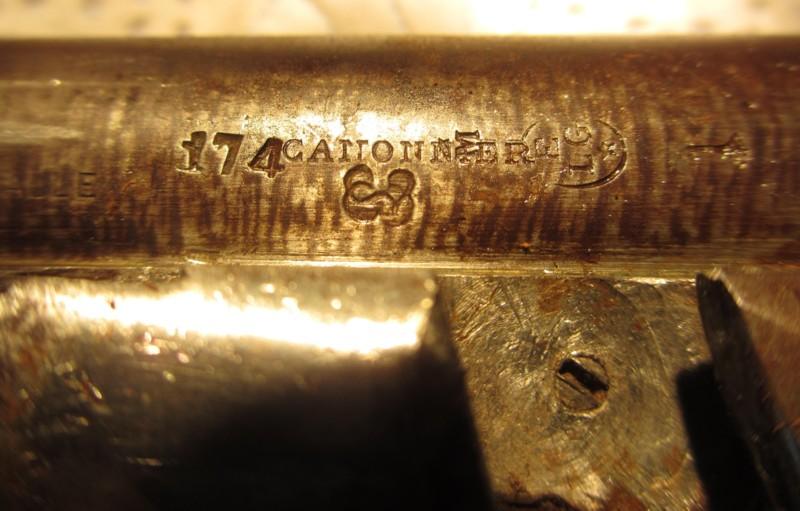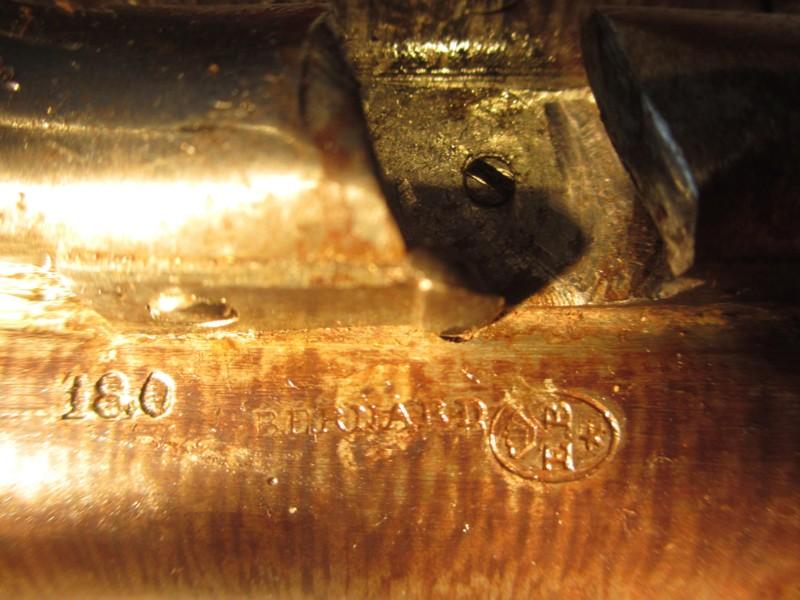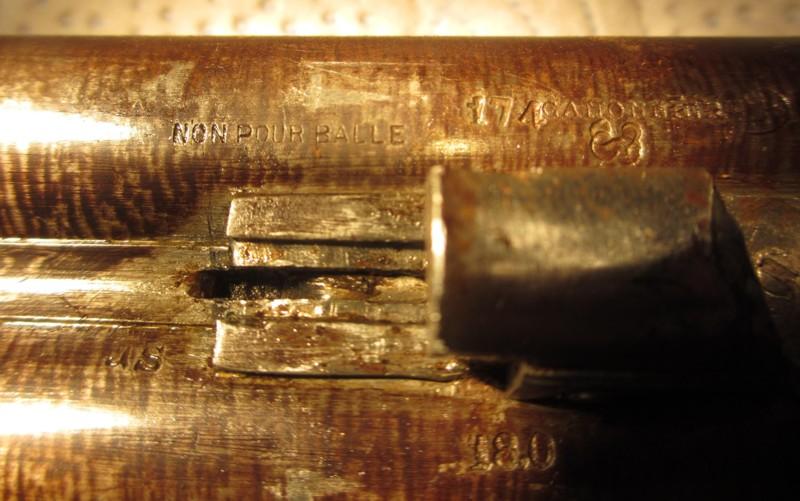 Emile BERNARD & C°
Shotgun doubles hammerless with central percussion. The unrifled bores of gauge 12 are juxtaposed. Locks are types "ahead" they are engraved floral garlands.
Punches
The weapon carries the lawful punches of the proofhouse of Liege, namely:
ELG on star in a crowned oval: final acceptance post 1893.
Peron: inspection post 1853.
J and P spangled: countermarks of the controllers post 1877.
EL in English letters: provisional test, of use of 1852 to our days.
12 C in a rhombus: gauge, of use of 1898 to 1924.
PV surmounted of a stylized lion: test with the powder without smoke, of use of 1898 to 1968.
D = 70 m/m/30.8: length of the room in mm and diameter in mm after optional test with the powder without smoke. In use of 1892 to 1924.
P 1K590.2: weight of the barrel which can draw from the powders without smoke (weapons smooth) Of use of 1892 to 1924.
Markings
ACIER SPECIAL E. BERNARD + drawing of a gun. It is about a trademark deposited the 21.03.1903 by the Manufacture of weapons of Emile BERNARD & C° in LIEGE street Holy Mont Martin, 54.
30.262: serial number of the weapon.
Appendix: advertising of this company.
GG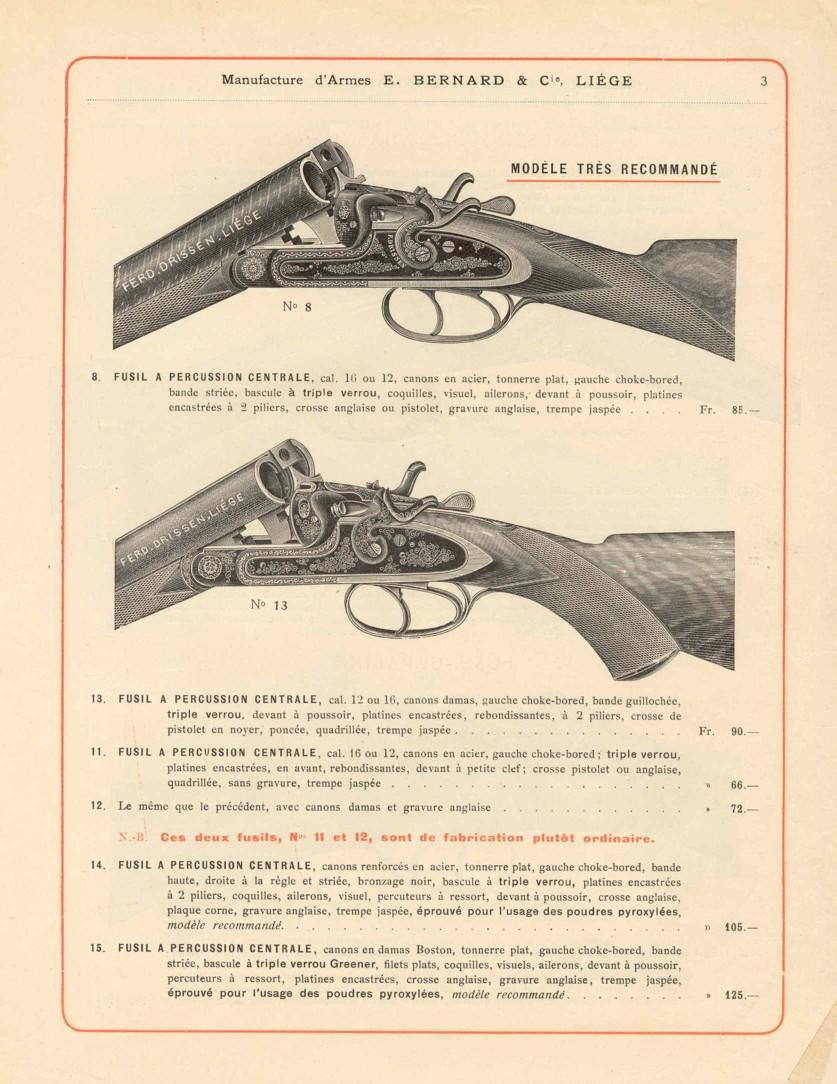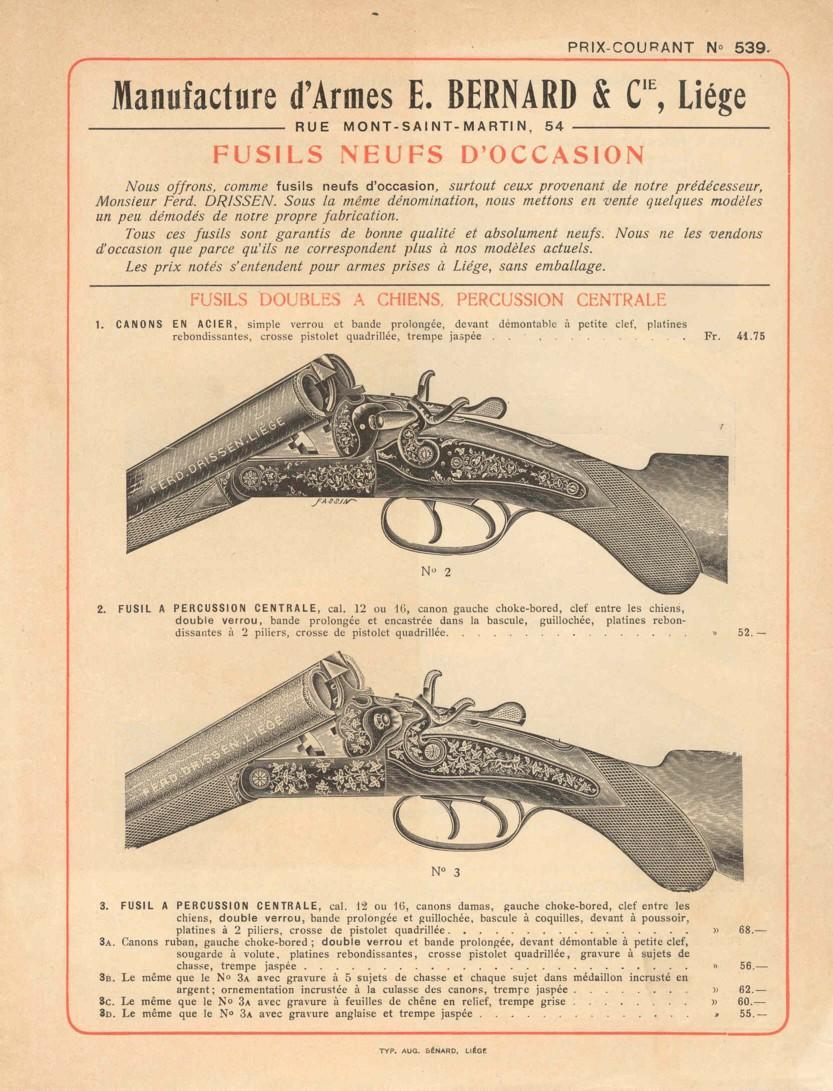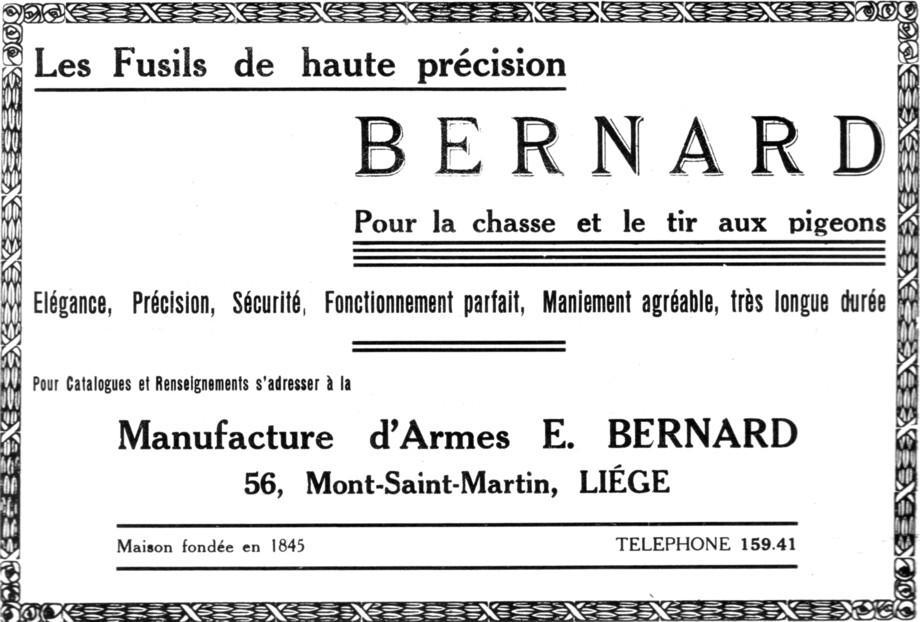 E.BERNARD
Belgian side by side pinfire shotgun, barrel in gold signed E.BERNARD (Liege), length 116 cm, calibre 19 mm
Many thanks to "BOLKANTIQUES" for the pictures.

Bernard E. & Cie
This stamp belongs without any question to BERNARD E & Co (Liege Proof House 1900/1919) a limited company, Mont Saint Martin Street, 54 in Liege.
The company then became BERNARD E., at the same address from 1919 to 1935 and finally Mrs BERNARD E., Widow, from 1935 to 1942. This company registered four Belgian patents including one with Carl BITTINER.
BERNARD resumes the DRIESEN F. activities (Liege Proof House 1874/1900) hence the FD stamp: crowned lozenge.
In Liege these weapons are called "Brazilians" and were intended for South America as trade guns to the natives.
Unfortunately I do not have a DRIESEN catalogue, and the BERNARD catalogue I have only refers to shotguns.
GG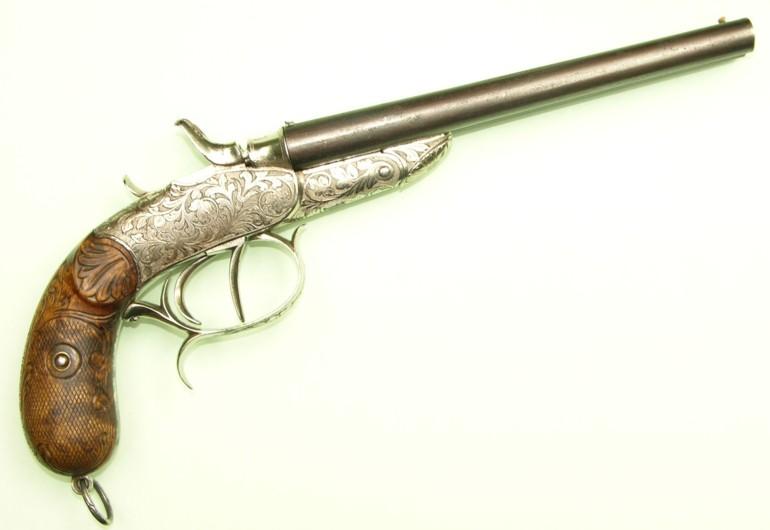 Puppy Bernard
Caliber .320
FD in a lying lozenge is the mark of Fernand DRIESEN (BE 1874/1900). His company will be bought by BERNARD E & Co., Mont St Martin street, in Liege, in 1900 and this one will keep the mark of DRIESEN while apparently adding a crown to it (see illustration on site).
A French firm manufactures the necessary to reload this type of ammunition.
Look at here: H & C Collection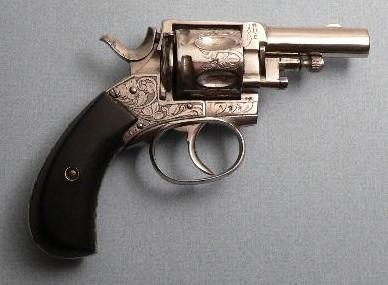 Rifle BERNARD
Pinfire side by side Shotgun, double Lefaucheux locking key.
The manufacturer is E. BERNARD, in Liege (already mentioned on the site) and the retailer is BOUZIER Fils in NEVERS (France).
French arms retailers often bought guns "in the white" in Liege and finished the weapon on their premises.
Coincidence (??) the crowned BF stamp , could correspond to Bouzier Fils, while BERNARD's stamp was FD in a crowned lozenge.
This gun carries the mention BERNARD BREVETE.
Bernard registered 4 Belgian patents, and one of them, probably relating to an improvement on Lefaucheux guns, should correspond to the weapon described here, but we wish we could examine the patent to be sure.
Also stamped by the Liege proof house , I.e:
STAR/E: counter mark of the controller - 1877 to 1968.
EL in cursive letters: provisional test, -1852 until today.
GG
Photos Littlegun