Some of the most beautiful work of this craftsman, and many others, are in this book "Liège Gunmakers through their Work. 1800 - 1950".
For more detail see: LIEGE GUNMAKERS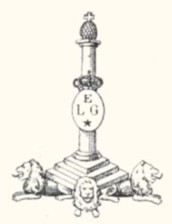 Jean Baptiste Rongé Fils
The weapon
It is about a revolver with central percussion and box frame of BULLDOG type.
The grooved cylinder is with six rooms of calibre .320.
The long barrel is round is striped. It carries its front sight in half-moon on an unusual site. This weapon, in fact, is prepared for export in South America where the short barrel revolvers are prohibited. What could be easier to saw the barrel with good dimension, a faith crossed customs!!
The hammer is rebounding and the carcass carries a safety MAUSER to the left side.
The trigger is concave and smooth without trigger guard. It is folded back under the carcass to facilitate the setting out of pocket.
The stick in nozzle of Corbin consists of 2 plates finely squared out of wooden or hardened rubber. They are maintained by a screw and two rivet washers.
Punches
This weapon is struck lawful punches of the proofhouse of Liege, namely:
ELG on star in a crowned oval: final acceptance post 1893.
T spangled: countermark of the controller post 1877.
R crowned: rifled bore, of use of 1894 to 1968.
Marks
Crowned JBR: it's about one of the marks of the factory of weapons Jean-baptiste RONGé Fils, Place St Jean, 4 in LIEGE. This firm was registered with the proofhouse of Liege of 1832 to 1929. (See its card on the site).
1267: serial number.
C crowned: did this mark always raised on the internal face of the barrels come from foundry always resist the identification? It could be a question of a mark of foundry??
The not very readable mark on the barrel seems to represent a bicephalous eagle but it is not enough detailed to be identified.
981.13 on the barrel, marks unknown.
GG