Some of the most beautiful work of this craftsman, and many others, are in this book "Liège Gunmakers through their Work. 1800 - 1950".
For more detail see: LIEGE GUNMAKERS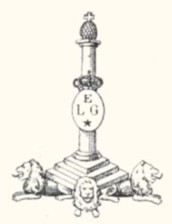 Jean-Baptiste Rongé Fils S.A.
This revolver well in the taste Teutonic is a revolver "Austrian Constabulary" (see illustration)
The utility of the octagonal rings on a turned barrel remains to be shown!
This weapon could be chamber to 8 mm Lebel - 8 mm Gasser - 7,5 Switzerland - 7,62 Russian Nagant.
The punches of the Belgian proof house are:
Spangled ELG in a crowned oval: acceptance post 1893
R crowned: rifled bore post 1894.
G spangled: countermark of the controller post 1877.
The other marks are:
Crowned JBR: it is about the mark of the manufactory Jean-baptiste RONGé fils S.A., place Saint Jean, 4 in LIEGE. Registered with the proofhouse of Liège of 1832 to 1929. It has deposit 4 patents and twelve trademarks.
NS: idem. Should be a marking of subcontractor.
C crowned on the barrel: marking of the foundry producing the barrels.
9303: n° of series of the weapon.
GG