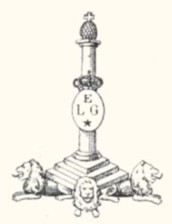 Pepperbox pinfire
These pepperbox pinfire were built in hundreds of thousands of specimens in 2nd half of the 19th century.
Many manufacturers were tested there as François PRELAT (Paris 1815/1850) who took part in the Lefaucheux patent. Its name gave name "pepperbox of priest" (In French a "prelat" is a man of the church) whereas it was neither about a pistol nor of a weapon frequently used by the men of the church, those rather using the aspergillum.
Joseph DEPREZ (1874/1886) also manufactured of such weapons but those are recognized by its mark struck an amount and by a kind of crank placed before frame.
Other craftsmen of Liège abundantly copied this weapon which had much success but without never striking there the least mark which identifies them and exposes them to possible continuations.
The present weapon is marked spangled ELG in an oval which is acceptance between 1846 and 1893. U crowned is the countermark of the controller before 1877.
GG