Some of the most beautiful work of this craftsman, and many others, are in this book "Liège Gunmakers through their Work. 1800 - 1950".
For more detail see: LIEGE GUNMAKERS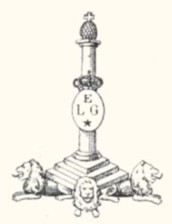 Jacques Mussen-Lallemand
The weapon
Revolver of pocket of the identifiable type VELO-DOG by its long barrel grooved with six rooms of gauge 6 mm vélodog.
The weapon is with central percussion and closed framework.
The rifled bore is hexagonal with front sight in half-moon.
The loading is practiced by the right side door dropping thanks to the action of an internal spring, while unloading is done using the metal rod swivelling on its axis. A channel rounds was dug in the carcass in front of the door of loading to facilitate the entry of the long cartridges.
The weapon is equipped with a push-button being used as safety with the top of the handle.
This handle consists of two plates out of wooden (of drowning?). They squared and are finely connected by a screw and two rivet washers out of brass.
Punches
Spangled ELG in a crowned oval: final acceptance post 1893.
AR coupled and spangled: countermark of the controller post 1877.
R crowned: rifled bore, of use of 1894 to 1968.
Markings
MJ Bté: It is about the trademark of Jacques MUSSEN-LALLEMAND, manufacturer of revolvers, street Pied of Thier, 51 in LIEGE. It was registered with the BE of 1908 to 1914 then of 1919 to 1952. He is the author of six patents.
Quantify 3 and letter D: probably marks of workshop?
GG