Some of the most beautiful work of this craftsman, and many others, are in this book "Liège Gunmakers through their Work. 1800 - 1950".
For more detail see: LIEGE GUNMAKERS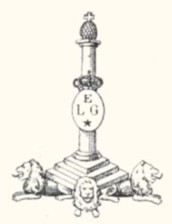 Auguste Francotte & Cie
The weapon
Automatic pistol of calibre 6.35 mm Browning.
The scratches of gripping are surprisingly placed in front of the breech; this gun is the only one to present the scratches in front of the window of ejection.
The magazine contains 6 cartridges of 6,35 mm to central percussion.
The plates of sticks carry logo AFC of the firm Auguste Francotte to LIEGE.
The weapon measures 108,5 mm of height, 78 mm height and 25,2 mm thickness.
The rifled bore measurement 54,9 mm.
The weapon is equipped with a safety on the left side of the carcass, it is marked FIRE and ON.
Punches
The weapon carries the lawful punches of the proofhouse of Liege, namely:
ELG on star in a crowned oval: acceptance post 1893.
C spangled: countermark of the controller post 1877.
PV under a stylized lion: test with the powder without smoke, of use of 1898 to 1968.
Marks
The only visible trademark on this weapon is logo AFC in one shield reproduces on the plates of sticks.
This mark was deposited by the firm Auguste FRANCOTTE & Compagnie street Holy Mont Martin the 10.05.1902.
6,35 Br: calibre 6mm35 Browning.
2379: serial number.
GG