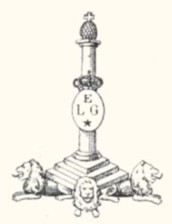 Francotte PERHAPS
Continental gun makers used the lever and top-break opening system. That may be the reason that no maker's mark is visible on this revolver, but it could also be that it has worn off or disappeared under the surface roughness.
One can note it in see remainders of engraving with half unobtrusive.
But the revolver is still in quite good shape, and it has a unique frame disassembling mechanism: when the button on bottom of grip frame is pressed the grips move up and back, and the left-side inspection panel drops down. The action works well both DA and SA and locks up quite tight for an old gun. There are few marks visible on the gun other than the letter B on the frame, the numbers 919 & 185 and the 380 caliber mark. The barrel measures 3-3/4 inches (95mm), and its overall length is 8-1/8 inches (206mm). For size comparison we have shown this revolver with a Colt Banker's Special in 38 S&W.
THE .380 CARTRIDGE
The .380 is similar to the .38 S&W but not the same. The .380 was developed about 1868 for Webley revolvers and was later copied by the Colt .38 Short. Most .380 pieces will accept the Colt cartridges.
Richard and Dave Young
This weapon is absolutely identical to that which is under the name "Francotte lift-up grips" and which, it, is signed.
One can reasonably think that it is same manufacturer!
Alain