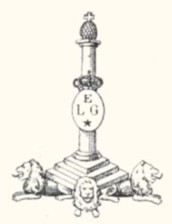 REVOLVER FRANCOTTE
This weapon is in fact a revolver LEFAUCHEUX FRANCOTTE model 1871 Swedish with box frame and central percussion.
The firm of Liège adapts revolver LEFAUCHEUX to the central percussion and the shooting of the 11 mm what is worth to him at the collectors the name of "Lefaucheux-Francotte".
This weapon with central percussion thus uses the cartridge 11 mm presenting a light pad and furnished with a lubricated lead warhead.
The system with percussion is with simple action and double action, the barrel comprises six rooms and turns from left to right. The round barrel is equipped with a massive rectangular handlebar.
This barrel is surrounded by a rotary sleeve of the rod of ejection on the back by a side door.
The rod of ejection positions under the barrel and is inserted in the hollow axis of the cylinder.
The large axis comprises brake-arises which prevents the barrel from turning too quickly to armed with the hammer.
The frame has a trigger guard interdependent as well as a plate of covering of the mechanism of the hammer, trigger and system of locking of the cylinder.
The frame of stick belongs to the carcass, two plates in drowning squared are fixed through the frame of stick by a screw and two rivet washers as well as second screw placed higher and being screwed at against direction.
Markings
The weapon carries the punches of tests of Liège, namely:
Spangled ELG in an oval: acceptance of 1846 to 1893.
NR crowned: countermark of the controller of 1853 to 1877.
It also carries the mark of manufacturer AF crowned deposited by Auguste FRANCOTTE street Mont St Martin, 64 in Liege.
The n° 4651 should be the job number of the weapon.
This weapon was lawful in the Swedish army under the term "model 1871" It carried the marks of the Swedish army (regimental assignments) like L113 - 59b - 41.
These marks are not reproduced on the present part; it thus acts with my direction of a civil model.
GG