Some of the most beautiful work of this craftsman, and many others, are in this book "Liège Gunmakers through their Work. 1800 - 1950".
For more detail see: LIEGE GUNMAKERS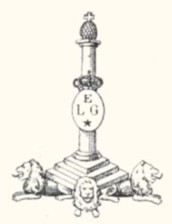 "LA" Francotte with indicator
This is obviously the famous rifle Martiny-Francotte.
The weapon bears the statutory hallmarks of the Liège proofhouse, namely:
ELG * in a crowned oval: definitive acceptance from 1893 to 1968.
C*: Controller's countermark, in use from 1877 to 1968.
Perron: inspection, in use from 1853 to the present day.
R crowned: striped gun, in use from 1894 to 1968.
Markings on the gun, mean:
FL 6: Calibre 6 mm Flobert.
La Francotte: mark Francotte for this specific weapon, registered 20. 05. 1902.
AFC crowned: Francotte trademark registered on 10. 05. 1902.
A. Francotte Patent: mark indicating the weapon is patented.
9515: gun number.
Machine made by A. Francotte & C° Makers & Patentee Liège -Belgium: No commentary.
GG