Some of the most beautiful work of this craftsman, and many others, are in this book "Liège Gunmakers through their Work. 1800 - 1950".
For more detail see: LIEGE GUNMAKERS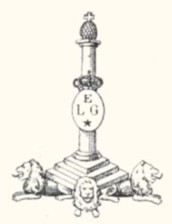 Francotte (Faux ?)
Here is a revolver signed A. Francotte, with the particularity of being able to shoot 12 mm pinfire and central percussion cartridges. Note that the carcass and barrel are only one piece while remaining open-frame, which is not so common.
According to one team member, this type of "bivalent" revolver is not uncommon. A. B. 's book. Zukh " The Illustrated Encyclopedia of Handguns" mentions several of them, including pp. 39 and 40, Ref 207: "convertible pattern" pinfire and central percussion with fixed percussion by a certain Roos in Suhl, Ref 208: same, but with "demountable" percussion by Coquet (or coquette) in Liège, Ref 209 & 210: same in a revolver with closed casing "Lefaucheux improved", perc fixed, by Rolland & Renault in Liège.
The markings
ELG on star in vertical oval: accepted between 1846 and 1893
u crowned: countermark of a controller in use between 1853 and 1877.
We also see an "A. Francotte in Liège" - bad - engraved on the barrel, but it is also worth noting the absence of the usual "crowned AF" marks, which can already be seen on the flintlock arms of this very famous house, which has been active since 1810.
Incidentally, we will also note the writing Liège, whereas until 1947, we wrote Liége instead. In conclusion, I do not dare to say 100% that this engraving "A. Francotte à Liège" is a fake, but I say it anyway....
I couldn't find any reference to this bivalent revolver among the 60 patents of Auguste Francotte that I know of.
GP with the help of MC.
About this house, see the new book "The Francotte Dynasty".