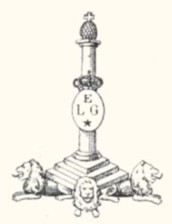 Auguste Francotte
Pepperbox with central percussion and closed frame.
The lock is with double action only and it calibre is of 7mm.
The cylinder-barrel is with six shots.
The weapon is articulated on a screw pivot in bottom of the carcass and comprises with the top a closing hinge with pawl behind the cylinder.
The rod is fixed inside the grips.
It carries the punches of the proofhouse of Liège, namely:
Spangled ELG in an oval: final acceptance of use of 1846 to 1893.
G crowned: countermark of the controller of use of 1853 to 1877
The period of manufacture is thus 1853 to 1877.
The weapon also carries the following marks:
Crowned AF: it is about the mark of the manufacturer Auguste Francotte street Mont St Martin, 64 in Liege (see site) DEVISME often made manufacture its weapons in Liege where he found craftsmen qualified and at low prices.
DEVISME A PARIS: it is about the mark of the inventive French harquebusier well known (see site)
GG
Curious hammer without peak and formed of a small ball.
The metal carcass of the stick is made of two parts assembled by the small brass screw; it is the fixing of both grips around this part out of metal which makes it possible the interdependent and rigid unit to be.
In the cylinder-barrel, only the part before each room is striped, the back part is smooth.
Alain