Some of the most beautiful work of this craftsman, and many others, are in this book "Liège Gunmakers through their Work. 1800 - 1950".
For more detail see: LIEGE GUNMAKERS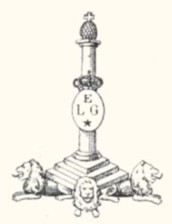 Francotte
Here is one of the more ingenious inventions of the great Francotte gun works in Liege, Belgium.
If you want to get to the inner works, for cleaning, oiling, etc., you just press the button at the bottom of the grip frame, lift up the grips and then the side plate, and voilá, the whole innards are there for close inspection. Doesn't that beat working with a screwdriver, beating on the frame with the wooden handle of your hammer?…trying to get the dang thing open…
Leave it to the Belgians to invent the ultimate user-friendly gun.
The factory engraving is still clear over much of the gun. The action works as it should both SA and DA and locks up fairly well. The extractor only moves the cases out and does not return to its place automatically – I'm not sure if it was made to extract like this or for some reason is not returning as it should to its place in the cylinder.
It has a Counet-type side opening lever for the top-break mechanism with an added safety pin that passes through top of hammer.
The original hard rubber grips are in good shape with all of their original pattern and showing some wear.
The crown over AF (Francotte) mark is seen above the letters ACIER FONDU (cast steel) on the side of the action. BROQUA SCHOLBERG Y Ca is engraved on top of the barrel - this was the Uruguayan business that imported these revolvers, this company was partially owned by the Scholberg/Gadet Liege group which had several gun shops in both Uruguay and Argentina and an interest (I believe) in at least one business in Pelotas, Brazil.
On the side of the cylinder it is marked with the pre-1893 Liege proof – this was the best proof in Europe in the 18th century. Each chamber had to be proved 4 times with a double load – no other country's industry had to "prove-up" to that standard.
This Francotte revolver was chambered for the European .380 caliber. The .380 was developed about 1868 for Webley revolvers and was later copied by the Colt .38 Short. Most .380 pieces will accept the Colt cartridges. The barrel measures 4-7/8 inches (125mm), and the overall length is 9-1/4 inches (235mm).
On the butt is stamped the old Uruguayan "Armamentos" registration number.