Some of the most beautiful work of this craftsman, and many others, are in this book "Liège Gunmakers through their Work. 1800 - 1950".
For more detail see: LIEGE GUNMAKERS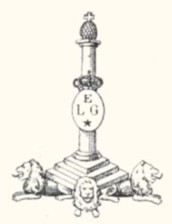 Auguste Francotte
Revolver FRANCOTTE of (large) gauges .450.
The sight consists of a groove in the top of the carcass to the back and of a front sight fixed in a dovetail at the end of the barrel.
The cylinder with 6 blows carries the punches of the proofhouse of Liege; Spangled ELG in an oval which is the punch of acceptance of 1846 to 1893 and one crowned illegible letter which is the countermark of the controller of use of 1853 to 1877.
The ejection of the casings is done thanks to a metal rod assembled on spring, after having put the hammer in position of safety.
The stick carries two plates to the worn squaring and ends in a ring.
Mark A.FRANCOTTE A LIEGE struck the thunder as well as the initial crowned AF does not leave any doubt about the origin, the inscription "...... Montevideo" makes it possible to think that this weapon was intended for South America.
Alain