Some of the most beautiful work of this craftsman, and many others, are in this book "Liège Gunmakers through their Work. 1800 - 1950".
For more detail see: LIEGE GUNMAKERS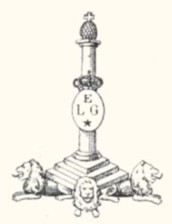 Francotte
This revolver of pocket is of Bull-dog type to central fire, caliber 450 to 5 shots.
The grips of drowning smooth are in nozzle of Corbin.
The short barrel (2 inches?) is with 8 sides.
It carries the punches of the proof house of Liege, namely
Spangled ELG in an oval: acceptance (1846/1993)
NR crowned: countermark of the controller (1853/1877)
It also carries the specific marks of the manufacturer is:
Crowned AF: mark of Auguste FRANCOTTE deposited the 20.07.1855.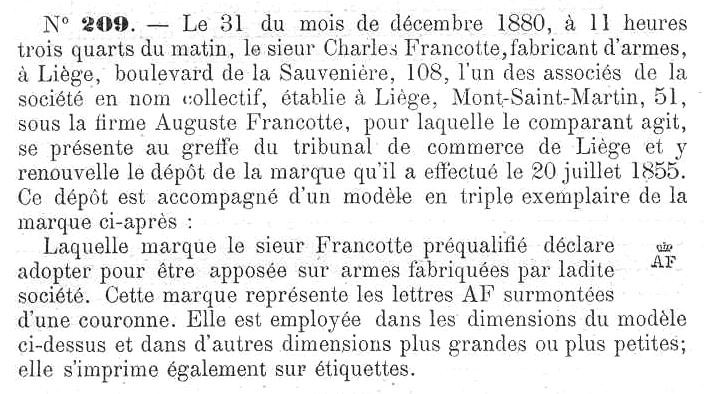 Anchor of navy and rope: mark FRANCOTTE deposited the 31.12.1875.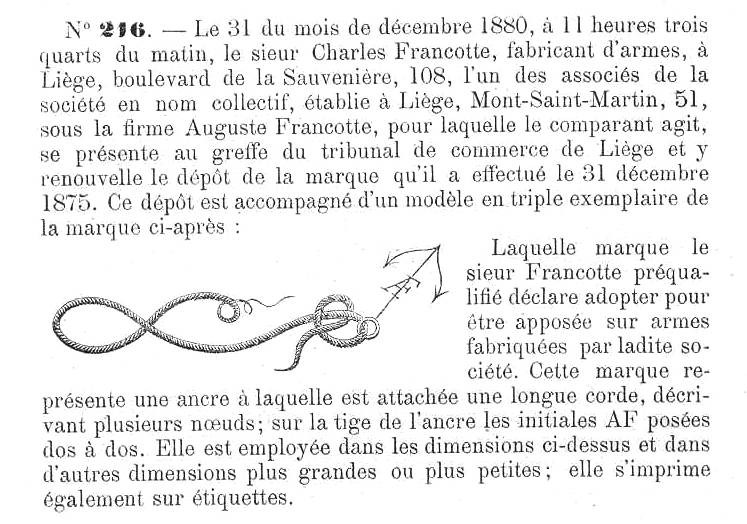 CART 450: gauge weapon.
Finally CHAPON Buenos Ayres Does is the mark of retailer seem to me?
GG
Note of a collector
It's well Chapon Antoine Emile gunsmith to Buenos Aires who has sell this pistol.
Chapon is born in 1823 in France to Thizy department of Rhone.
Cordially
M.J.
Antoine Emile Capon arms manufacturer born the 29-1-1834 in Thizy the Rhone France.
It has two children born in 1868 and 1870 in Buenos Ayres where he is an arms manufacturer.
He is still an arms manufacturer in 1903 and its store of gunsmith is to the 82 street Florida with Buenos-Ayres.
Maurice