Some of the most beautiful work of this craftsman, and many others, are in this book "Liège Gunmakers through their Work. 1800 - 1950".
For more detail see: LIEGE GUNMAKERS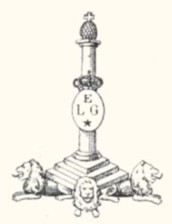 Dumoulin François & Cie
Here is a "classic" folding rifle with snake key, with hollow butt. On the left side of the breech, one can see the mark DF crossed by an arrow on the left, a mark that was filed on August 12, 1881 by Dumoulin Frères, Boulevard de la Sauvenière in Liège. They were enrolled in the proofhouse between 1877 and 1894.
It should be noted above all that the same trademark was re-filed by F(rançois) Dumoulin et Cie on November 26, 1909. As the rifle was first tested in 1898 (see below caliber), it can therefore be said that it was indeed manufactured by François Dumoulin et Cie Fabrique d'Armes, rue Thier de la Fontaine 2 in Liège. She was enrolled in the BE of Liège from 1908 to 1968.
The markings
ELG on star in crowned oval: accepted between 1893 and 1968
AC under star: countermark of a controller, in use between 1877 and 1968
Peron: inspection, since 1853
12 M C in a diamond: calibre, in use between 1898 and 1924
DM in two braces: not identified so far.
GP with the help of HPH and PHL