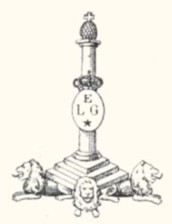 Charles Clément (Perhaps)
It is the reduced size of this weapon of pocket which in fact a "puppy" (pup) in opposition with the bulldog which is of normal size.
The mechanism is nevertheless the same.
It is thus about a revolver puppy to 5 shots of calibre 320.
The loading is practiced by the side door dropping thanks to the action of an internal spring.
A metal rod is placed under the barrel and swivels on an axis simultaneously to come in each chamber to remove the casings.
The trigger without trigger guard is folding under the carcass.
The weapon is provided with a rather particular safety because it is necessary to operate a screw placed on the frame which it is necessary to make turn of a quarter of turn and push to engage it.
By arming the hammer, the screw in question does itself ¼ of turn, preventing the setting in safety during the shooting. Indeed this screw exceeds carcass and could be inserted accidentally at the time of the catch in hand of the weapon and to thus prevent the shooting.
The octagonal barrel is striped and provided with a top sight in half moon.
The stick consists of two plates out of wooden of drowning squared joined together by a through screw and two rivet washers.
The stick ends in a cut metal cap way diamond.
The weapon carries the punches of the proofhouse of tests of Liege, namely:
Spangled ELG in a crowned oval: acceptance post 1893.
Q spangled: countermark of the controller post 1877.
R crowned: rifled bore post 1894.
Other marks
Is the significance of C crowned rather dubious, in any assumption it could act of a mark of identification of a founder of cylinder?
The mark of the manufacturer is quite as dubious, they seem to be 2 C overlapping and opposite making think of the mark of Charles CLEMENT but nothing is not less on.
GG