Some of the most beautiful work of this craftsman, and many others, are in this book "Liège Gunmakers through their Work. 1800 - 1950".
For more detail see: LIEGE GUNMAKERS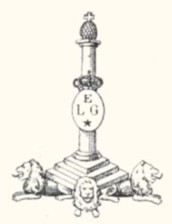 Clément (Maybe)
Here's a small revolver like Lincoln but without an outside dog, calibre 320. Folding trigger, ejection rod in the axis of the cylinder, safety blocking the trigger.
The interlaced letters CC are reminiscent of a production by Charles Clément:
But you can also see the letters JR or JK crowned on the left side. L" one or the other subcontractor?
Charles Clément has filed over thirty patents, some of which relate to security interests, but not to this model.
On the other hand, a member of the team found the text (but unfortunately not the drawing) of patent 098 945 filed on 22 March 1892 Léopold Ancion-Marx who might have something to do with that gun.
The markings
ELG on star in crowned oval: accepted between 1893 and 1968;
C under star: countermark of" a controller between 1877 and 1968;
R crowned: striped gun, between 1894 and 1968.
GP with the help of MD and PHL