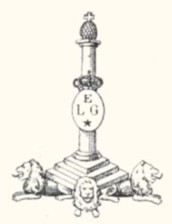 Clément 1909
Automatic pistol CLEMENT model 1909. This weapon is the subject of the Belgian patent n°199496 of the 30/04/1907.
Its operation is described in the patent attached.
The weapon carries the lawful punches of the proofhouse of Liege, namely:
ELG on star in a crowned oval: final acceptance post 1893.
W spangled: countermark of the controller post 1877.
Peron: inspection, of use of 1853 to our days.
R crowned: rifled bore, of use of 1894 to 1968.
PV surmounted of a stylized lion: test with the powder without smoke, of use of 1898 to 1968.
The weapon also carries the following marks:
AUTOMATIC PISTOL CLEMENT' S PATENT: without comment.
2 C interlaced on the plates of stick: it is about the mark CLEMENT.
JB in a circle: (read so well?) It is perhaps about the arms manufacturer Jules BURY in LIEGE (retailer??).
5656: serial number.
GG