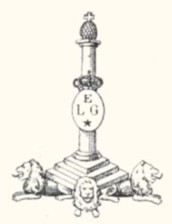 Charles Philibert Clément
Model 1909
The weapon
It is about an automatic pistol CLEMENT model 1909 acting on the principle of the not fixed breech.
The weapon is gauged into 6,35 Browning or 25 ACP.
Its rather particular disassembling is however simple, it is enough to:
- to take down the trigger guard and to rock it forwards.
- to release the barrel by upwards raising it around its back axis.
- to actuate the lever being with the bottom of the left handle. Its circular motion releases the housing within the competence of hammer.
The scratches of breech were replaced by a band of gripping way "diamonds".
The weapon is provided with a manual safety marked, according to its position FIRE and SAFE.
This weapon was during a time, licensed product by firm S&W!
Punches
The weapon carries the lawful punches of the proofhouse of Liege, namely:
Spangled ELG in a crowned oval: final acceptance post 1893.
Peron: inspection, of use of 1853 to our days.
Coupled AT and spangled: countermark of the controller post 1877.
R crowned: rifled bore, of use of 1894 to 1968.
PV statement by a stylized lion: test with the powder without smoke, of use of 1898 to 1968.
Markings
AUTOMATIC PISTOL CLEMENT' S PATENT: mark of the manufacturer of Liège CLEMENT, Charles Philibert, street Cherished, 22.
(See its card on the site)
27004: serial number.
GG