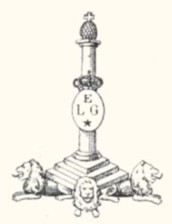 Charles Philibert Clément
The weapon
It is about an automatic pistol CLEMENT C. model 1908.
This one differs very little from the model 1907.
The button of blocking of the magazine is definitively positioned on the side and the handle does not go any more in slimming.
The magazine contains 6 cartridges of 6,35 mm Browning or 25 ACP.
Its length is 117 mm and its weight of 400 gr.
The pistol is equipped with 6 right stripes and measurement 49,7 mm.
The plates of sticks are out of rubber hardened with logo DC reversed.
Punches
The weapon carries the punches of the proofhouse of Liege, namely:
ELG on star in a crowned oval: final acceptance post 1893.
Peron: inspection, of use of 1853 to our days.
J spangled: countermark of the controller, of use of 1877 to our days.
R crowned: rifled bore, of use of 1894 to 1968.
PV surmounted of a stylized lion: test with the powder without smoke, of use of 1898 to 1968.
Markings
AUTOMATIC PISTOL CLEMENT' S OBVIOUS: mark from the manufacturer Charles Philibert CLEMENT Street Chéri, 22 in LIEGE (see details on the site
BELGIUM: without comment.
FIRE-SAFE: inscriptions around the safety bolt.
DC opposite in logo of handle: mark of Charles CLEMENT.
JB joined in a circle: mark unknown often raised on the pistols CLEMENT.
He could act, in any assumption, of the mark of the arms manufacturer-retailer Jules BURY in LIEGE??
10555 (read so well?} : serial number.
GG