Some of the most beautiful work of this craftsman, and many others, are in this book "Liège Gunmakers through their Work. 1800 - 1950".
For more detail see: LIEGE GUNMAKERS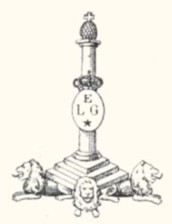 Joseph CHAINEUX
This pepperbox with 6 shots is of a rather traditional aspect, if it is not the system of deposit of the block-barrels by a system of lever in L fixed using a pin along the side of left carcass. The lock is with double action as the hammer without peak attests some.
Once opened, this lever swivels on an axis and releases the arm which blocked the block-barrels.
Once lowered, this arm releases the block-barrels which slides on the central axis fixed in the shield.
The stick consists of a metal framework closed again by two ebony grips seems to me it which is connected by a through screw and two rivet washers.
The trigger without trigger guard is folding under the carcass to facilitate the setting out of pocket and the accidental fixing of this one.
Originally with pin, this weapon was reconditioned with central percussion by the boring of a channel of percussion in the shield and the replacement of the flat hammer by a hammer with striker of a rather primitive form. The gauge is of 7 mm.
The weapon carries the punches of the bench of tests of Liege, namely:
Spangled ELG in an oval: final acceptance, of use of 1846 to 1893.
U crowned: countermark of the controller of use of 1853 to 1877.
2: should be a job number unless it is not 2d' a pair but I believe in it less because this figure is on the back face of the block-barrels and not at sight on the carcass.
Mark CHAINEUX J. PATENTS is the mark of Joseph CHAINEUX of Wandre, which deposits of 1858 to 1864, 5 improvement and patents to the pistol-revolvers.
To also note the existence of a Joseph Lambert CHAINEUX, registered voter with the proofhouse of Liege of 1864 to 1884, place of the Carmelite friars, 26 in Liege which also deposited two patents for a system of pistol-revolver.
GG