Some of the most beautiful work of this craftsman, and many others, are in this book "Liège Gunmakers through their Work. 1800 - 1950".
For more detail see: LIEGE GUNMAKERS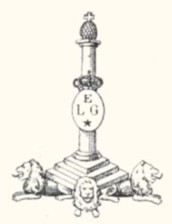 Chaineux Joseph Lambert
Here is a nice pinfire revolver, folding trigger, well marked J. Chaineux Patent.
The barrel is "light" and is in the style of models with more than ten strokes of a J. Chaineux.
The markings photographed are few:
Y under crown: countermark of a controller between 1853 and 1877
G in a circle: unidentified.
There should be an ELG on a star in an oval somewhere on the barrel....
The words " Patent "may relate to the loading door : Joseph Lambert Chaineux filed patent 016 035 on April 14, 1864, which could be the patent for the revolver door presented.
GP