Some of the most beautiful work of this craftsman, and many others, are in this book "Liège Gunmakers through their Work. 1800 - 1950".
For more detail see: LIEGE GUNMAKERS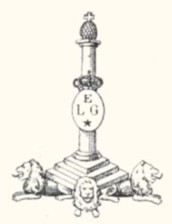 J. Chaineux
Revolver double and simple action with 12 shots, calibre 7mm pinfire, barrel of 120mm.
The weapon is nicely engraved volutes.
A broad door on the right side, maintained by an internal spring, gives access to the cylinder in order to load the weapon. A sliding rod, rise on a swivelling device which brings this rod vis-à-vis housing, contributes to the extraction of the struck ammunition.
The weapon is marked "J. Chaineux patented", it is thus not Chaineux which manufactured it but the craftsman who struck the carcass of the weapon the initial ones "AS".
The trouble it is that two craftsmen can correspond perfectly in time, Albert Spirlet and Albert Simonis!!
Alain