Some of the most beautiful work of this craftsman, and many others, are in this book "Liège Gunmakers through their Work. 1800 - 1950".
For more detail see: LIEGE GUNMAKERS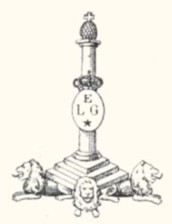 Maurice ARENDT
It is indeed about a revolver with central percussion and box frame, asserted by Maurice ARENDT in Liege holder of ten patents deposited de1864 at 1885.
This revolver is equipped with a special system fixed on the amount of hammer and which swivels on a small screw from left to right. Its end comes to be introduced seems it behind the cylinder blocking the projection of the hammer thus and preventing it from striking.
A door of loading opening from left to right is placed on the right side.
The barrel is octagonal and is fixed at the console by a simple screw.
It is also equipped with a bead at the beginning and with a triangular front sight with the other end.
These apparatuses of aiming are fixed dovetail.
The barrel is smooth and carries the lawful punches of the bench of tests of Liege to knowing:
ELG* in an oval, final acceptance of use of 1846 to 1893.
R spangled which is the countermark of a controller, post 1877.
11201 is most probably a job number.
The trigger without trigger guard is folded up under the frame to facilitate the setting out of pocket.
The barrel has 6 rooms calibre 7 mm of them.
Guy