Some of the most beautiful work of this craftsman, and many others, are in this book "Liège Gunmakers through their Work. 1800 - 1950".
For more detail see: LIEGE GUNMAKERS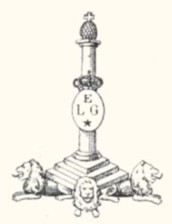 Arendt Maurice
Here is a revolver with open box marked Arendt Breveté in Liège.
Two features: the socket ejection rod placed under the barrel is held by a spring; There's a safety on the left of the hammer.
The markings
ELG on star in oval: accepted between 1846 and 1893
L crowned: countermark of a controller between 1853 and 1877;
Set: The weapon has been set to fire.
In addition to the presence of a shield to protect the pins, which is not so common, I note a safety system, albeit basic, of locking the dog by pressing a "lock", consisting of a rod to prevent accidental percussion once in place.
In addition, the extraction rod is equipped d" a "anti-loss" device, collectors know that it is unfortunately quite common.
Maurice Arendt, street arms manufacturer Trappé 8 in Liège, was registered to the proofhouse from 1857 to 1889. He filed a dozen patents between 1864 and 1885. In particular, the one concerning the retention of the rod 018 664 of 27 October 1865 and the 020 369 of 31 October 1866 for security.
GP with the help of HPH.
And here is another !!