Some of the most beautiful work of this craftsman, and many others, are in this book "Liège Gunmakers through their Work. 1800 - 1950".
For more detail see: LIEGE GUNMAKERS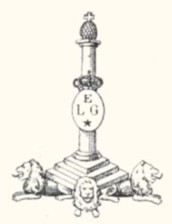 Pieper Henri
I think it's actually a 7-round Pieper revolver with no gas leakage. This weapon normally uses ammunition 7,62 Nagant. It has been the subject of 3 patents, namely:
- Patent n° 69 732 (main patent) dated 17.08.1885
- Patent n° 74 171 (improvements) dated 31.08.1886
- Patent No. 74 776 (improvements) dated 30.10.1886
The depositary of these patents is Henri Pieper rue des Bayard in Liège.
This should be except error of the 3rd model because the plates bear the logo of the knight Bayard, registered trademark on 09.06.1892.
The punches:
Spangled interlaced AR: countermark of controller post 1877.
PV surmounted by a stylized lion: smokeless powder proof, in use from 1898 to 1968.
R crowned: striped barrel, in use from 1894 to 1968.
ELG on a star in a crowned oval: definitive acceptance after 1893.
L crowned: this is probably the trademark of the Herstal barrel founder.
9938: Serial number.
GG