Some of the most beautiful work of this craftsman, and many others, are in this book "Liège Gunmakers through their Work. 1800 - 1950".
For more detail see: LIEGE GUNMAKERS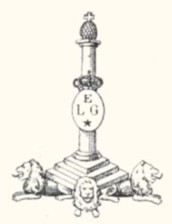 Pieper Henri
This is an excellent original example of the really neat and attractive, but very seldom seen, Pieper model 1893 revolving carbine, nine shot, cal. 8mm Nagant, with swing out cylinder and double or single action firing capability.
Nagant design revolvers utilized a cam action cylinder forced forward to cover the barrel at the time of discharge thus effecting a gas seal at the joint of cylinder and barrel. A special Nagant cartridge was also required. The most famous arms of this type were the Russian Model 1895, 7.62mm military revolvers
In 1893 Mexican President Porfirio Diaz decreed that the Mexican Army would adopt the Model 1893 8mm Nagant gas seal revolver and about five thousand were produced by the Pieper factory in Liege, Belgium. At the same time executives at Pieper advised President Diaz they could build a handsome light carbine of the same gas seal design and caliber as the revolvers. The result was this beautifully designed and very handy nine shot single or double action carbine. Evidently Diaz was impressed - the double action carbine had a very high rate of fire for its period and its swing out cylinder made for quick and easy reloading - and couldn't resist it. Other military leaders of the period were not as charmed. They were adopting high power bolt action infantry and cavalry arms like Mausers, etc.
It appears the only Pieper 1893 revolving carbines built were destined for Mexico. Collectors believe that total Pieper production was around three hundred carbines. The first fifty or so of which were sent to Mexico as samples/prototypes with only Pieper markings and serial number - this carbine is serial# 42. Evidently President Diaz was satisfied with them and the balance of the revolving carbines - there seems to be no serial known higher than the low 300s - had Mexican Government markings. It is believed this small number of weapons were issued to President Diaz's personal police/bodyguard who were drawn from the Mexican Rurales, a special body of national police formed in 1861 and considerably expanded during the reign of President Diaz, 1876-1911.
For more information on the 1893 Pieper Revolving carbine see: "MEXICAN MILITARY ARMS, THE CARTRIDGE PERIOD, 1866-1`967" by James B. Hughes, Deep River Armory, Inc., Houston Texas, 1968, Pages 16 - 18.
Government firearms in 19th century Mexico saw very hard use and abuse in a climate hard on steel objects. The Pieper revolving carbine was not an especially rugged weapon. Though very well made the swing out cylinder mechanism could be broken in hard service, and the wooden forearm completely covering the barrel could be easily damaged.
Very few of the small total production of Pieper revolving carbines have survived. Those few found are nearly always in heavily used/abused condition generally described as NRA fair / poor.
This handsome carbine is in original excellent condition. Receiver, cylinder, barrel, and furniture retain almost the original strong factory rust blue finish with very light aging.
The only other Pieper revolving carbine I know of in this condition is in the NRA Museum, Fairfax, VA.
This is an exceptional example of a rare antique arm associated with the history of Mexico and the American Southwest. This is a fine piece, representing the best of its type, worthy of inclusion in any private or public collection. This piece has been in a private collection for the last twenty-five years.
Dimensions: overall length 36 1/2", barrel length 19 3/4", caliber 8mm Nagant.
Grateful thanks to Oleg for these nice pictures and all explanations