Some of the most beautiful work of this craftsman, and many others, are in this book "Liège Gunmakers through their Work. 1800 - 1950".
For more detail see: LIEGE GUNMAKERS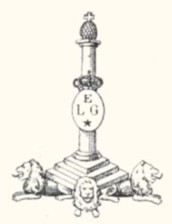 Henri Pieper
The weapon
It is about a revolver of pocket hammerless.
The loading is practiced by the right side door dropping thanks to the action of an internal spring.
The trigger without trigger guard is folding under the console.
The cylinder with 5 rooms (gauges not communicated) is grooved.
The barrel is round with front sight in half-moon.
The grips consist of two ivory plates seeming to be, they are connected by a screw and two rivet washers out of brass. It ends in a ring of cap and its screw-pivot.
The whole of the weapon is nickelled and the console carries a fine engraving of foliage.
Punches
The weapon carries the lawful punches of the proofhouse of Liege, namely:
ELG on star in a crowned oval: final acceptance post 1893.
R crowned: rifled bore, post 1894.
F star: countermark of the controller post 1877.
Markings
331: must be a serial number.
P crowned: it is about a trade mark the 04.01.1894 per Henri PIEPER street of Bayards in Liege. This industrialist arms manufacturer died in 1898 what indicates that weapon presents it was in the last manufactured by this company which was going to become then the AEP (Anciens Etablissements Pieper).
GG
Your analysis is very relevant and characteristic of your serious usual in this field.
You open however by there a door on what can be an aspect not known of manufacture of Henri Pieper. This one would thus have ventured in the hardware of pocket, was it of presentation "Luxates". But for all, it is necessary well to make return the money the every day to ensure the treasury of the company.
The punch P crowned (a punch a little "ashamed" which can merge with the marks of test?) is logical in this direction: discretion not to harm the public image of Henri Pieper. Just as the absence of the catalogues, at least of those which are known for us.
Of course they are pure assumptions. Perhaps a day will be able we to confirm them (or to cancel them).
Michel of the South