Some of the most beautiful work of this craftsman, and many others, are in this book "Liège Gunmakers through their Work. 1800 - 1950".
For more detail see: LIEGE GUNMAKERS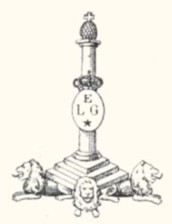 Nagant 1910
Belgian Nagant M.1910 gas-sealed revolver
The cylinder swings to the right for loading and unloading. The cylinder is locked by the lever on the right side of the frame (looks like a loading gate, but it has a different function).
The revolver was offered for sale on the civilian market, but without big successes.
The revolver is marked on the left side of the frame with the maker address, "L. Nagant Brevete Liege 1910". House of Liege proof marks are stamped on major parts of the revolver. There are no military acceptance/property markings stamped on the revolver.
Gas-sealed cylinder.
The cylinder capacity is seven rounds. 4.5 inch long round barrel. Wooden grips with diamond checkering. Fixed front and rear sight.
Many thanks to "COLLECTIBLESFIREARMS" for the nice pictures.