Some of the most beautiful work of this craftsman, and many others, are in this book "Liège Gunmakers through their Work. 1800 - 1950".
For more detail see: LIEGE GUNMAKERS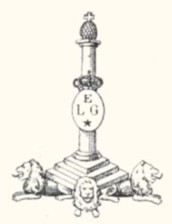 Ferdinand HANQUET
It is about a shotgun to central percussion and top break. The opening is practiced using the key Top Lever placed between the external hammers. The barrels are smooth and juxtaposed. Locks "ahead" are engraved sheets of oak. The forearm is with pump.
The weapon carries the lawful punches of the proofhouse of LIEGE, namely:
ELG* in a crowned oval: final acceptance post 1893.
Peron: inspection post 1853.
EL in English letters: provisional test post 1852.
X* - P* - R*: countermarks of the controllers post 1877.
PV surmounted of a stylized lion: test with the powder without smoke, of use of 1898 to 1968.
16 C in a rhombus: gauge, of use of 1898 to 1924.
The weapon also carries the following marks:
ACN in a circle: mark of the manufacturer of barrels of rifles NEUPREZ in LIEGE.
F and HANQUET: it is about the mark of the manufacturer of weapons Ferdinand HANQUET in LIEGE. Life of the 30.06.1842 to the 05.07.1909. Its company was registered with the proofhouse of Liège of 1872 to 1920. The company was absorbed by the
FABRIQUE D'ARMES UNIES DE LIEGE (F.A.U.L) in 1920. He was also a president of the mutual insurance company of the arms manufacturers.
Fusil éprouvé officiellement aux poudres vives conformément à l'arrêté royal du 18 novembre 1903 (Rifle tested officially with the powders sharp in accordance with the royal decree of November 18, 1903) Nonobligatory mark of the barrels. It would be rather an advertising argument in my opinion.
MANUFACTURE D'ARMES F. and HANQUET LIEGE (MANUFACTORY F. and HANQUET LIEGE): corporate name of the manufacturer (See above).
The drawing being reproduced on the barrels and which is not very visible seems me to be an eagle with the wings spread on a terrestrial sphere resembles rather extremely the mark of manufacturer GENSCHOW Gustave & Co S.A. street Hayeneux with HERSTAL (LIEGE). If this assumption is confirmed, I see only one explanation; the weapon was bought at HANQUET (approximately with others??) engraved mark GENSCHOW and resold later??
Appendix:
Mark GENSCHOW. Thank you to communicate to me if it is indeed this mark on the weapon.
Letter with heading Ferdinand HANQUET.
GG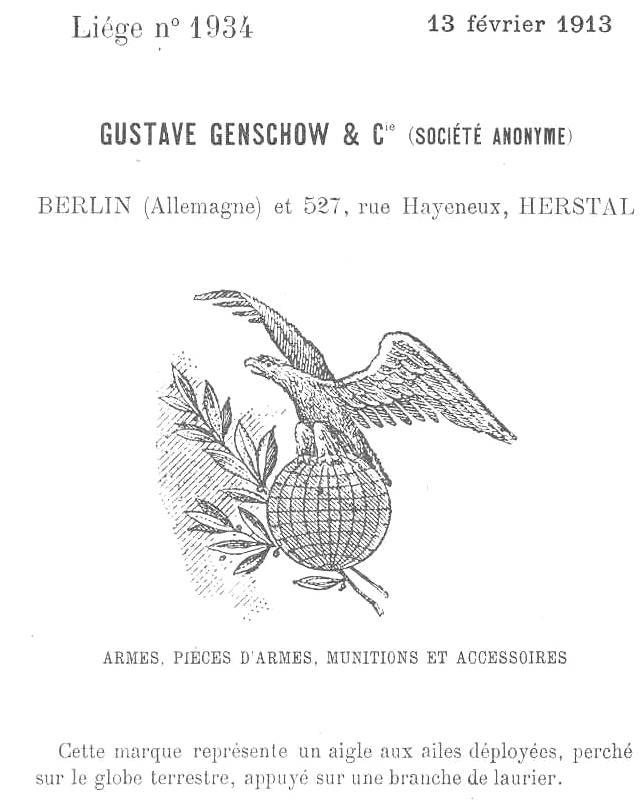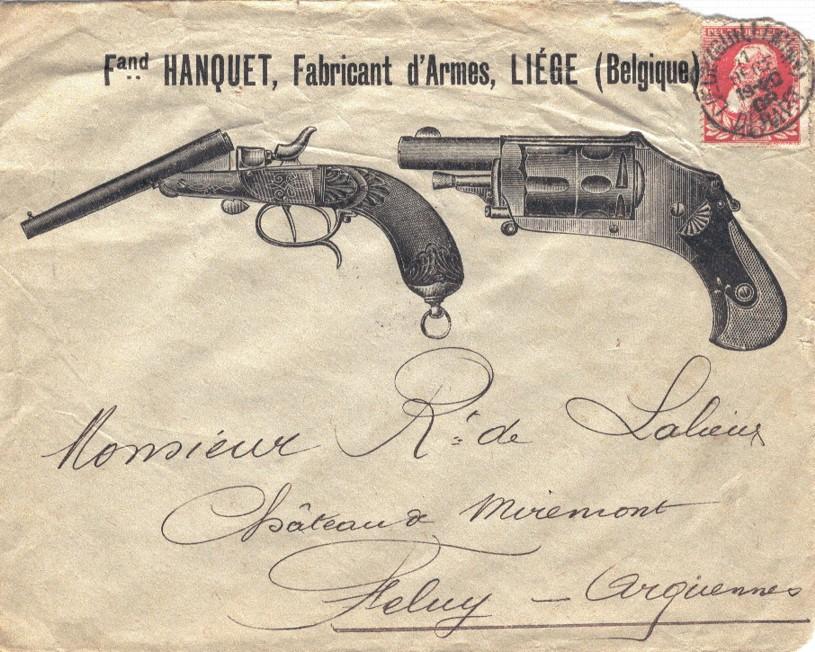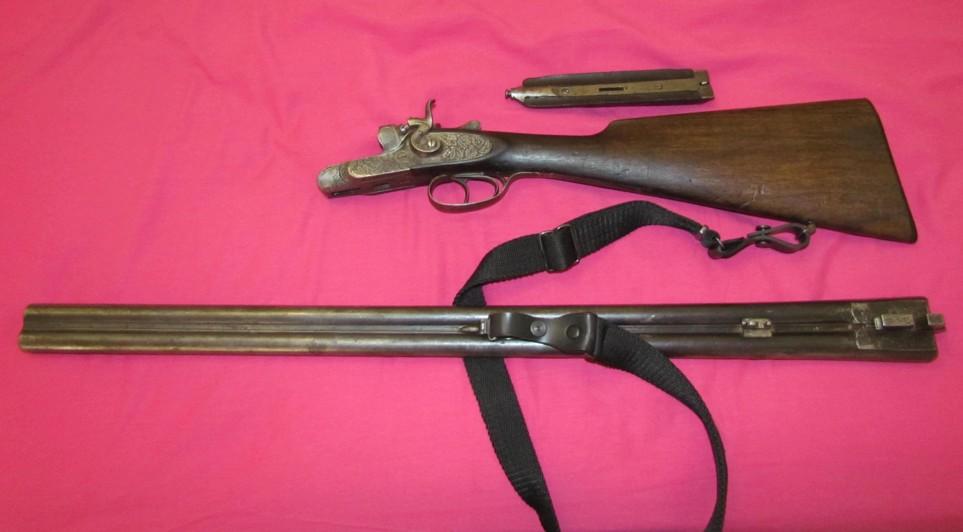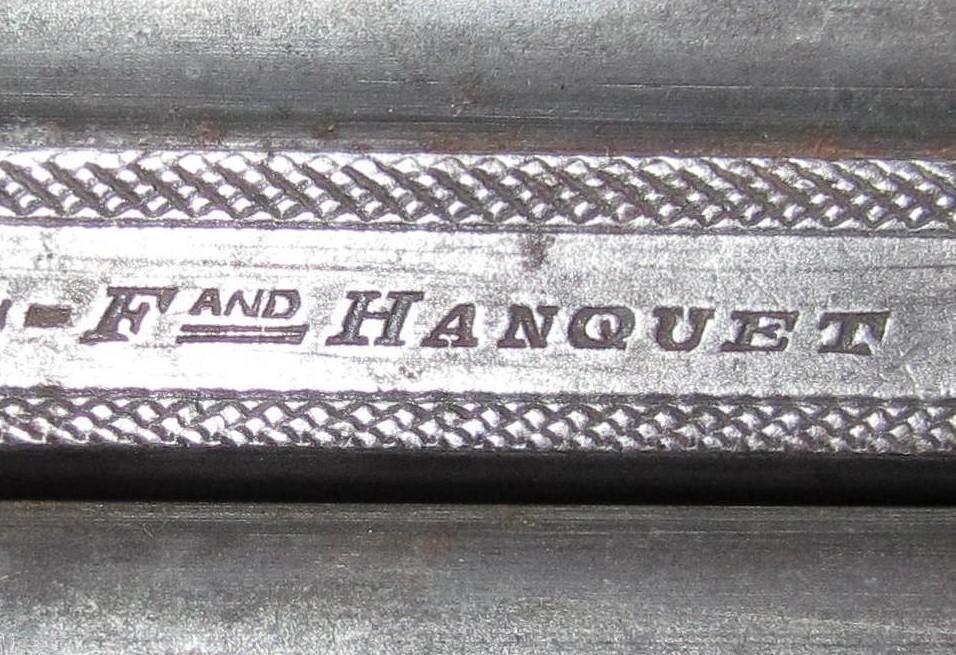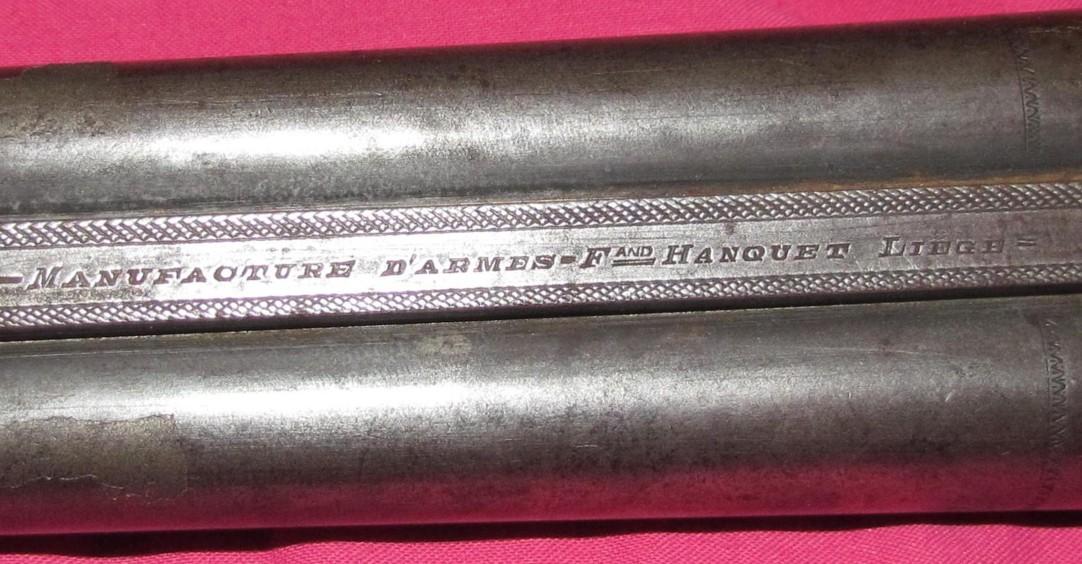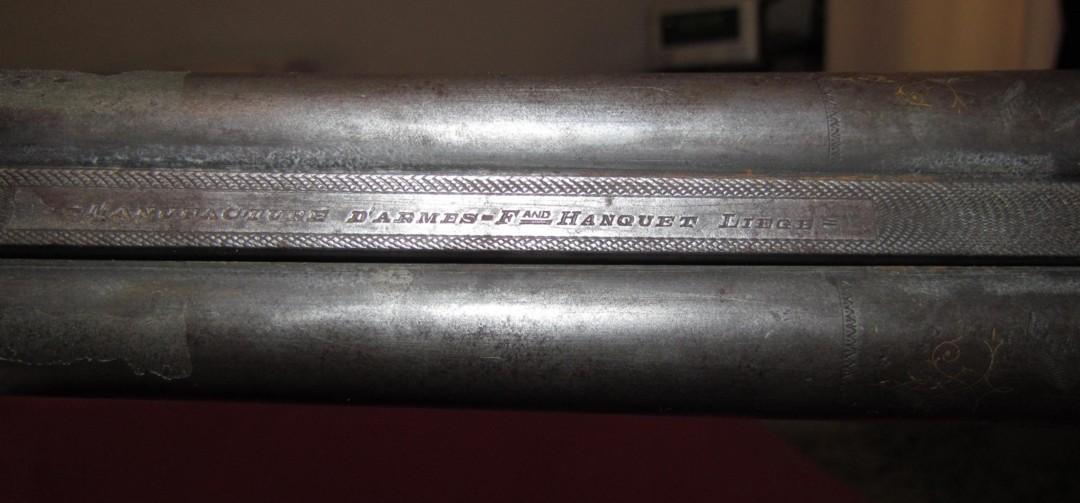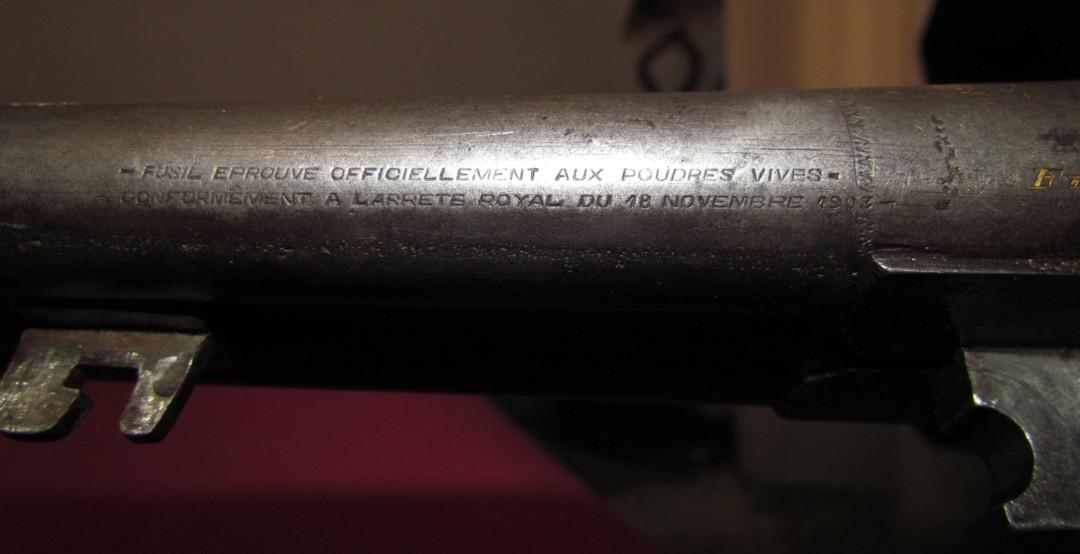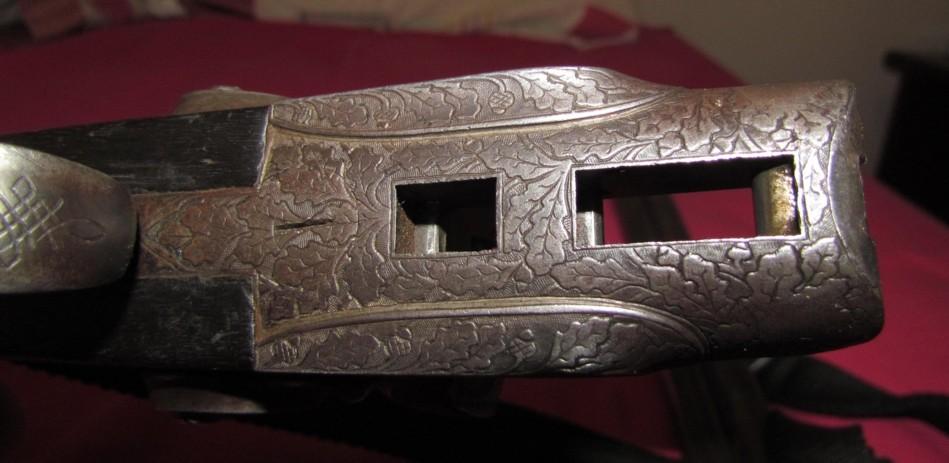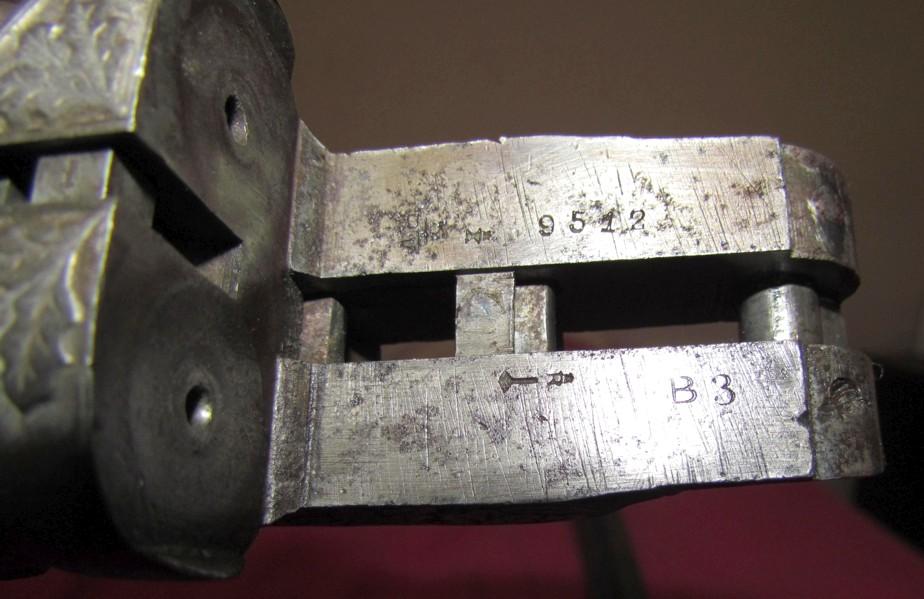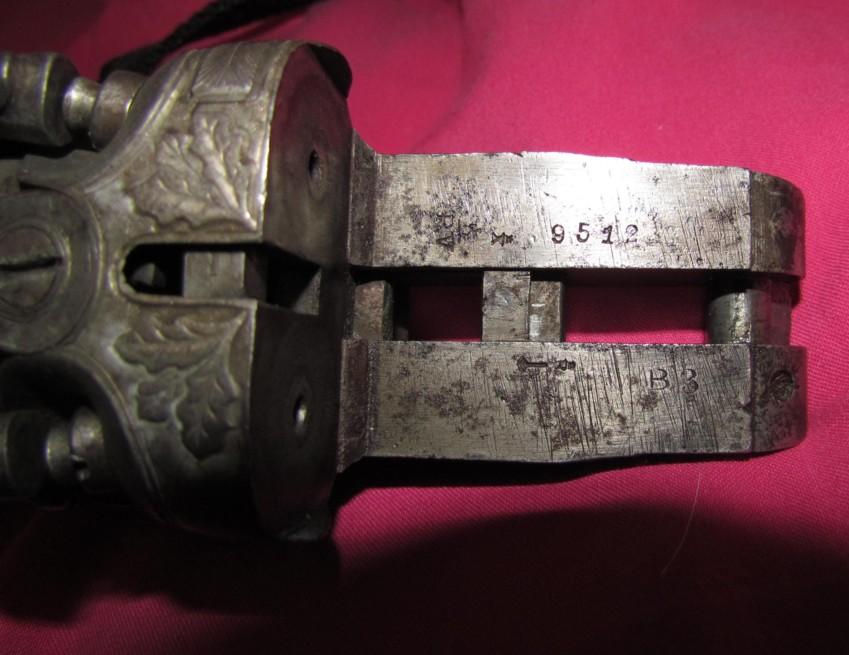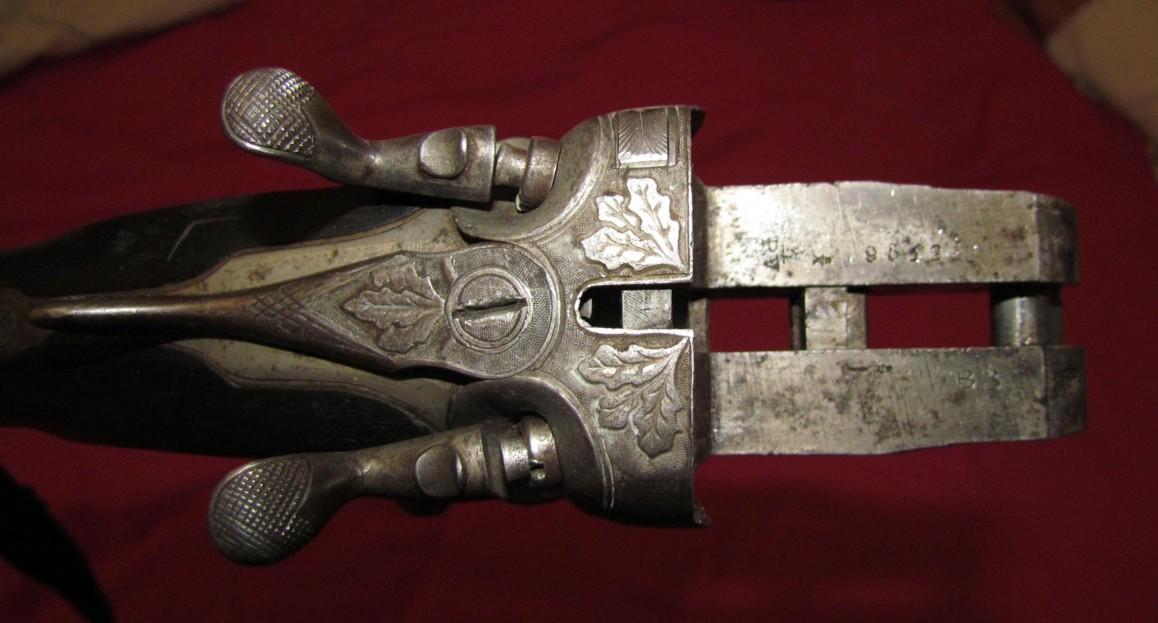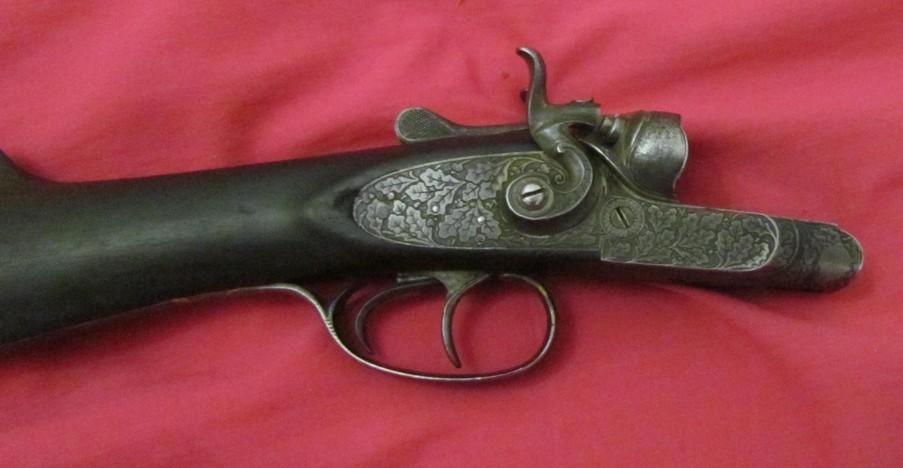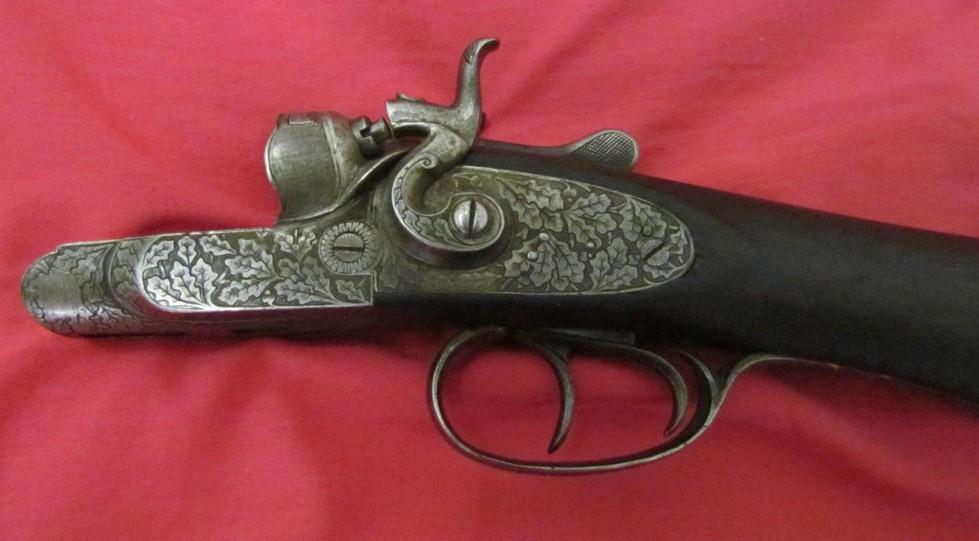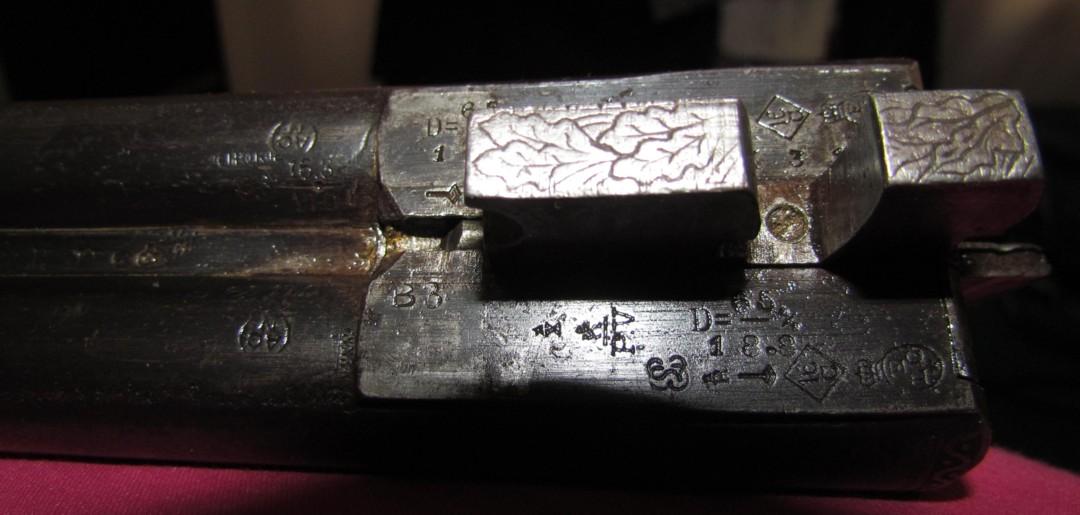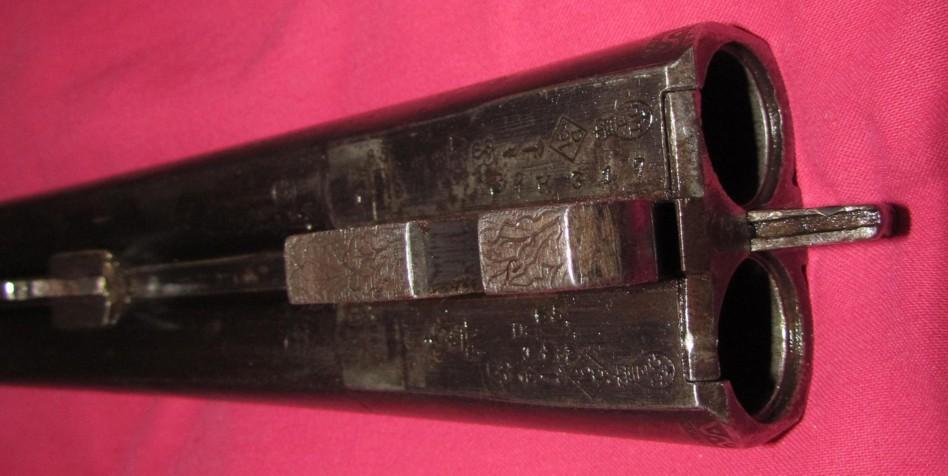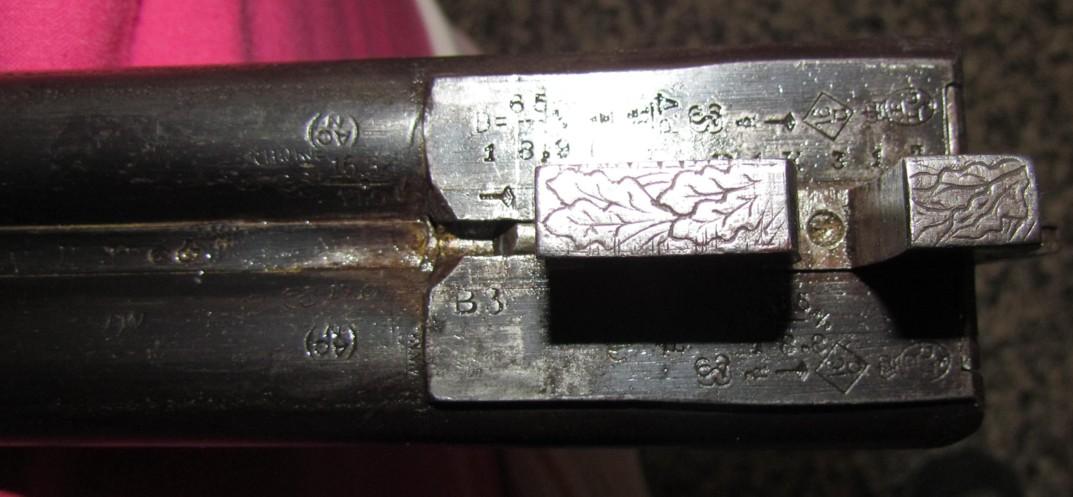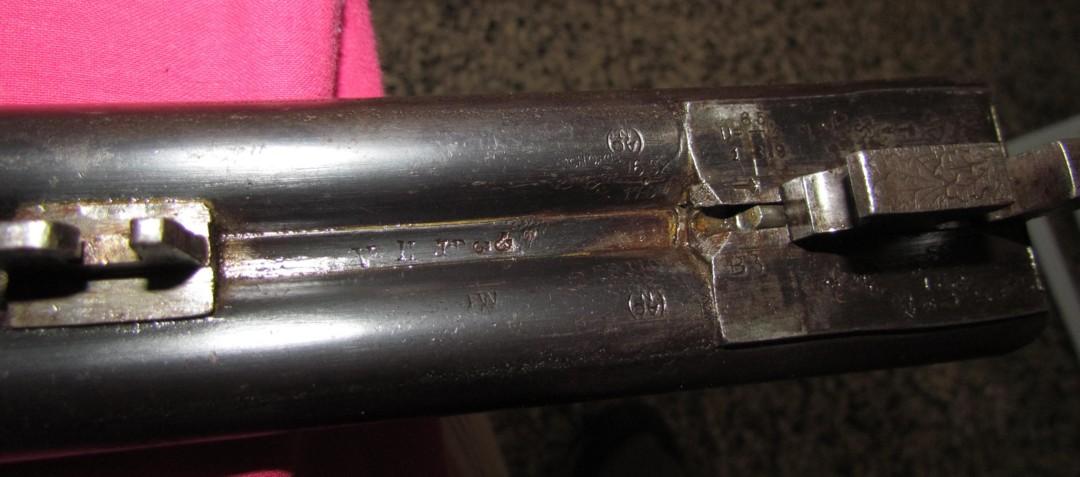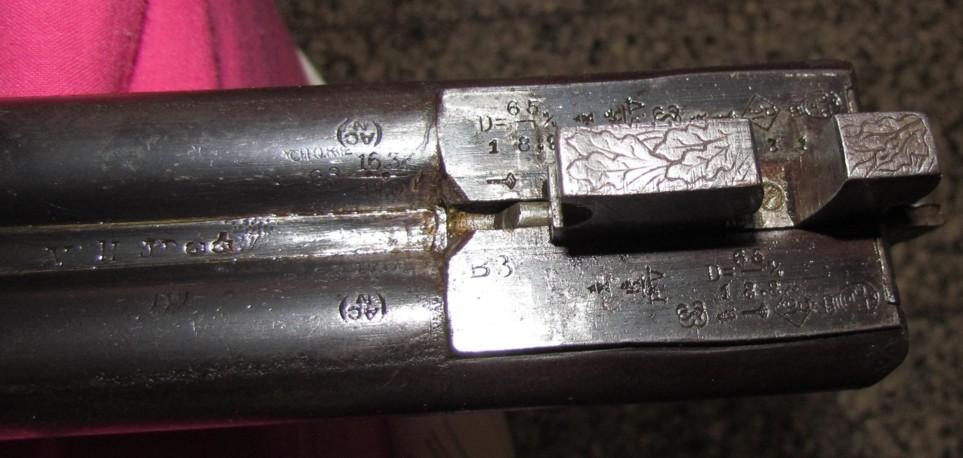 Ferdinand Hanquet
H in cursive letter does not say anything to me as such but be wouldn't (I do not have the weapon under the eyes well on) the mark H, makes of it a F with the back joined with a H and which is the mark of Ferdinand HANQUET?? (Registered with the proofhouse of LIEGE of 1872 to 1920)
GG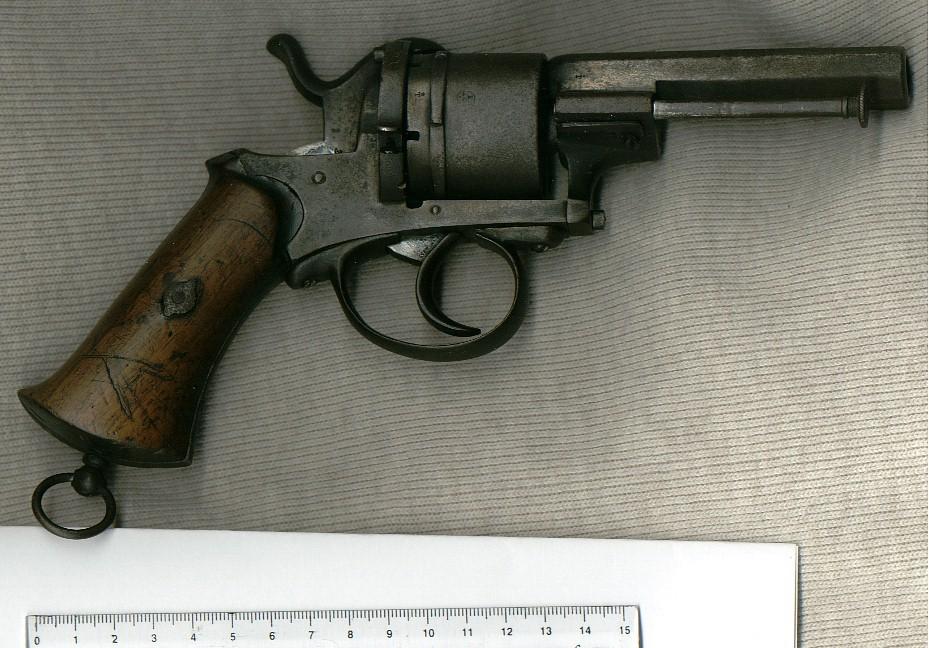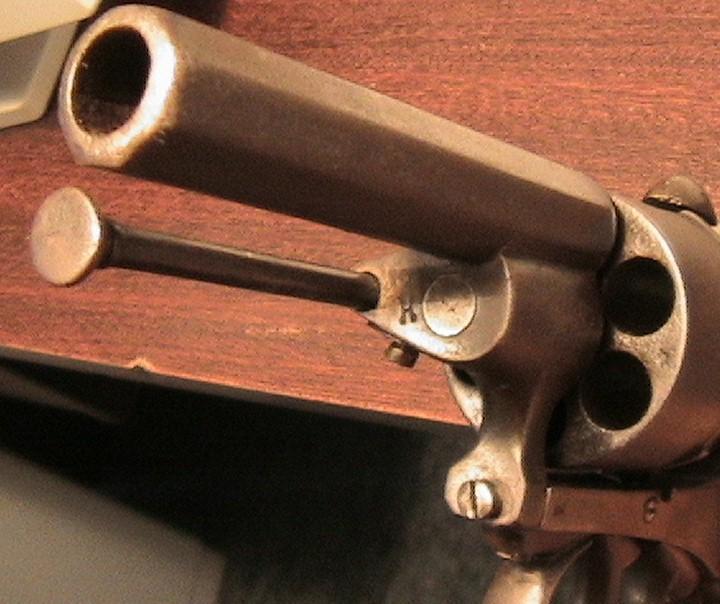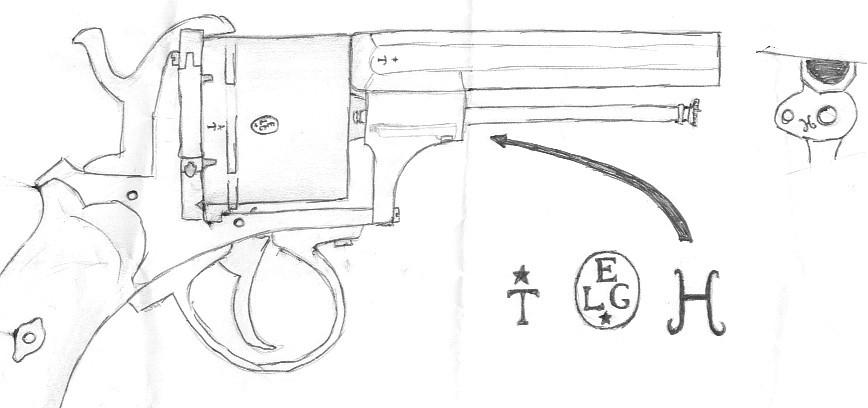 Ferdinand Hanquet
Shotgun to lock hammerless and key top of average quality. The barrels of gauge 12 (read so well) smooth and are chokes. Engraving is in the soft cutting of English type.
The weapon also carries the mark TOREADOR and Ferdinand HANQUET manufacturer of Liège which was registered with the house of tests of Liege of 1872 to 1920 before being absorbed by the Fabriques d'armes unies à Liège (see site).
The punch of the house of tests indicating the nominal gauge of the weapon was used only since 1924; there is thus a problem of date with that of the resumption of HANQUET.
It is very probable that the barrels coming from HANQUET and not used during fusion will have been used more tardily.
GG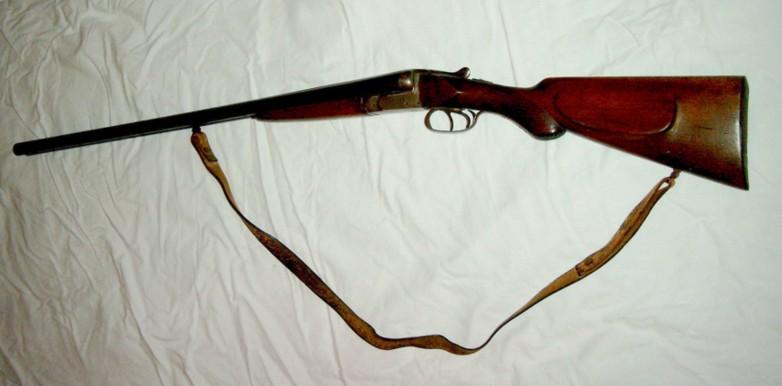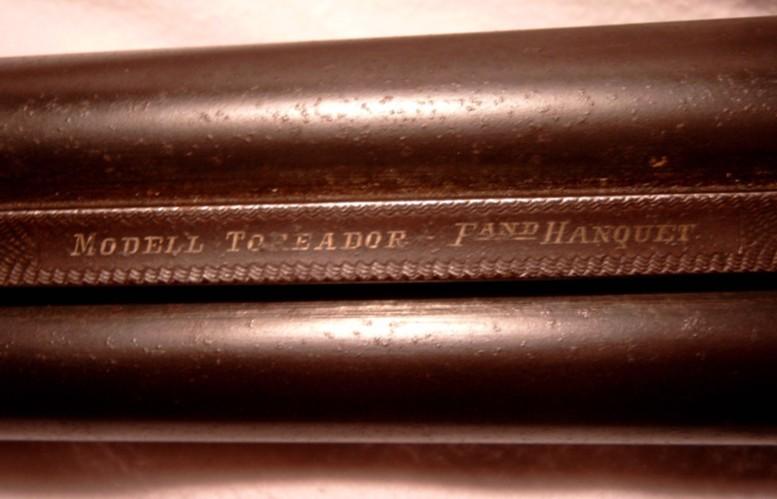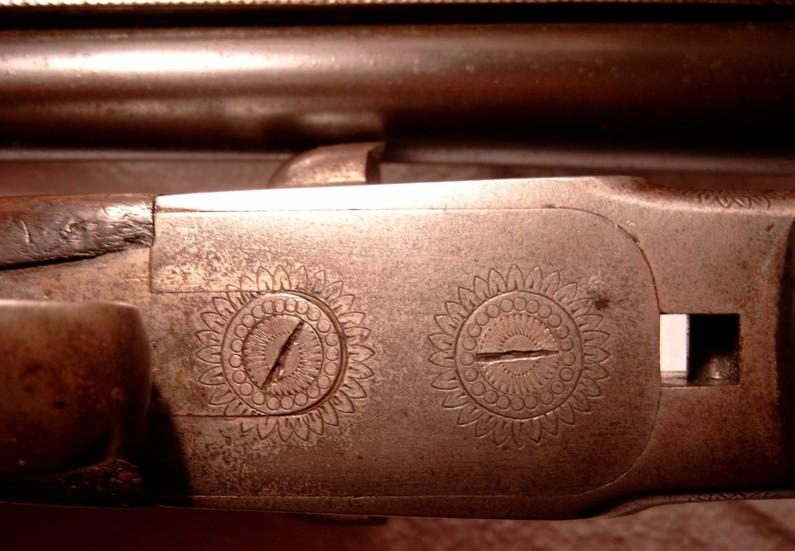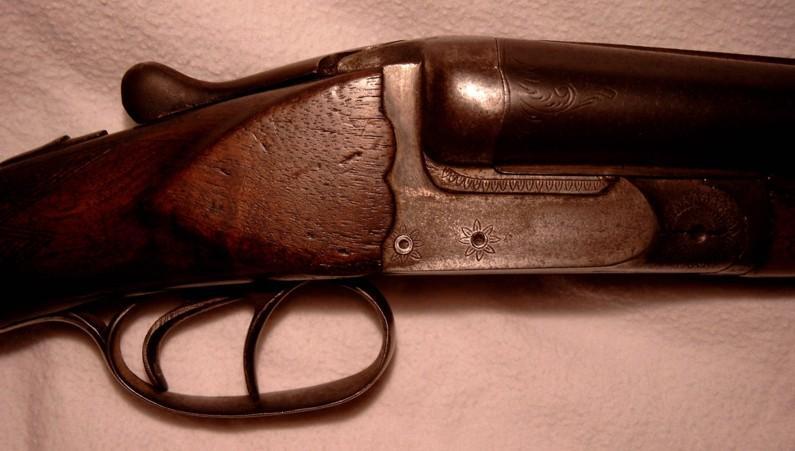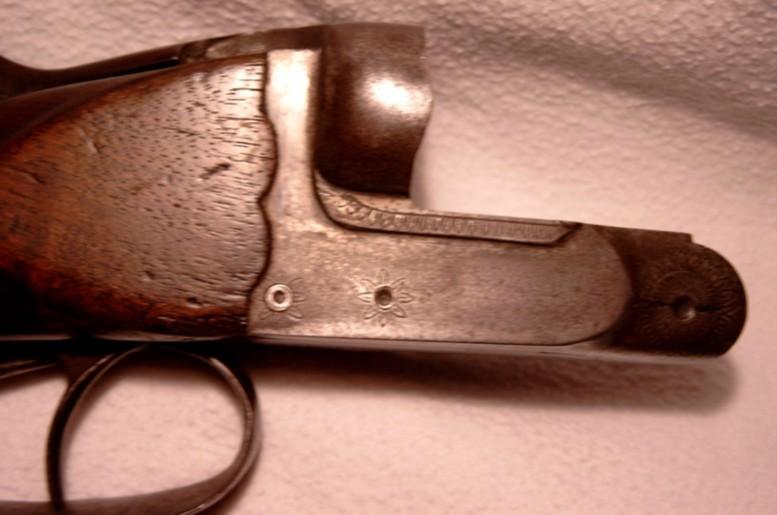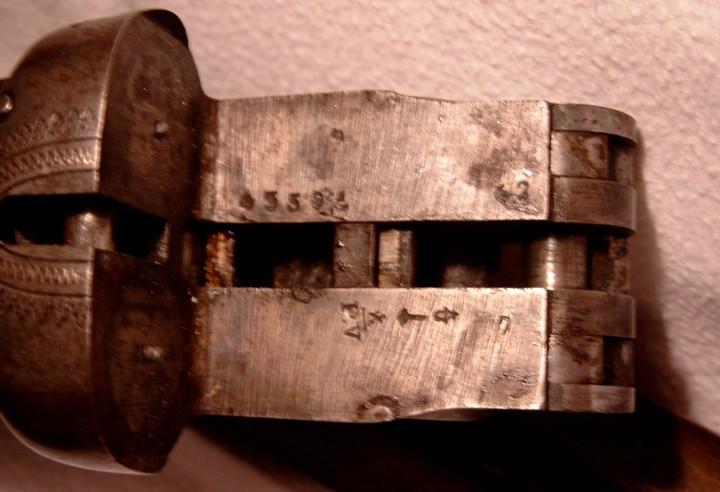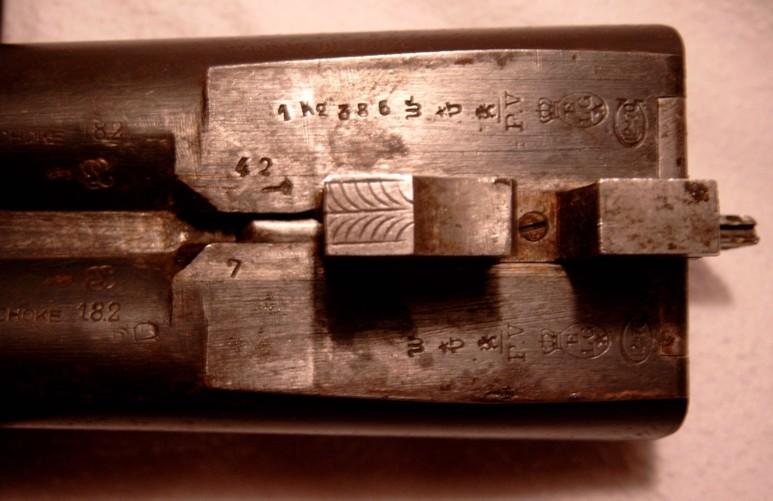 Ferdinand Hanquet (with reserves)
Here is an early 1868 Galand, I believe it is a Navy model. The latch on the trigger guard is different from other Galands of this type, it does not have a protruding piece to the side to make it easier for the finger to grasp the latch. I was told that this made this revolver the earlier model.
This particular revolver does not have the "Galand" name nor "Paris" marked on the left side of the barrel as other Galands I have seen - who would have made this particular Revolver?
Here is the information I do have:
Belgian Galand Navy Model 1868 Revolver, cal 12mm Perrin, serial # 10491 barrel 127 mm, overall length 241 mm
Marks on cylinder: pre 1893 Liege proof, star/A on right side of action under cylinder: star/A on left-rear side of barrel: H
Richard
You magnificently made the turn of your weapon, it thus remains little to say some.
Famous arms manufacturer and excel commercial Charles François GALAND had a store street Hauteville, 13 in PARIS which was in fact only a deposit for the weapons that it made manufacture at lower cost in his factory of Liege street Vivegnis n° 280.
Thus the majority of its weapons are punched of the house of tests of this city.
It is also extremely probable that it sub-contracted with several colleagues of Liège because there are often differences in aspect and tolerances minor on his weapons of the same model
Let us add that it is also very probable that it was copied by these even which had already copied COLT, SMITH & WESSON etc .....
Previously, I put forth the assumption that H present on your weapon could be of arms manufacturer HANQUET. I was still not in measurement to confirm it, we will thus take information with prudence.
In appendix: copy patent of Galand 1868.
GG