Some of the most beautiful work of this craftsman, and many others, are in this book "Liège Gunmakers through their Work. 1800 - 1950".
For more detail see: LIEGE GUNMAKERS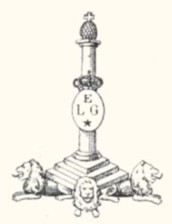 Léopold ANCION-MARX
The weapon
It is about a shotgun top break and central percussion. The barrels of gauge 12 are juxtaposed. The weapon breaks thanks to the action of the key "Top lever" between the external hammers. Locks are of type "behind. The stick out of wooden of walnut is worked "pistol" with the squared hand-shield.
Marks
The weapon carries the lawful punches of the proofhouse of Liege, namely:
ELG on star in a crowned oval: final acceptance post 1893.
H and U spangled: countermarks of the controllers post 1877.
Peron: inspection, of use of 1853 to our days.
12C in a rhombus: gauge, of use of 1898 to 1924.
EL in English letters: provisional test, of use of 1852 to our days.
Time of manufacture: between 1898 and 1924.
The weapon also carries two marks is:
M11474: serial number.
LAM in a triangle: mark from the manufacturer Léopold ANCION-MARX street Grandgagnage, 26-28 in LIEGE (see the site!).
Appendix: page extracted from a catalog ANCION MARX showing the same type of weapons.
GG